When Vanity Fair weighed in on the fare at Trump Grill last week, writer Tina Nguyen didn't waste any time in letting readers know just what she thought of the steakhouse on the ground floor of Trump Tower.
The table was wobbly. The steak was "overcooked and mealy." The Szechuan dumplings were "flaccid, gray." The decor featured "French-ish paintings that look as though they were bought from Home Goods."
"The allure of Trump's restaurant, like the candidate, is that it seems like a cheap version of rich."
The article's conclusion was as predictable as the angry tweet that followed its publication: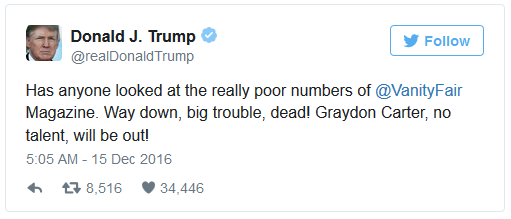 But people were weighing in on the Trump Grill long before Vanity Fair. While the restaurant's Yelp entry has been hammered in recent days, its reviews date back years before Trump's contentious run for the White House and serve as a time capsule of sorts, revealing a history of Americans' changing attitudes toward both restaurant and the man himself.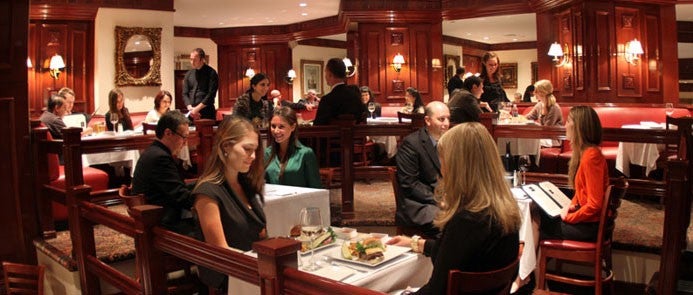 In fact, the first review is nearly 10 years old and was posted by a woman from Oklahoma. She gave it three out of five stars:
You're Fired! hahaha…well, I only tried the trio of sorbets and had their lavender green tea. My lunch date had their brownie a la mode. Both desserts were too expensive, but c'mon… how many can say they ate at a 'grill' named after Trump!?!
Back then, of course, Trump's candidacy was still a couple of election cycles away. But that would change in 2011, when Trump began flirting with birtherism and a presidential campaign. Of six total reviews that year, two gave the Trump Grill just a single star — one of whom was this woman from Hawaii:
"Husband had the marinated chicken sandwich (marinated in what??) and I had the horribly overcooked hamburger. The Brownie ala mode was a joke. One bite size. Trump should be ashamed of himself."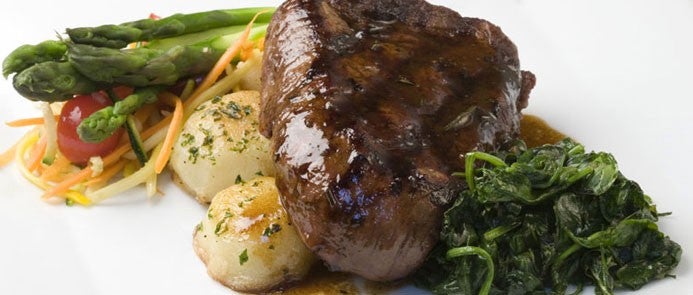 Trump himself, however, didn't seem to have concerns about the food, according to a Yelp user from Virginia who gave the restaurant a five-star review in 2011:
"Tried this place out because of LivingSocial and wow — not only did Donald stop by (OMG!) and ordered lunch!!! …. but there is a great bar upstairs for happy hour (I never knew!) and the lighting is great for dinner or a date. Great service. I can't believe Donald lives there — and eats there too!"
In 2012, as Obama ran for his second presidential term, the restaurant's Yelp score dropped from an average of 2.9 stars to 2.5 — thanks, in part, to this guy from Philadelphia who declared the grill "absolute crap":
This place is being carried solely by the 'Trump' name and nothing more. This is a fancy IHOP… Take my advice and go eat somewhere else.
https://www.instagram.com/p/xXao8tywl-/
Not that positive reviews were impossible to find. For instance, a diner from North Carolina said he'd enjoyed his soup and shrimp scampi as Trump's sons dined at the table next to him:
40 USD for lunch is not cheap but it's a classy and elegant place with the right ambiance for either a business lunch or if you want to impress someone.
The Yelp score slowly improved over the next two years, as Trump's own star was rising, too. In 2015, Trump formally kicked off his presidential campaign and Trump Grill received three five-star reviews, which were, in fact, the only three reviews posted about the restaurant that year. "Service was impeccable!" remarked a man from Arizona. "Perfect service and delicious dishes!" a woman from Florida wrote. "I could eat here everyday!"
The ratings for Trump Grill during 2016 were something of a rollercoaster, not unlike the election season itself:
The ratings for Trump Grill during 2016 were something of a rollercoaster, not unlike the election season itself:
It was also when the animosity of the election began to bleed into the reviews. "I heard great things about the taco bowls," a man from California quipped in his one-star review. "I tried it. Easy to eat with my smaller hands."
Then came November.
On Election Day a woman from New Jersey gave the Trump Grill a five-star review. She included a photo of herself in front of Trump Tower smiling and wearing a "Make America Great Again" hat. She wrote:
Employees are not allowed to tell you if they are Trump supporters or not mainly because it's a private choice and it is their business but they are very strict in there as far as the workers go. But you can see that the workers at the café really like their jobs. And yes many many many of the workers that work at throughout the Trump tower are Latinos. Go figure.
The Trump Grill's average Yelp rating jumped to 3.7 stars afterward. It lasted until December, when the Vanity Fair piece was published and the one-star reviews came pouring in.
"The taco bowl will build a yuge wall in your colon," one review, which has since been deleted, read.
"The utensils are tiny, almost toy-like, to make the owner feel as if his hands are normal whenever he comes in for a taco bowl," another reviewer wrote.
"Best in town. We eat there often!" a Yelper from Yonkers wrote in a review that Yelp moderators quickly deleted. "Fake negative reviews from the Trump haters who never ate there or ever been in New York City in their lives! Try it yourself and decide!"
And on and on and on like that they go.
The back-and-forth has devolved to the point that visitors to Trump Grill's Yelp page are now greeted with a message from the company notifying them that the page is being monitored due to all the media attention.
Like almost everything Tump touches, the truth about how good (or not) the food is at Trump Grill is no longer predicated on facts or reality, but on which side of the ideological battle line you stand.
As the president-elect himself might say: sad!