I didn't know what sangria was until my freshman year of college, when someone offered me a red cup full of a burgundy elixir that stank of fruit cocktail and sour grapes.
The latter was evidence of what I now immediately recognize as Carlo Rossi jug wine. As for the fruit cocktail smell? Well, that was just… canned fruit cocktail. 
In the summer of 2009, this sickly sweet concoction served as a sort of coronation for me — a sneaky-strong beverage served under illegal auspices in a room I'd never been in before. And over time, shitty sangria became a bridge to all kinds of nights and occasions. That it was shitty was sometimes a key part of the joke; I recall us celebrating the end of each semester at my student newspaper with our traditional "trash-can sangria," made in literal trash cans (with unscented liners!) to ensure fast and surreptitious clean-up.
Through those years, the quality of the sangria remained largely the same. The drink was invariably built on a too-cheap bottle of red, stuffed full of sugars that worsen hangovers. The fruit component seemed to consist largely of canned goods and chunks of Red Delicious apples with all the flavor of drywall. It was easy to drink, and easy to get drunk on. Complexity? Nowhere to be found. 
In some ways, this is very much in line with the spirit of how the drink is consumed in its native Spain — quaffed in plentiful quantities on a warm summer evening, not fussed over as some artisanal thing. Still, given its simplicity, it's kind of a marvel that there's so much shitty sangria in this godforsaken world. Home bartenders are surely guilty of making sangria with the cheapest stuff found at the store, but I've also tasted cheap, sugary-sweet versions at happy hours and brunches in perfectly reputable restaurants. No wonder why people joke online about sangria being fuel for millennial degeneracy. 
No more, I say. Damn it, we're living in an era of genuine cocktail excellence (and plenty of pretension). Why shouldn't sangria deserve to be treated with respect as we head into the balmy summer months? It's a drink with just three main components, for crying out loud: the wine, the fruit and the flavorings. Improving each of them, even just a little, makes a huge difference in the resulting punch. 
Consider your wine, for starters. You could make like a lot of Spaniards and go for an affordable Rioja, which has the body of a thicker wine like Cabernet Sauvignon but the fruit-forward flavor of a lighter red. A big smoky Malbec or Syrah will potentially blow out the drink, so I tend to lean on varietals like Merlot and most of all pinot noir, quality bottles of which can be found for around $10 a bottle (I went with the popular Mark West label). The idea is to get something that's budget-oriented but still pleasant to drink all on its own. This isn't beef stew you're making here; be wary of that $4 "red blend" you think will do just fine. 
Similarly, the fruit component depends entirely on what's ripe and in season at the store. I found overripe strawberries about to go bad (perfect), plump cara-cara oranges and some raspberries on sale. Then I took a ripe lemon off my neighbor's tree on the walk home to round out the selections. Red fruit and citrus makes a lot of sense with red wine, but you should experiment if your market selection and budget allows — tropical fruits like kiwi, mango and pineapple are especially good in sangria because of the floral notes they infuse into the drink.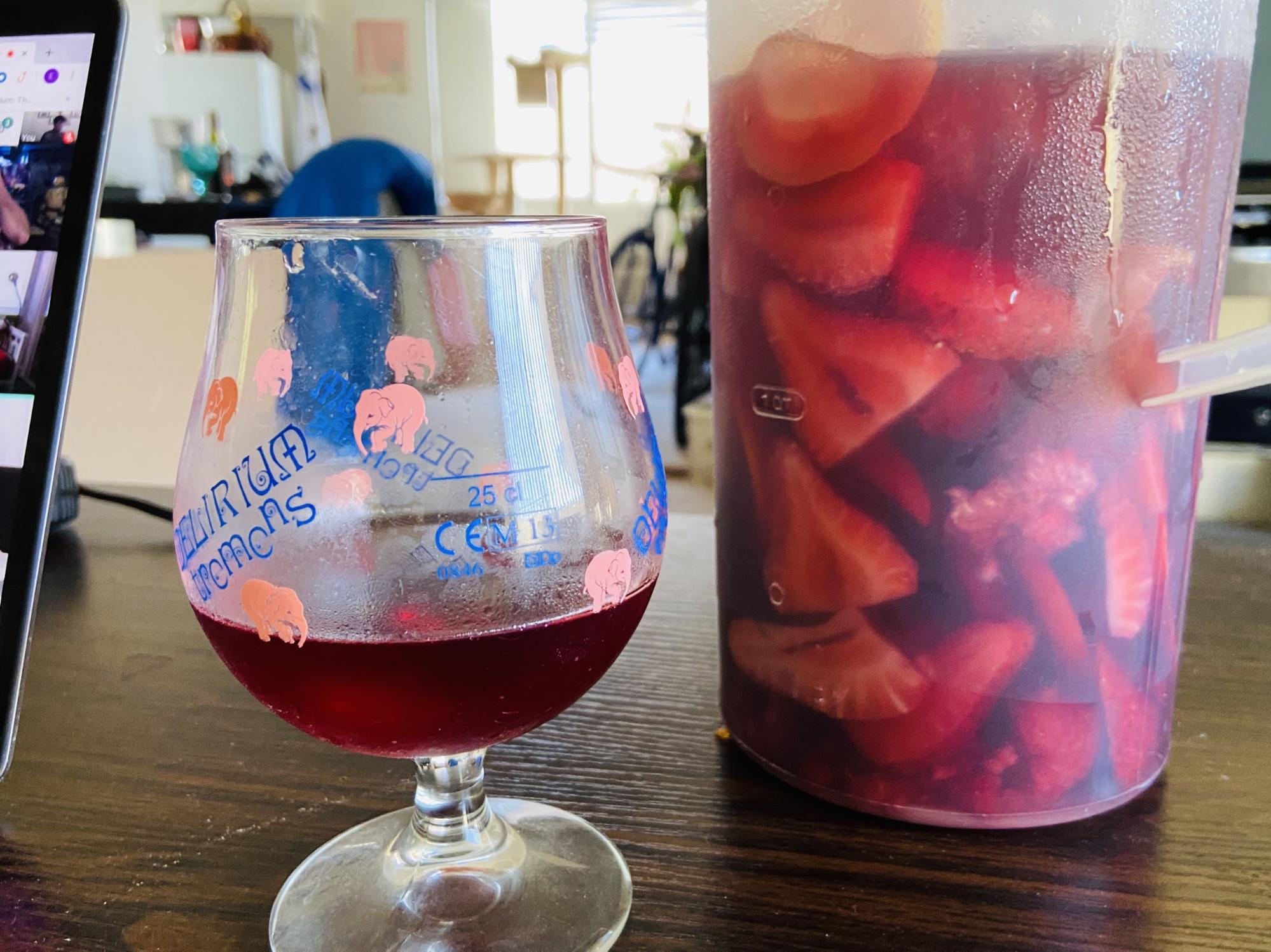 Do note that how you cut the fruit makes a big difference in the final result, too. I'm not a fan of my glass being crowded with little cubes of fruit, although I recognize that it's fun to have the snack right there. Instead, I prefer to slice thin pieces to maximize surface area in the pitcher infusion, then serve the drink with a fresh piece of fruit that scents the whole glass. 
Now, the final flavorings. A lot of people like to add liqueurs or brandy to strengthen the drink. I agree, mostly because it's an opportunity to add more flavor. For this batch, I went with about 125 milliliters of Grand Marnier, which brings a bitter orange essence that I think bonds the fruit and wine together. Next, I tossed in two tablespoons of white sugar. So many recipes call for far more — the most popular video on YouTube, for example, suggests 1/4 cup for a 1-bottle batch. But I think this leads to a drink that's outright sugary, so consider it a less-is-more situation; in fact, you might not need sugar at all. Lastly, I toast a cinnamon stick over a flame and throw it in the pitcher with a big pinch of salt (which helps round out the tannins in the wine). (To bring all of this full circle, combine all the ingredients in a pitcher, stir and let sit for 30 minutes to infuse; add ice and serve in short glasses with fresh fruit as garnish.)
You might find this recipe to be a bit rudimentary, but that just belies how easy it is to make a sangria that you'll be proud of. The best part is developing your own tricks of the punch trade; even in Spain, there exist no two identical sangrias. Just remember that it's supposed to be bright, floral and refreshing, with seasonal fruit (stay away from the Red Delicious apples!). You can make it with white or sparkling wine, or just add seltzer to give the drink a fizzy edge.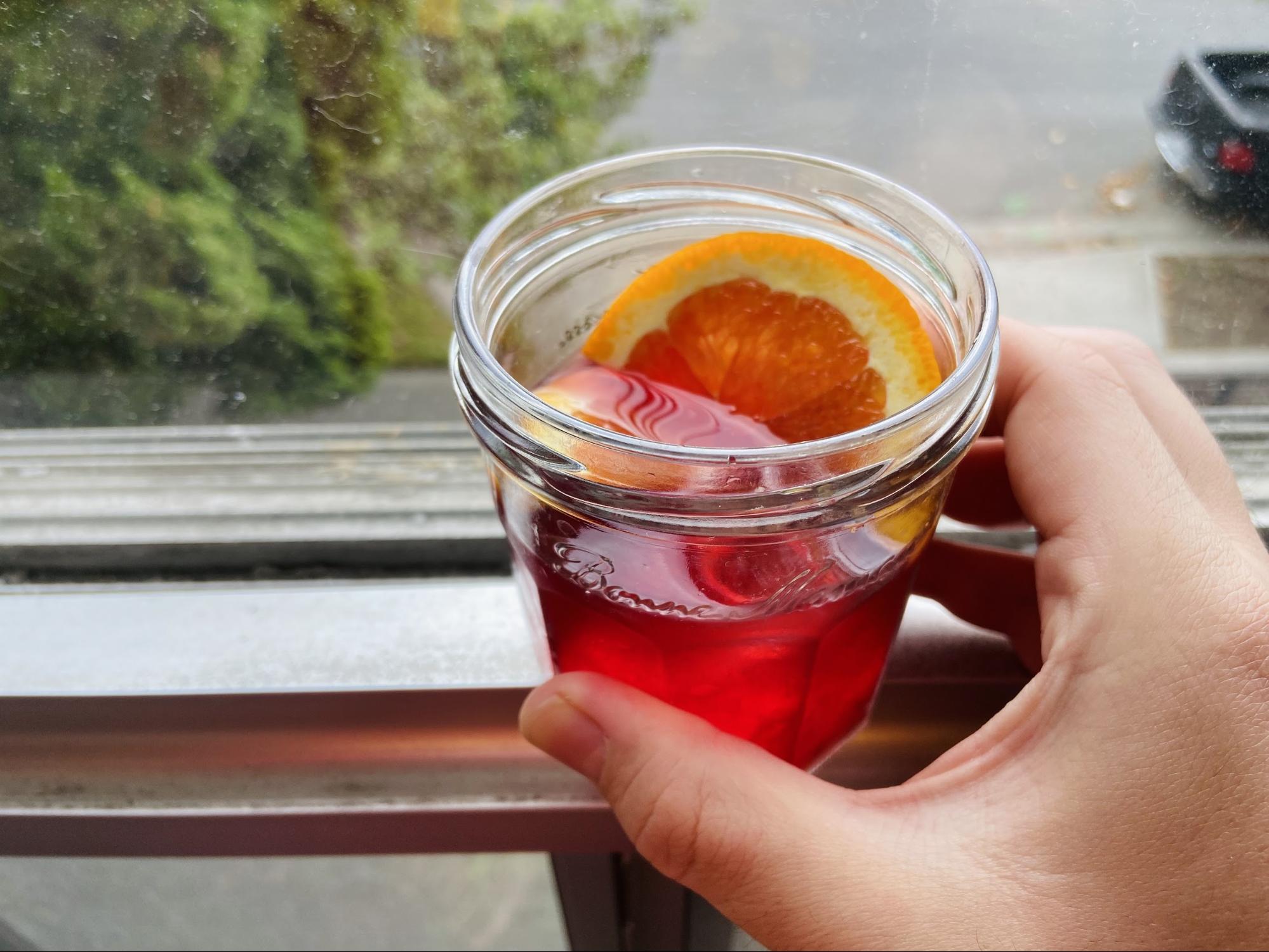 I'm sure that getting hammered on a jug of cheap sangria will be a rite of passage for many more generations to come. I'm just glad that I've grown up a little, and now see this humble wine punch as a genuine summer pleasure worth pursuing — and tinkering with.