When John and Dr. Annie Campbell met on a dating site called Spiritual Singles in 2013, neither of them had any idea they'd be starring in a porn produced by Erika Lust, one of the most well-known adult filmmakers in the world. But there was something different about the two of them that made their adult film aspirations a bit more noteworthy than most: They were 73 and 72, respectively.
Porn featuring seniors has existed for as long as porn has, but the way it's portrayed is often just as problematic as it is in mainstream TV and film — as disgusting, shameful or some sort of freak occurrence (that, or it's not shown at all). This perpetuates the idea that older people aren't sexual beings with desires of their own, and that sex should have some sort of expiration date. In no way does this representation reflect the actual sex lives of seniors, who, as much research has found, actually make far better use of their bedrooms than they're given credit for.
Seniors have sex at almost identical rates to younger generations, with 75 percent of people between the ages of 57 and 64, and a quarter of those aged 75 and 85 still getting it on roughly three times per month. That's only slightly less than those aged 30 to 49. Not only has sex been found to get better with age, but people also become more comfortable in their bodies as they age and are often more open to trying to new things in bed.
Wanting to set the record straight about the active, diverse and surprisingly satisfying sex lives of seniors, John and Annie reached out to Lust in the hopes she could help them tell their story. Noticing the wholesale lack of porn that portrayed senior sex thoughtfully and accurately, Lust took the bait, flying them to Spain where they shot a scene that Lust describes as one that "could not have been further from a typical, mainstream set."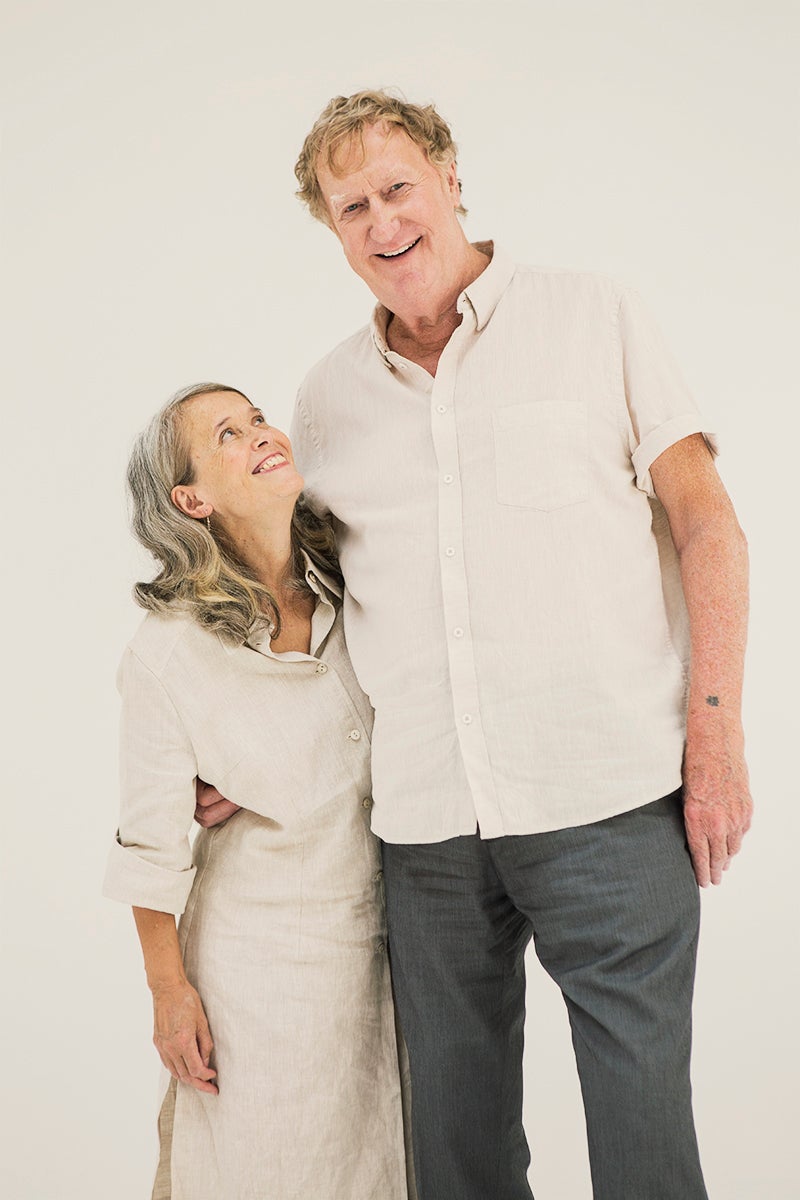 Below, John and Annie tell the story of how they came to be the world's oldest and bravest porn stars, and what it was like to bare all in the face of a culture that's tried to erase their sexuality. (The scene itself can be found on Lust's website XConfessions.)
John: Although we knew that working with Erika meant millions of people would be watching us have sex, we were never interested in doing what's traditionally known as "porn." When we looked up porn's definition, it said, "Written or visual material, or audio, which is designed to titillate or excite." We talked about it at length, and while we were fine with titillating people, that wasn't our purpose. Rather, we wanted show the world how we, a couple in our 70s, relate to each other and have sex.
Annie: Okay, okay. Get to the porn bit.
John: Right! So they put us up in this nice hotel in Barcelona. Next thing we knew, we were in the foyer downstairs, being greeted by this girl from Erika's team. She was a gorgeous Indian girl from Canada and she was wearing a T-shirt that read, "Make me cum."
Well, I thought, we're in the right place.
She escorted us to the set, and we were immediately taken aback by how many people there were. Masses of them. Makeup artists, wardrobe people, lighting people, a massive movie camera, sound booms, all buzzing about this double bed in the middle of a stark white set. There had to have been about 22 people there.
Initially, I'd been excited about the prospect of being watched by all these women, but, I have to say, it was intimidating. I remember thinking, Oh, my god, I've got to take my clothes off in front of all these people here with their cameras and sound booms. As I climbed onto the bed, naked, I felt more strange about it than I'd expected to — after all, we'd talked about this together, and with Erika, at great length. I also felt a little embarrassed when we said our prayer together (which we say to each other every morning). I was thinking, People aren't going to want to know what this is all about.
Normally, when Annie and I engage in our morning sex sessions, I'm not so much in my head, but when I realized we were there to perform on call, I started to go into male ego fear — would I be less of a man if I couldn't get an erection? That's when my dick started to rebel.
Annie: At that point, I'd been feeling pretty good. I literally don't "think" during sex, I just feel, so I was totally concentrating on my pleasure. Also, we're naturists, and we love to be nude together and with others, so it felt familiar to be naked in front of all these people (even if the cameras and lights were a bit intimidating). But when I became aware John wasn't going to get hard, I did start thinking, Oh God, his dick's gone cold!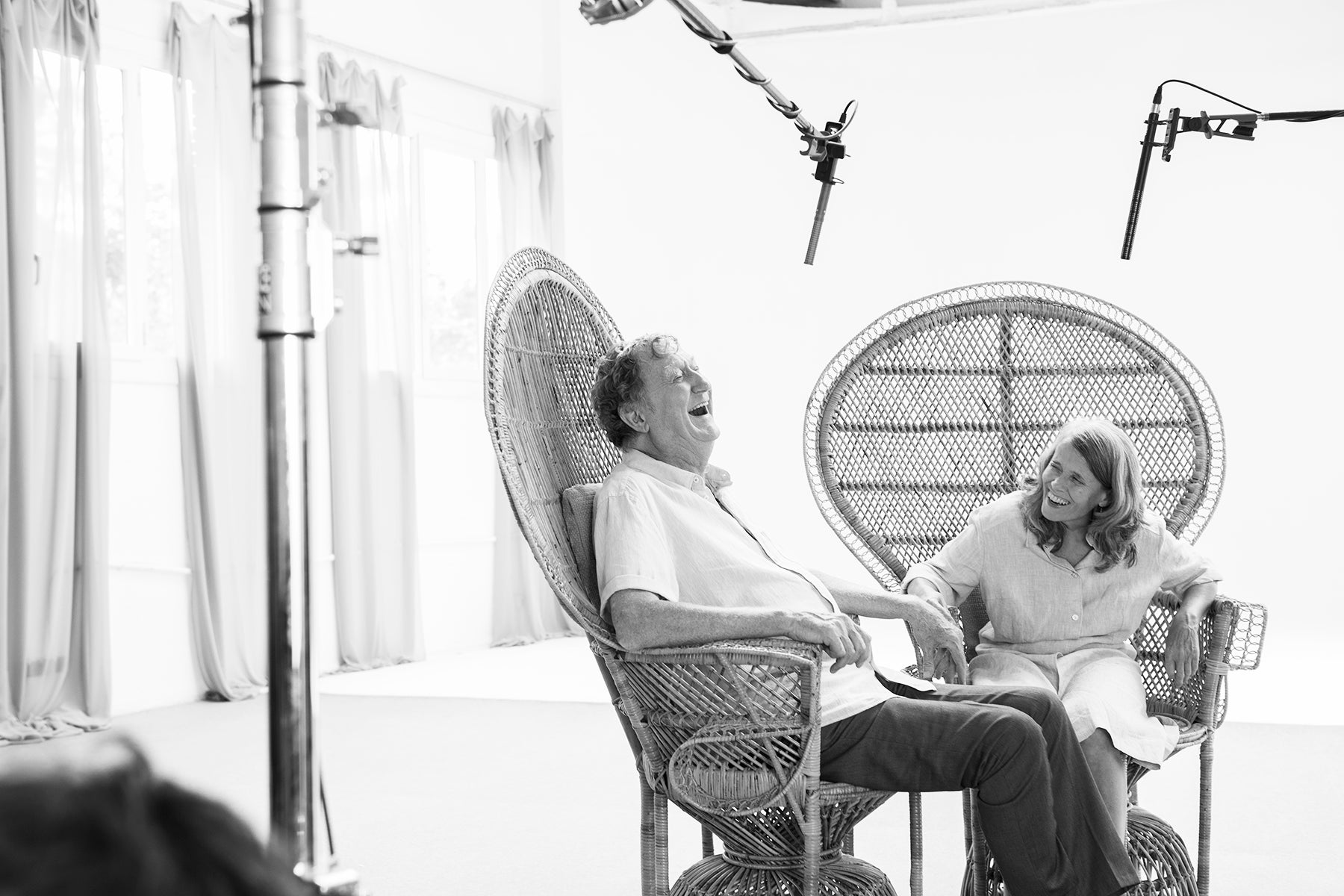 There wasn't any pressure from Erika for John to have a massive hard-on or anything — and no one came running over with Viagra — but still, we thought that's what people would want to see.
We have a particular kind of sex where there are no goals and there's nothing wrong with not cumming or having an erection, so even though there was a bit of fluster when we realized John's penis had gone on strike, we knew what to do.
John: We call the type of sex we have "Soulsex," which is a different, more pleasurable way to be intimate with each other. It makes it so your sex life doesn't have to end just because one of you went gray — in fact, it can better as you move into your 60s, 70s, 80s or even 90s. Sex, in fact, is ageless, which is something we really wanted to impart onto people.
Annie: With Soulsex, you get to focus completely on your own pleasure. There are no goals. A man doesn't have to have an erection or an orgasm. A woman doesn't have to climax. There doesn't have to be penetration. It's slow, and it's sensual, and it allows you to focus on and build sensation. For example, sometimes I will pop John's flaccid penis in my vagina, and we'll just lay there and talk and laugh, or even sleep. Maybe he gets hard, maybe not.
Other times, he'll just rub and massage my breasts, and we'll kiss in bed. Every morning, I play with and hold John's penis in bed, or John will luxuriate lavishing his lips and tongue around my vulva. He adores the aroma and taste of my pussy, which feels so liberating and accepting to me because I can feel how much he's focused on his own enjoyment. I can feel that he's not concentrating on trying to arouse me, and that feels wonderful and freeing. Even if we're on a tight schedule and there's not time for much, we'll still kiss or stroke each other's genitals. It's all valid.
It's also impossible to get bored this way, because the sex you have is so different every time. And it's so easy — instead of being pressured to cum or perform, you can just enjoy it.
When there is a climax, the pleasure is way beyond what I've ever experienced, because there's no pressure to perform or get it over with quickly. It's almost indescribable — the closest thing to connecting to a "higher power" that we've found.
To do it, you have to have enormous honesty about what you're feeling and what you like. There has to be very open communication, so that when you make love, you can get to know each other's bodies in a way that isn't possible with quick, fast, climax-driven sex; the kind that often leaves women's pleasure behind. We did this not just to show other seniors that it's possible, but to show people of all ages that when you take the emphasis off the climax and the erection, you can have amazing, unbelievably connected sex every day.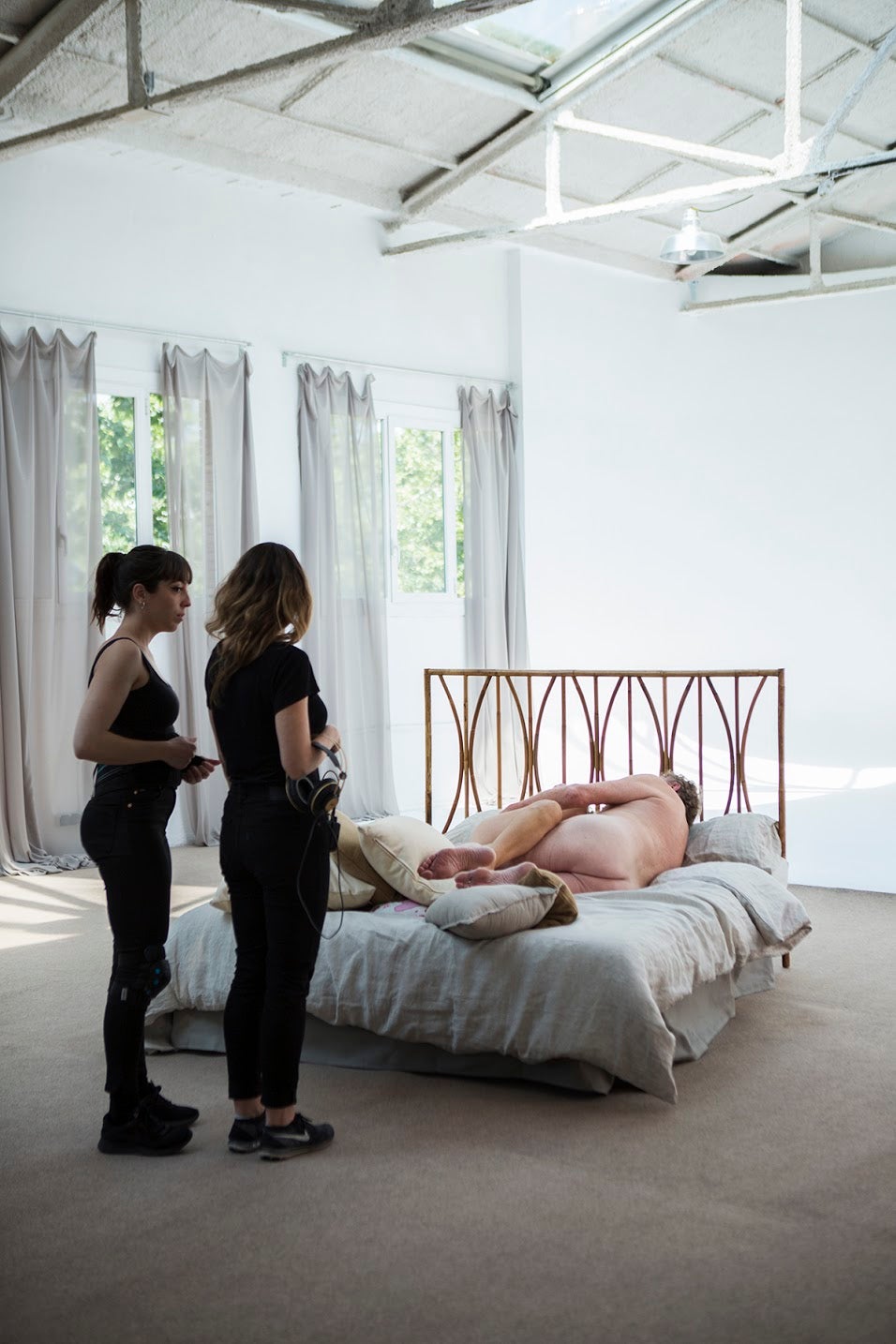 John: And we do. We're in our 70s, and we make love every day. Just to have some sexual contact is so important. It really grounds us for the day. It keeps our harmony going.
Back to the shoot, though. To keep that harmony going, I decided I'd go down on Annie. Even if I couldn't get hard, I could spend hours doing that. It's such a beautiful act. Though, during it, I kept worrying about whether or not I could cum. There always seems to be so much cum flying about in these movies.
However, when Annie started jerking me off, that got some cum flowing around. I was very impressed when one of the lovely girls on set came up afterwards nonchalantly and lovingly and handed me some tissues to clean up with. I was incredibly relieved when that part of the filming was over.
All that said, I thoroughly enjoyed the experience. In spite of being in my head at times (which I'm not when I'm in the privacy of our bedroom), I really did have some fantastic sensations. If you watch the film, you can see it — I'm in ecstasy. Even though I was soft and tender, we still put my penis inside Annie, and it just felt unbelievable. It was because of the energy flowing between our genitals.
Annie: It doesn't matter if the penis is like a cherry, all plump and ripe. You can still pop it in and get some really good pleasure from that. I always really enjoy it myself. The experience is long-lasting and orgasmic.
John: As we were wiping up and getting dressed, we both had the distinct feeling that we were pioneering something that had never been done before (or at least done on such a large scale). When we watched the footage afterwards, we were really blown away. We shared it with a close female friend of ours whose opinion we really trust, and she just loved it. They did such a nice job with the outtakes and showcasing our connection. It really showed our intention.
And then the thought popped into my mind: "Oh God, the kids!"
Annie: John has six kids who he has an absolutely beautiful relationship with. Some of them know about us and what we do, but others don't really want to hear it. We don't force it onto anyone. Rather, we trust that anyone who wants to know will "lean forward," so to speak. Then we can offer information, courses or books to them.
The night before the shoot, we both felt a little embarrassed at the thought of our respective families seeing the movie. But then, we realized that that was a classic byproduct of families not having open, honest and innocent discussions around sex with their children at age-appropriate times. So we saw it as just another opportunity for healing!
John: Still, I don't think I'll be sending all of them a link to the video just yet. They're really the only people — aside from the rest of my close family — who we don't feel the need to share this with. Though, as Annie says, we're more than happy to assist with information if anyone "leans forward."
Annie: Other than them, I don't think either of us are too worried about the response it'll get. While it's true that there's a lot of ridicule, shame and amazement about people having sex in their 60s, 70s and 80s, I really do believe that the consciousness around senior sexuality is changing. There's a massive sexual awakening going on right now, and people have less tolerance than ever for shame around bodies and sex. We're fully expecting the response to be welcoming, and if anyone says otherwise, I'd challenge them to examine what messages they've received about sex and seniors in their life and question if they're really true. If there are lingering taboos, I'd like to think we're doing our part to break them.
John: To anyone who has any doubts about older people having sex, I'd say to them: "Are you having sex now? Are you enjoying it? You are? Well, wouldn't you like some of that when you're 70 and beyond?" Most often, the answer is going to be an enthusiastic "yes."
Of course, there's always some fretting about whether you'll still be attractive as you age — just because something sags here, or something goes gray there — but I'm here to tell you that just isn't the case. We're so attracted to each other — I'd say we've become more attracted as we've gotten older. And doing novel things together like this film definitely helps — the filming definitely deepened our sense of innocence and connection. What is definitely very attractive for us both is the total honesty we share about all our feelings and thoughts. There's no jealousy or insecurity in our relationship. This is exceedingly freeing and bonding.
Annie: We weren't always like this with sex, though. I'd spent most of my life having conventional, somewhat inhibited sex with a small amount of partners that I loved very much. My first husband passed away, and I found my second fiancé, who I was supposed to marry in just a few weeks, dead on our kitchen floor. I've been through some dark, dark times. Honestly, at one point, I just gave up on finding sex and love altogether.
John: I'd sum up my relationship to sex as "terrifying." Most of my sex life was shrouded in fear or shame around my body and my sexual urges. When I was growing up, I was ridiculed for having what I later learned was a perfectly normal curve in my penis. On top of being sexually abused by my mother and a headmaster at primary school, I developed these deep, deep fears and this chronic insecurity around sex. When I finally talked to a doctor about it, he suggested I "have a few drinks to alleviate the fear." I took his advice, which set off a couple of decades of alcoholism.
Eventually, I admitted myself to a rehab clinic. There, I became deeply interested in spiritual practices. I consumed every bit of information about the mind and its power over the body that I could.
One of the things that shifted my relationship to sex to the most was meeting this German woman online. We went to bed together, and were about to get down to it, but she stopped me and told me, "No, no. I do this differently. You just lie there and relax. You don't have to get an erection. You don't have to enter my pussy. You don't have to make me cum. You don't have to cum. You don't have to do anything. Just feel."
It was like somebody had lifted a 100-ton weight off my shoulders. We ended up having a wonderful session. I had to just let my male ego go, but I was willing to, because I wanted to heal. She became my teacher. She taught me everything.
Annie: And that's what John taught me. I couldn't believe how much it changed my understanding of pleasure and my own body. We fine-tuned our practice by going to trainings called "Making Love for Couples" by tantric experts Michael and Diana Richardson. Eventually, we got so good at it that we decided to teach this kind of sex to other people, which we do now as sex educators.
John: This is all to say that we're not just two people who got paired up to fuck each other on camera. We're people with a deep connection, who put so much work into exploring each other and our sexuality, and whose relationship to pleasure has changed for the better over our lifetime. We're coming at it from this shared history of self-discovery, spirituality and this very deep desire to share what we've learned with the world.
Annie: I'll tell you one thing, though: Doing this has certainly made me feel even less shame than before. If you've been filmed fucking on a great, big, Hollywood set for real, naked, with your 73-year-old husband, I mean, you can have no embarrassment anymore, can you?