On May 1st, the Grim Reaper finally broke his silence about Florida reopening its beaches in the midst of a global pandemic. 
In a viral moment that later aired on The Daily Show and SNL, Florida attorney Daniel Uhlfelder spoke to the local news media from behind a protective mask and in a black linen costume that shrouded his face in darkness. "I'm here today to try to make a point that it's premature that we open our beaches," he said in a non-threatening voice, signature reaper sickle in hand. "It's going to prolong the recovery we have, and I think we should take better measures. It's too soon, and it's not appropriate." 
The thing is, Uhlfelder doesn't really find any of this funny. He's deadly serious (pun pretty much unavoidable) about getting people to understand that going to the beach while the coronavirus still spreads throughout the country is a giant health risk. "I've taken on a lot of political causes in my life — just never in costume," Uhlfelder tells me. "But if you understand how I got here, you'll see that it's not that crazy." 
To that end, Uhlfelder is a fierce public-beach advocate who has historically fought against their privatization. For instance, when bass-playing FOX News personality Mike Huckabee tried to privatize the beach outside of his 10,000-square-foot mansion, Uhlfelder famously took him on as part of a group called Florida Beaches for All. More recently, at the end of March, Uhlfelder sued Florida Governor Ron DeSantis with the hopes of forcing him to close the entire state given the ever-accelerating pandemic.
Now, though, Uhlfelder is embarking upon his most ambitious feat yet — the Florida Grim Reaper Tour, in which he appears for about an hour at different beaches throughout the state that he announces ahead of time (and with touring locations previewed on T-shirts available for purchase). He hit up a total of four beaches on one particular day earlier this month. He also says that he's already been asked to travel to Georgia, California and Europe to reprise his shtick there. (Speaking of California, while Uhlfelder isn't in contact with them, apparently a bunch of other Grim Reapers have begun showing up in Huntington Beach as well.)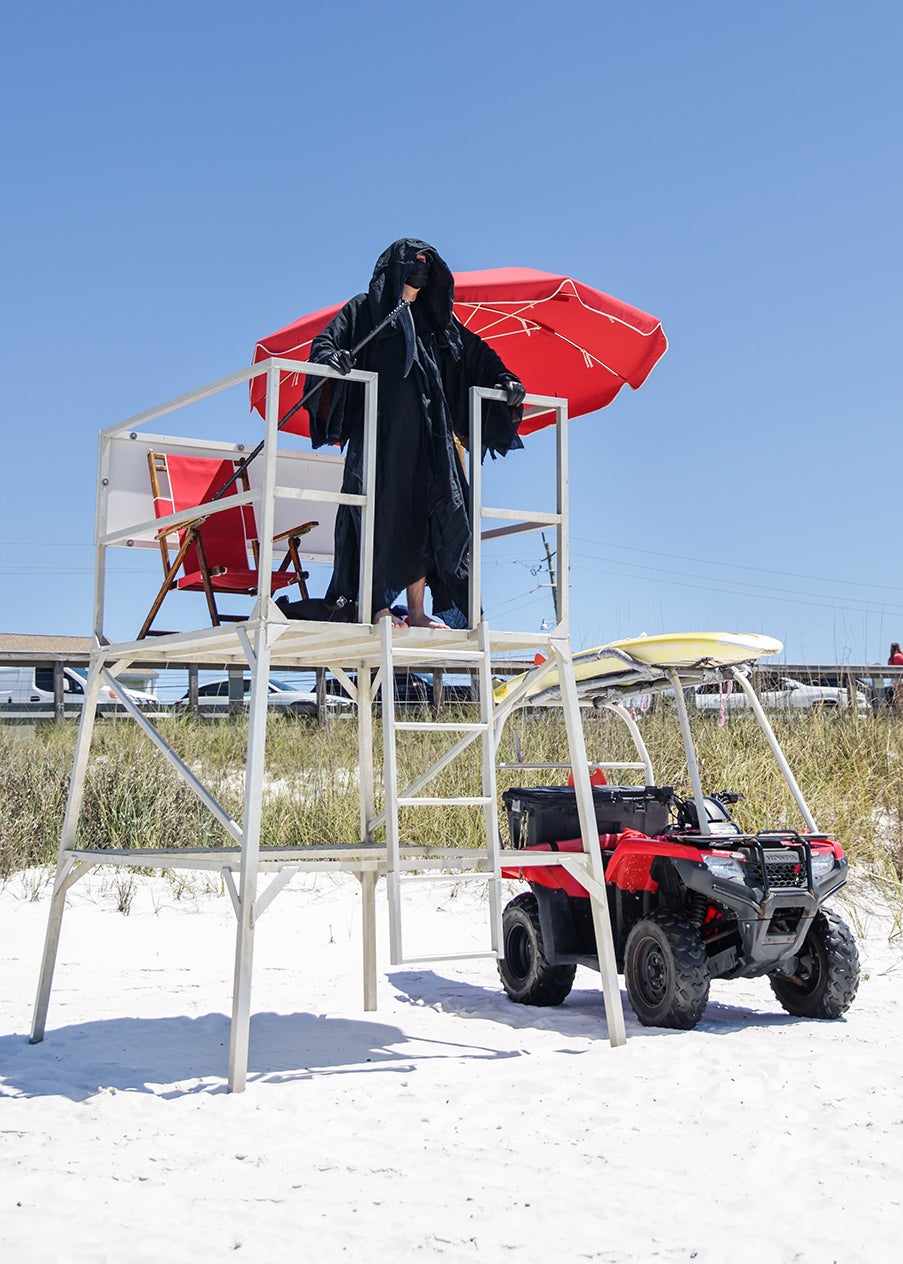 Uhlfelder vows that he's diligent about social distancing whenever he takes to the sand, but he has struggled to find a sanitary bathroom since public restrooms are still closed (another reminder of how rash these openings are as certain parts of the country continue to deny the severity of the virus). "There was a Porta Potty, but I'm like, 'Where do I wash my hands?' 'Oh, here's some hand sanitizer.' Then there's no toilet paper, but the Porta Potty has shit in it. That's the insanity of what we're doing."
He isn't, of course, without hecklers. "I don't really deal with those people," he tells me, adding that he was once approached by a guy who was dressed in a Captain America suit, carrying a surfboard. "He said, 'I'm not going to die today," Uhlfelder continues. "I just said, 'I don't know. But I'd stay inside to increase your chances of living.'" 
Uhlfelder's beef with Huckabee undoubtedly empowered his political activism/performance art. When the former Arkansas governor filed a Florida bar complaint against Uhlfelder in hopes of damaging his reputation, Uhlfelder weaponized the complaint by making it public on Twitter, receiving a swift rise in followers (roughly from 400 to 75,000).
It also inspired him to start a political action committee in February called Make My Day to support candidates he believes in — i.e., Democrats who could dethrone Republican "bad actors" like Mitch McConnell, Susan Collins, Devin Nunes and Uhlfelder's own congressman, Matt Gaetz.
Not that any of this has precluded his trolling. A couple of months ago, in fact, he staged a fake new segment outside of Huckabee's beach house about Trump "sucking out" the coronavirus, and in mid-March, Uhlfelder filmed himself in a hazmat suit trying to reach DeSantis outside of his home, asking him to close to the beaches. Then, last month, Uhlfelder crowfunded a rolling billboard in Tallahassee that featured DeSantis wearing just one glove and sniffing the finger of his exposed hand. An arrow pointed to him from text that dunked on him: "This is the guy in charge of Florida. #Stayhome." 
"He should be thanking me," Uhlfelder says of DeSantis, referring to Uhlfelder's legal pressure to close the state. "But he's not, of course. He's threatening me. I'm not afraid of him, though. I'm afraid of family members of mine dying because we didn't do the right thing." 
As Uhlfelder stands on the beach and exposes the ridiculousness of his "Trump land" politicians, a key issue on his mind is unemployment, emphasizing that Florida has the largest backlog of unemployment claims in the country. "We have a broken system of unemployment in terms of taking care of people," he tells me. "Because Florida is so driven by tourism, we don't have other modes of revenue. We don't have a state income tax, we get our money from property taxes, sales taxes and bed taxes, which are way down. So we need to fix a system that's starving people and forcing them to choose between working and taking care of their health."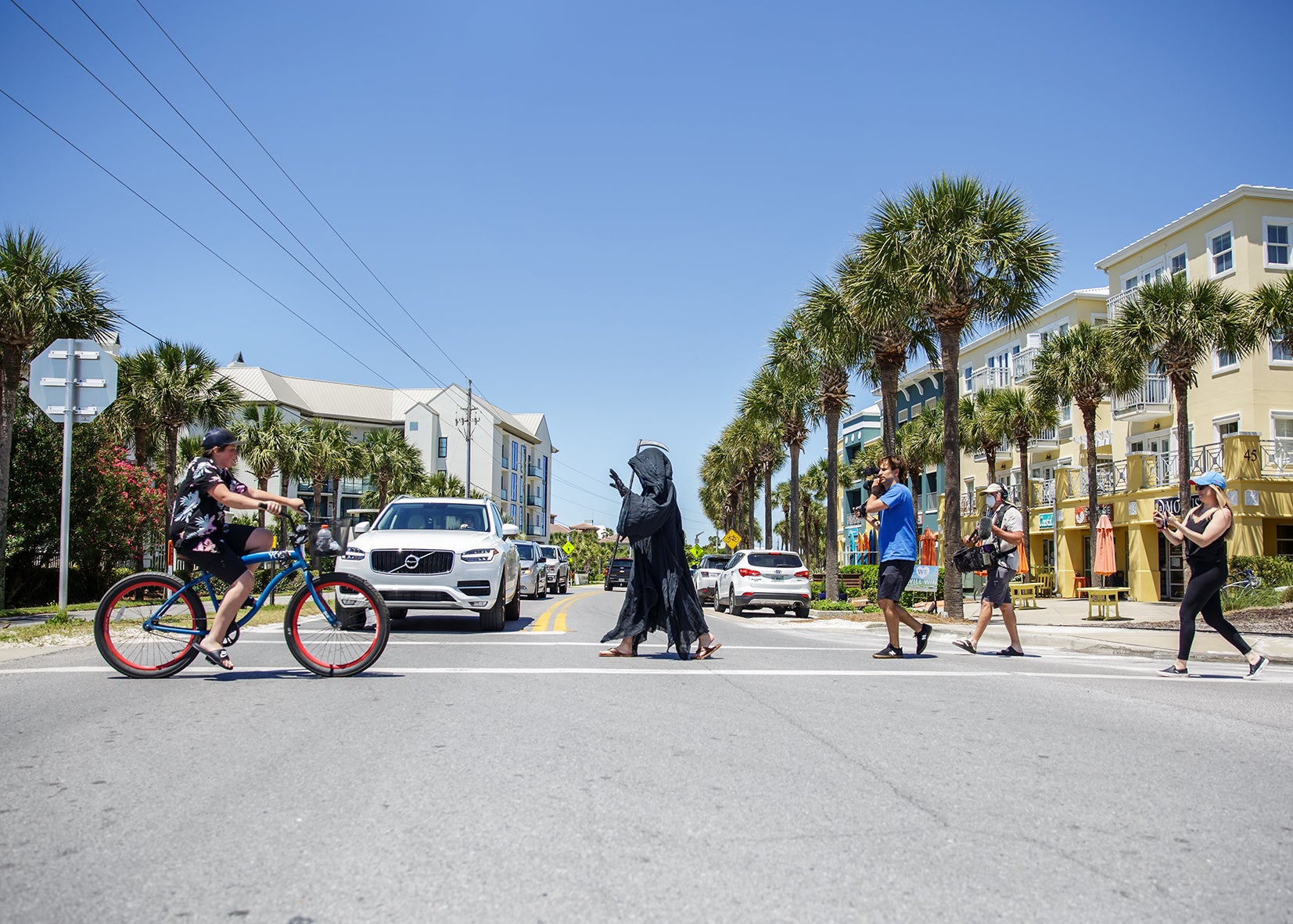 He also wants to make clear that he's not attempting to necessarily shame beachgoers. "The government shouldn't even be allowing this to happen," he says. "So would I prefer [people didn't go to the beaches]? Obviously. But am I trying to scapegoat them? Not really, no. My strategy is to affect change by attacking our leadership, which might involve educating people as well."
After all, to date, the state has had more than 45,000 confirmed coronavirus cases, nearly 2,000 COVID-19 deaths and hundreds of new cases are still being reported every day. "This is serious shit, man! These people are dying! From touching something!" Uhlfelder exclaims. "We need to take it much more seriously."