I'm a Black man in America, so when Chester Hanks first announced a summer season devoted specifically to young Caucasian men (aka "White Boy Summer") back in March, I had reservations. I mean, wouldn't you?
Pretty much everyone else did, too. Refinery 29 warned its readers that White Boy Summer "Might Be the Worst Idea We've Ever Heard." The Cut broadly agreed, saying, "Oh No, Chet Hanks Is Talking Again." The British press even went so far as to declare that "Tom Hanks' three other kids are less embarrassing than his son Chet."
But now that the widely-criticized season has pretty much officially passed, let's take a quick look back at what it turned out to be. Here is one Black man's review of White Boy Summer.
Like so many things these days, this season of sun-challenged young men started with an Instagram post. On March 26th, the 31-year-old son of Tom Hanks and Rita Wilson, Chester Hanks/Chet Hanks/Chet Haze (his nomme de hip hop), posted a short video from his car. His impromptu talk was meant to spark a revolution — a new way for us to see white boys: "Hey guys, look, I just wanted to tap in really quick — I just got this feeling, man, that this summer is, it's about to be a White Boy Summer. Y'know? Take it how you want."
To some folks, Hanks' words straight-up sounded like a veiled threat. Perhaps he heard it, too. Maybe that's why he quickly added a clarification: "I'm not talking about, like, Trump, y'know, NASCAR-type white. I'm talking about, y'know, me, Jon B., Jack Harlow-type White Boy Summer. You know what I mean. Lemme know if you guys can vibe with that. And get ready, y'know. Because I am."
The names he drops are important: Jon B. is a white R&B singer, and Jack Harlow is a white rapper. Which, in his mind, makes them both like Chet Haze. Neither performer made a public comment about being held-up as a paragon of white identity. Which was exceedingly smart on their part.
Meanwhile, Twitter reacted for them:
Needless to say, White Boy Summer was off to a rocky start. It seemed obvious to everyone not named Chet Hanks that white boys need more than just a summer dedicated to saving their good name. Speaking in the fakin' Jamaican patois he likes to use, Hanks reacted to the internet's immediate criticism of his White Boy Summer. "Wow, wow. Woke up this morning and the internet gon' mad, again," he said, before proceeding to "drop a few rules and regs" for his season celebrating melanin-deficient men.
"Rule number one, to all my white boys out there: no plaid shirts. You can't be looking like a picnic table out here, boys. You know what I'm talking about. Leave that shits at home — the Vineyard Vines and Ralph Lauren, and whatever the fuck, leave that shit home. Put on a black tee, a white tee, y'know what I mean, keep it simple."
Hanks eventually moved beyond the superficial fashion tips and spoke to the essence of white boyhood and our culture's deeply-rooted problems with misogyny. On this, Hanks offered the helpful advice, "Oh, and no calling girls 'smokeshows,' that term is played out." Then the rapper ended on an upbeat note: "Bottom line here, gentleman, it's time for us to evolve. Okay? Period. It's time for us to go from a Pikachu to a Raichu."
Hardly any reasonable person who's paid a lick of attention to the news over the last 18 months would disagree with the idea that, collectively, young white men need to evolve. Which makes this a needed call, particularly from a fellow white boy.
But then Hanks gets into more specifics, and loses the thread with his rule-making. He declares backward hats good and booze breath bad. Basically, he's just telling people things he likes and doesn't like. But that's also where he truly embraces the ethos of White Boy Summer: He just makes it about himself.
For comparison's sake, this was how Megan Thee Stallion announced Hot Girl Summer:
Back in 2019, Megan Thee Stallion was joined by fellow monster on the mic Nicki Minaj, and the two emcees ushered in a season worth celebrating. As Los Angeles magazine noted, "Contrary to the gendered nature of the phrase, anyone who chooses to ignore the haters and live their best life in a positive way can have a hot girl summer." And that good feeling Stallion gave to the world even lasted into the pandemic, helping some manage the blues that came with quarantine.
Boom. Culture shifted. What Megan Thee Stallion did was inclusive, lasting and meaningful.
Then, two years later, Hanks trotted out his Dollar Store version.
But Hanks wasn't done. He also launched a merch line for White Boy Summer, which some pointed out, used a weirdly Nazi-ish font.
Hanks course-corrected a little later and announced that this summer was also Black Queen Summer. He promptly added that slogan to his merch line, too. However, soon after that, the Black queen in his life filed a $1 million lawsuit against him for alleged abuse. His ex-girlfriend, Kiana Parker, made the announcement just hours before his music video dropped.
When I asked Michael, my boy across the SF Bay, what he thought of White Boy Summer, he texted back real quick. "I never found out what White Boy Summer was supposed to be. Is it what every son of a dealership owner means when he says, 'Yeah, brah, it's gonna be fuckin' sick at the lake house this summer!'?" he joked before adding, "But also, he was sorta prescient?"
In a way, he was.
In June, Naomi Osaka withdrew from the French Open and then from Wimbledon, which sparked widespread criticism from white boys. Then, President Biden signed a new law making Juneteenth a federal holiday to honor the end of slavery in the U.S. This also angered many white boys. Later in the month, former police officer Derek Chauvin was sentenced to 22 1/2 years in prison for killing George Floyd. This news made many white boys so mad it threatened to ruin their summer. On the flip side, by the end of June, 20 states had passed new legislation banning the teaching of "divisive concepts" like systemic racism, which made many white boys feel better.
In July, Richard Branson took a trip to suborbital space, and he was soon followed by fellow billionaire Jeff Bezos. Two men with a shit ton of money doing whatever they wanted prompted many White Boy Summer celebrations. More excitement followed when white boys could get together online and troll Simone Biles for withdrawing from a gymnastics event at the Tokyo Olympics. White boys also spewed toxicity when Marcus Rashford, Bukayo Saka and Jadon Sancho missed their penalty kicks in the Italy-England match for the UEFA 2020 Final. The three Black soccer stars were blamed for the loss and mercilessly attacked by their own countrymen — it was so bad the Royal family had to step in to calm the white boys down.
Meanwhile, August started off as a tough month for white boys after census data revealed there are fewer of them today than there were 10 years ago (relative to the rest of the American population). But the coming extinction of white people would at least be reason enough to celebrate White Boy Summer and give the boys their respect while they're still with us. Then white boys took another big L when Mike Richards named himself the new host of Jeopardy!. After he poorly overplayed his white-boy hand, the backlash cost him the hosting job and his role as executive producer.
Good or bad, all summer long, 4chan bigots and online Neo-Nazis predictably tried to use the slogan to express their feelings of a loss of power. Like, there was plenty of whatever the hell this is, over on Instagram: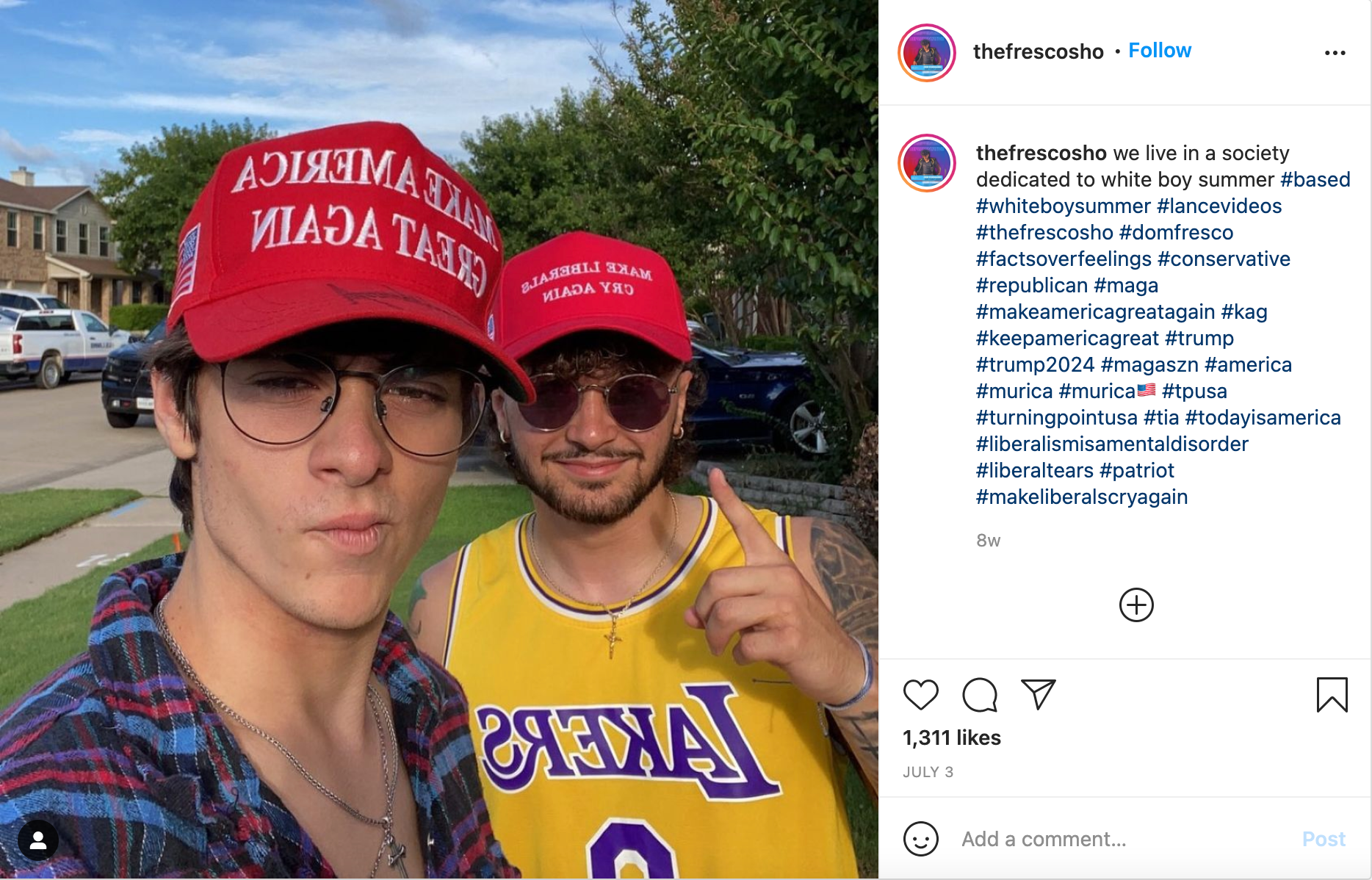 Or how about a young Ted Kaczynski, celebrating his White Boy Summer: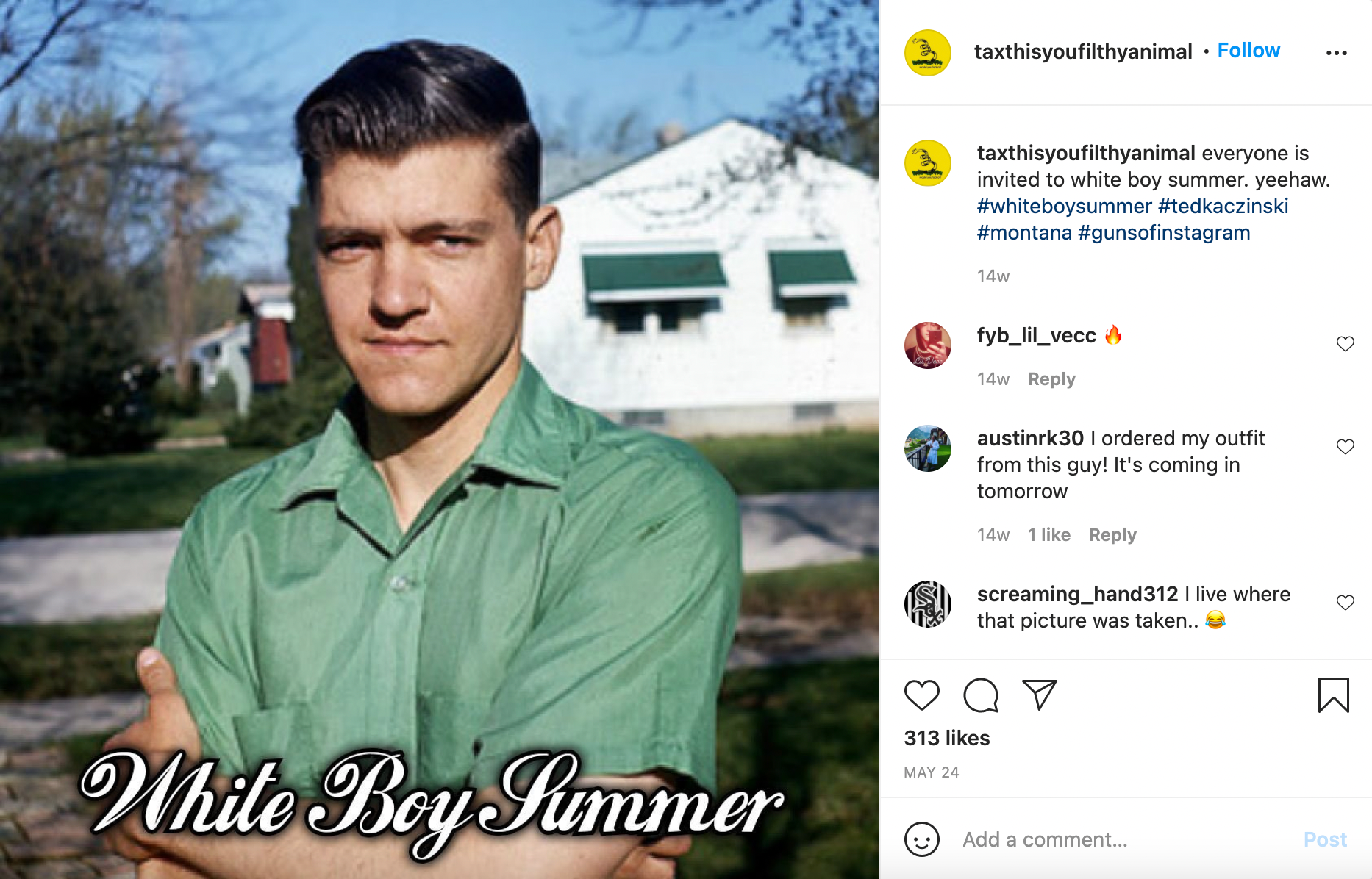 Or the meme of race war played as a basketball game from American History X:
In the end, Hanks may have been surprised by what he started, given he probably just intended to drop a music video, sell some merch and create a little viral heat for himself. Instead, he became the symbol of this country's ills.
White boys who grow up to be white men have always believed they are somehow more important than everyone else. So they don't need to brand a summer as theirs to make it their own. Abortion bans don't hold white boys accountable. Voter laws are designed to protect their interests. Education curriculums are based on their comfort. Political will gets directed by their imaginings and follows what matters most to them. Brett Kavanaugh — he's never missed a single White Boy Summer his whole life. And he's damn sure not going to let women's access to health care get in the way of that for him or any of his boys.
You see, the thing is, Chet, there was no need to announce it — we've been having White Boy Summer for more than 500 years.