It's Friday night in downtown Portland, and the darkened windows of the dive bars, pizza parlors and boutique restaurants are the only solemn reminder I need that the world is different than it was three weeks ago. 
This eerie quiet, however, is soon pierced by a car engine. I poke my head out of my building's alcove to see an old delivery van — the type that you'd expect to see in a 1970s heist movie — chugging around the corner. It squeals to a stop and out jump two women wearing little more than nipple pasties, booty shorts, latex gloves and bedazzled facemasks that sparkle through the rain and shadows beneath the blossoming street trees. The masks may not protect the wearers from coronavirus, but they certainly add humor to an already surreal product of the most terrifying pandemic to hit humanity in a century. The ladies hand over my bacon and cheese Gardenburgers, give a little twerk and titty shake as they pose for the camera, and jump back in the van to make the next delivery. 
This is what to expect from Boober Eats (now Lucky Devil Eats), the country's only delivery service operating out of a strip club.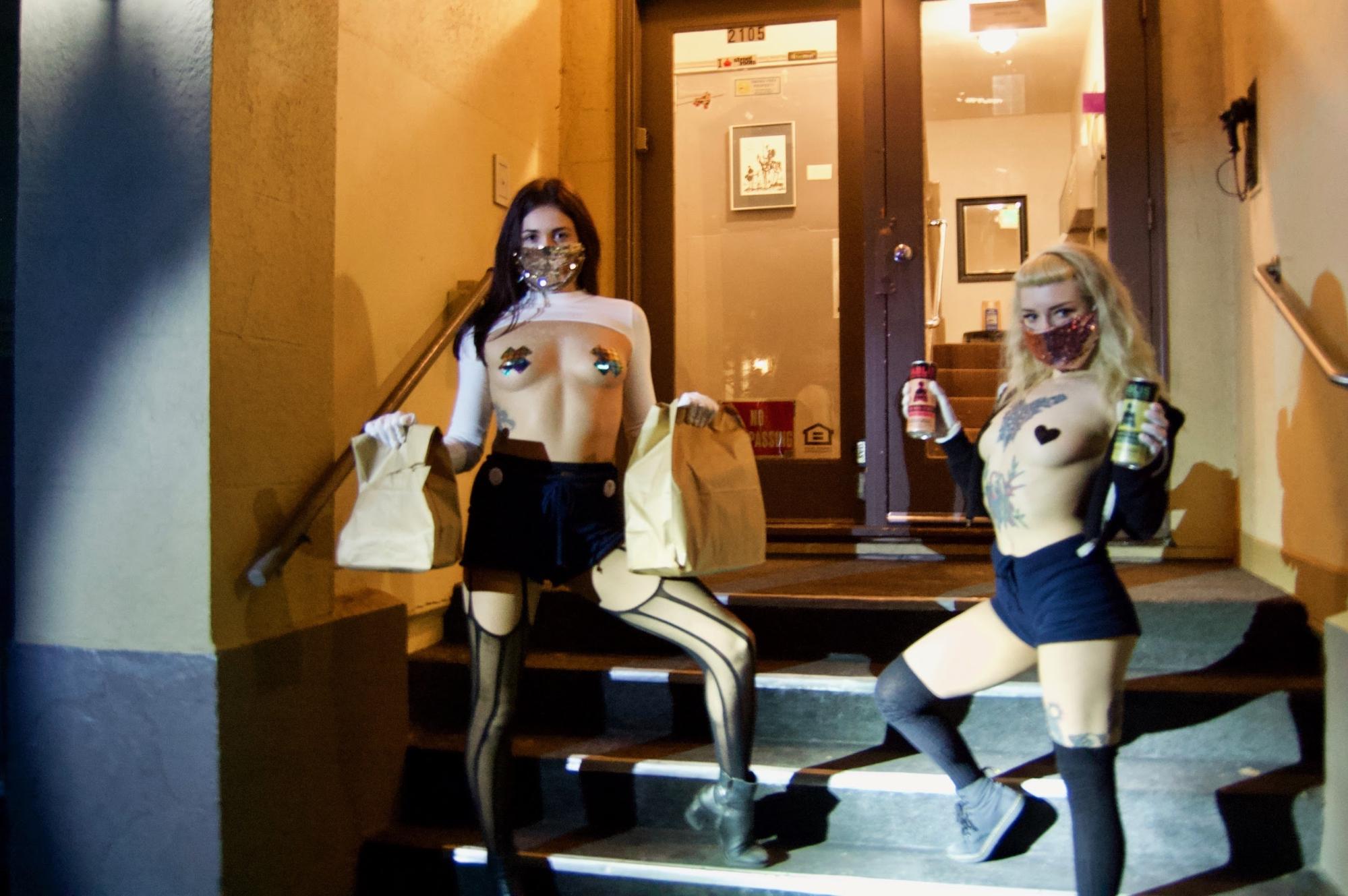 Boober Eats started as a joke on Facebook. With COVID-19 forcing Oregon's service industry to shut down, Shon Boulden, the owner/operator of Portland's Lucky Devil Lounge, posted on March 17th that his strip club would start offering food deliveries featuring semi-nude dancers to keep his staff employed. The club's followers and his employees immediately voiced support for the idea, and quickly thereafter, the dancers, accompanied by bouncers, hit the streets delivering paper bags filled with steak bites, chicken alfredo, burgers, mini corn dogs, beer and CBD-infused sodas straight from Lucky Devil's kitchen to every corner of the metropolitan Portland area.
A local newspaper picked up the story the next morning. The paper was followed by TV reporters, then the regional publications, then Rolling Stone and the New York Post, then cable news and Canadian outlets. Within days, the story had hopped the Atlantic to the U.K., then to non-English publications in Mexico, Czech Republic, Russia and Japan. Naturally, within days, orders were coming in from beyond the metro region — in fact, before the week was over, Boulden received an order from Ireland. Thanks to the internet, a pun-based delivery service working out of a strip-club kitchen conquered the world faster than COVID-19.
"Shon is mostly doing this to keep us all employed," says Lou, one of Boulden's strippers-turned-delivery-women. "Not just [the strippers], not just him, but the cooks and the bartenders, too — and also to give us all hope and a sense of community."
Like most service industry workers, Lou wakes up in the afternoon. After a quick shower, she picks out her outfit and character for the night and heads to her shift at Lucky Devil Eats (Boulden had to change the name to avoid a lawsuit from Uber, a company with a reputation for exploiting its workers). Lou didn't expect to end her first year as a stripper, a lifelong dream job, bringing people takeout, but she's grateful to have at least some income during the pandemic.
Being professional entertainers with a refined sense of showmanship, Lou and her fellow strippers have been matching outfits during their shifts. As such, in the past week Portland's empty streets have seen sexy nuns, nurses, a sailor and even an alluring narwhal speed-walking through the rain holding takeout bags with a bouncer/driver in tow. While the pay has dropped substantially from what can be made while performing on the stage — Bolden says his employees are making about minimum wage doing deliveries — one upside is the strippers get to work in sneakers and flats instead of the standard platforms and cutthroat stilettos. 
Deliveries begin at 6 p.m. Around 5:30 Lou arrives at the club, a red bunker-like building perched on a bluff overlooking downtown, and sanitizes by washing her hands. As she points out, strip clubs have at least one advantage over restaurants in this time of crisis: They're used to taking extra steps to keep things hygienic. 
As she picks out her pasties and goes over the safety precautions with her boss, the house kitchen puts together orders. Like every other venue that serves liquor in Oregon, Lucky Devil is required to offer a food menu of at least five "substantial food items," which is why you may have heard of Portland's famous vegan and steak house strip clubs, and why a delivery service operating out of a strip club is even possible.
Delivery isn't cheap — a 15-minute drive time can cost an extra $30, a testament to the devotion of the people who have been ordering deliveries to their friend's homes as a surprise mood-lift during self-isolation. The longest delivery Lou has gone on was a 30-minute trek to the outskirts of Hillsboro, where the customers told the deliverers, "We're so not worthy." 
She says the work is surprisingly tiring, mostly because of the monotony of driving back and forth. To stretch her legs and stay upbeat, she uses her time at headquarters to practice her spins on the pole in the relative silence of a room normally packed with devoted regulars and visitors looking to catch some of Portland's unique, down-home stripping.
While Lou adds that most customers have been respectful of the protocol, encounters can get wild — recently another employee had to rebuff an attempted hug from an "extremely excited" naked woman staying at the upscale Jupiter Hotel. Lou hasn't had to reinforce social distancing to that degree, but another lady did flash Lou her boobs in gratitude. Most grateful customers have stuck to providing hefty tips, while others have tacked on discounts for their cannabis shop or free ciders from their brewery. This is Oregon, after all.
Along those lines, social media pages are full of support for the club, with several posts praising Boulden for his resourcefulness. "Great food, great delivery! Thanks for your creativity in staying open!!" a Yelp review declares. "Most certainly (sic) wish all bosses were as imaginative as the owner of this establishment!!!! Got everybody working!!!! Amazing!!!" reads a post on the club's Facebook profile. "Good idea, everyone needs cheering up," says another. 
Yet Lou senses something even bigger. "Everything you're seeing on the news or social media is about something negative, or something that's scary. This is the one news story that's bringing a little bit of joy or hope amidst all the chaos," she tells me. 
During the rush to comprehend what the coronavirus means for the future of our society, we've struggled to find an appropriate first response. At first, there were St. Paddy's Day enthusiasts and spring breakers who embraced the country's long-standing tradition of looking danger in the face and drinking beer out of its butt crack. Others shared pictures of clear skies over China and clear waters in Venice, implying that this outbreak might somehow help the fight against climate change. More recently, several leaders of the American right have suggested sacrificing America's grandparents to save the economy. In a media cycle we're all familiar with, every one of these groups was quickly called out for being callous, directly endangering the public, or both. 
This, though, hasn't happened to LDE, and there are a few obvious reasons why. First, the delivery service is the result of an employer taking precautions to protect the public and its employees from a pandemic. Second, it's an action taken by a small business to keep paying its staff whatever it can through the economic crisis — something many American workers are finding out that their boss can't or won't do for them. Third, it's a perfect representation of our love of confronting any threat in the most flamboyant way possible. LDE is both Dr. Fauci calmly alerting us of the crisis at our doorstep and Tiger King's James Garretson riding into the sunset on a jet ski with "Eye Of The Tiger" blaring in the background.
At the moment, LDE appears to be the only strip club supporting its workers this way, but that might change in a city where every club has at least a deep-fryer. Or, we could wake up tomorrow and find out that even food delivery is too much of a health hazard, in which case Boulden says he would have to close up shop. 
But for now, after spending weeks trapped at home scrolling through stories about how our world is about to change forever, "Boober Eats" is the first news story of the COVID-19 era to give us a sense of life going on, of ordinary people being thrown a curveball and responding with prudence, resourcefulness and creativity. 
Not to mention, it's a story with boobs in it, which is always welcome in America.