"It is difficult to describe how it feels to gaze at living human beings whom you've seen perform in hard-core porn," David Foster Wallace wrote in his scornful account of the 1997 Adult Video News Awards. Wallace, one of the intellectual greats of the 20th century, couldn't seem to wrap his mind around the fact that you could watch a recording of people having sex, and the people having sex in the recording could lead an existence independent of your arousal. "To have seen these strangers' faces in orgasm — that most unguarded and purely neural of expressions," he continued. "This weirdness may account for some of the complex emotional intercourse taking place between the performers and fans."
To be fair, at the time of Wallace's AVN dispatch, porn fans did have to attend such trade shows or industry events in order to touch the hem of their favorite starlet's shimmering lycra garment. Nowadays, though, any porn performer worth her eyelash glue must cultivate an accessible brand across an array of social media platforms. Some of those platforms (such as OnlyFans, Patreon and Clips4Sale) can be monetized, while others are just among the digital demands (from Google+ to Twitter to Facebook) placed on 21st-century professionals of all kinds.
In some ways, porn stars now have unprecedented control over their personas and ability to market directly to their fans. In fact, to my way of thinking, nobody is better than they are at modulating the intimacy that Instagram, Snapchat and even Linkedin demands from modern humans while maintaining the privacy they need to take care of themselves.
But with this 24/7 access to the inner lives of the people they watch fuck, how have the expectations of porn consumers changed since pre-internet days?
Asa Akira, an award-winning adult actress with 767,000 Instagram followers, tells me over email that she entered the industry in the Myspace era, but it was really Twitter that has most helped her career. After a quick scroll through her feed, it's easy to see why: She effortlessly combines pop culture humor with obscene links to her porn work.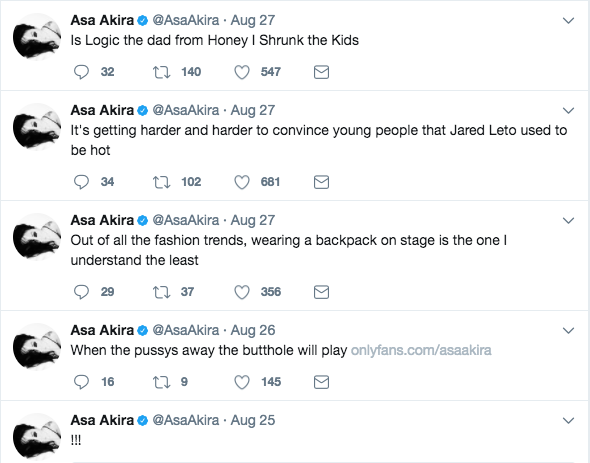 "It's hard for me to say what my career would've been like in the days when porn stars were more untouchable, less accessible," Akira says, elaborating that her fanbase wants to see her perform extreme anal scenes and relate to her as a "real person." She adds that between her two memoirs and her podcast, there's not a lot she keeps private. She also prefers being in control of her public persona. "I can't have people whispering out there that I don't like anal," she jokes.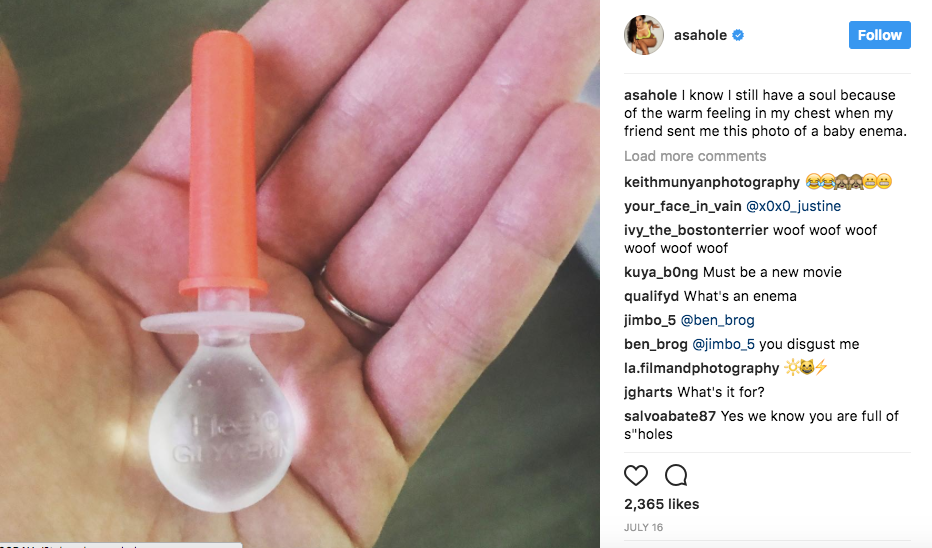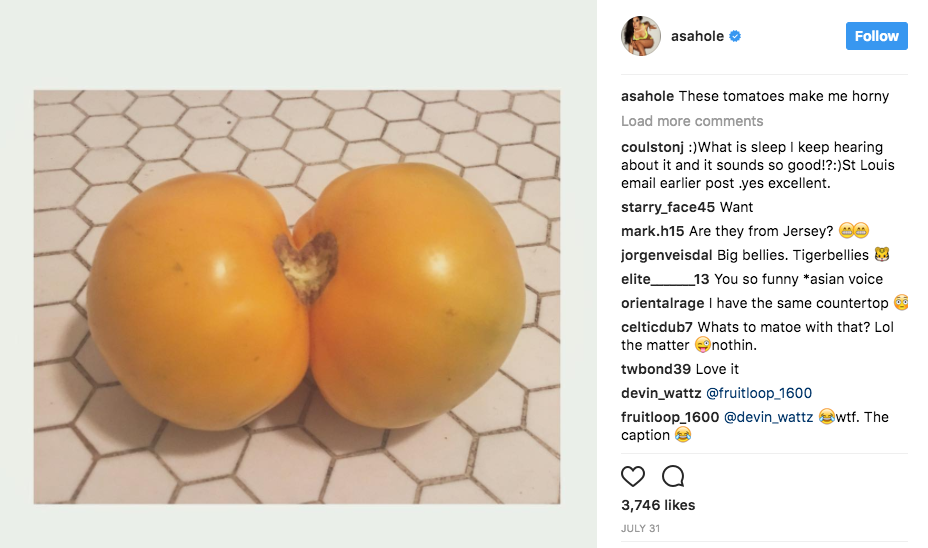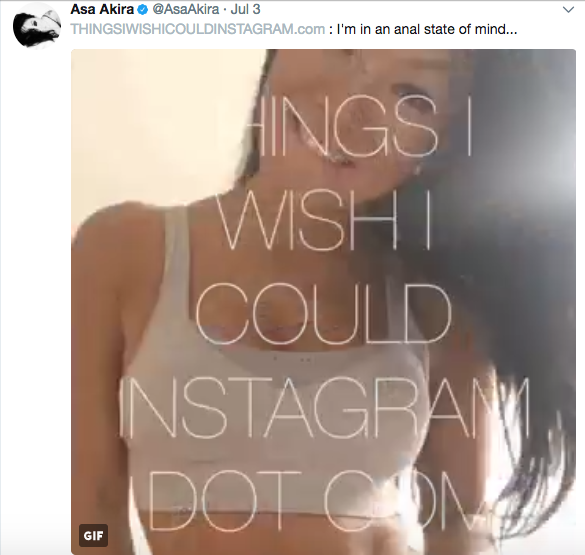 "Most performers need to market themselves without the support of studios, which don't spend much in the way of time, money or effort in promoting product," explains Kelly Shibari, a longtime performer who's now a publicist in the industry with 73,000-plus Twitter followers. While these self-promotional platforms put more demands on performers, she says, they also allow them to market directly to consumers.
"Having so many free platforms available has been a super empowering feature for new and indie performers, but it certainly comes with some setbacks," says Nenetl Avril, a fetish model and porn actress with 10,000 Twitter followers. "There's a lot of pressure to promote yourself constantly and be active. You really have to sell the idea of success and activity to your followers."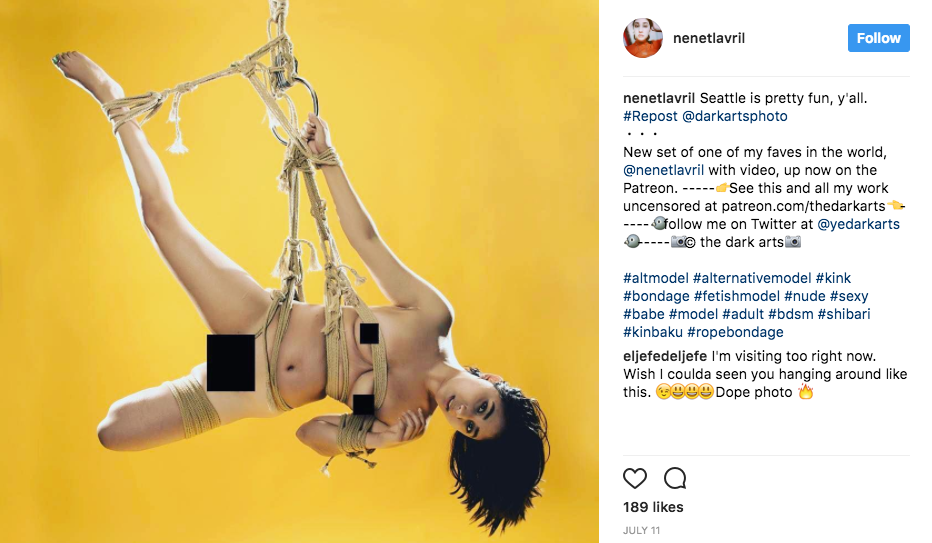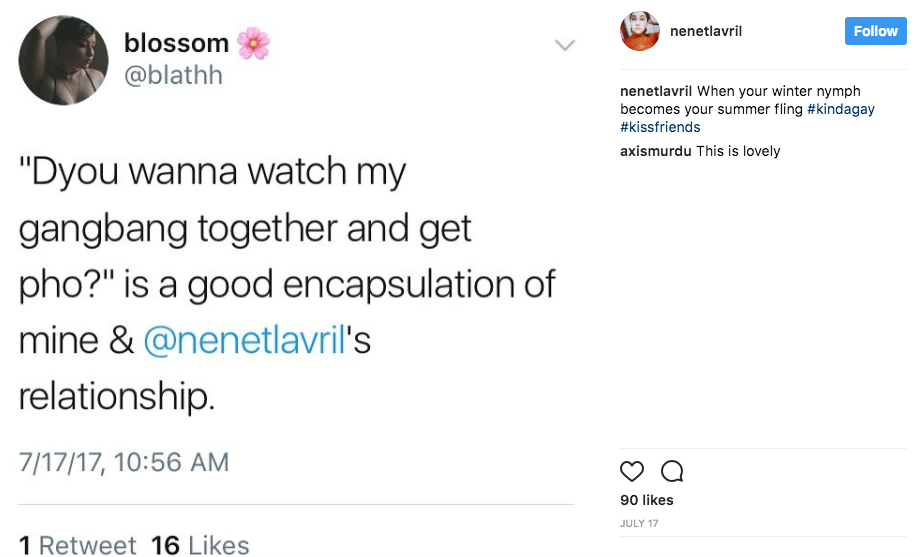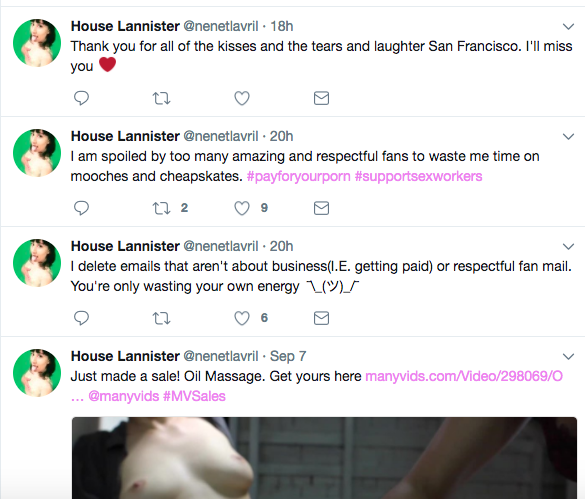 Still, it's been an effective matchmaker — pairing niche performers with the audiences that appreciate them. "Without social media, I'm not sure if someone like me — over 40, Asian and plus-size — would've received as much attention," says Shibari, for whom Facebook remains a favorite platform.
"Social media has allowed me to reach out to a wider, more varied fan base, which includes people who became fans of just one part of me first, and then became fans of the complete package after interacting with me. It's allowed for a tighter group of fans and friends with whom I feel completely comfortable being myself."
Yet there's always boundaries to consider: Namely, when your job involves intimate vulnerability, how much of the "real you" do you want to show?
"I keep a lot of my private life separate," Avril says. "There's always some spill over, though. I have rheumatoid arthritis and Complex Post-Traumatic Stress Disorder. Occasionally I share my struggles with both of these illnesses online because I think they're important. Mental and chronic illness are seen as taboos, especially in adult work. Normalizing my experience helps my fans (and even myself) come to terms with their prevalence."

Performers also take advantage of social media to instruct their fans on good consumer behavior. Avril, for instance, recently tweeted a screenshot of a fan letter as an example of "a polite and respectful interaction with your favorite models."
"I frequently remind my fans that I need privacy and space and to please respect that if they see me in public," Avril explains. "There are days when I want to talk about work, and days when I just want to eat cheese fries and not be Nenetl."
Obviously, it's not easy to separate sex from all of this. In order to promote their work, performers have to tease it. Not that sex is required for fan arousal. A Twitter user who identifies himself as "Johnny" confesses to me that "some of the tweets by the performers make me very aroused. It can be anything, even normal tweets that aren't porn related."
Which actually doesn't seem to bother porn performers. Instead, it's the followers who try to get explicit imagery and attention from performers for free on social media that typically end up getting blocked or dragged. In this way, social media exchanges might be more intimate, but the business is as transactional as ever — with transparent monetary demands more or less ubiquitous (whether it's participating in the hashtag #GiveYourMoneyToWomen or offering fans a chance to sponsor an everyday experience between two performers).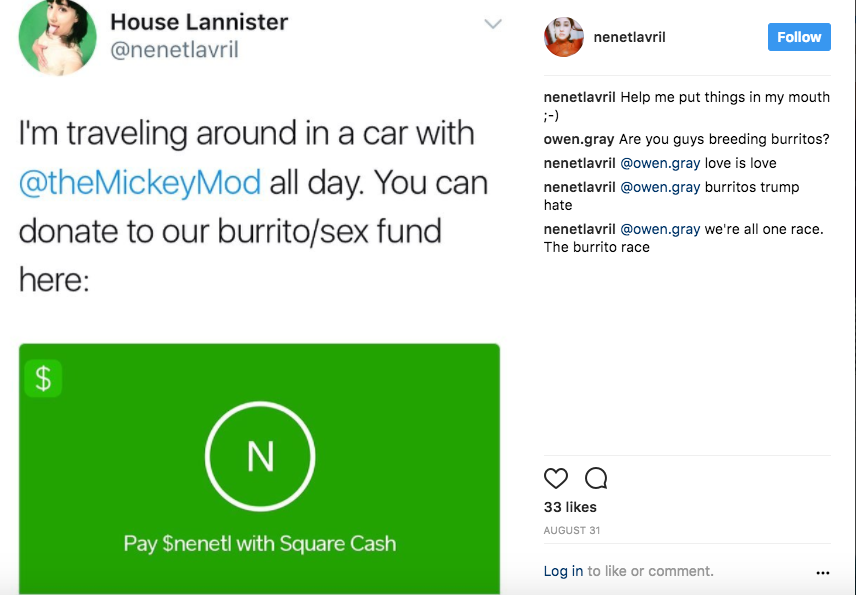 Nor are most stars afraid to remind their followers that they should be ethical porn consumers. As porn star Lorelei Lee recently tweeted, if you watch someone's scene for free on a tube site, you can assuage your guilt by finding their personal profile and sending them money. Most stars post an Amazon wishlist, too, so you can buy them a gift to their taste as well. Or, as Jon Ronson recently documented on his Butterfly Effect podcast, you can respectfully email or DM your dream performer to order a custom scene just for you.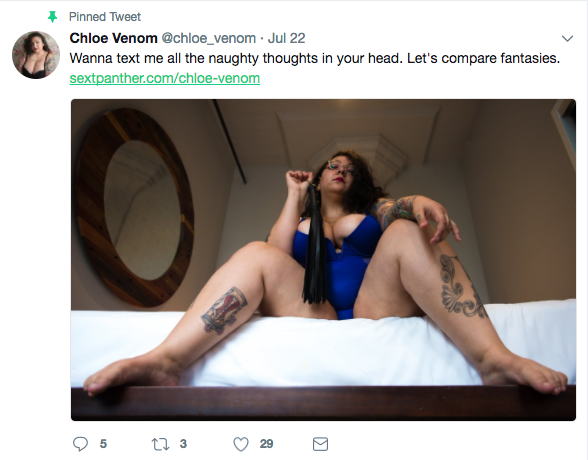 As for all the porn-star followers like "Johnny," it might sound obvious, but the ones I interviewed unilaterally said they were motivated to follow porn stars because "I want to know who they are off-camera." Of course, what they're seeing is in many ways just as curated and controlled as the sex fantasies they'd like fulfilled. Still, this yearning speaks to a hunger for reality.
So in the end, it seems as if we want the same things from porn stars' Twitter and Instagram accounts as we do from anyone else we admire — insight into who they really are.