To hear the media talk about it today, MMA was born when the first UFC tournament was held in 1993 and came of age after The Ultimate Fighter reality show debuted in 2005. In fact, despite a wealth of other prominent fight promotions, "MMA" and "UFC" are used interchangeably, much like "pro wrestling" and "WWE." That's the kind of history written by winners, but it omits the coulda, woulda, shoulda near-miss of two of mixed martial arts' most interesting losers: Frank Caliguri and Bill Viola Sr., a pair of Pittsburgh fight promoters who created a structured, safe form of MMA combat 25 years before the UFC kicked off in Denver.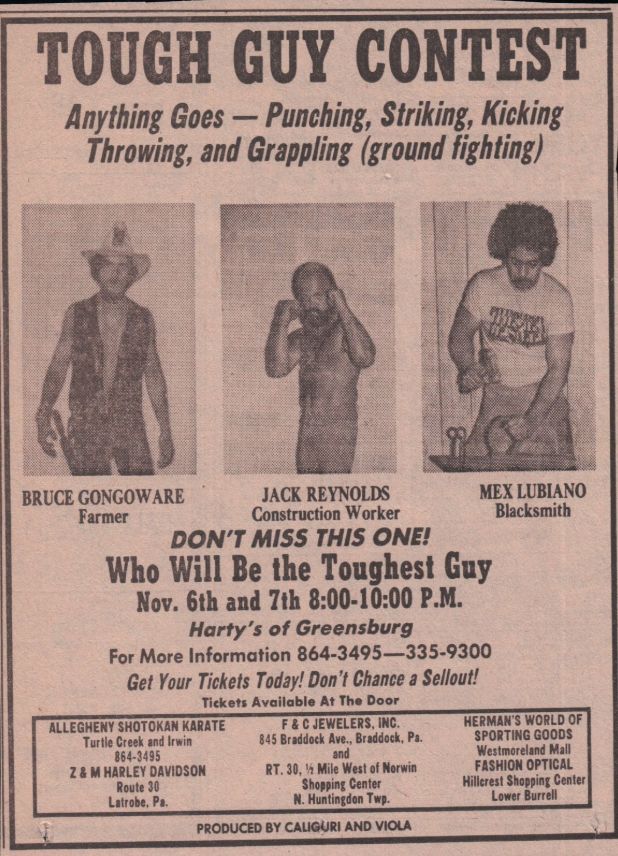 The first UFC event, which consisted of Royce Gracie choking out all rivals and kickboxer Gerard Gordeau kicking out sumo wrestler Teila Tuli's teeth, was a wild bloodbath — a quirky one-off brought into existence by Bob Meyrowitz's promotional skills and the desire of the Gracie family to popularize their jiu-jitsu programming. "The last thing we want is for this to be a sport," long-time combat-sports journalist Dave Meltzer quoted Meyrowitz's original director of marketing Campbell McLaren as saying. By contrast, when Viola and Caliguri launched their Tough Guys promotion in Pittsburgh in the 1970s with their own motley crew of local ruffians paired up against a smattering of college-trained athletes, they arrived with a rulebook in place.
"Frank and my dad Bill were very experienced martial arts practitioners, and they compiled a rulebook well before their first event at the New Kensington [Pennsylvania] Holiday Inn," says Bill Viola Jr. "My dad was a schoolteacher, but he was serious enough about this that he took a sabbatical to compile everything."
People who know the Tough Guys promotion solely from the 2017 Showtime documentary about it, which Viola Jr. co-produced, might leave with the impression that this was a "back room" type of thing, "smokers" that drew an audience to watch colorful but untutored maulers mash each other with gloves for a few minutes. "Bill and Frank knew people who had taught jiu-jitsu, joint locks, striking and everything else, and unlike Dana White [who had been an aerobic boxing instructor], they were high-level martial artists themselves. Well before the first fight, they created guidelines for the sport, including weight classes, a 10-point scoring system, three two-minute rounds that ensured mandatory stand-ups and gave strikers a fair chance against grapplers and prohibitions on all the illegal strikes that the first UFC boasted about allowing."
Some of the local Pittsburgh papers focused on the rough-and-tumble aspect of Tough Guys, with one Valley News-Dispatch article quoted in Viola's book noting how "everyone knows there are no rules in street fighting and the only reason the fight ends is that the police or the ambulance arrives." Of course, that was just copy — it wasn't what Viola and Caliguri, who were operating outside the official sanction of a Pennsylvania State Athletic Commission that only had jurisdiction over wrestling and boxing events, hoped to convey to the public. They wanted people to recognize that this could be a safe, well-regulated sport rather than wild, dangerous bar brawling.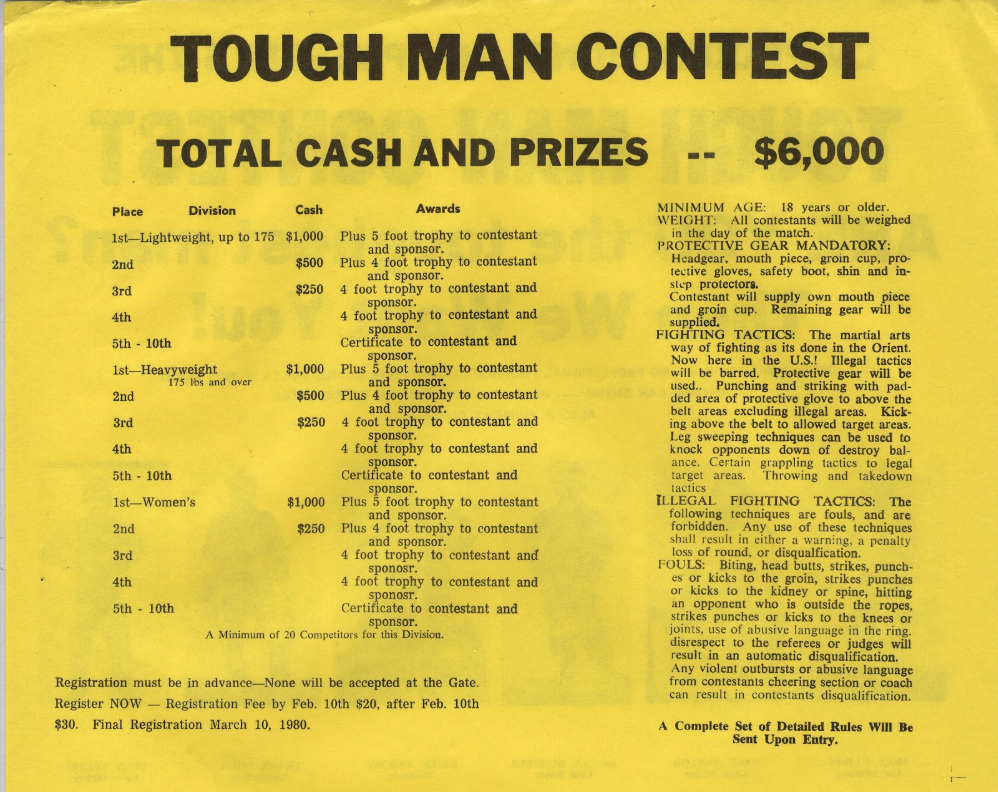 "The tournament at the Holiday Inn was partly to gauge the local interest in this type of event and showcase some interesting fighters from the area," says Bill Jr. "But the plan from the outset was to get this organization to the national scale, a Super Fighters League that would grow out of a tournament in Las Vegas with a $100,000 cash prize. They had begun lining up sponsors, and $100,000 was a heck of a payout in those days. NFL players didn't make that much. Pro wrestlers didn't make that much. And adjusted for inflation, mixed martial artists fighting right now don't make that much. From there, the league was going to grow to a point where it would offer decent payouts across the board for the fighters who developed reputations."
Viola Jr. is right — Royce Gracie made a measly $50,000 in 1993 money, and UFC veteran Donald Cerrone recently earned $410,000 to beat up Al Iaquinta but would have been paid only $170,000 if he lost. "The fight promotions where the league is really just about the bigwigs at the top putting themselves over, like Dana White with the UFC [White runs the league for parent organization WME-IMG] and Vince McMahon with WWE, generally don't pay a very high share of their revenue to the fighters. But my dad and Frank came out of a different tradition. As owners of dojos and martial artists themselves, they offered the fighters a fairer cut of the profits at all four shows they did. They carefully doled out cash payments after each show. They understood the value of the fighters, and hoped some of them would stick around to develop reputations and followings, which would further increase that value."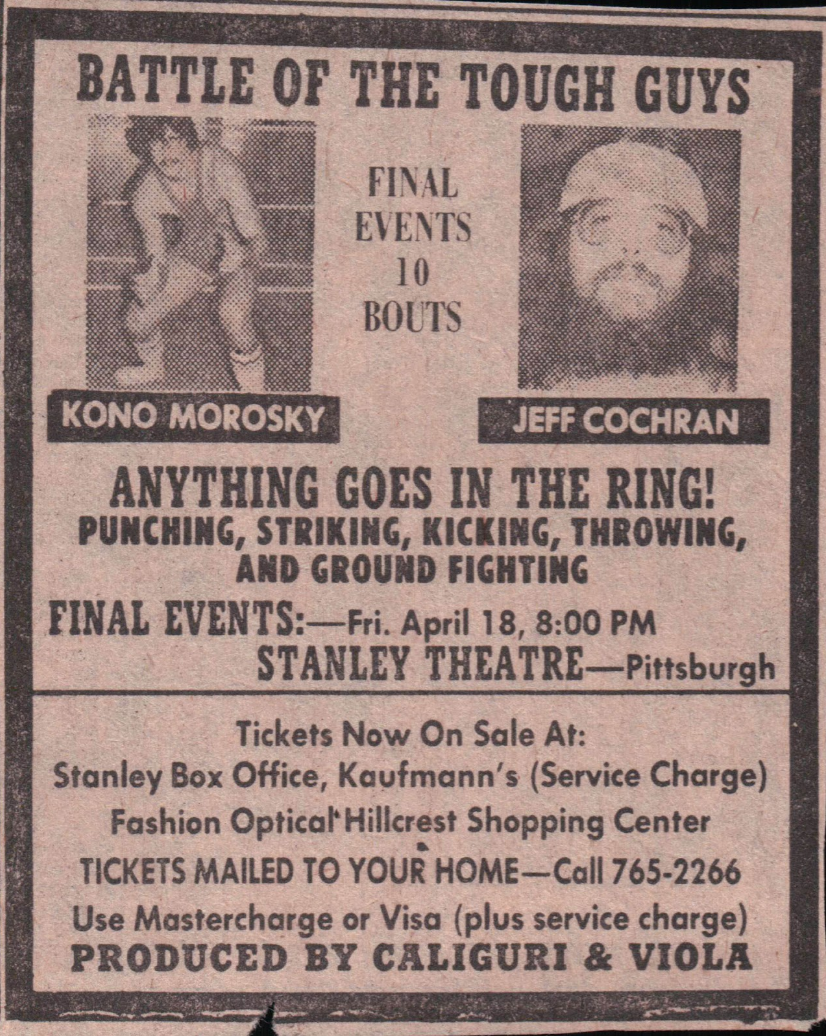 Tough Guys only served as the name for some of the events, though — a dispute with Art Dore's Toughman Contest, which sponsored boxing tournaments featuring unskilled fighters, led Viola and Caliguri to alter the name of their first event from the proposed "Toughman" to the "Tough Guy" contest — but a subsequent Johnstown, Pennsylvania, event was called the "Battle of the Brawlers" and a Philadelphia event was labeled the "Battle of the Super Fighters." The evolution of name, as Bill Jr. notes, was part of the build toward a Super Fighters League.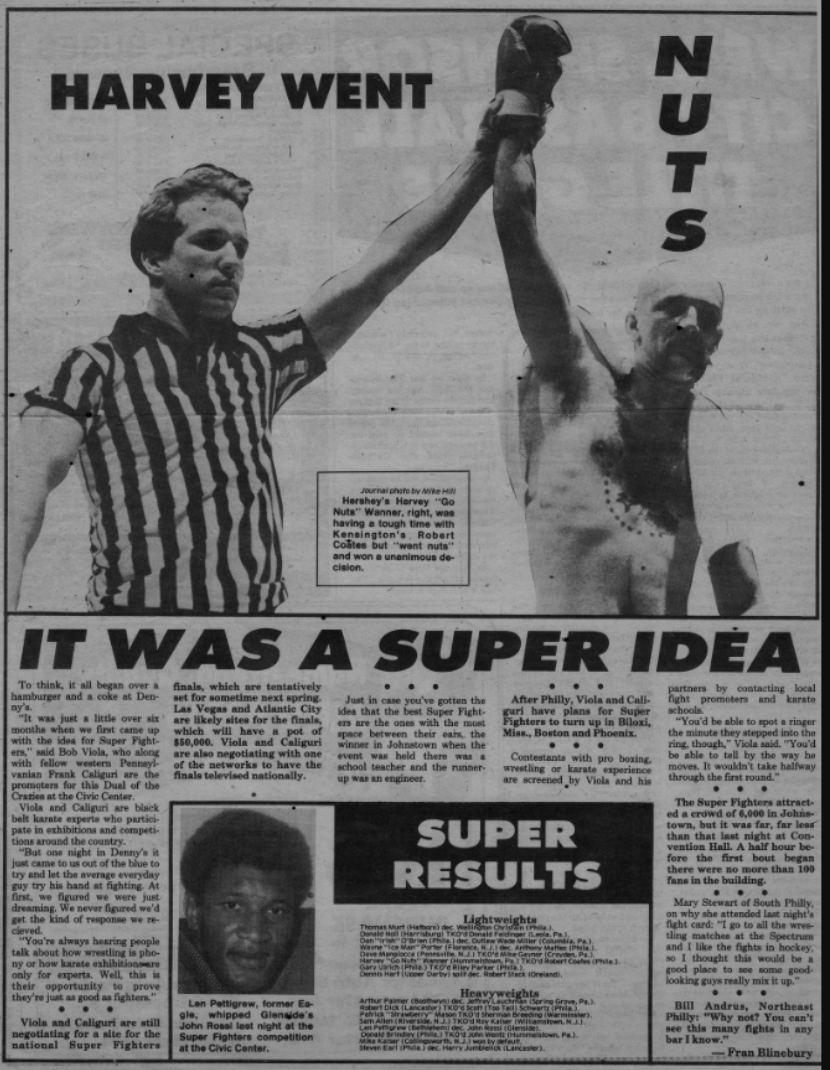 As advertised, there were actual super fighters in the league throughout its four-event history, not just a bunch of scrappy "Rocky" types to appeal to locals. Kono Morosky, who won multiple matches during the promotion's short history, had been a nationally ranked college wrestler at Slippery Rock University and was working as a high school wrestling coach who put promising young athletes like future NFL lineman Bill Fralic through their paces on the mat. Morosky, who had a pedigree similar to future UFC stars like Randy Couture and Kevin Randleman, also wrestled a muzzled bear to a draw in a charity exhibition at Pittsburgh's Civic Arena. Other fighters with strong amateur credentials, like bruising heavyweights Rich Cahill and Chuck Tursky, rounded out the ranks. And the Philadelphia show witnessed the Tough Guys debut of NFL player and college wrestling star Len Pettigrew, who coasted to victory in the heavyweight division.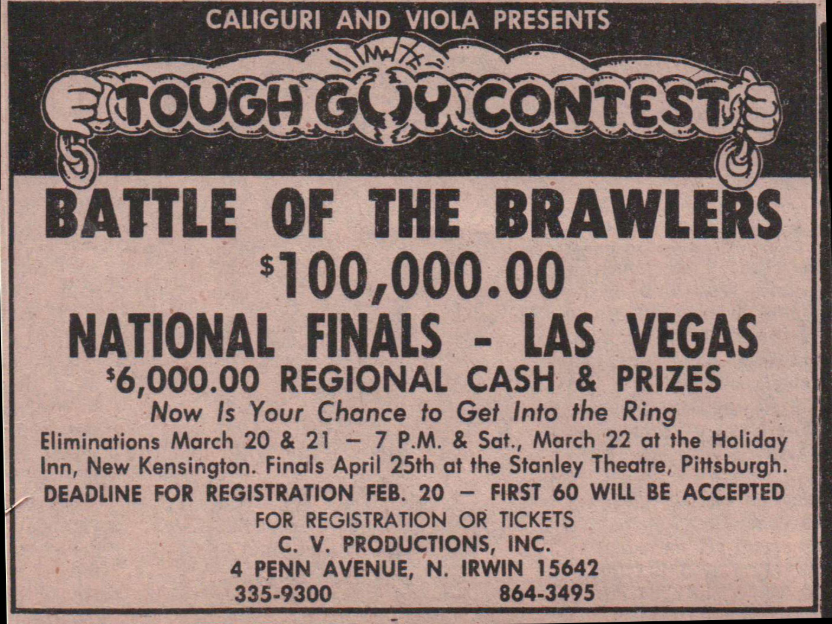 "The talent was there, along with the big personalities and bar fighters," says Bill Jr. "And my dad and Frank put referees in there from the very beginning, commanding presences who had long experience in the world of martial artists. Kickboxer Jacquet Bazemore, who had served as a sparring partner for Muhammad Ali, and ex-Secret Service agent Jack Bodell were put in the ring at the first Tough Guys event, long before police officer-turned-mixed martial artist 'Big' John McCarthy became the UFC's first referee at UFC 2."
The reason for all of these precautions, which also included the mandated use of headgear, gloves and shin guards, was because Viola and Caliguri knew they were treading on shaky ground. Admittedly, both men were from well-connected local Southwestern Pennsylvania families. But while they boasted allies such as former Pennsylvania athletic commissioners and various local politicians and moguls, the overall political climate was against them. The Pennsylvania State Athletic Commission still remained in the pocket of boxing interests, even if boxing gates were down overall as Pennsylvania native Larry Holmes was proving a boring, albeit highly effective, heavyweight champion.
"By the time of the fourth event, it was clear that momentum was in my dad and Frank's favor," says Bill Jr. "But circumstances took a turn for the worst in early 1981. First, the attorney general told us that we couldn't hold any more 'Tough Guy' competitions in Pennsylvania. Then, three months later, at a Toughman boxing event in Johnstown, a young fighter died after a pair of difficult fights, causing a public outcry, and since Tough Guys had promoted in Johnstown a year earlier, there was a lot of confusion about who was responsible."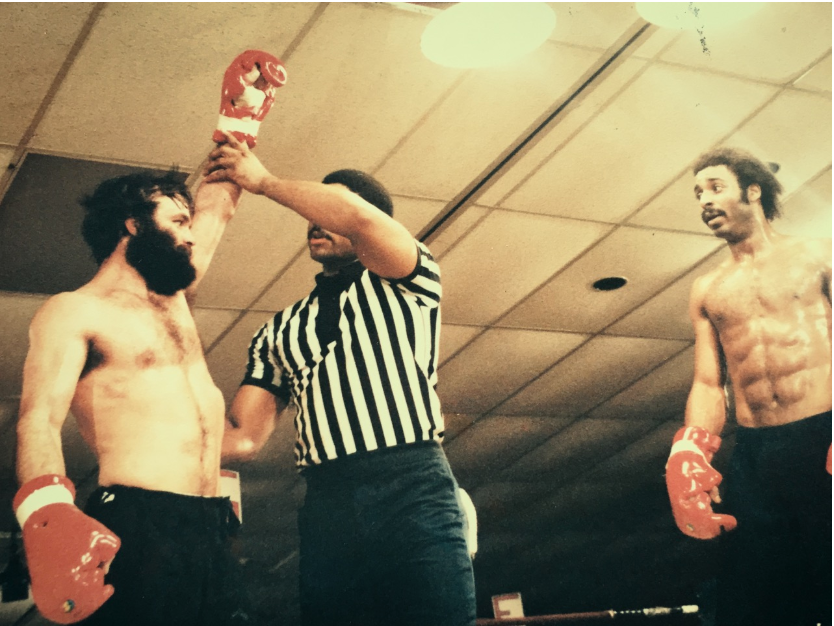 This, then, was the real tragedy of the Tough Guys story — despite the obsession with safety and the creation of rules, weight classes and rounds, Viola and Caliguri's company was conflated with Art Dore's Toughman contests, which were boxing events with no weight classes, rules forbidding the use of headgear and either perfunctory or nonexistent pre-fight medical examinations. The death of 23-year-old Ronald Miller, a 170-pound fighter who had been mauled by his 250-pound opponent at the Johnstown Toughman event he entered because he desperately needed the prize money, caused politicians and reporters to point the finger at Tough Guys, which had nothing to do with the fatality except have a soundalike name.
"Everyone was thinking that the death occurred at a Viola and Caliguri show," says Bill Jr. "It was just the worst possible time for something like that to happen. But it got even weirder when a bill was introduced by a state senator to specifically ban Toughman-style boxing but ended up being a ban on mixed-martial arts after the legislature received feedback from the state athletic commission, which was looking to shut Tough Guys down because it represented competition for boxing."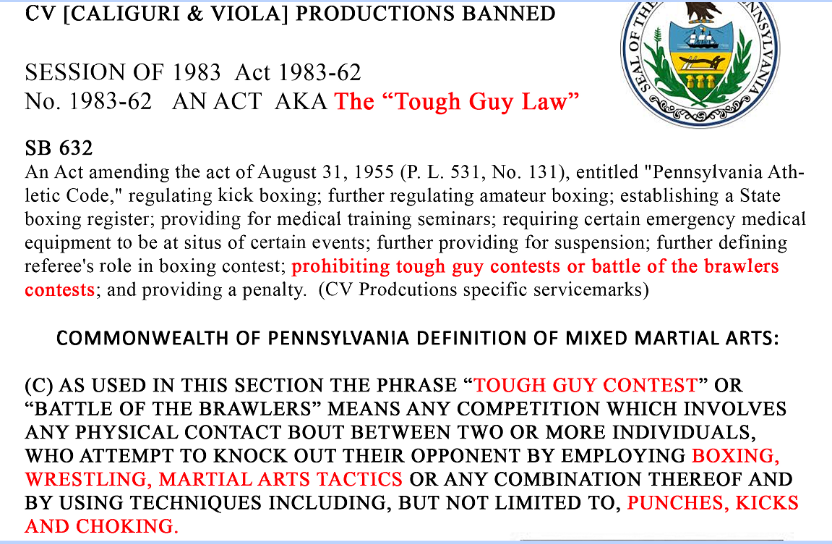 When the bill passed, that was it for Viola and Caliguri. They'd spent a great deal of money on legal fees already, fighting to run the shows they'd already promoted, and were exhausted from the effort. Each man had his own martial arts businesses to manage, so the loss was primarily that of a major potential gain, not a life-ruining setback. They and their fighters — the ex-college wrestlers, the truck drivers and the steelworkers — faded from view. Another great moment of maybe in sports history — an organized mixed martial arts promotion built around safety long before Olympic wrestler and UFC announcer Jeff Blatnick helped develop the original Mixed Martial Arts Council rulebook, which in turn became the basis for the Unified Rules of Mixed Martial Arts adopted by the UFC.
"The UFC was accidental, in that Bob Meyrowitz and his team didn't foresee it becoming a true sport," says Bill Jr. "Dana White and his financial backers moved the federation in that direction over time, but in a way that glossed over the haphazard method by which this happened. And by the time the UFC was a worldwide entity, some people in the media acted as if it had always been this way and there had been nobody who tried to create a true sport before. But that's not what the UFC was intended to be. Tough Guys and the Super Fighters League was envisioned as a real sports operation from the very beginning. It just didn't get the chance to grow to that point, even though the groundwork had been laid."
Some of the sport's best longtime journalists, like Jonathan Snowden, decried the expansion of this "Zuffa Myth," which was intended to position White and the UFC's parent company Zuffa in a way that put White well out in front of his fighters, a visionary among the interchangeable pieces in much the same way that Vince McMahon and his kids operate as an ever-present front for his family-owned WWE business.
Viola and Caliguri, however, planned to blend into the background, and let their fighters do the talking. "I can't see my dad or Frank grandstanding in that way, given their respect for fighters and the martial arts," says Bill Jr. "A lot of the work they did lining up sponsors was done to help pave the way for getting these guys fair compensation for participating in a sport with actual rules. And it was becoming a big deal. When the local CBS affiliate did a 30-minute special on Tough Guys, it went out nationally via syndication, the first-ever newsmagazine feature of its kind on mixed martial arts."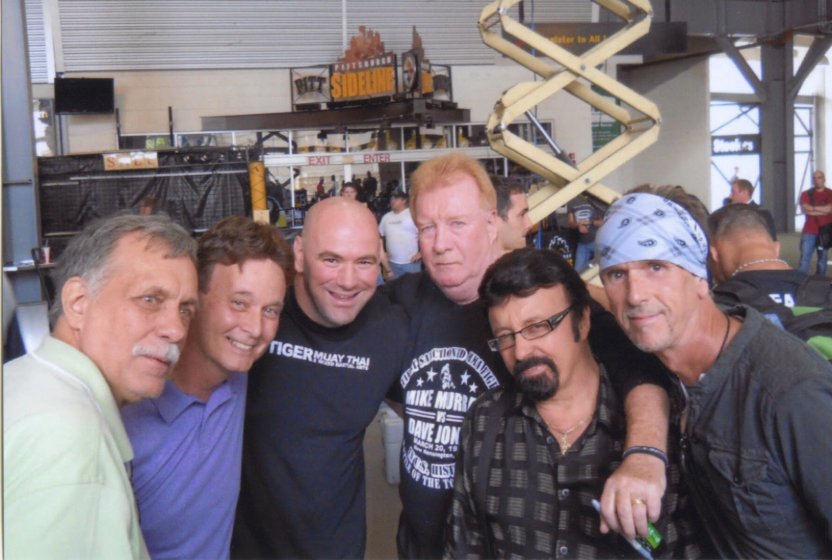 When Viola Sr. and Caliguri went with some friends to a UFC show in Pittsburgh to pay their respects, they were greeted politely but no one there knew anything about what they'd undertaken in the late 1970s. "My dad was never bitter about what happened to his dream, and fortunately he saved all these pieces of memorabilia from that era," says Bill Jr. "Obviously mixed martial arts existed long before us, but we were responsible for one major first — the first state ban on MMA. Plus, we were covered in local and national papers. Unfortunately, when the attorney general stopped the shows, Tough Guys was gone in a flash."
Yet the model dreamed up for the Super Fighters League, with its rules and weight classes and safety precautions and intimidating referees, did eventually work like a charm — just not for Bill Viola Sr. and Frank Caliguri, two men so far ahead of their time that they wound up way behind ours.