Shang-Chi and the Legend of the Ten Rings came out this weekend and all anyone can talk about is the allure of its villain, Wenwu. Played by Hong Kong actor Tony Leung, Wenwu is an ageless martial artist given superpowers by a bunch of magical rings (he's also Shang-Chi's father). But underneath his ruthlessness, Wenwu carries heartache, forever grieving the death of his wife and failing to connect with his son. For those tuned into international cinema, it's not the least bit surprising that Leung brought such pathos to a superhero movie, given that he's among the greatest living screen actors.
A fixture of the Hong Kong film scene since the early 1980s, Tony Leung Chiu-wai (as he's known in Asia to differentiate him from contemporary actor Tony Leung Ka-fai) is by far one of the most recognizable faces in Asian film. He's always had range, performing in everything from thrillers like early John Woo action flicks Hard-Boiled and Infernal Affairs (the police story that Martin Scorsese would later adapt to Boston in The Departed) to period dramas like Flowers of Shanghai to the wuxia film Hero. But nowhere did Leung hone his ability to convey sadboy energy better than during his decades of collaboration with Hong Kong auteur Wong Kar-wai.
Wong is a filmmaker who prizes atmosphere over plot, eschewing traditional narratives and often scripting his stories as he films. He tells complex romantic tales about the loneliness of everyday life, relying on moody music, internal monologues and expressive actors to convey truths that conversational speech cannot. Essentially, Wong makes movies about yearning, and no actor yearns quite as well as Leung. 
Below are four of their most iconic collaborations.
Chungking Express (1993)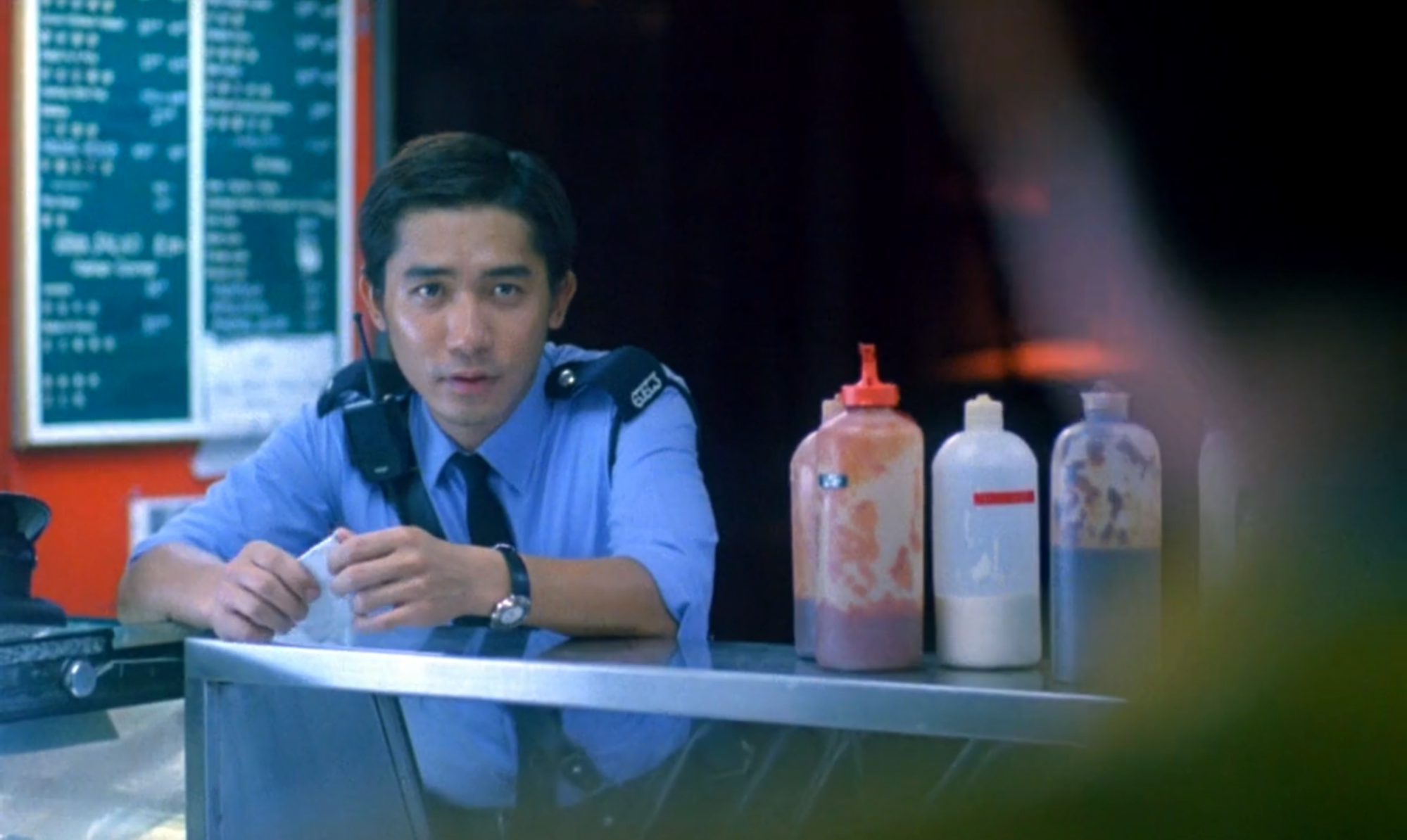 Chungking Express is divided into two stories, each following a different lovelorn police officer who frequents the same food stall in the Chungking Mansions. In the second, Leung plays a cop who has stopped taking care of himself after his girlfriend leaves him, and a food service worker who is infatuated with him (played by cantopop star Faye Wong) starts breaking into his apartment with a spare key she found to gradually and covertly increase his quality of life. And while Faye Wong does most of the heavy lifting as the most manic of pixie dream girls, Leung's closed smile and downturned eyes belie a longing for connection he hides under his snarky exterior. I don't know that anyone else but him could make a sad cop talking to a bar of soap or caressing a giant Garfield plushy equal parts charming and heartbreaking.
While not without melancholy, this is Wong's warmest and most lighthearted film, full of bright colors and upbeat pop music that probably makes it the most adorable story about gaslighting ever to grace the silver screen. 
In the Mood for Love (2000)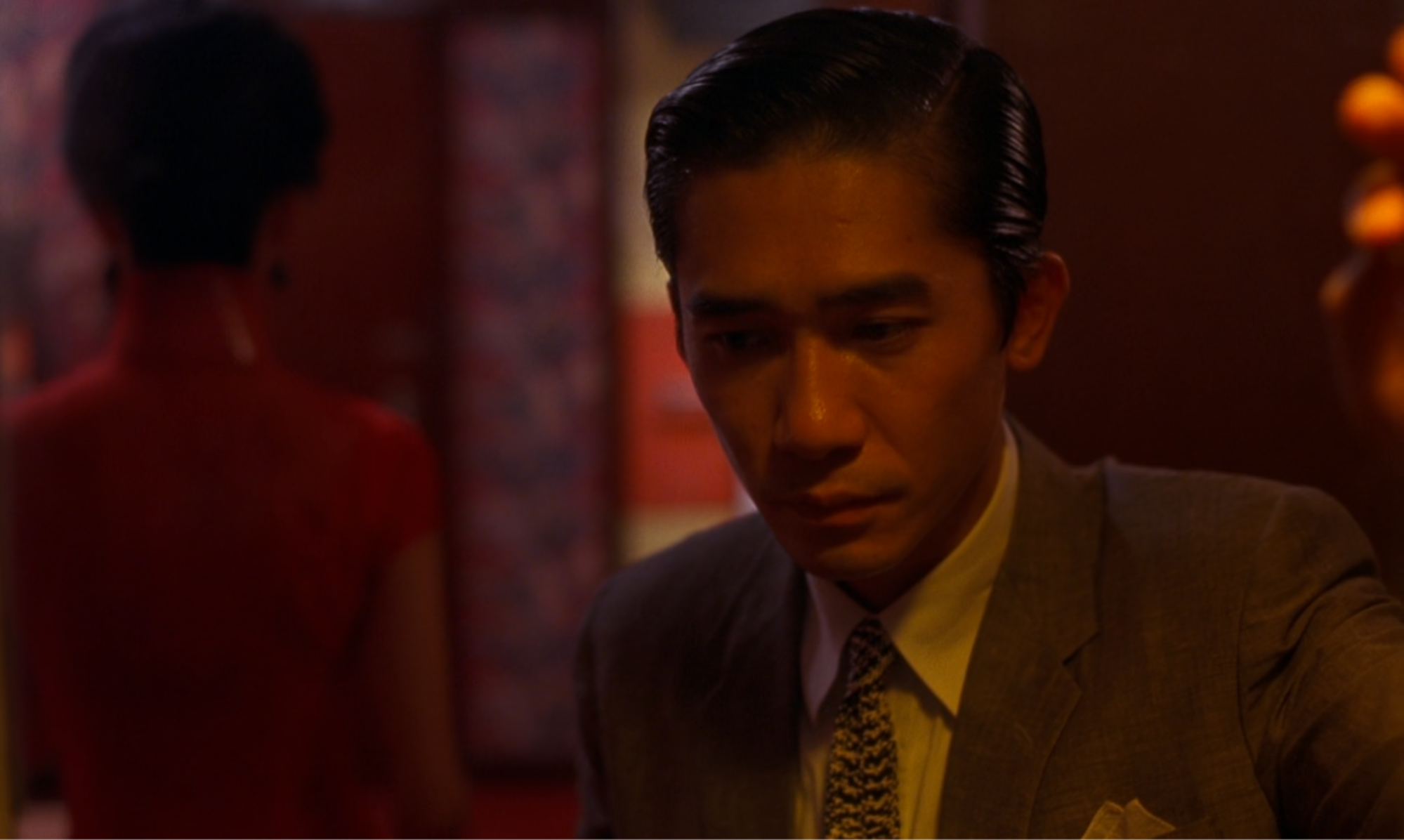 Hong Kong, 1962. Lonely neighbors Chow Mo-wan (Leung) and Su Li-zhen (Maggie Cheung) exchange pleasantries in the hallway of their apartment and timid glances as they pass each other at the noodle cart. When the two discover their oft-absent spouses are having an affair, they spark a friendship. They share meals, write a martial arts serial and wholesomely reenact their idea of how the tryst must have started, attempting to understand why their partners did what they did. As they grow closer, desire builds up between them, and though they've refused to act on it, they begin to worry what their neighbors will think.
In the Mood for Love is considered to be one of the greatest films of the 21st century, and for good reason — it's a story of lonely people suffocated by the conservative nature of cultural expectations that gives a masterclass on cinematically doing less and saying more. We never see the two's adulterous partners, so all we're left to experience aren't the facts of the betrayal but the feelings that come with it. And while nothing sexual occurs between Mo-wan and Li-zhen, the all-encompassing erotic tension between these two beautiful and stylish cuckolds is the heart of the film. As for Leung, this is him at his most earnest, portraying Chow as a doe-eyed romantic with a longing gaze that shoots the shot his words can't.
2046 (2004)

The heart-rending love affair from In the Mood for Love probably wouldn't rank high on a list of movie moments that get a sequel, yet that's exactly what Wong did next, continuing the story of writer Chow Mo-wan across the 1960s in 2046. But heartache has changed Chow. Gone is the tender-hearted romantic of the previous film; in his place is a devilish lothario. It's not that he's gotten over the pain of losing his true love but the opposite — he dons a squirrelly little mustache and a caddish persona to disguise his broken heart, instead burying his feelings in his work. 
The movie's numerical title refers to the room number next door to his own hotel room, inside which he can't help but sexually pursue every occupant (it's also the title of a science-fiction story Chow writes about lonely people in the future trying to travel to a place where they can recapture lost memories). In 2046, Leung conveys unbearable yearning in a way he hadn't before — through non-stop partying and fucking. Of all the beautiful women in Chow's life (played by the likes of Zhang Ziyi, Faye Wong and Gong Li), most of his encounters are a way for him to connect to his past with Su Li-zhen, or escape from it. 
While it doesn't endorse Chow's more dickish poonhound-like behavior, 2046 is a film which argues that making art while having a ton of rebound sex is a completely functional way to process heartache and learn about yourself. Frankly, as someone who has also buried their feelings in pussy and work, I felt vindicated.
Happy Together (1997)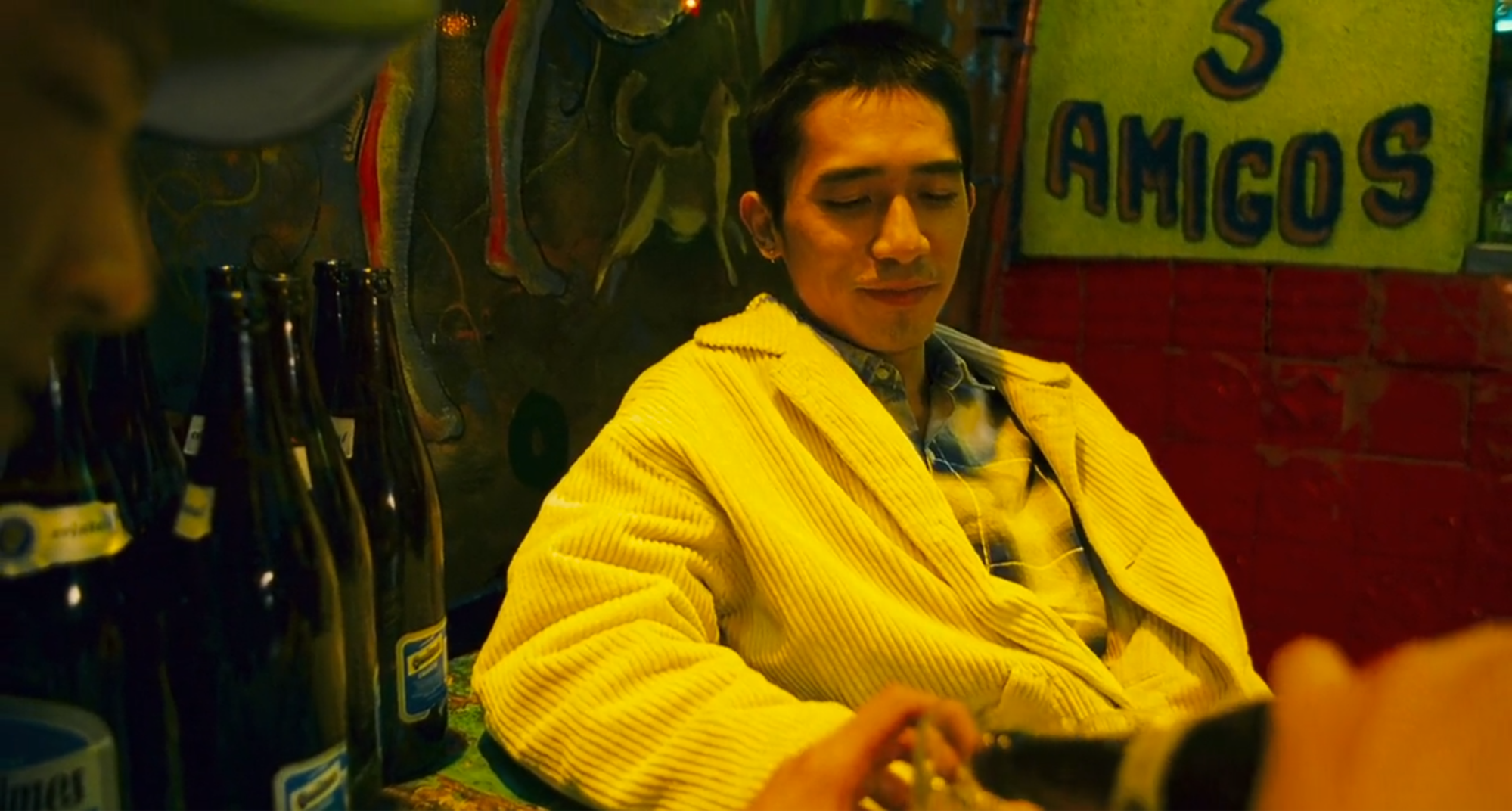 The English title Happy Together is a bit of a misnomer for a movie about two people who are anything but. Lai Yiu-fai (Leung) and Ho Po-wing (the late Leslie Cheung) are two gay men in a long tumultuous relationship, prone to breaking up and getting back together often, usually splitting whenever the former gets fed up with the latter or when the latter gets bored with the former. On a vacation in Argentina, Po-wing once again gets bored with Yiu-fai, leaving him, but this time without any money to get back home. Both displaced on the other side of the planet from anyone else like them, the two struggle to get through each day without the other. But when they eventually rekindle their romance, it's even more painful than when they were apart.
Wong's most atmospheric film and Leung's strongest performance, Happy Together brings moments of quiet despair alongside terrifying volatility and tranquil catharsis. While the story primarily focuses on the mutually abusive nature of the relationship between these two men who don't know how to love each other or handle their painful feelings, much of the focus is on Yiu-fai feeling alone. He pensively plays soccer with his coworkers, and silently cruises for casual sex at public restrooms. Happy Together perfectly captures the feeling of being surrounded by crowds but feeling entirely isolated.
If there are three recurrences in Wong's films, it's lushly saturated hues, debilitating romantic longing and beautiful people eating beautiful meals. Through food, Wong captures care, communication and obsession. When I think of visual representation of pain, I think of Leung as Yiu-fai, hands tremorous as he attempts to bring a chunk of rice to his lips, his trembling chopsticks conveying more than words ever could. To me, that's cinema.
All four of these films are currently streaming on the Criterion Channel as part of the World of Wong Kar-wai Collection, among other Wong films like Fallen Angels and Days of Being Wild. I highly recommend you check the collection out, if not for a love of international cinema, then to appreciate how sexy Tony Leung Chiu-wai looks when he's sad. No other actor is able to portray sadness, contemplation and horniness all in the same expression. 
The man is unparalleled.