A few weeks ago, T.J. Osborne, one half of the country duo Brothers Osborne, publicly came out as gay in a TIME profile. The story featured quotes from fellow country artists and close friends of Osborne's, emphasizing how important his announcement is to push the music genre forward. "Others will now feel invited to the country music party for the first time," commented singer-songwriter and close friend of Osborne's, Kacey Musgraves. 
To her point, it's still uncommon to hear of a publicly gay country artist. Nashville singer-songwriters who identify as queer and want to state that publicly have, to date, been universally forced to leave the genre for folk or pop. 
Country music's cold shoulder isn't just reserved for queer artists, either — literally anyone who isn't a white cis straight man struggles to be played on country radio. "We cannot play two females back-to-back. Not even Lady Antebellum or Little Big Town against another female. I applaud their courage," Michigan radio station 98 KCQ tweeted (and eventually deleted) last year after an L.A. country radio station played back-to-back songs by female singer-songwriters Gabby Barrett and Kelsea Ballerini. 
Women, artists of color, the politically progressive and allies to the LGBTQ community all struggle to get radio play on country stations. Just ask Musgraves, the Chicks, Lil Nas X, Taylor Swift, Maren Morris or Brandi Carlile: All have depended on pop and adult alternative stations to pick them up when country music won't play them. Often, this is spun as crossover success: They're artists who've managed to attract a mainstream fanbase, and with that, a following among queer people historically turned off by the heteronormative gatekeeping in country music. But they shouldn't have been forced out in the first place. 
And so, the narrative continues that country has no place for queer artists. The TIME article, written by openly gay writer and editor Sam Lansky, wonders if Osborne will change this. Certainly, Osborne plans to continue making traditional country music (such as using female pronouns in love songs) and effectively becomes the first openly gay artist signed to a major country label. But can he convince the business of country music — radio plays, marketing campaigns, sold-out tours, pronouns in lyrics — to acknowledge and respect gay people? Should it even be his responsibility to take on this seismic shift?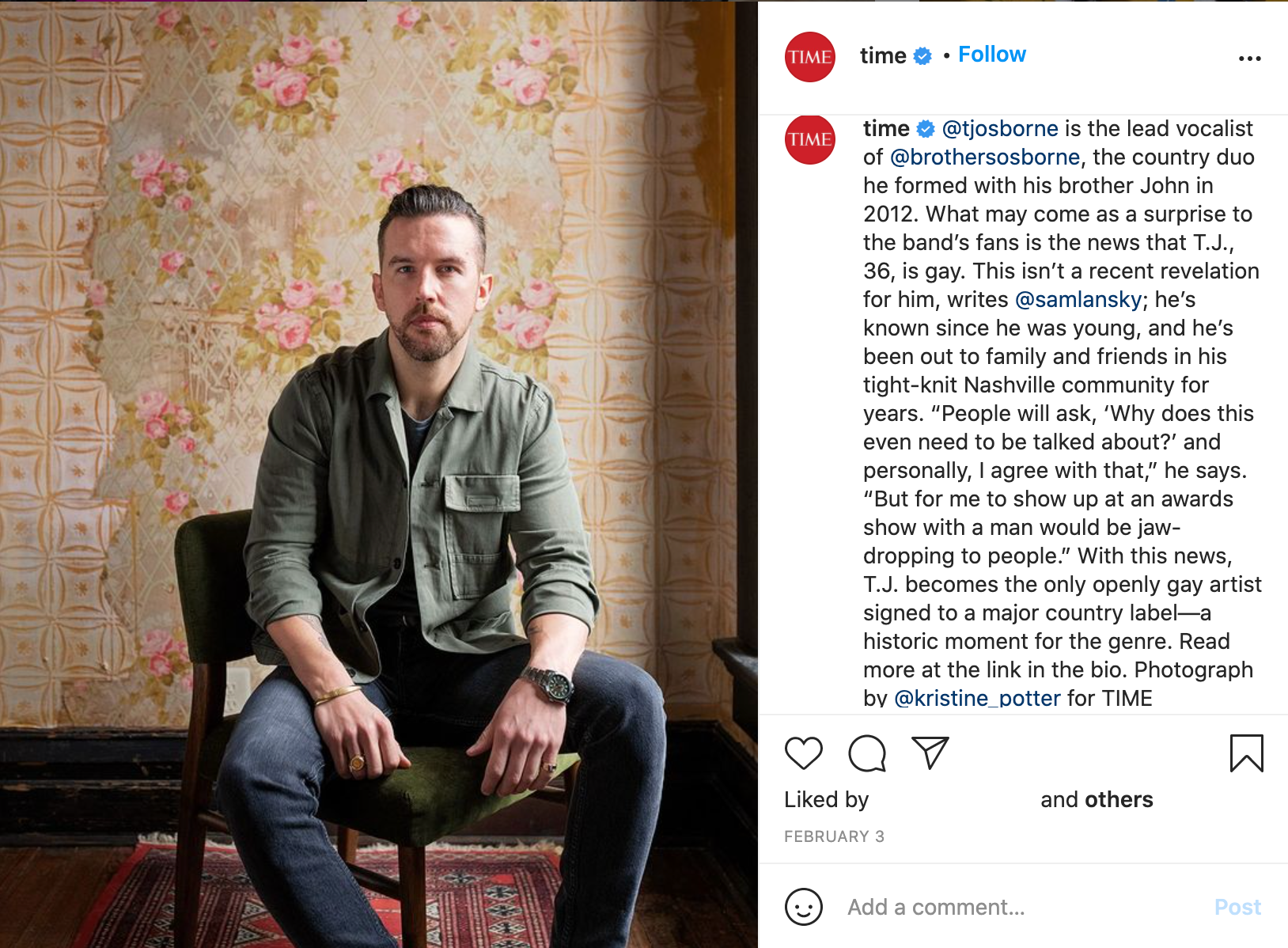 There is an important distinction here between what country radio views as the pillars of the genre and what country fans see as representative of their identity, namely, the narrative told on country airwaves of red Solo cups, chicks in denim booty shorts and bros driving four-wheelers aren't particularly indicative of how every country fan identifies today. As Osborne makes clear, people who identify as both gay and country don't just exist, they prosper — they've simply never been platformed on country radio. 
You can see this clearly on TikTok, one of the few music platforms not controlled by record labels and radio stations (at least not yet). On the app, which has a knack (i.e., a personal data-driven algorithm) to show you accounts with similar identities, queer country people are finding each other. The hashtag #countrygay has more than 11 million views and (if you dig past the overwhelmingly cis gay male posters) encompasses a slew of queer people embracing their queerness as part of their country identity, not in spite of it. 
One of these people is Cait Yost, a 22-year-old lesbian from Nashville. On TikTok, she goes by the name Cowgirl Cait. Yost, who lives with her girlfriend and grew up competing in rodeos, says she doesn't have much of an in-person queer community. "I don't meet very many people like me, but I know they're out there because of TikTok," she tells me. 
Yost first found other queer country people through Colt McCannon, better known as @Cowboy_go_Yeehaw. With over 400,000 followers, McCannon, who uses they/them pronouns, routinely posts their everyday life as an openly queer country-western artist. With the queer pride flag as their avatar and pronouns in their bio alongside the hashtags #blacklivesmatter, #lgbtsrights and #weareonstolenland, McCannon's page is filled with videos critiquing Marjorie Taylor Greene and former president Donald Trump while wearing a Bass Pro Shop trucker hat and rocking a full, tamed beard. "They're so badass. I've never seen a person so country but also part of the LGBTQ community," Yost says. 
Some of this may seem too obvious — condescending, even. Of course queer country people exist, and TikTok wasn't the first place to allow their identities to flourish. However, it's telling that even in this digital era, where queer country people can more easily find each other, that the music industry has yet to capitalize on an eager audience actively trying to be seen. 
In light of the country music establishment failing to recognize her, Yost has embraced how her country and queer identities interact online instead. They're inextricable: Inspired by McCannon, she's grown her TikTok audience to more than 127,000 followers, posting videos about her life as a self-described cowgirl — parenting dogs, riding horses and living with her girlfriend.
Like Osborne, she's faced her fair share of pushback. Yost says one of the constant hateful comments she receives are from teenagers saying she can't be both gay and country. Yost gets it, saying she doesn't believe the person she was at middle school would disagree. But she's not that person anymore. "You can't gatekeep a lifestyle. You can't tell me I can't have a farm or a horse or dress a certain way if that's how I feel and want to do it," she says. "It's really cool that other kids that are younger get to see people like me be themselves."
Hopefully, for queer country youth that aren't on TikTok (no, not every member of Gen Z is on the app), Osborne's presence as an openly gay country artist will have the same effect. It's about time country radio lets two guys sit on the back of a tractor together.