This was supposed to be an article about how I learned to model my life after Tom Brady's.
There's an alternate reality where I've accomplished this goal — where I dine on quinoa cakes and eschew tomatoes; where I have defied the the aging process and climbed to the very top of my field. I have perfect skin, a supermodel wife and more money than I could ever spend. Sometimes, I have to protect our beautiful children from the invasive eye of the media, but it's a minor sacrifice for a life so many aspire to. Every day, I wake up refreshed in one of my many mansions, ready and eager to realize my full potential, each day better than the one before it.
But this isn't that article.
Instead, it's an admission that I will never be Tom Brady, and how the life he leads is unsustainable for pretty much anyone but Brady himself — and the select few people who have the time and money to be as maniacal about their health as he is.
The make-believe scenario I describe above is the fantasy TB12, Brady's emerging lifestyle brand, wants people to buy into with its new premium smartphone app, The TB12 Method. The app promises to give you the secrets to Brady's famously stringent diet and exercise regimen, all in one place, so you, humble consumer, can replicate Brady's behaviors in your own life.
At first, I was excited to try the TB12 Method, because for all their shady dealings and annoyingly incessant winning, I'm envious of Brady and the New England Patriots' success, and would love to have a little of that in my life. I've written this before, but it bears repeating: Brady isn't only outperforming NFL players more than a decade younger than him, he's getting better with age. His on-field performance and athletic markers have both improved in recent years. He has seemingly discovered the fountain of youth, and what man wouldn't want to get progressively more handsome, more healthy and more capable as he progresses through life.
And yet…
Immediately after opening the app, I realize I'm not cut out for the TB12 lifestyle. For one, the app isn't the all-inclusive TB12 experience it makes itself out to be. The TB12 Method purports to incorporate all the disparate parts of the TB12 brand universe — specifically, Brady's diet, and his exercise and sleep routines. But the moment I begin my TB12 journey, I'm informed I need to purchase several pieces of workout gear — all of it TB12-branded, and conveniently available for purchase right from the app. How kind of you, TB12!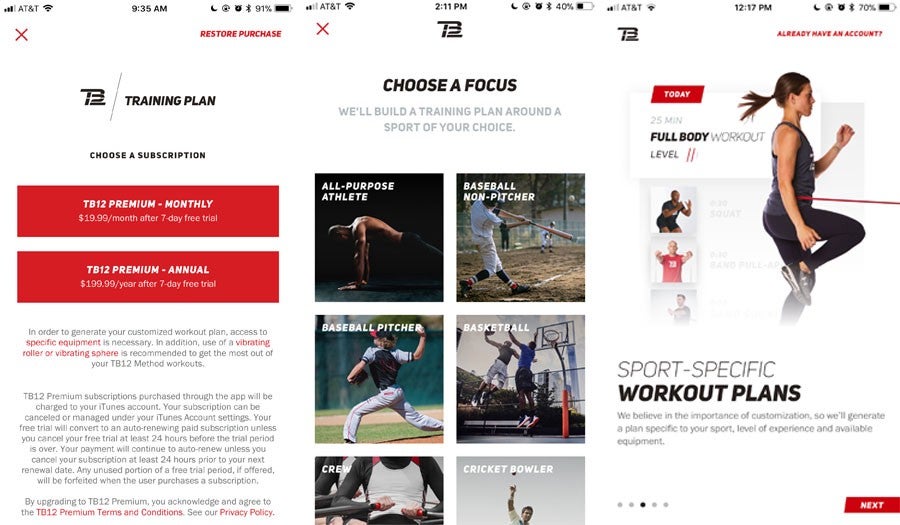 In particular, the items I need to purchase are a series of TB12 resistance bands, a TB12 medicine ball and a TB12 vibrating foam roller and vibrating "sphere." (The branding people at TB12 were obviously conscious about "vibrating balls" jokes.) In total, the additional equipment costs $750, and that's not even including the proprietary TB12 pajamas, which, despite their dubious claims about helping speed up muscle recovery, I found to be surprisingly comfortable and effective at easing my muscle aches after workouts.
Yeah, nice try, Tom Brady. I'll buy your overpriced app — $19.99 a month or $199.99 a year — but I won't shell out several hundred dollars for your fancy rubber bands.
Still, the app does deliver on its promise of providing a comprehensive workout schedule, complete with instruction on when to take "recovery" days. The workouts, though, do nothing for me. The regimen is all resistance band training, peppered in with some bodyweight exercise, and the primary goal of these exercises is to increase "pliability," which is just a fancy synonym for flexibility.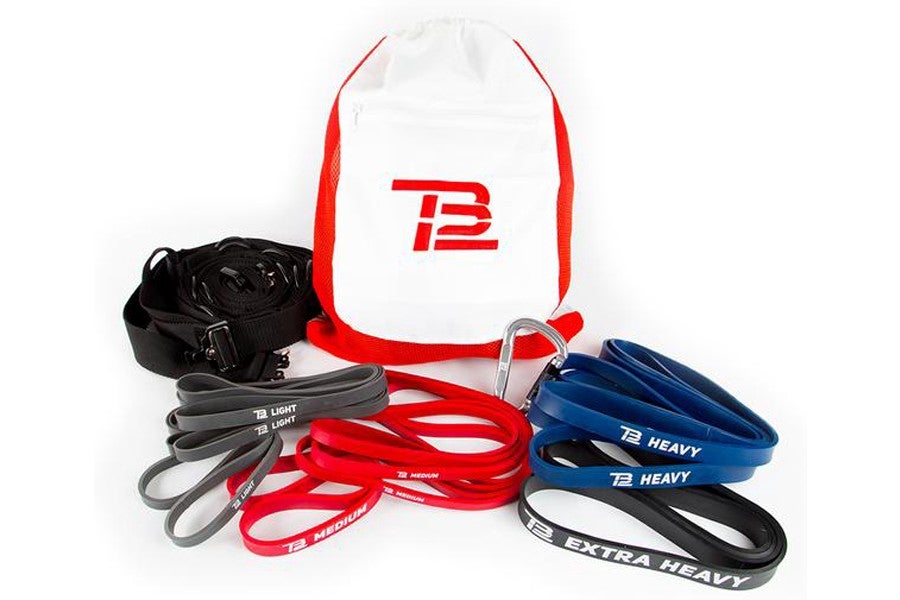 There is zero cardiovascular exercise, which is something a man of my stature (6-foot-2, 225 pounds) desperately needs to maintain a healthy weight. There's also zero weightlifting, the only form of exercise I've ever truly enjoyed, and one of my preferred methods for managing anxiety.
I can't keep in shape just tugging on some rubber bands, man. I don't have Brady's superior genetic makeup. I need to break a serious sweat on a near-daily basis, lest I end up looking like an unbaked slab of Pillsbury crescent rolls. Not to mention, I don't have resistance bands, so I can't even perform the movements being presented to me anyway.
Instead, I continue my usual routine of high-intensity interval training several times a week.
In fairness, I do find legitimate value in the pre- and post-workout pliability (read: "stretching") routines, which involve applying pressure to my tight muscles with the vibrating foam roller and sphere. I don't have the vibrating versions, but I find that a static foam roller and beat-up softball make for adequate substitutes.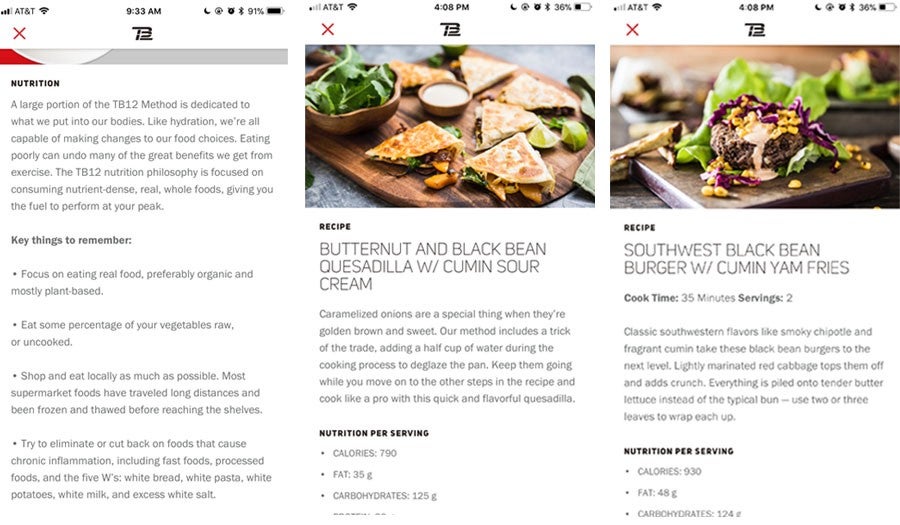 All of this, though, is merely prelude. Arguably the most important (and most famous) component to Brady's lifestyle program is the uncompromisingly strict diet he and his supermodel wife Gisele Bundchen share. The diet is plant-based — 80 percent of what they eat is vegetables — and they avoid all dairy, fungus, caffeine and nightshades, a strain of plant Brady and others believe causes inflammation, despite their being no scientific basis to this claim.
I have no qualms with veganism. I've discovered vegan dishes can be delicious, and in many cases, superior to the "real food" alternatives on which they're based. And Brady's vegan-ish diet even allows for occasional carnivorism.
The issue I have with the Brady diet is one of practicality. I simply don't have the capacity to buy the laughably long list of high-end expensive organic produce his meals call for. And that's not counting the several hours a day it takes to prepare them into meals. What the TB12 Method app never mentions is that all the food that's central to Brady's success is prepared by a personal chef who's on-call 24/7, and even travels with Brady to ensure he never has a cheat day.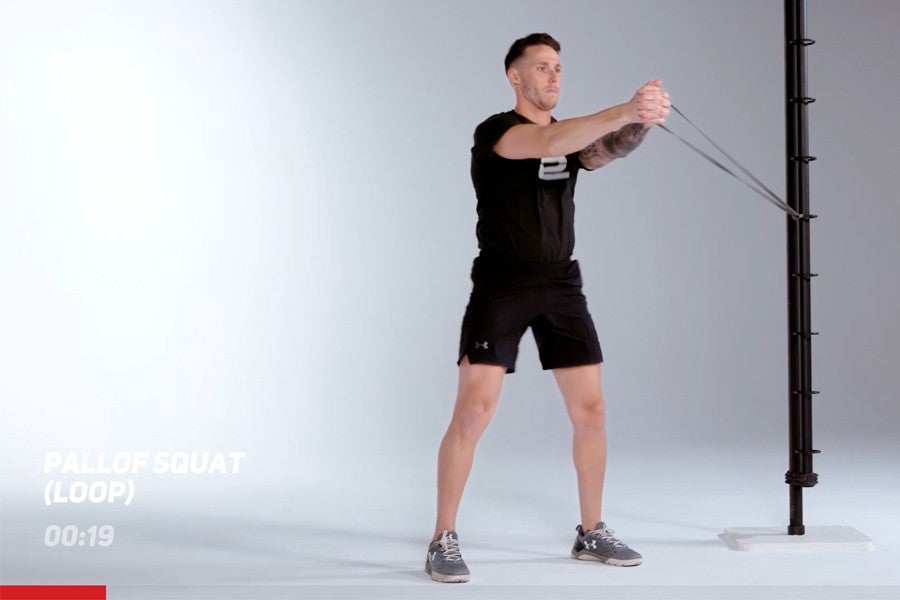 So in the end, I did the best I could with the Brady diet, in that I made sure to incorporate vegetables into every meal and avoided dairy (for the most part). But I still drank coffee each morning and was prone to the occasional cheat day. I definitely ate better, but I wavered at times.
I'm human; I'm not Tom Brady.
Here, too, is the TB12 Method's other central failure: It assumes its practices are equally efficacious for everyone. Which is to say it makes the same incorrect assumption as every diet and fitness fad. They all believe they're one-size-fits-all solutions, when the reality is actually the opposite. Increasingly, researchers are finding that diets should be customized to a person's unique genetic makeup.
But even if you did share Brady's genome, the lengths you would have to go to achieve Brady's level of health and fitness are simply unsustainable for the average human being.
Case in point: In the premiere episode of his new docuseries Tom vs Time, Brady explains what it takes to become him: "If you're going to compete against me, you better be willing to give up your life, because I'm giving up mine."
But that's not any kind of lifestyle at all.