In 1993, the Japanese video game publisher Kaneko obtained the rights to create a video game based on the story of the world's most famous living cat: Socks Clinton. Though Socks's owner Chelsea had moved into the White House just five months earlier, the cat's popularity with the media dated back to the Clintons' days as the first family of Arkansas. In 1992, after photographers used catnip to lure Socks to a photoshoot off the grounds of the Governor's mansion in Little Rock, Bill Clinton's office responded in a press release: "Special note to all press from the highest authority: Don't touch the cat again."
By 1995, Socks had found himself at the center of sparring between Clinton and the Republican-controlled Congress, when Indiana Congressman Dan Burton called for an investigation into how much of the federal budget was used to respond to Socks's fanmail. "Who pays for the postage?" he demanded of the president in a letter. "[A]re the taxpayers being made to pay for your feline's fan club?" In 2001, four years after the Clinton's new dog, Buddy, had joined Socks in the White House and became his instant nemesis, Clinton compared the First Pets' dismal relationship to the most pressing geopolitical conflict of the time: "I did better with the Arabs — the Palestinians and the Israelis — than I have done with Socks and Buddy," he told CNN.
In fact, things eventually got so bitter, that Socks's final controversy revolved around where the pets would live after the Clintons moved out on from the White House. This made for a lot of jokey press conferences. "The president is working very hard to reconcile the two pets,'' a White House press secretary told reporters in January 2001. "[H]e is going to give it his best effort during his remaining time in office. He won't be using any special envoys. He will work this out in the family.'' In the end, Buddy moved to Westchester with Bill, and Socks ended up with Bill's former secretary, Betty Currie, outside DC. (Hillary didn't want him.)
Socks's story came to an end in 2009, when he passed away at the ripe old age of 20, from throat cancer. But the story of his videogame — the one originally called Socks the Cat Rocks the House — remains unresolved. To this day, 23 years after it was first announced, it remains a mystery.

The problems with Socks the Cat Rocks the House began immediately after Kaneko announced it had acquired the rights to produce it. The Japanese company decided to shut down its American branch, and along with it, their unreleased intellectual property. For years, all that was left of the game were snippets of early press, tantalizing retro game aficionados for decades. "He will venture from the basement of the White House to the Oval Office to create havoc with the President's allergies," wrote the now-defunct trade magazine Playthings. "While the cat's at play, Socks must push Millie [George H.W. Bush's dog] out the front door as well as avoid Arab terrorist felines."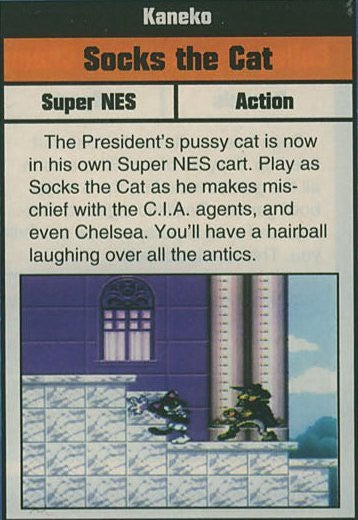 A few months later, Electronic Gaming Monthly advertised that the Socks game would feature the protagonist overcoming "the likes of foreign spies, Enemy Animal Agents, politicians, secret service agents and the ever-present media corp. To keep the party alive, Socks pounces, tumbes and negotiates his way out of the intricate secret passages and puzzles of Washington. This cat is in a ring of trouble, but not over the hill yet!"
The year after, gaming magazines even began reviewing the game (now called Socks the Cat Rocks the Hill), which seemed to imply that Kaneko had finished the project before it was abandoned. "The satire makes this game purr, but it doesn't roar," criticized Gamepro. "Best of all are the bosses," which included former presidents Gerald Ford and Jimmy Carter. Nintendo Power, for its part, questioned the game's logic: "Why would an ex-president want to stop Socks on his mission of vital national interest?"
Despite early reviews and industry excitement, those involved with the project don't agree on the game's actual completion. In 2012, Kaneko's former director of product development Jeff Hill told Super Nintendo blogger Evan G. that "the game was nowhere near complete — and development was stopped at least six months before Kaneko closed the US office." However, Ellen Fuog, a former VP at Kaneko, disagreed with Hill's account, as did David Warhol of Realtime Associates, who said, "All I remember is that we had Nixon calling in bomb raids and we had Ted Kennedy driving a car on a bridge. Maybe it's better it didn't come out after all!" The political satire lead internet conspiracy theorists to wonder if Nintendo itself had censored the game in an effort to stay apolitical, but Fuog told Evan G. that this wasn't the case: "Quite the contrary, [Nintendo] liked the idea; they liked the game. Everyone did."
They all agreed on one thing, however: No known copies of the game existed.
They were wrong about that, too.

Four years ago, a prototype of the game was acquired by Tom Curtin, a 41-year-old marketing manager at a major tech company. Last year, he acquired the trademark, and now, with the help of a few friends, he's gearing up to release the game to the public for the first time. "We're kinda doin' it the way that we wanna do it, you know what I mean?" Curtin said over the phone last month. "It's how I would've done a game when I was a kid. But now we're all adults, and we actually have the means to do this."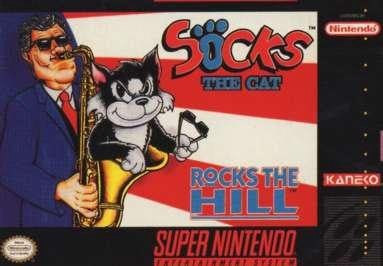 Curtin bought the physical game, for the same amount as "a decent used car," from Jason Wilson, a Nashville arcade owner and legendary video game collector with an estimated 16,000 games in his collection. (Over email, Wilson said he purchased a copy from someone who worked on the game directly at Kaneko.) "[Wilson] has more prototypes than God," say Matt Nolan, one of Curtin's Socks the Cat collaborators. "Over the years, people beat him down, and then one day he said it was for sale." Wilson agreed to sell Socks to Curtin, in part, because Curtin was so eager to release it.
Wilson, Matt Nolan and his twin brother Mark are part of a small subset of the retro gaming community that dedicates time, money, and technical expertise to obtaining old, often-unreleased games and releasing them for free (or for a low cost) online. The process often involves tracking down employees of gaming companies and coaxing them to relinquish prototypes. In this community, there are few larger prizes than Socks the Cat. "People have been waiting so long and have been so, so chomping at the bit to get this one," said Mark. "It really is the last one."
That doesn't mean, however, that the gaming community was happy to find out about the existence of a "hidden" Socks prototype. In 2011, when a friend of Wilson's posted a grainy, blurry video of a few minutes of Socks gameplay on YouTube — proof of the game's existence — the online gaming community responded with vitriol, furious that Wilson had access to Socks and assumed that he was rubbing their faces in it. (In his defense, Wilson said he wasn't meaning to troll and his friend recorded the footage on his own accord.) After word got out that Curtin had purchased the game, that anger extended to Curtin and his collaborators, who were accused of being "hoarders."
Curtin has since gone to great lengths to let people know he has no intention of keeping the game to himself: "I've gone on forums before and I've said, 'Hey, anyone who's in the area, and you wanna play Socks the Cat, send me a message. I'll have you over, you can play all you want. I don't care. I'll buy you some beers. We'll play the game.' To this date, nobody has taken me up on it," he claims. "I love video games. I love doing this stuff. I love Socks. I think it's kinda crappy, honestly, that I'm one of the few people in the world who gets to play it. That's the reason for the release."
Curtin's team will soon launch a Kickstarter campaign to make the release a reality. Reward tiers will start at $20 to $30 for a digital version of the game or $50 for a Super Nintendo cartridge. The top donor will get the original prototype. "It's gonna be really tough to give that away," Curtin said, "but if we came up with a large enough number, and somebody's willing to kick that number to get it to happen, then I guess they deserve to have it." (To give an idea of value, in the past, Curtin sold a prototype for the Legend of Zelda for $55,000 on eBay after attracting press attention by listing it for $150,000.)
There are many, Curtin said, who will criticize his decision to not just dump the game on the internet for free, arguing instead that "the game deserves a real release: A box, a manual, a physical cartridge that you can plug in. People have been waiting 20 years to play this game; I feel like that's the right way to do it."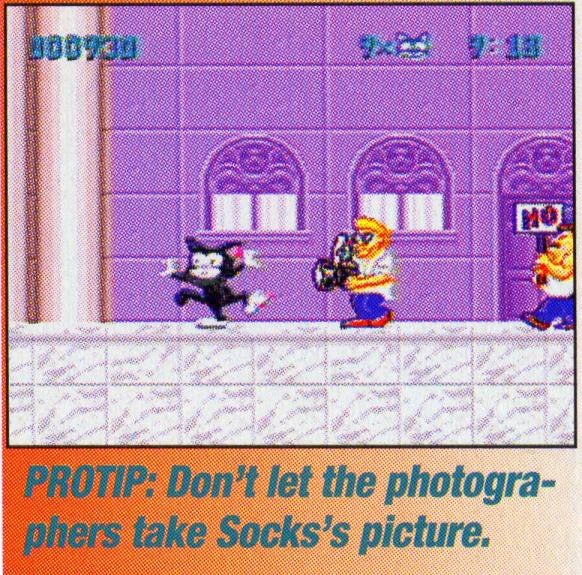 All involved expect the release to make a large impact, both due to the cult of the game among retro gamers and, of course, the connection to the Clintons. "As far as releases go, it can't get bigger than this, because there's never gonna be more history than what Socks has," Matt said. "All the prototypes that I've found, they don't have the lineage that Socks has, and they never will." Jay Wind of the Presidential Socks Partnership, the fan club that originally owned the rights to Sock's story, said that he is "absolutely delighted" the game will finally be released, and hopes that it will inspire civility in the presidential campaign. "We have a situation right now where the candidates are being very catty, so I hope they can be more dignified like Socks, who was an actual cat."
But the game stays true to the turbulent politics of the Clinton administration. "It's a period piece from an odd, interesting time in both video gaming and political culture," Mark said. "Playing as Bill Clinton's cat on a platformer, swiping at Ross Perot and ripping his face off — I love it. It's a perfect genre that doesn't exist: Political satire slash action platformer."
For all the people they've pissed off in the process, Mark is confident people will love the game once it's out. "I think people will look back on Socks and say, 'I think these guys did it right.'"
Sam Stecklow is a writer and editor in Chicago.
More digital culture on MEL: