Despite claims that millennials are weak, both mentally and physically, they have proven themselves to be coldly efficient assassins. In short time, they've laid waste to an array of cherished cultural institutions, including marriage, homeownership and J. Crew (to name just a few).
Now you can add boobs to that list. Millennials are killing boobs, too. Or at the very least, they're far less interested in them than previous generations, according to data provided by Pornhub.
Last week, British tabloid The Sun announced that after a long hiatus, large breasts were, in fact, making a comeback, thus ending our long international nightmare. The article cites the preponderance of cleavage that has been appearing on red carpets lately, and the popularity of "glitterboobs," or women with bedazzled chests, at this year's Glastonbury music festival in England.
Alas, this entirely anecdotal trend piece doesn't coincide with the data released yesterday by Pornhub, the world's largest porn site, which shows that large breasts are waning in popularity relative to small breasts, and that millennial porn viewers are relatively uninterested in breasts altogether.
Regarding the former, searches for both large and small breasts spiked in spring 2014, but searches for large breasts have tapered off in the past two years, relatively speaking, while the comparative number of searches for small breasts has risen.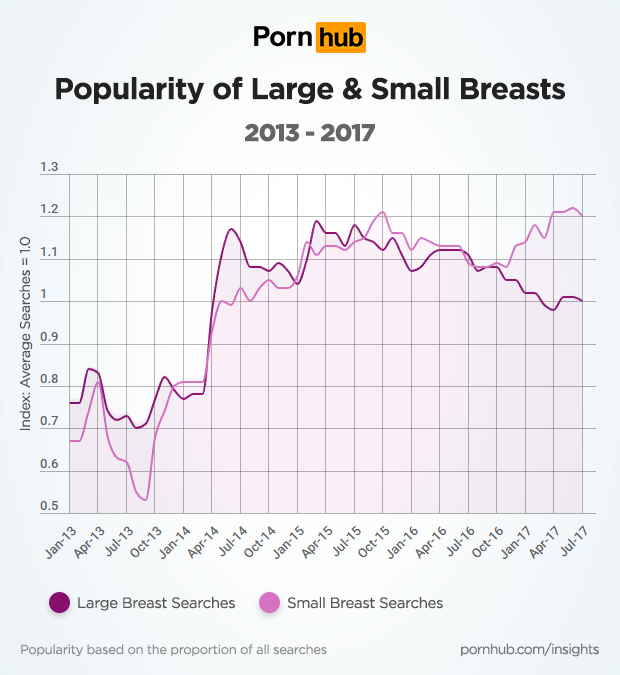 Fake and natural breasts searches have experienced a similar trajectory, with fake breasts waning in relative popularity, while searches for natural breasts remain higher than average.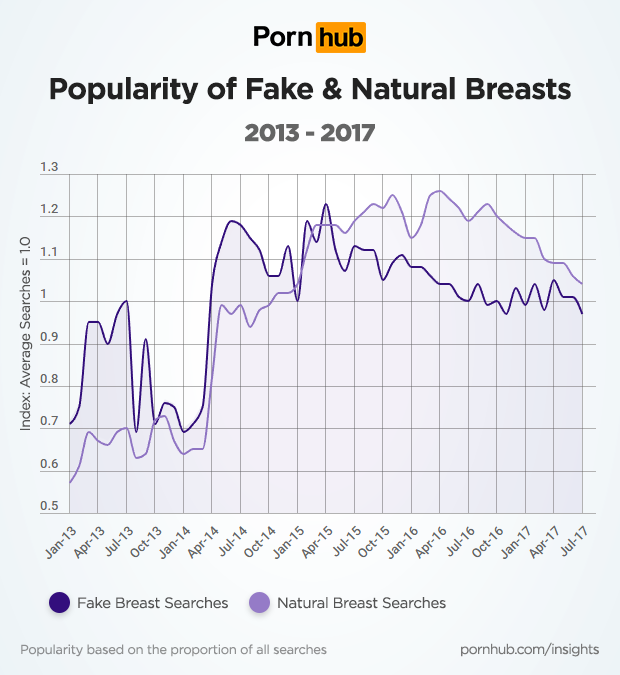 It's tempting to say this is a function of more women watching porn, and that these female viewers have fundamentally different porn consumption habits with respect to breast size, but the data don't bear that out. In what will come as a shock to absolutely no one, men are disproportionately interested in breasts, particularly large ones. They're 32 percent more likely to search for breast-related terms, in general, and 64 percent more likely to search for large-breasted women.
But men are also 183 percent more likely to search for small breasts than women, meaning the boom in small busts is driven by men.
Not millennial men, though. In the latest sign that millennial dudes are markedly different from their fathers' generation, the Pornhub data shows that "millennials between the ages of 18 to 34 are far less likely to search for both big or small breasts compared to most age groups over the age of 35."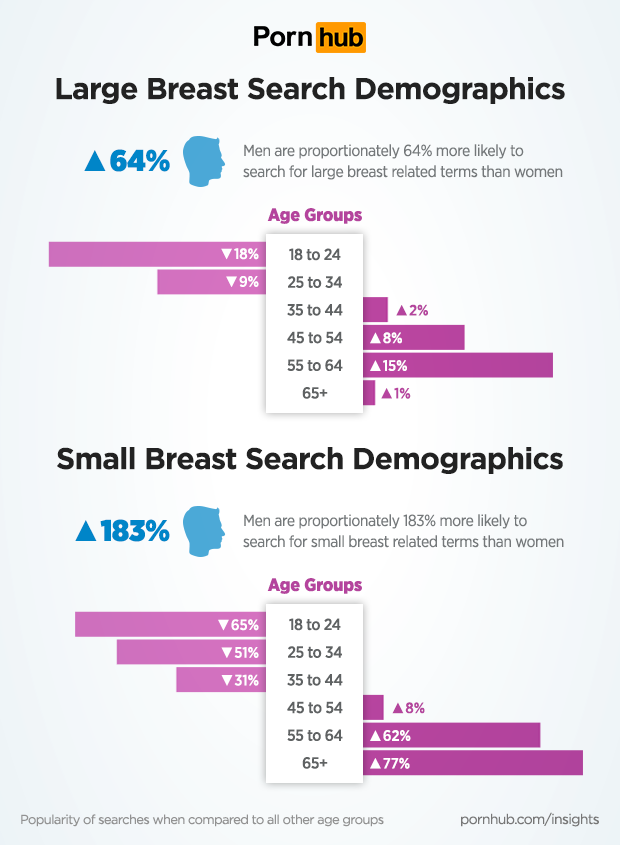 Millennial Pornhub users are also more interested in fake breasts than their older male counterparts, refuting that idea that millennial men are woke baes more interested in natural beauty and changing body image standards for the better. If anything, the data suggest that there are more and more dirty old men logging on to get off, and that they're the ones with a more enlightened view of the female form.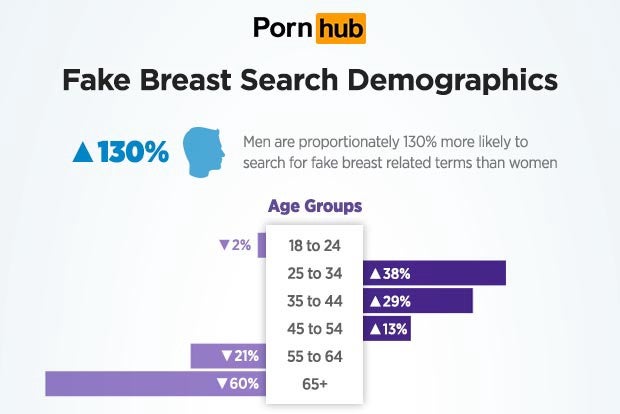 "Could it be that millennials aren't into breasts because, simply, they like big butts and cannot lie?" jokes Pornhub VP Corey Price.
"It's not our job to speculate," he continues, turning serious, "but rather provide compelling data for our fans to digest and draw their own inferences from. What I can say for certain is that people have an eclectic taste when it comes to their porn consumption. Everyone has their own preference. What might be a turnoff for someone, might be a turn-on for someone else. That, in an essence, is the beauty of porn."