President Barack Obama shed a tear during last week's speech about gun violence, giving us a big, executive reminder that, yes, men can (and do) actually cry — and it's totally fine.
It's also totally common. Especially whenever movies, music and parents are involved. At least that's what we found when we asked a bunch of our friends about the last time their waterworks starting flowing…
Zach, 28, Los Angeles
I cried in an Uber the other day. I hopped in this flashy white BMW. I sat in the front seat, per usual. My driver's name was Anna, and she was as adorable of a 50-ish-year-old woman as I've ever seen. I introduced myself and complimented her on how nice her car was. She proceeded to tell me the story about how her son and daughter surprised her with it as a birthday present a few years ago. She said it was her dream car. They promised her that it was a gift for her next 10 birthdays, too, but she said they still get little things for her every year since. Cry. City.
Jonathan, 39, Burbank, California
Last Tuesday, I was solo at the office and I popped Belle & Sebastian's Jonathan David EP on the stereo. Life has been unbelievably stressful of late and work has been an unstoppable, monstrous deluge. "Take Your Carriage Clock" and "Shove It" came on; it was the combo of the moment, the lyrics and the strings at just that right tone that made my eyes well up. It seems most of my crying is done when I'm feeling extremely sorry for myself. But the time before that was when I was watching the end of Tinker Bell and the Legend of the NeverBeast with my daughter and wife so there's that.
Coleman, 32, Abilene, Texas
When my second daughter was born, it all happened so quickly (just a four-hour labor) that I didn't get a chance to become emotional until later. The nurses were cleaning the baby up and weighing her. Suddenly, our doctor grabbed my hands and asked if I would pray with him.
I wasn't entirely shocked—he had prayed with us throughout the pregnancy. Now, however, he kicked the emotions into high gear without warning. This prayer emphasized the importance of a father in his daughter's life, from being her first love to setting the example of how a man should treat a woman. He went on to say that even though the baby will grow into a woman, she'll always be her daddy's little girl — no matter what.
Suddenly, you couldn't discern my blubbering from that of my newborn daughter.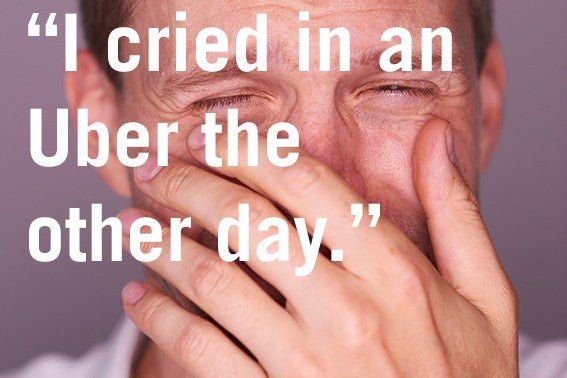 William, 27, Los Angeles
I always thought I had the perfect family. My parents have been together for 26 years, and we spend as much time together as possible, which is pretty easy to do since they followed me across the country after I moved to L.A. from Chicago, post-graduation. But it finally hit me over the holidays that maybe they're just tolerating each other for the good of the family unit.
I know they try and put on a "show" for me when I'm around, but sometimes they skip a beat and forget to treat each other with respect. They'll tell me this is just the way they get along, but it's hard to hear them speak to each other with what I perceive as hate and disgust. When this was going on I went into the guest room under the guise of taking a nap, and just stared at the ceiling and started to tear up thinking that maybe I should accept that perhaps we're all better off alone.
Jesse, 39, Atlanta
The last time I cried was on April 16, 2015. It happened one minute and thirty-three seconds into the second teaser trailer for Star Wars: The Force Awakens, when Han and Chewbacca appear. I wept like Matt Damon in the "it's not your fault" scene from Good Will Hunting.
Seeing as how Star Wars was such an essential part of my childhood and I'm now almost 40, a shrink might venture a guess that I was crying as much from a sublimated fear of my own mortality as from the sheer joy of seeing my old pals Han and Chewie again. Who knows.
One thing is certain: It's good that I wasn't hungover when I saw that trailer. That's when I'm really susceptible to breakdowns. Once, on an airplane and roiling with the previous night's latent bourbon, I got choked up while watching the A-Team movie. Now that's bad.
Gian Carlo, 22, Oklahoma City
There isn't a whole lot of stress in my life that can't be immediately remedied by hanging with my cat, Link. After a particularly long day a few weeks ago, he and I were watching some documentary about sharks when I fell asleep. I had been having trouble with my front door for a few days but I'd been too lazy to fix it; when I woke up several hours later it was wide open. Oklahoma winds, man. Nothing to mess around with.
I immediately panicked and searched my house for Link, but he was nowhere to be found. Without hesitation I grabbed my flashlight and began sprinting up and down my street checking everywhere I could see. About halfway down my block, I started tearing up. I knew this was my fault for not fixing the door when I should have. It was my fault that my cat was probably scared somewhere in the middle of the night, and it would be my fault if anything happened to him.
I walked back to my house, sat on my couch, and started crying again. An inquisitive-sounding, tiny meow came from across the room and Link popped his head out from a shoebox. He had managed to pull the lid over the top and close himself in. My best guess is that he had gotten cold from the door being open in the middle of winter.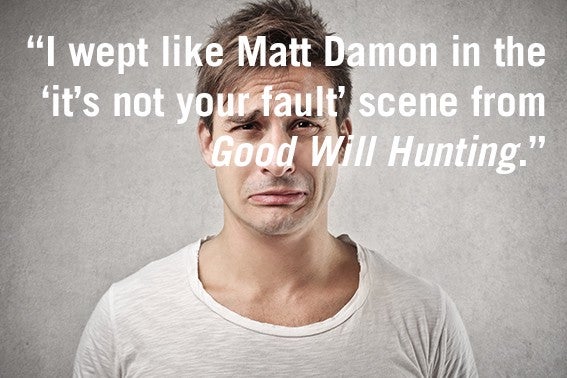 Tyler, 32, Los Angeles
The last time I cried was just after Christmas 2014, when my dad offered to help me get my finances in order. As I sat at my parents' dining room table, writing down my income versus my expenses, seeing how in the red I was and realizing how long I would be there, I thought about my dad at my age. He had three kids and a thriving career. I was in my early 30s with three roommates and no career prospects. I'd never felt like more of a failure.
I broke down sobbing over the notebook where we were writing the numerical value of my life. My dad stood up and put his arms around me until it passed. Then we got back to work.
Brendan, 28, Sydney, Australia
While visiting New York from Australia, I met up with an ex, who ended up treating me to dinner and letting me crash at his place. He left for work early, and I slept in. As he was leaving he mentioned something about not touching one of the locks — but I accidentally flicked the latch on the way out and he had to call a locksmith.
I was ashamed. Ashamed and embarrassed. Tired, cold and a bit lost on the subway, I got out at Times Square, went to Starbucks and ordered a flat white. There were no seats so I walked to a bench and put my head against the wall and cried into my coffee. I just wanted to do something right, but I'm still the clumsy teenager who cheated on him and never helped out. I think that's why I cried. I still love him so much, and I locked him out of his own house.
Avery, 39, Los Angeles
The last time I cried was winter of 2001. I had just wrapped my first semester of college after leaving the Navy. A new friend, Jen, who I was crushing on, invited me to celebrate New Year's Eve, eight hours south in Illinois.
Once we got on the road, though, I started regretting making the trip with her because any chemistry/intimacy Jen and I had shared in the last four months was nonexistent. I proceeded to get completely shit-faced on vodka tonics, martinis and a bunch of shots. The ball dropped, there were some superficial hugs, I drank more booze and then I blacked out.
When I woke up, far from home, around people I didn't want to be with and with a monster hangover, I felt miserable. Somehow, however, I motivated myself to start calling and checking in with family and friends. I called my dad, who told me that I wouldn't be able to get a hold of my brother, Marc. Why? He'd been hospitalized after drinking a fifth of Jack Daniels and crashing a snowmobile into a solid iron railroad switch at 70 mph. Afterwards, he was transferred directly to jail.
I went to the bathroom to get some privacy. Next, my dad told me that my mom had been arrested for a DUI, too. It was a huge revelation because it was the first time I'd been confronted with my mom's alcoholism as an adult. I got off the phone and immediately tumbled down a rabbit hole trying to digest all this bad news. I started crying. Big time.
I kinda pulled my shit together and walked out of the bathroom where Jen was waiting right outside the door. My bloodshot eyes started welling up again, and she put her hand around my neck and pulled me in for a hug and told me everything was going to be fine. I started bawling again. That was pretty much the last real moment between us. When we got back home our friendship and any romantic inclinations were pretty much gone.
Duncan, 33, New York City
I don't necessarily define family as those people related to you. Don't get me wrong, my blood is close to my heart, but living far from my parents forces me to find family where I can. For instance, I recently left my job of four years, let's say by choice, and the tears flowed like a river. The financial aspect had little to do with my emotions. It was the idea that not seeing this family I've created nearly every day of my life was now a reality that made me weep.
My point is that friends and family are everything, and crying for them (whether you've lost one, or if you just love the shit out of them) is a great thing. Keep crying, dudes.
For more MEL, follow us on Medium or subscribe to the newsletter.