The video opens with a guy with long, curly bleach-blond hair speaking briefly in Hebrew with two women — one in a red bobbed wig and another who also has bleach-blond curls— and then to the camera. They're all in Israeli military uniforms, though their hair and the video's quality imply they're probably actors rather than active-duty IDF soldiers. The video cuts abruptly to the three actors — now joined by another man with shorter, darker hair — pairing off, kissing, groping, disrobing and having oral sex on the floor. The action is backed by low-key electronic music and with a periodic watermark directing viewers to www.isreal-porn.com, a now-defunct website.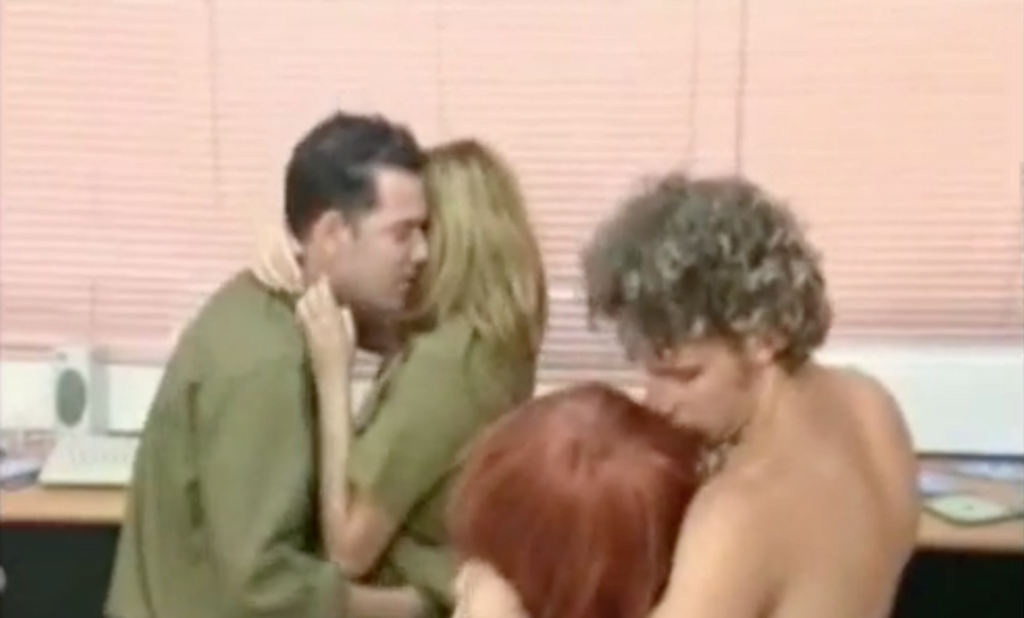 In all, the video is only four minutes long, and appears to have been meant as a promotional clip for a longer scene. It's outdated, too — slightly blurry and reminiscent of early-2000s video technology. The tags are particularly confusing: "soldiers," "orgy" and "israel" are obvious enough, but it's clearly not "amateur," and there don't appear to be any "Arab" actors in the mix. Still, "israeli soldiers having an orgy in tha base" is pretty popular (1.1 million views and counting) on Xvideos.com, one of the biggest free porn streaming sites in the world — probably because of those "Arab" and "Israel" tags." In fact, overall, a search on Xvideos for "Israel" and "Arab" tags yields nearly 25,000 results — a combination of the never-ending allure of taboo and an excuse to extend the Israeli-Palestinian conflict wherever possible.
On that last point, the comments section for "israeli soldiers having an orgy in tha base" gets right to the heart of the matter. Shortly after the video was posted back in 2011, the first person to comment wrote, "Fuck israel!" Another shot back, "Fuck all the arab terrorists!" Things deteriorated from there. And while the IDF uniforms may have drawn more ire than some other videos, most "Israeli" and "Arab" tagged porn videos I've found online have comments sections that read pretty similar.
Overall, there's a lot of overlap in Israeli and Arab porn today, mostly because there's a lot of Arab porn, but not very much from Israel. It's a complicated state of affairs: Pornography is outlawed in every Muslim-majority country in the Middle East, except for Turkey (which has a relatively prolific industry) and Lebanon (where porn websites have been partially blocked since 2014). Even in Hamas-controlled Gaza, a Muslim enclave located within territory that Israel considers its own, access to porn is at least partly blocked.
Nevertheless, there's more than enough Arab porn floating around the internet — mostly amateur videos filmed on camera phones and uploaded to free streaming sites like Xvideos, xHamster and PornHub. There's so much of this material, in fact, that most of these sites have an "Arab" category to house it all — and to appease ravenous Arab-porn audiences. In 2015, for example, Google revealed that six of the top eight porn-searching countries in the world were Arab states (Pakistan, Egypt, Iran, Morocco, Saudi Arabia and Turkey).
Meanwhile, in Jewish-dominated Israel, "Israelis consume porn regularly," says Shakked Auerbach, a reporter for Haaretz, one of Israel's biggest newspapers, who's written about the domestic porn scene. "Porn sites are usually [in] the top 25 most popular websites in Israel." The problem is there's just not very much Israeli-produced porn. Accordingly, sometimes Arab videos get tagged with "Israel" or "Israeli," just so that people in Israel can find something to watch — if, of course, they're willing to deal with the minefields that are the comments sections.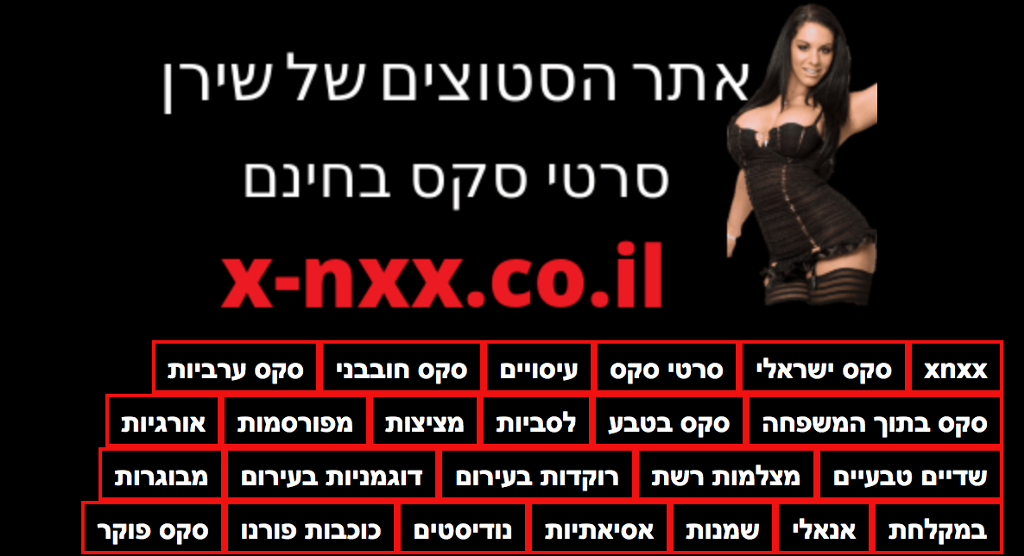 In all, there's really only one reliable, free Israeli outlet — a tube site called x-nxx.co.il. Since its inception in 2015, its "Israeli sex" section — the only one of its kind I've found on any tube site — has been its most popular, boasting around 250 videos. Most of them, though, are very amateur, typically captured on smartphone cameras. Some aren't even explicitly sexual, like "Dana Spreading Oil on Her Chest," but they are Israeli.
There are other categories (lesbian, Asian, blowjobs, anal, and even Arab) on the site, too, but its editor, Yariv, tells me that most of his attention goes to the Israeli category. "The site is written in Hebrew and is intended for the Israeli public," he says. He adds that x-nxx gets 850,000 unique visitors a day, 95 percent of whom hail from Israel. By the numbers, this means that nearly 1 in 10 of Israel's 8.5 million inhabitants could be visiting it daily for their porn fix.
Such large numbers seem to bother Israel's main legislative body, the Knesset, which has recently shown interest in cracking down on access to online porn. Citing concerns over minors' ease of access to explicit material online, the Ministerial Committee for Legislation passed a bill last fall that would've forced Israeli internet service providers to block pornography by default. Under the bill, internet users in the country would've been forced to call their ISPs to request access to porn. That's embarrassing enough, but rumors also flew that the government planned to keep lists of everyone who requested to have their porn blocks overturned, a clear breach of privacy. Public outcry ensued, and the Israeli Communications Ministry watered down the bill significantly.
Still, the law — even in its diluted form — has taken a toll. xHamster reports that Israeli traffic to its site has dropped a full 30 percent since the legislation went into effect last fall. And that's pretty strange. "This is a marked difference between what we've seen in the U.K., where ISP [porn] bans initially led to an uptick in users," says Mike Stabile, a company spokesperson.
Anti-porn forces in the Israeli government aren't backing down either. In July, the Knesset passed a law that approved online censorship in Israel. Under this new legislation, courts can order ISPs to block and remove websites from search results if they're proven to be promoting criminal activity. The new law doesn't seem to have been enforced yet, so it remains to be seen whether it will stick to its purported focus on child porn, drug sales and terrorism. But there's definitely concern: "The wording is sufficiently vague for it to apply to just about anything," writes David Spencer of VPNCompare, a British website dedicated to expanding users' understanding of online privacy.
Not that Yariv is worried. "We believe that Israel is a liberal state, and that the [censorship] law won't be implemented," he says.
Still, nobody else is vying for his position at the top of the porn pile.
This wasn't always the case, though. In the early 2000s, pornographers in Israel began to take advantage of porn's legal status there and to cash in on the promise of online distribution. "Israel made a 'liberal jump' at the beginning of 2000," says Haaretz's Auerbach. "In those years, hand-in-hand with digital evolution, the local porn industry started flourish." Producers like Moti Avrahim, D69, Sex Style and Parpar popped up and started doing a brisk trade, Auerbach explains. Much of the material they made still can be found on free porn sites if you search for "Israeli" — their company logos, often written in Hebrew, in the corners of the videos and many of the performers in Israeli military uniforms. ("Israeli soldiers having an orgy in tha base" was likely made by one of these companies, though it's unclear which one.)
But this budding domestic adult film industry soon collapsed under the weight of free tube sites, where users could post pirated or amateur porn from anywhere in the world. Today, says Auerbach, "the Israeli porn industry is rather small, and is mainly produced by the LGBT community. Straight porn is rarely made anymore in Israel."
There are a few paysites offering more professional fare. For instance, Ella Kross, a well-known Israeli dominatrix, runs a sleek website where she offers photos and videos of her sessions for BDSM-minded members. And igay365.com captures about a dozen gay performers, on heavy rotation, with handheld cameras in fairly vanilla scenes. Performers earn around around 1,500 shekels ($420 USD) per scene and don't seem to pursue fame on social media.
Similarly, there's a small feminist porn movement in the country, but its products are even harder to find, released via film festival only. "The motive is very political," explains Auerbach.
Meanwhile, Mor Vital, a transgender performer and filmmaker who became well-known for her porn and documentary work about trans sex workers, has now largely converted her site into a webcamming platform for women, trans female performers, crossdressers and their fans.
The truth is that scripted pornography just isn't the moneymaker it once was — at least when compared to camming (everywhere in the world, really). Case in point: NewCam18.com, an Israeli-operated cam site, that's been online for 12 years. A spokesperson tells me, "We're the first, and we believe we're the biggest [of the cam sites in Israel]." The spokesperson declines to share their viewership numbers, but they do tell me that their viewers like to keep it local: Nearly 50 percent of the site's members are from Israel, the spokesperson tells me. "We try to be honest with clients and honest with the girls who work for us," he says. "Maybe this is the reason [we've succeeded]."
A lack of competition obviously is an advantage, too. It's unlikely that anything akin to "israeli soldiers having an orgy in tha base" will be produced again anytime soon, the last vestige of the short-lived domestic Israeli porn business. Because even the taboo of IDF group sex can't trump the vast promise of free porn — and the conflation of "Israel" and "Arab" tags it's organized around.