Twenty-five-year-old Ed "Bad Boy" Brown's first professional fight was four years ago on a small card at Cicero Stadium on the suburban edges of Chicago's West Side. Brown, a giant for a 147-pound welterweight, came to the ring with an eight-piece marching band before a roaring crowd of 1,000 people. I'd seen him in person once before, when he was on his way to becoming a Golden Gloves champion. On that night, Brown hit his opponent so hard it knocked off his headgear. With his slower, thoughtful pace and incredible poise — not to mention deadly one-punch knockout timing — it was immediately clear to me that he was one of the best boxing prospects Chicago had produced in years.
Nothing about his first pro fight changed that opinion. Within the first minute or so, Brown landed such a vicious left hook to the side of his pudgy opponent, Dontre King, that I swear I could hear King's ribs breaking from where I was sitting in the stands. Brown followed it up with another hook before starting to batter King's head. While King retreated and went into a shell defense, Brown launched a loopy right cross that connected with King's jaw and sent him to the canvas. King tried to get up, but it was useless. The fight was over — just a couple minutes after it started.
The marching band erupted back into music as Brown flexed and smiled on the ring ropes. Talk of Brown's potential spread through the crowd like wildfire: "He's gonna be a big fucking star," I heard more than one person say excitedly.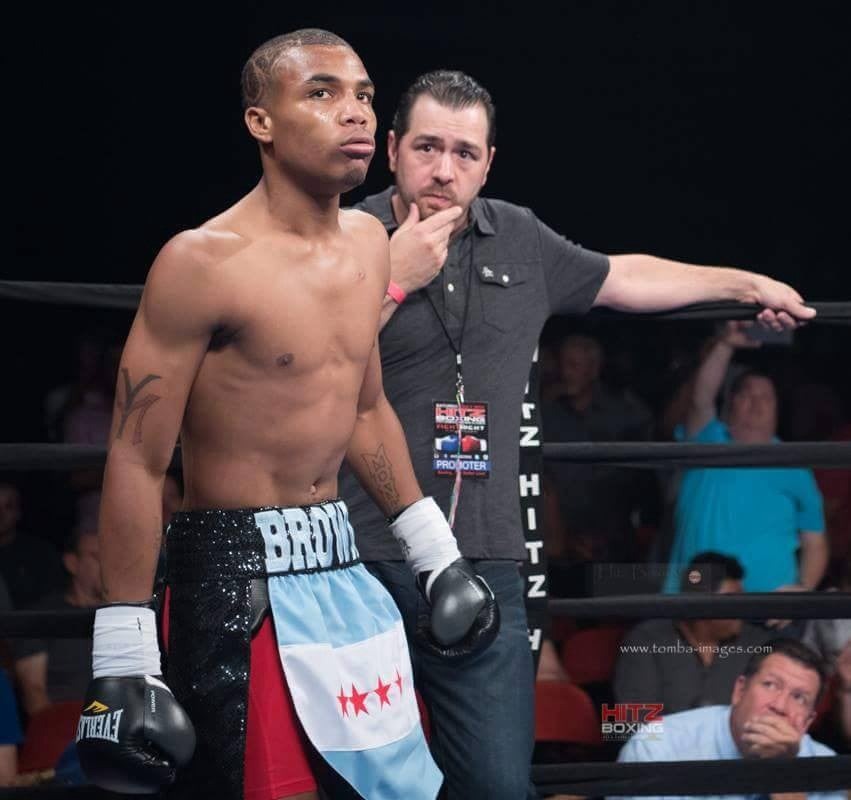 Not more than a week later, though, Brown was shot in the chest.
"I was at a club, and some stuff kicked off," Brown explains. "It didn't hit any major organs but I was out for a minute."
It was actually much longer than that — six months' worth of minutes to be exact. But when Brown did return to the ring, it was more of the same: Two fights, two more wins by knockout.
Then he got shot again.
"I was on the party bus having some fun messin' around. Some guys got into it, and I got shot in my knee and my foot."
This is Brown's career arc (and the reality of living on Chicago's West Side, where gun violence is a fact of life): He does something great inside the ring, only to be nearly killed outside of it almost immediately afterward. "Before the [2012 Olympic] trials I got shot, too," Brown says. "It was a drive-by on my block. I got caught in the crossfire. It hit me in the neck. The doctors said I would have died if I wasn't in such good shape from boxing."
In all, he says, he's been shot nearly 10 times. "They was trying to call me 'Bulletproof' 'cause I been shot so many times and them bullets can't stop me," Brown explains. "But I like 'Bad Boy' better."
Until now, "Bad Boy" has been best known in the Chicago fight circles I hang in, but that's sure to change after this weekend. Tonight is the biggest fight of his career. While he's undefeated (with 19 total wins, 16 by knockout), he's yet to fight anyone at the level of his opponent, Albert Mensah. The Ghanaian-born Mensah is a former top-10 contender in the super-lightweight division; now the two fighters will meet at the welterweight division where Floyd "Money" Mayweather reigns and where Sugar Ray Leonard, Jake "Raging Bull" LaMotta and Roberto Duran famously once fought.
Generally speaking, a fighter's 20th career win is pivotal — the point at which they shift from a prospect to a world-title contender. For Brown, it likely means his first world ranking as well. "I'm gonna stay focused," he says, "and try and win a world title and make some millions."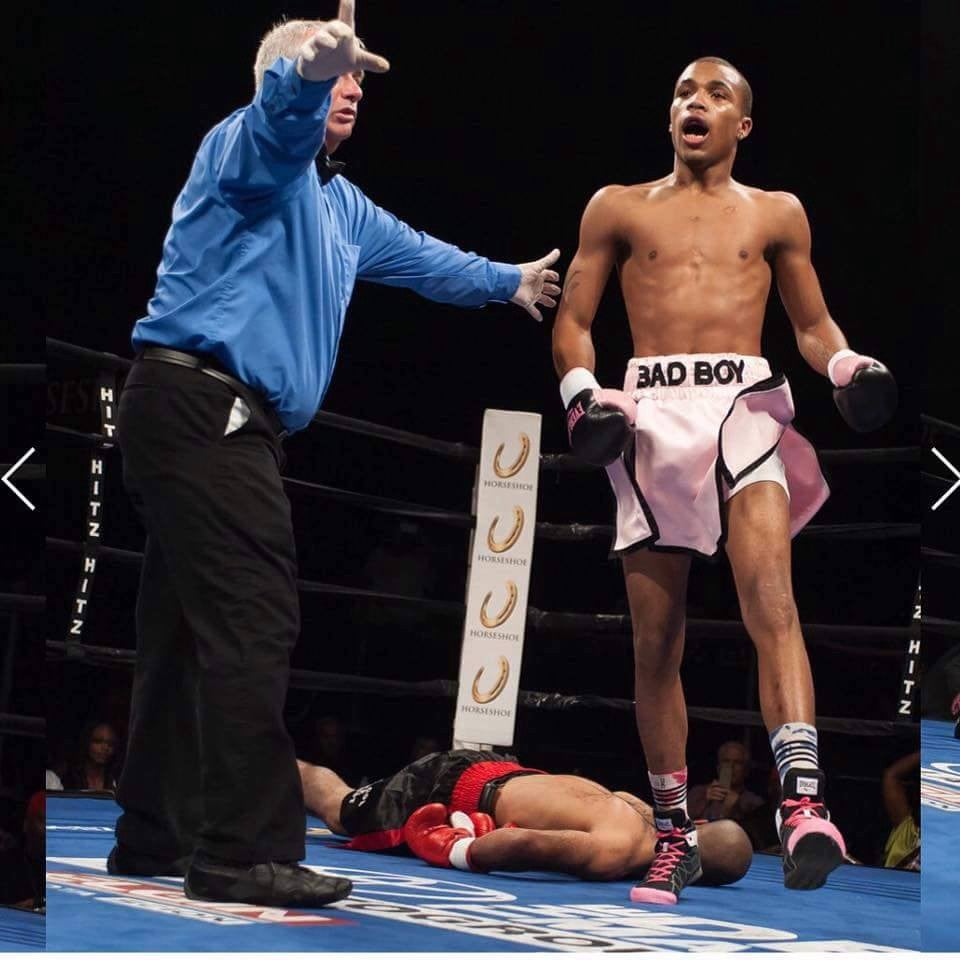 Despite his having been shot so many times — and having served a 10-month prison sentence for gun possession after his third pro fight — Brown's career has moved fast. In fact, not long after he got out of prison, he fought a total of 12 times in six months — the quickest I've ever heard of a prospect being moved outside of Mike Tyson, who fought 27 times in his first 18 months as a pro. Most young prospects don't fight more than once every two months because pro fights are grueling and inflict a lot of punishment on the hands and face that only heals with time. In one August alone, however, Brown fought three times — or almost once a week. "I was knocking them all out so I wasn't putting my body through too much in the fights," Brown says. "To be honest, fightin' all the time like that was fun as hell."
Brown began boxing at the age of 6. Even as a small child, he was sparring and competing in matches at the Garfield Park Fieldhouse on Chicago's West Side. The gym is remarkably unique with its big blue ring, smoky side room and bongo drums. But there's no question it consistently produces champions — including current top-10-ranked super-lightweight Adrian Granados, 2000 Olympian Michael Bennett and cruiserweight title challenger Jason Robinson. All of them trained under George Hernandez, who runs the Garfield Park Fieldhouse boxing program. (Hernandez himself is a former Illinois Prison Boxing Champion, a program where inmates from all of the state's prisons compete against each other.)
Hernandez was something of a surrogate father to Brown, whose biological father spent a lot of his childhood in jail. Brown's mother died when he was just 12. She was at a local nightclub named E2 when a fight started. Security used pepper spray to break it up, causing a stampede that killed 21 people, including Brown's mother. "George helped me through a lot with my mom passing and my pops in jail," Brown says. "He raised all the money to bring me to tournaments all over the country."
Money, of course, has never been easy — now or when Brown was a kid, the reason why Brown and his group of Garfield Park boxers refer to themselves as "The Broke Team." "It's kind of a play on Floyd Mayweather's 'The Money Team,'" Brown explains. "They all rich out there in Vegas. Well, we the Broke Team on the West Side of Chicago. We coming from nothing, but we gonna make it."
Making it also means surviving outside the ring. The West Side is among the bloodiest areas of Chicago, and the city is about to witness its 700th murder since 2016 began. And there's no way for Brown to separate his quest for the welterweight title from the gun violence that engulfs his life — and the lives of those around him. "Two weeks ago, my girl's little brother was sitting in a car with his friend and another car pulled up and shot his whole car up. Both of them died. It hurt me so bad. He was a good person. He wasn't involved in no crime or nothing like that."
"Chicago is a big ol' hatin' city," Brown says, explaining that he believes jealousy is the root cause of the city's high murder rate. "Everybody in competition. Everybody want to be that guy that got it all. You got something going, somebody going to hate on you."
It was all that hate that recently caused Brown's good friend, Chicago rap icon King Louie, to move away from Chicago after he was shot in the head last year and somehow survived. (King Louie hand-selected Brown as an extra for the video of his hit song "To Live and Die in Chicago": "He said he wanted me for the video because I was a kid that came from nothing who was about to make it.")
And it's why Brown's fight tonight against Albert Mensah is Brown's way of ending the cycle of violence that has circled his career. "I got this chance getting this fight," he says. "Not everyone gets chances like this. Now I gotta go do something with it. I got a 3-year-old daughter. My baby girl, I love her so much. I want to give her a nice childhood, not like the one I had to go through."
"I love Chicago," he continues. "I'll love Chicago till the day I die. I'm happy for any Chicagoan — black, white, Mexican — that's doing good. But all I can tell the kids is, get what you can and get out. Get yours and get up outta here, 'cause people gonna hate on you, gonna shoot at you and gonna kill you."