Forget 'big and tall': DJ Khaled wants you to think big and sexy
A country singer and a hip-hop star walk into a bar. The former is Sundance Head, Season 11 winner of the NBC singing competition The Voice; the latter is DJ Khaled, the producer and DJ who is as well-known for his motivational catchphrases as he is for collaborations with Rihanna and Justin Bieber. The two men, seemingly as different from one another as can be, are both unlikely pop sensations: Each became famous through unconventional means while nearing middle age — Khaled, 41, by way of Snapchat; Head, 39, via reality TV — and neither fits the mold of the traditionally handsome, chiseled male music stars of previous eras. Both have scruffy dark beards and large bellies. And yet, Head and Khaled have been named the faces — and bodies — of DXL, a new menswear retailer that seeks to reinvent the XL market by stocking stylish, urban brands in sizes 38 and up and XL and beyond.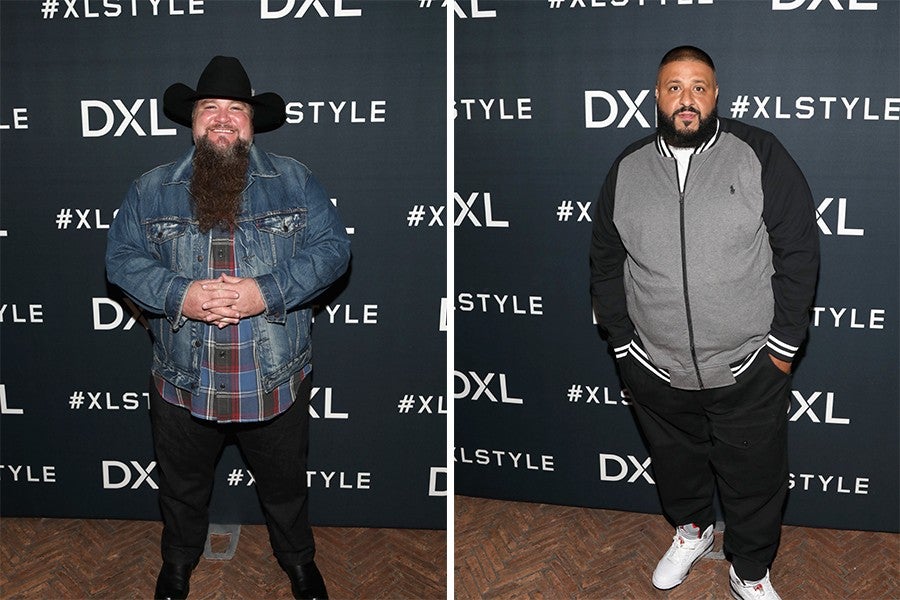 The bar is AOC Wine Bar and Restaurant in West Hollywood, where on Tuesday night, Head, Khaled, and a gaggle of fellow campaign models, spokespeople, fashion bloggers, and social media influencers — many of them large, all of them impeccably dressed — have gathered to celebrate the launch of DXL's debut campaign. The ivy-covered patio is packed with men in wool fedoras, distressed denim jackets, and houndstooth blazers. This is a crowd that is not afraid of brooches, pocket squares and polka-dotted ties. Floor-to-ceiling-length banners feature DXL's celebrity models, which also include retired NHL player Hal Gill and retired MLB player David "Big Papi" Ortiz. The slogans printed across their photographs use XL as a pun for the word excel. "I XL for the encore," reads Khaled's banner; "I XL at the big finale," reads Head's.
"It's obviously a play on words, right — I XL — and whatever you excel at, we're saying, excel in style," explains Sahal Laher, the company's chief digital officer and CIO. The goal of the campaign, Laher says, is to showcase a range of different body types wearing a variety of styles, from Khaled's hip-hop look (a camouflage-print pullover paired with baggy athletic pants and boots) to Gill's boardroom-ready blazer layered over a sweater and tie, to Head's country-chic ensemble complete with a cowboy hat and flannel button-down.
"Some of these guys just don't have the selection when they go to other stores… They'll have like two racks to pick from," says Laher, adding that DXL stores carry big and tall sizes from more than 100 designers including Levi's, Tommy Hilfiger, Carhartt, and Reebok. "We have a lot of different variety, which I think is really key because people feel like sometimes they're pigeonholed into just one or two things and it's very much run-of-the-mill and you can't really express your personality."
With more than 200 stores across the country, DXL bills itself as the largest retailer of men's big and tall clothing. If the brand sounds unfamiliar, that's because up until recently it was known as a different one: Casual Male XL, which, as its name might suggest, had a reputation for stocking business casual clothing — generic button-downs, pullovers, and khakis — in suburban strip malls. DXL, short for Destination XL, is a complete overhaul of the brand.
This comes at a time when body positivity, a movement previously championed by women, has begun to gain traction among men. Plus-size male models like Zach Miko, who signed to the agency IMG last year, have achieved mainstream visibility, and body-positive fashion bloggers like Kelvin Davis, a newly enlisted DXL model known for his site Notoriously Dapper and a new book of the same name, have brought increased attention to the cause. (Fittingly, both Miko and Davis are also in attendance at the event.) Similar to how plus-size models like Tess Holliday have sought to reclaim the word "fat," DXL now wants to put a positive spin on extra (or extra extra extra extra) large.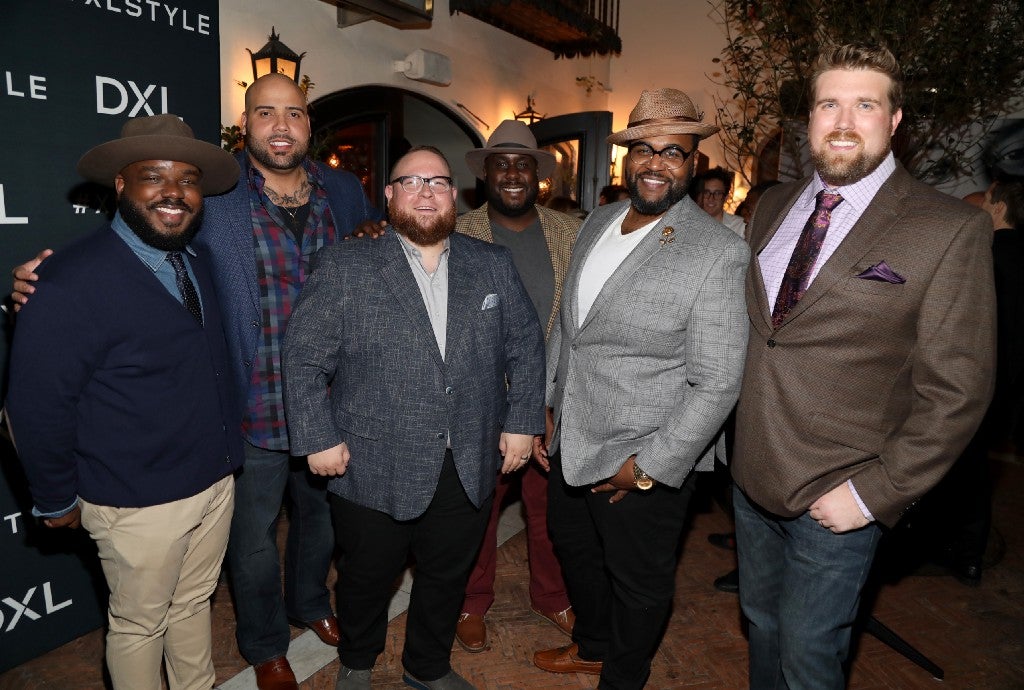 "For a long time it was for some reason uncool to talk about how you felt, the way you looked, all of that. Every guy cared desperately but we weren't allowed to talk about it for some — for lack of a better term — bullshit toxic masculinity reason," says Miko, who's paired a purple checkered shirt with a brown blazer and stands 6-foot-6. "I don't want to hide that I care about what I look like, and I want to show that I'm taking care of myself and I feel good about how I look no matter what my size is. I don't have to have a chiseled six pack to feel good about myself."
On the other end of the patio, Head, wearing a black cowboy hat and a denim jacket, poses for a photo in front of a banner printed with his own likeness. "Hey, look!" he exclaims in his thick Texan twang, pointing to the banner in which he appears roughly twice his actual size. "I'm big and tall!" In real life, Head is mostly just big — a feature he'll be the first to point out. "DXL is big and tall. Now that I'm involved they'll have to change it to big or tall," he says, referring to his 5-foot-8 frame. It's a joke, of course, but it gestures at the absurdity of the euphemism "big and tall," as if all men who have wide waists also have long legs, and vice versa.
Head isn't particularly well-versed in the language of the body positivity movement; One of the main reasons he says got involved with the campaign is because "you don't always get to have an opportunity to be on a billboard like that." But he's been embracing his body all along, with or without a trendy campaign behind it. On Twitter, his fans tag him in posts using the hashtag #tallandhandsome (a playful stab at the fact that he's not particularly tall) and at concerts they shout "Big Sexy" — a nickname his wife, Misty Head, gave him after finding out that's what a flirty waitress had called him. "It was kind of like making fun of her," she says. "And it just caught on and now it's just his thing."
When DJ Khaled finally arrives, wearing a Ralph Lauren cotton baseball jacket in grey and navy blue, he's mobbed by photographers and fans waving their phones in the air in the hopes of capturing him on their Instagram stories. Khaled, standing in front of a step-and-repeat printed with his own face, strikes a cheesecake pose with his hands on his head, elbows pointed in either direction. "Big is sexy, baby, you know what I'm saying?" he says. "One of my big keys to success is I always say you gotta dress fly, stay fresh, stay clean. And DXL, they've been doing that for me. I'm big and sexy, you know?"
He poses for more photos before sauntering off to check his phone, a trail of handlers and hangers on following closely behind. Some nights he might be the biggest guy in the room, but tonight, he fits right in.