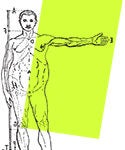 This is the final installment in the Body Issue, our weeklong examination of the male form, where men get real about what they look like, how they feel about it, and everything in between.
I want to sit on Tony Soprano's face. Whether dressed in his signature white undershirt and suit pants or completely naked (aside from his gold chain, naturally), I imagine his hands would grip my thighs so tightly as I put his tongue to work that his pinky ring would leave a mark.
Tony can get it. His mouth is a pleasure cushion. His hairy chest is an inviting pillow, perfect to lay on post-orgasm and pet. His big arms could hold me tight, in that strangled, submissive way I often desire, without actually strangling me to death the way he has some of his foes.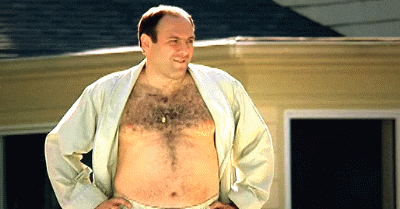 I'm not alone either. Drea de Matteo, who starred as Adriana La Cerva, the longtime girlfriend of Tony's driver and protege on The Sopranos, says she had a "crazy crush" on James Gandolfini, the late actor who played Tony. "We were all in love with him. He's the sexiest TV guy ever, in my opinion," she told Vanity Fair in 2012.
Obviously, the recipient of the title "Sexiest TV Guy Ever" is typically some primetime soap hunk with washboard abs and a chiseled jaw, not a homicidal mob boss whose belly regularly hangs out of his robe as he compulsively devours gabbagool. As one redditor puts it:
"Objectively speaking, Tony Soprano is not an attractive man. He's overweight and balding. You could put James Gandolfini in a sitcom with an attractive wife and you'd say, 'No way would she be with him.' However, Tony is obviously a supreme womanizer and never once in the show did I think that it was unrealistic he was getting these women. What is it that makes Tony Soprano so attractive?"
The easy answer is money, power and danger. But that's not exactly right. It would be ignorant to assume that these hot guys are only hot despite of their fat or because of their power, when in some instances, their corporeal form itself is what's hot. Because for some women and gay men, the only sexual partner more hot and comforting than a "daddy" is a "big daddy."
"I'm primarily attracted to tall, chubby guys because they make me feel smaller by comparison and less judged for my body," Annie explains. "Friends call me Thicc Annie, which is definitely a form of internalized body-shaming."
Adds another woman, "Thinking about this is a troll for me because I almost exclusively dated big guys before meeting my skinny fiancé, and it's really different. At first I was like, 'Oh it doesn't matter that much — hot is hot.' But in my experience, fat guys and skinny guys have very different attitudes around bodies and food. It's been quite an adjustment."
Their personalities can be different, too, says a friend of mine. "I used to exclusively date tall, chubby/fat guys," she explains. "I found them to be much nicer than their slim counterparts."
Upon thinking about fat-guy sex symbols beyond Gandolfini and Tony Soprano, I realized there were almost too many for me to name. And so, I took to Twitter to ask for my friends and the internet's favorite big, bangable men. Understandably, some people might disagree about who's considered "fat" and what constitutes "fatness" more generally, but there was certainly no shortage of answers. Here are the ones I found the most interesting — or the names that popped up the most frequently…
Barry White
Everyone knows Barry White could fuck. Upon the singer's death in 2003, his sex appeal was mentioned in the first line of his widely circulated obituary: "Velvet-voiced R&B crooner Barry White, renowned for his lush baritone and carnal lyrics that oozed sex appeal on songs such as 'Can't Get Enough of Your Love, Babe,' died Friday morning, his manager said." Other such sex-appeal songs: "Never, Never Gonna Give Ya Up," "It's Ecstasy When You Lay Down Next to Me" and "Your Sweetness Is My Weakness."
According to Casey Kasem, a peculiar, if trustworthy source, White weighed an average of 375 pounds throughout his lifetime, and yet, his size didn't stop him from having the erotic experiences that likely inspired his sex anthems. White was known to many (and Urban Dictionary) by his nickname, "The Walrus of Love," and could most definitely put it down between the (probably silk) sheets. Consider the lyrics to "Sexy Undercover," which suggests the true scope of his freakdom may have been imperceptible at first:
Baby you know I'm nasty by nature (evil laugh)
Just when you thought that it was safe
I'll come along with a new twist
I'll share my wildest fantasies
You never thought it'd be like this
Oh nooo, any time and any place
Oh yesss, so good time won't go to waste
Oh nooo, every day's a little treat
It could be loud or discreet
I know you can't tell from the outside
But baby there is plenty in store
You know I'm as shy as they come girl
Until I get behind closed doors
I'm your sexy undercover
The Notorious B.I.G.
"Big Poppa" earned another nickname, "Bigga the Condom Filler," as the large-bodied lothario in New York City who got it in plenty before (and likely during) his high-profile relationships with Faith Evans and Lil' Kim, among hip hop's most famous love triangles.
Lil' Kim's sexual aptitude is no secret thanks to the freaky lyrics that Biggie encouraged her to share. For instance, she proudly possesses a "magic clit" and spits flirtatious rhymes such as the following bars from her song "Kitty Box":
Picture Lil' Kim masturbatin' in a drop
Picture Lil' Kim tan and topless on a yacht
Picture Lil' Kim suckin' on you like some candy
Picture Lil' Kim in your shirt and no panties
As a gospel singer, Evans lyrics tended to be a lot less nasty than Kim's, but this doesn't mean Evans didn't get just as freaky with Notorious B.I.G. In fact, she told BET last year that she had no problem eating his ever-ample ass:
John Goodman
Goodman's name was mentioned more times than I could have ever fathomed, despite my lifelong love affair with Roseanne (the program, not the woman, okay?).
Badillo says Goodman's sex appeal is simple: "A) strong hands; B) strong jaw; C) seems like he would always take care of you because he's thoughtful and therefore would make a good lover."
"John Goodman was one of my first legit crushes growing up," explains another woman. Meanwhile, Meredyth tells me she's spent "like 25-plus years crushin' on this guy."
There is, I guess, the Roseanne episode when Goodman (as Dan Conner) unexpectedly sang "Sweet Home Chicago" with Blues Travelers frontman John Popper, proving himself a sexy crooner with rhythm:
Seth Rogen, Zach Galifianakis and Other Funny Fat(ish) Guys
These guys are sorta slimmer, next-generation Goodmans: sandy, scruffy, large-enough-bellied and lovable. Jonah Hill would have surely been a top contender had he not slimmed down into the gaunt director he is today.
But the real Goodman 2.0, this generation's true fat(ish) heartthrob, is the one-and-only Jack Black. "I love his energy," Victoria tells me. Anna adds, "Jack Black is getting better with age, now that he's a little salt and pepper — along with the fact that he's hilarious and musically gifted." And per Robin, "It's his mannerisms. I enjoy sideburns too." A lot of this, a fourth woman aptly points out, probably has to do with Black's character as a vulnerable composer in the 2008 Christmas rom-com The Holiday:
A Bunch of Other Assorted Funny Fat Guys
"I'm weirdly attracted to Eric Wareheim after seeing him in Master of None," Liz says. "I just want him to scoop me up and make me feel safe and horny."
"The dad on Fresh Prince Of Bel-Air could totally get it," a guy named Brad says of the late James Avery.
"Bevers from Broad City is cute," someone else says.
According to Amanda, "James Corden is super hot."
"Craig Robinson from The Office and Brooklyn Nine-Nine," Leila adds.
Will Sasso from MADtv and Ten Minute Podcast, Turtle from Entourage and Sal Vulcano from Impractical Jokers were all also named repeatedly. Then there's the Fat Jewish. "I really don't like him, but I'll be damned if I don't get lost in his eyes sometimes," Andrew explains.
Chris Pratt
As of the first week of 2019, fat Chris Pratt has returned. "Chris Pratt's Dad Bod Is Officially Back and Now I'm Hornier Than A Rhino," BuzzFeed exclaimed on Monday. It turns out this is the preferential Pratt bod. "Dad bod Chris Pratt is far more attractive than action-hero Pratt," Maria says, agreeing with BuzzFeed. Adds another woman, "Chubby Chris Pratt when he was a benign stoner and not a cut, ultra-Christian with abs."
Kevin Smith
Personally speaking, my crush on Smith began as a pre-teen. His weirdness on MTV red carpets and his recurring cameo on Degrassi: The Next Generation most readily come to mind. Says a friend, "I love Kevin Smith. I love how much he loves his wife and how he cries in public over movies he loves. He also still has the same friends after all these years and that's something, too."
Action Bronson, Eddie Huang and Other Sizable Celebrity Chefs/Food Personalities
Huang, a lawyer-turned-designer-turned-restaurateur-turned-author-turned-TV host and owner of BaoHaus, speaks as well as he dresses and cooks. His autobiography became the premise of the sitcom Fresh Off The Boat and the tone in which he shares his life on social media is definitely seductive. Admittedly, he's looking svelter lately, but he rose to fame with his belly hanging over this basketball shorts.
Then there's Matty Matheson, whose self-titled cookbook became a New York Times bestseller. A fan on YouTube described his look as "Chris Pratt and Jack Black combined."
Another guy tells me that he "highly" has a crush on David Chang and "loves his body." Megan concurs: "David Chang! When we went to Momofuku, he was there around 10 p.m. for the end of service just handing out McDonald's fries to people. I told my now husband, 'I will leave you for him.'"  
Actors of Various Shapes and Sizes (Some Permanent, Some Not)
These guys fall into three basic categories…
1) "Between roles fat": Fat Leo is an institution. The same for the heftier versions of Vince Vaughn and Ben Affleck, who both also pack on the pounds when not working. "Disheveled, few extra pounds Ben Affleck ('Fatfleck,' though a stretch to call him fat) was the hottest iteration of him," Arielle tells me.
2) "Serious actor fat": Jack Nicholson, Rich Sommer from Mad Men and Russell Crowe were mentioned prominently in this regard. "His personality sucks, but he's fuckable," Dana says of Crowe.
3) "Fat for the role": As my colleague C. Brian Smith has written, "Force-feeding oneself like a foie gras duck is standard practice in Hollywood: Directors suggest it, casting directors expect it and America fucking loves it. A quick Google search for 'actors gaining weight' returns link after link of male Hollywood stars who have destroyed their abs in the name of a career-making role." Bale and De Niro topped his list. But my group was thinking more along the lines of "Wagner Moura as Pablo Escobar in Narcos." And: "I just watched Escape at Dannemora, and Benicio Del Toro is the heaviest I've ever seen him, but sexier than ever."
So while there's no porn category for the male equivalent of a BBW yet, the future is bright for all the FHGs (you know, fat hot guys) or MMHs (aka massive male hotties) out there.