Spend enough time on Yelp, and you'll lose your faith in the wisdom of the crowd. Someone will give a Sichuan restaurant one star for including Sichuan peppercorns in their food, and then go on to rave about the turkey melt at Subway.
But sometimes, in the middle of all that noise, you can find a hero. A hero who stops by every hole-in-the-wall, tries everything on the menu and tells you exactly how each bite went. A hero who goes back to the same place over time, and notes that the one guy who made the great spring rolls has cut back on his hours, so it's only worth going on Tuesdays for lunch. A hero whose 800-word reviews don't only teach you about the food; they teach you how to be a better, more considerate eater.
A hero like Chris V. He's been Yelp Elite—meaning Yelp has given him special status for reviewing excellence—since 2012, when he moved to the Vegas area from San Jose, C.A. And as an Elite Yelper in the mecca (and birthplace) of all-you-can-eat buffets, he truly shines when he's trying to guide his readers through endless steam tables and bottomless bowls. Through 725 reviews — averaging almost three per week — he's detailed his meals at high-end casino buffets, lesser-known AYCE outposts in the city's strip malls, and even back at the dim-sum palaces of his Northern California hometown. His work is selfless, unpaid and very helpful.
This is a man who thinks long and hard about what divides the genuinely great from the merely filling — as well as highlighting the particular day when various salads become available and the fundamental structural problems inherent in unlimited tableside meat. So here, for your Thanksgiving-week perusing pleasure, are our favorite parts from the best buffet Yelp reviews by the best buffet Yelp reviewer around: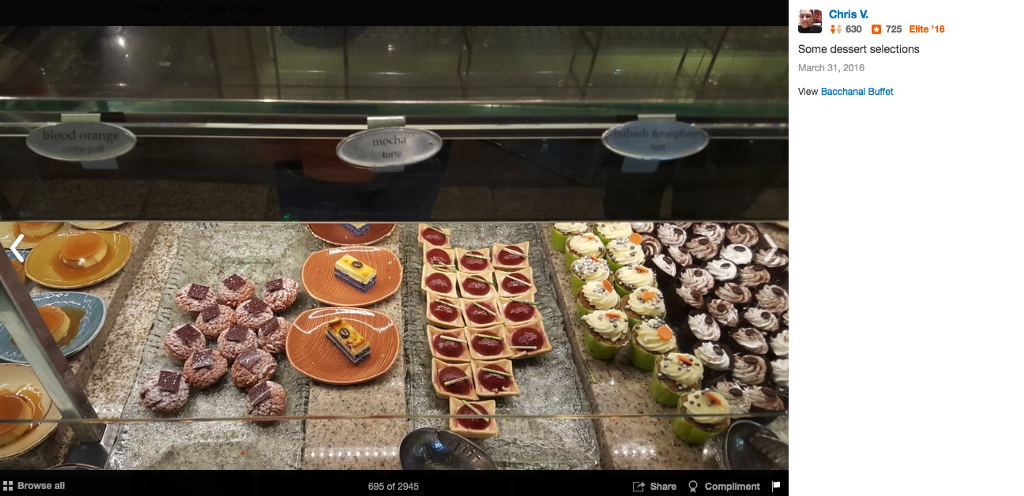 The Buffet, Las Vegas, NV (Three Stars)
"I knew that I couldn't have everything, so I skipped things such as mashed potatoes and corn on the cob — why would you go to such an expensive buffet to eat those? I picked out more unusual and exotic selections such as octopus ceviche, veal, lamb T-bone, rabbit pasta, sushi (ok, couldn't resist) and pierogies. Oh, and of course the king crab legs, shrimp cocktail and prime rib.
"After taking a brief break, we headed to the dessert section. They're pretty interesting, with some even served in shot glass-like cups. I had a delicious tiramisu that way. I really enjoyed the chocolate/banana dessert and would've gone for seconds if I had more stomach room. The mint chocolate mousse was really interesting — it made me want to put down my toothbrush, spit out the contents of my mouth, and gargle some water. Yes, it tasted exactly like toothpaste."
Kome Japanese Seafood & Grill Buffet, Daly City, CA (Four Stars)
"I went to the sushi section and got one piece of pretty much each of the rolls and sashimi. The problem with that approach is twofold: First, I didn't really pay attention to the names long enough to figure out what I really liked, and second, I got full way too fast by eating so much sushi at once. Lesson learned: Rotate next time."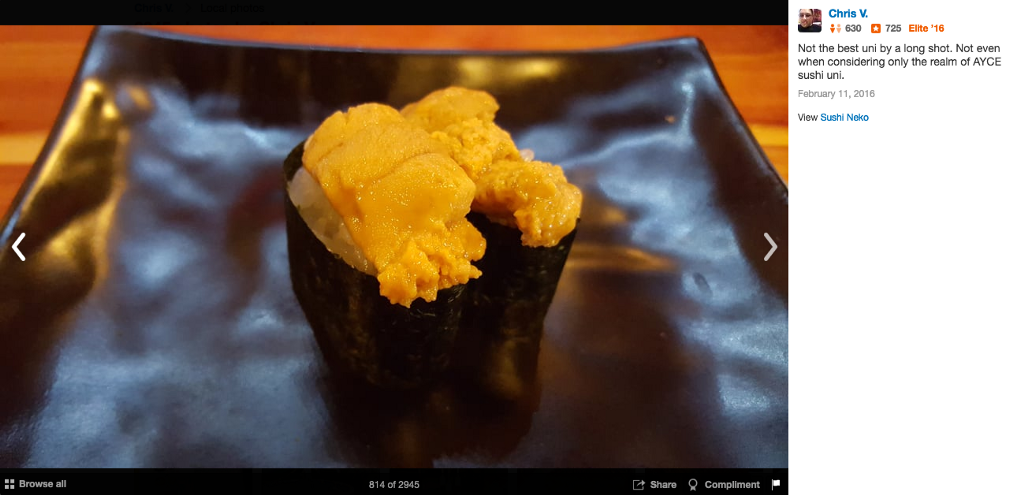 21 Buffet, Henderson, NV (Two Stars)
"First off, there are a few decent things here, which is why I'm not giving it straight up 1 star. I don't remember which meats were pretty good, but I would just follow my standard buffet strategy if I were to come back. The strategy is to try one or two pieces of everything, and now I've realized that I need to add 'poke the meat with the serving spoon' before grabbing it. A lot of things are dry, and it's no wonder with all the small pieces being kept warm all day (but hopefully not since the previous day). Look for the items that are still steaming, or the ones that you see being brought out fresh. I thought the the fried plantains (labeled as 'banana') were surprisingly nice, and probably the only decent dessert judging from looks (I skipped everything else)."
Feast Buffet, Henderson, NV (Five Stars)
"They have some pretty good BBQ pork eggs benedict and, surprisingly, some pretty nice pizza. It was crunchy, it was fairly thin on the crust, and it had gooey cheese and some nice ham and mushrooms. I also finally tried the grapefruit juice, and I'll definitely be ordering that from now on. It tastes a lot less artificial/strange than the orange juice and is far less overpowering than the cranberry juice.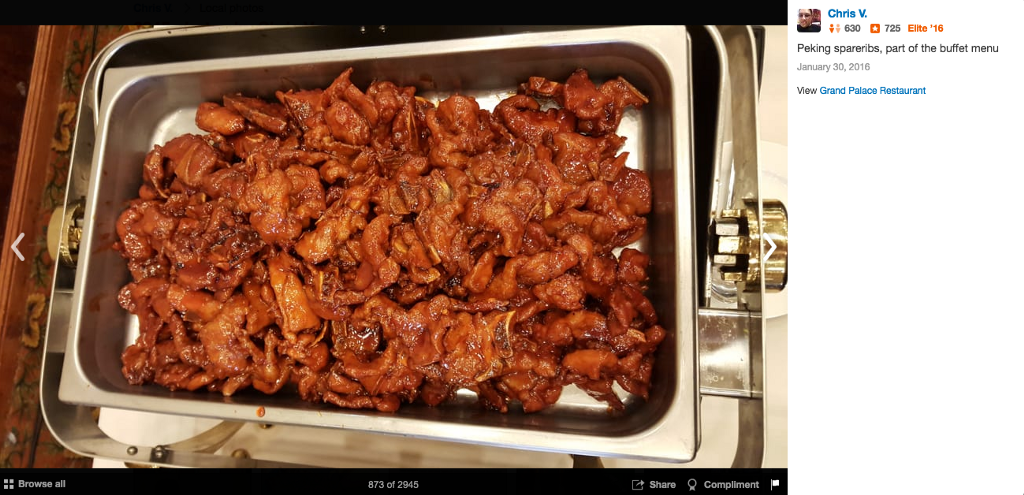 "The bacon is on the salty side, so be aware of that when you're balancing your meal. I continued to avoid the frozen yogurt machine, having instead pancakes and waffles for dessert. […] But holy crap, they have cheesecake that tastes more real than most Vegas buffets, and cannoli that seems pretty darn good for my first time trying it. Now I'm probably never gonna get to the other desserts. :("
Sweet Tomatoes, San Jose, CA (Four Stars)
"If you're going during Sunday breakfast, tossed salads like the Caesar won't be available, but certain mixed salads such as the whole grain Greek couscous and Joan's broccoli madness will be there. Tuna tarragon used to be a favorite, but I'm starting to find it to be a little too sweet. You can balance that, however, with the cherry tomatoes available in the salad area. I just load up my plate with tomatoes to lend acidity to pretty much everything in the breakfast area."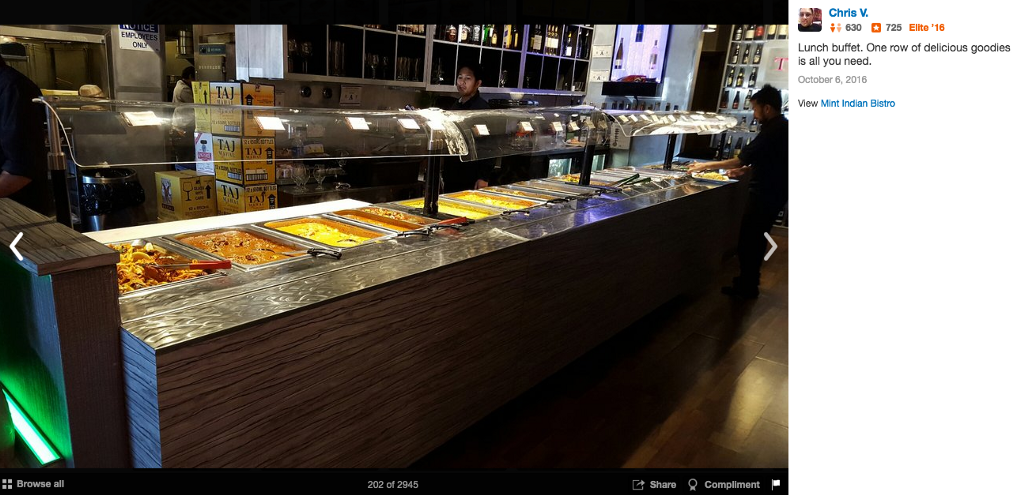 Studio B Buffet, Henderson, NV (Four Stars)
"Crab legs have always been one of my buffet go-to items, and they're still pretty good here. They pre-cut the legs, and they actually have three preparations: cold, steamed (hot), and ginger (also hot, on the other side in the Asian section); I stuck to the steamed legs. Although the meat-to-shell ratio tends to be small, the quality and salt level are pretty good. I've never found the warm butter strictly necessary, and it wasn't today, but it's nice to have anyway."
Tomi Sushi & Seafood Buffet, San Jose, CA (Four Stars)
"Grabbing sushi with tongs is a no-no in proper cuisine. But it doesn't matter to me when there's so much on a tray waiting to be plucked."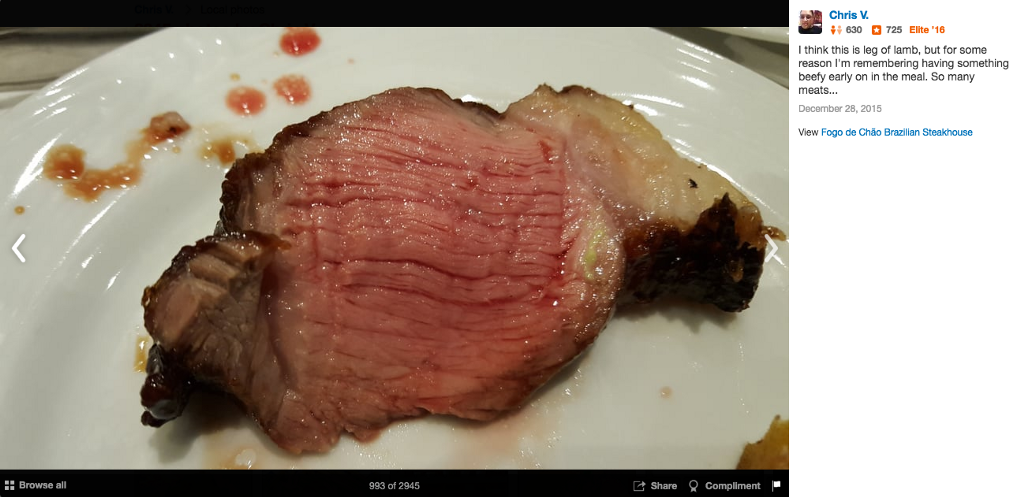 Texas de Brazil, Dallas, TX (Two Stars)
"Endless meat sounds pretty good on the surface, right? Here's why this doesn't work: They overwhelm you by bringing out all the meats really quickly, so you're just tempted to load your plate. Also, a lot of the meat options run pretty similarly to each other in terms of texture and flavor, and some of the meats fall flat (pork tenderloin, looking at you here). … And why are they not making the cheesy bread balls unlimited? Even Red bloody Lobster gives you as much bread as you want. So much meat demands vehicles for helping you get the meat into your belly, and this place just lacks in that category."
Bacchanal, Las Vegas, NV (Five Stars)
"Oreo Dessert: After tasting this, I had to get two. There's a tiny Oreo cookie standing on a half dome of a sort of chocolate mousse. Great already, right? Now cut into it, and at the bottom you'll find a full-sized Oreo cookie! A great play on a processed product."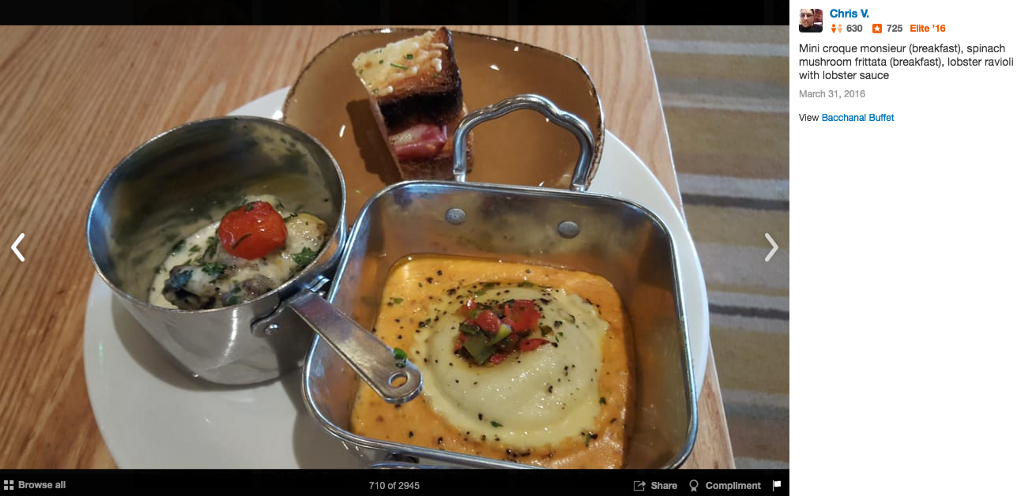 Yum Buffet, San Jose, CA (Three Stars)
"The food was not cold, so I was happy about that. There's certainly generous amounts of fat on some of the items (the lo mein comes to mind), but you're going to an all-you-can-eat place. What do you really expect?"