"I'm probably the only person who notices this, but I've noticed girls wearing sunglasses on top of their heads in porn, and I love it," my friend told me a few weeks back at the beach.
I was stunned.
I mean, I'm also thrilled to spot this highly functional but sartorially controversial habit in my favorite shows. (In the first two seasons of Vanderpump Rules, Scheana's sunglasses practically live on the top of her head.) And I know sunglasses in porn is a thing in general. Like, it's easy to find emo girls masturbating in moody purple sunglasses and MILFs performing blowjobs while rocking aviators on tube sites such as Pornhub. But my friend's version is more nuanced. "I always think it's chic," he explains. "Something that beachy girls and glamorous models do."
From my experiences growing up in the suburbs of L.A. with this same friend, I agree that flipping your sunglasses on top of your head was a status symbol during the 2000s, even if it's largely considered tacky today. Maybe it was a byproduct of Laguna Beach being our Bible, but using your sunglasses as a headband-like accessory while indoors meant you didn't have to put them away and that their glory could still be on full display. "It says, 'I'm indoors, but these are expensive,'" the costume designer Amelian Kashiro Hamilton jokes, agreeing with me. "'I can't wear them, but you should see them.'"
Back then, even if you had to tear your glasses from your hair every time you placed them there, it was worth the face-framing look. Celebrities like Kurt Cobain and Lil' Kim had rocked the look too, so it wasn't like it didn't have any fashion precedent. (Hamilton suspects legendary stylist Misa Hylton started the trend, as she's pictured numerous times rocking the style and had a roster of influential clients at the time, including Kim.) Plus, in 1994, a young Kimora Lee hit the Fendi runway with a pair of black shades perched atop her head.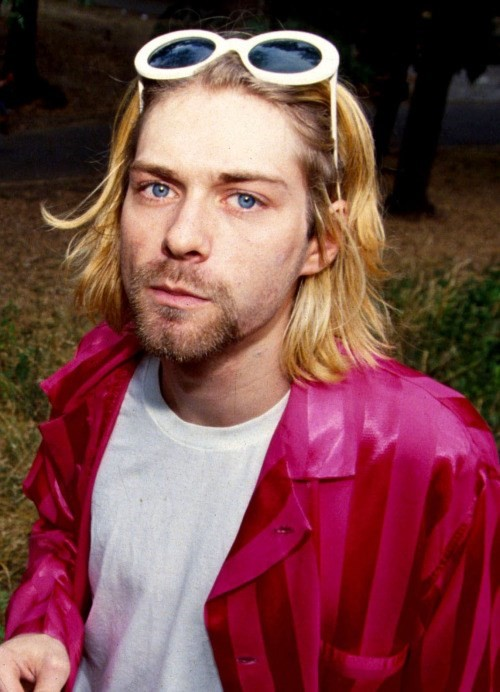 The funny thing about the porn that sparked this conversation is that it's not even tagged #sunglasses or #sunglassesontopofhead. #sunglassesontopofhead isn't even a thing on tube sites, meaning it's not something mainstream porn performers are catering to. (Although you can search for it on Clips4Sale, where one independent performer humps her pillow while wearing sunglasses on top of her head, "waiting on her ride to go to the beach.")
Instead, my friend discovered his interest in sunglass-atop-head erotica through the work of Mike Adriano, a Spanish-American porn performer and director known for exploring women's assholes in an astoundingly meticulous way. A quick browse of Adriano's porn clips yields multiple scenes in which his female co-stars sport sunglasses on top of their heads while being anally penetrated (and blowing him, of course).
Can this be sheer coincidence? Are we really supposed to believe that this entire cohort of female performers simply forgot to remove their glasses before fucking? Or is this Adriano's secret thing? Not part of his overall anal-obsessed persona, but an echo of his own private preference?
Adriano didn't return my messages for comment, so we can't be sure. But whether or not this is his fetish, his work definitely helped my friend recognize his. Luckily, the woman he was last sleeping with had good taste in sunglasses and often pushed them on top of her head. Just not during sex. And he never asked — at least not yet.
When I ask him what sunglasses he'd most like to see on top of a woman's head during sex, he says a frame similar to those he loves to wear himself. "My favorite sunglasses are designer women's frames from the 1980s and 1990s," he tells me. "Plastic frames with dark lenses. Versace is my fave."
The funny thing is, saying you have a "sunglass fetish" online yields tons of results, but nothing erotic. One way or another, sunglass fans created "sunglass fetish" communities online where they look at "sunglass porn" that's nothing like Adriano's scenes. Instead, it's more like a weird Pinterest board of stock images of sunglasses people want to buy.
Are we really that horny for sunglasses?
We'll see. After all, sunglass season is, uh, cumming.