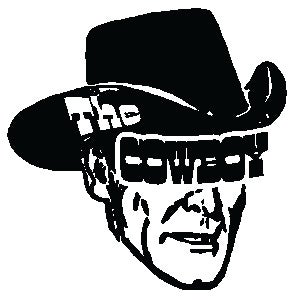 I'm among a group of 100 or so attendees at the inaugural Rough Rider Roundup, an "adaptive rodeo" for the special-needs community on a ranch in Shasta County, Northern California. It's here I find the silver-mustachioed Jim Aceves, aka "Cisco Jim, the Singing Cowboy," in a Stetson flat hat and late-1800s vaquero garb. He's strumming an arch-top Gibson guitar popularized by Gene Autry and Roy Rogers (the OG singing cowboys), atop Silverado, his loyal white quarab companion, and bellowing the second verse of "Ghost Riders in the Sky": Their faces gaunt, their eyes are blurred, their shirts all soaked with sweat. All the while, he calmly tugs on lead ropes to redirect Silverado in a series of figure eights.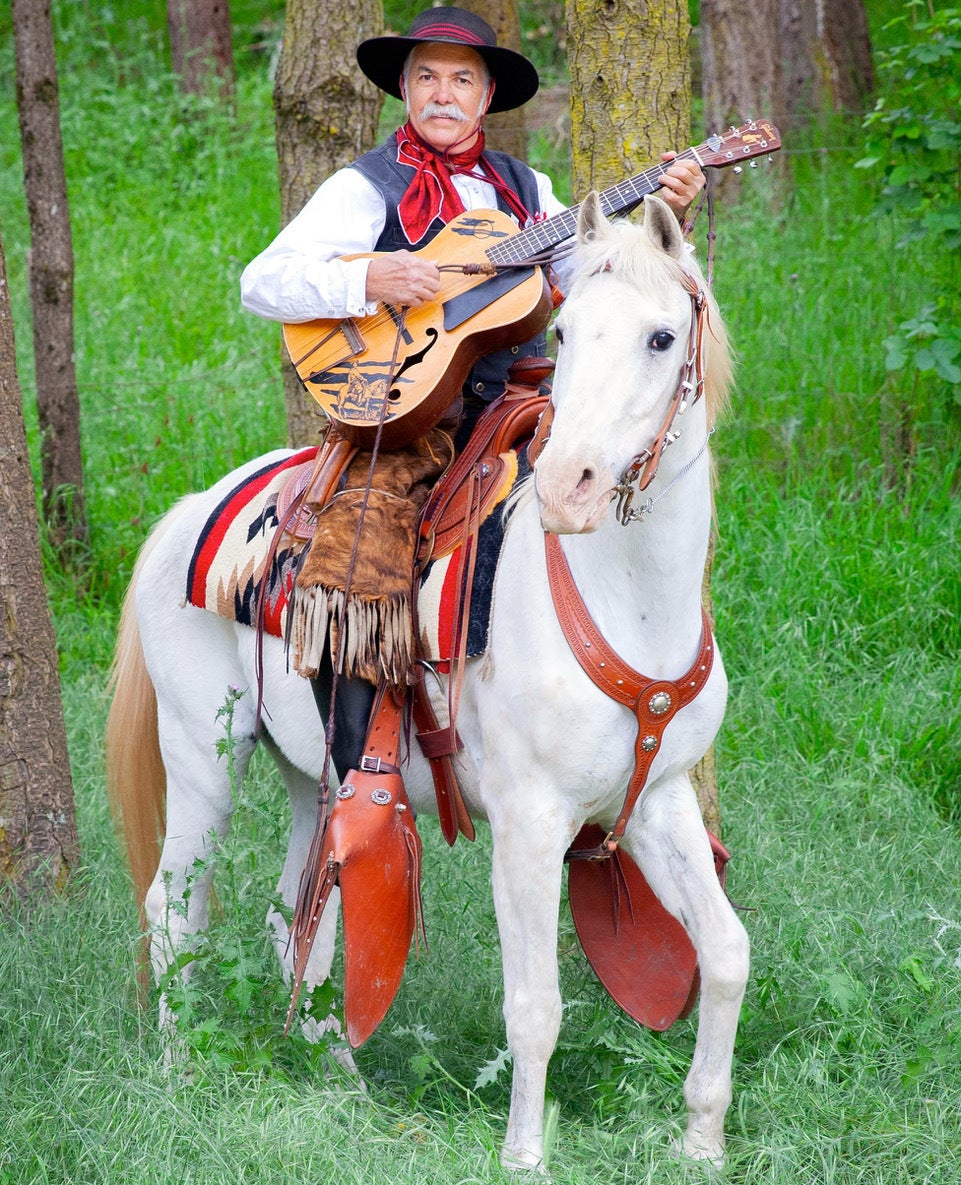 I shuffle my feet attempting to remain with the audience, but I'm isolated when the 1,000-pound beast abruptly changes course and inches toward me. I awkwardly attempt to step forward, but Silverado blocks my path as the 65-year-old Aceves yodels, Yippie-yi-ooh, yippie-yi-yay! Ghost riders in the sky!
"How's it feel to be cut out of the herd?" he asks, shooting me a playful wink and explaining that back in the day, a vaquero would have to isolate a cow for any number of reasons — illness, branding, pregnancy, etc. — and this is exactly how they'd do so, slowly and deliberately to avoid startling the dogies (per Merriam-Webster, "a motherless calf in a range herd"). "Effective," I mutter, reuniting with my herd. 
Aceves' aged, sun-dried crow's feet bristle when I refer to him as a "cowboy reenactor." He prefers the term "historical interpreter" instead. "My job is to interact with people who live in the present and give them a better understanding of where we came from," he explains. "I can't do that if I'm shot dead in a role play." 
Dismounting, Aceves invites me to join him in his "cowboy teepee," a 16-by-8-foot canvas erected with nine wooden poles in which he slept last night. I'm offered a splash of black coffee from a tin mug clipped to his gun belt, which alongside a Mexican cuchillo largo knife and pair of 1870 steel handcuffs clumsily clanks against each other like a cowbell. 
When not serenading in Shasta County, Cisco Jim (and Silverado) perform as the singing town marshal at Roaring Camp Railroads, an 1880s narrow-gauge steam locomotive in the Santa Cruz Mountains (hence the badge and handcuffs). They also appear at local rodeos, county fairs and private functions for about 300 bucks a pop (though they're playing the Rough Rider Roundup for free because Aceves says it's "for the kids"). He emphasizes that the Cisco Jim character is first and foremost a "good guy," followed by a cowboy, a musician and a horseback marshal. "Howdy, howdy, howdy, there's a snake in my boot! Somebody's poisoned the waterhole!" he exclaims, echoing a line from Toy Story. (Sheriff Woody inspired the Cisco Jim character.)
Previously, Aceves spent 30 years as an elementary school teacher, which he retired from following his wife Donna's passing in 2015 to adrenal cancer. "We thought she was getting better," he says, tugging on a hand-rolled backwoods cigar. "They finally got rid of all the cancer, but it messed up her internal chemistry." To celebrate the presumed recovery, Aceves prepared a picnic lunch under some redwood trees, which is where he noticed spots on Donna's arm. By the time they got home, the spots had turned into weeping bumps. He rushed her to the ER, but she died that evening. "It went really, really fast," he says, feeding Silverado a carrot. "I wasn't expecting it and didn't get the chance to say goodbye."
Loneliness enveloped Aceves following Donna's death. All of their friends were her friends whom, despite his phone calls, texts and emails, stopped dropping by to say hello. "Pretty soon I thought, I gotta rebuild my life," he tells me. The following year, Aceves walked the Camino de Santiago, the pilgrim route across northern Spain. "It was our last journey together," he says of the two-month, 700-mile pilgrimage to release Donna's ashes at the Finisterre Camino, or — its English translation — "the end of the world." Afterward, he says, he experienced a "psychic shift" and felt like he was "no longer leaving something behind, but rather going to something." 
While Aceves stresses that the experience was indeed a pilgrimage, not a performance, he did bring along his lightweight guitar and found himself playing the chord structures and lyric patterns of cowboy songs, which provided much-needed companionship, as he imagined they did for cowboys holding night-watch on the range at the turn of the 20th century. "The cowboy had to sing because he was moving cattle from point A to point B on land they weren't accustomed to. A strange sound might spook the herd, and they'd stampede, bankrupting him; he stayed up all night making noise — humming, yodeling and singing — so the dogies knew he was there."
"Any song might be sung for night herding if it has a lonesome sounding tune that can travel as slowly as a walking horse," wrote the American poet, singer-songwriter and journalist Margaret Larkin in the introduction to her 1931 collection of Western folk songs, Singing Cowboy. Nonetheless, cowboys have just two styles of singing, she explains: "Either they croon the endless, monotonous stanzas as if they were talking to themselves, or they sing them at a fast trot in tones calculated to reach the other side of a running herd. 'Western' poets — Henry Herbert Knibbs, Charles Badger Clark, S. Omar Barker, N. Howard Thorp and others — are responsible for many cowboy poems which have been taken over bodily, set to familiar tunes, changed, garbled, localized and otherwise treated as real folk products."
Returning to a hauntingly empty nest, Aceves, in his solitude and grief, says he gravitated toward the positive resilience of cowboy songs. "Cowboy life can be very dreary," he says. "We've romanticized it and made loneliness and dreariness look like a fantasy that we crave, due to our busy city lives." He adds that this resilience is what sets apart cowboy/Western music from contemporary country music. "In country, you talk about how bad things are and complain about them. In Western, we talk about how bad things are and then move through them. You won't hear any complaining in cowboy songs, just acknowledgment and validation."
Within a year of returning from his Camino journey, Aceves began portraying Cisco Jim full-time, performing with Silverado weekly at Roaring Camp and playing the county fair circuit in the summer. "I blame my singing-cowboy addiction on Ranger Doug," he says, referring to the frontman yodeler of Riders in the Sky, which country music historian Don Cusic calls "one of the most influential groups in the history of country-western music." 
"That's incredibly flattering," says Ranger Doug, affectionately known as the Governor of the Great State of Rhythm. "But I'm just a link in the chain and had the Sons of the Pioneers, Gene Autry, Elton Britt and Roy Rogers to inspire me. Introducing guys like Cisco Jim to this music and creating a fertile field for it live on has always been the mission of the Riders." 
Ranger Doug is also a distinguished music historian whose 2002 book Singing in the Saddle offered the first comprehensive look at the singing-cowboy phenomenon that swept the country in the 1930s. "We're about to celebrate 42 years together as a group," Ranger Doug says of Riders in the Sky, proudly noting them to be the only Western artist to be admitted into the Grand Ole Opry, where they still play regularly.  
"Any time men are solitary, they tend to come up with songs because there's a lot of empty hours to fill and the loneliness is ever present," Ranger Doug explains, pointing to sailor songs, lumberjack songs, prison songs, and of course, cowboy songs. Every facet of American folk music is important and tells a story, he says. "Whether it's Cajun, Delta blues, bluegrass or polka, every Indigenous American form is important, and we've done our best to keep cowboy/Western music alive through these years, otherwise it might have faded into obscurity like Dixieland. We didn't want cowboy songs to become purely nostalgic. It's living music and tells the tale of an important part of American history."
Back in Cisco Jim's cowboy teepee, I watch as he straightens his badge, dusts off Silverado's 1890 Sam Stagg saddle and tunes his guitar in preparation for another roaming set around the ranch, which he says will include songs about heroes, villains and gunfights. "These are morality tales," he explains, offering Silverado a few more carrots, or as he calls them, "horse cookies." "You're out on the prairie alone, so where do you determine right versus wrong? From stories you grew up with that made you into the men you've become. Maybe your body's worn out and your horse is tired, but you wake up every morning and do it again with purpose and value. That's what cowboy songs are all about."