Expat Indian pornographers create movies abroad to meet massive demand back home
A young couple wanders hand-in-hand through an upscale neighborhood in an unidentified, European-looking city on a cloudy day. A Hindi song plays in the background. The woman, light-skinned and clearly of Indian descent, wears a red peacoat that matches the bindi on her forehead; the guy, Caucasian, is in a black suit. They share adoring looks as they sit on park benches and gaze out at the neighborhood buildings. As the song continues, the couple enters a hotel room and starts to kiss. The music ends and is replaced by an electronic remix of the same song. The action now quickly evolves into oral sex against a wall and then sex in a cramped shower stall, her makeup running in the water. They transition to a bed, where she gives him another blowjob until the scene cuts away to an ad for the company that created the scene: Filmy Fantasy.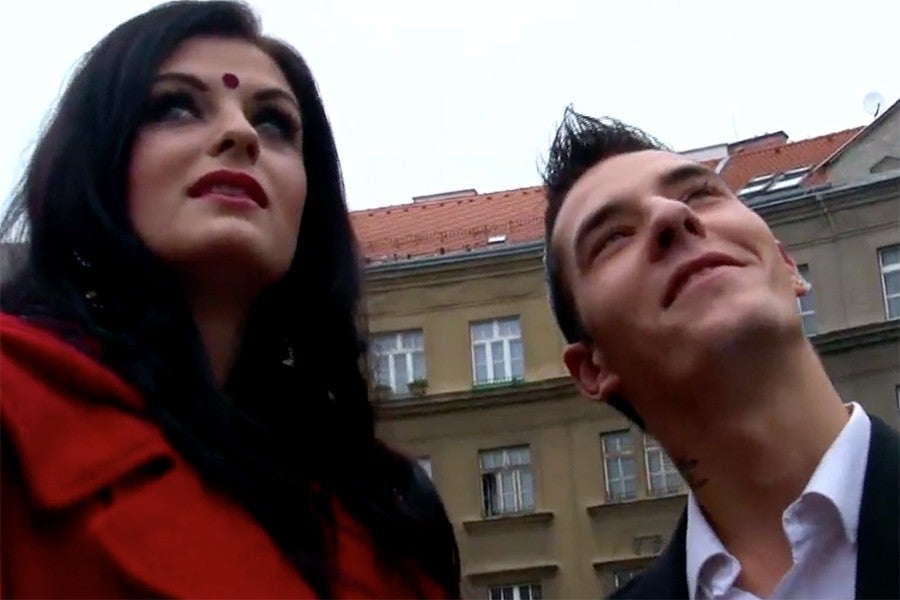 Filmy Fantasy specializes in, as its CEO and founder Krsna Kumar puts it, "Merging two of the most popular concepts in India: Bollywood and porn." Bollywood, India's most prominent film industry, is notoriously prudish, and India's Central Board of Film Certification censors or bans "scenes showing sexual perversions" — a term that's liberally applied to depictions of nudity, kissing and female sexuality in both domestic and imported films. All of which leaves millions of fans in India starved for more skin than they get in theaters and makes Filmy Fantasy's business strategy — adding explicit sex to wildly popular Bollywood scenes — can't-miss. "Haven't you always fantasized about your favourite, hot [and] sexy Bollywood song transforming into a hardcore sex scene?" asks the company's (NSFW) website. "Here you will find beautiful, luscious girls obeying your wildest Bollywood fantasies!"
But there's a catch: Although Filmy Fantasy's business is based on Indian movies, employs Indian performers and aims itself at Indian audiences, none of its material is filmed in India. It's illegal to publish, display or distribute pornography on the subcontinent. "We only shoot in countries where pornography is legal," Kumar says. When I ask him what countries those might be, however, he replies: "We'd like to keep that classified."
It's a smart move. According to Shireen Shukla of Amity University in the northern Indian province of Uttar Pradesh, the Information Technology Act of 2000 "makes publication, transmission and causing to be transmitted and published in electronic form any material containing sexually explicit act[s] or conduct, punishable with imprisonment up to 5 years and [a] fine up to 10 lakhs," or the equivalent of about $15,500 (a hefty sum for most Indians).
The laws forbidding porn distribution in India may sound strict, especially given that they're enforced in the world's largest democracy, but "Indian culture is very puritanical," says Shikha Dalmia, an Indian expat who is also a senior analyst at the Reason Foundation and a columnist for The Week.
While many of us in the West think of India as the land of the explicit carvings on the Khahurajo monuments and the Kama Sutra, it's important to realize that the "Kama Sutra has little meaning for middle-class, bourgeois Indians right now," Dalmia explains. "They barely acknowledge that the book even exists, and if [they do], they see it as a stain on their culture." This conservative attitude obviously extends to sexy movies. "India doesn't have a flourishing porn industry because there's no social acceptability for it," Dalmia continues. "Sex is something you do behind closed doors, but you don't admit it, ever."
Some attribute India's current sex-phobic state to the Mughal Empire, which brought Islam's strictures on sex to most of what is now India back in the 16th century. Others blame the Victorian British, whose puritanical ways spread across the subcontinent along with colonial rule in the 18th century.
Whatever the case may be, Dalmia says sex negativity is thriving today, as evidenced by the election of Hindu nationalist Narendra Modi as prime minister in a 2014 landslide. Modi, a political and social conservative who's likely been celibate his entire life, is so against the normalization of sex that he advocated for replacing sex education in Indian schools with mandatory yoga. The Hindu nationalist party he's a part of "want[s] to portray a very puritanical face of Hinduism," according to Dalmia. "They see an open culture as part of the corrupt influence of the West, that has no place in India."
In such a climate, sex on camera is viewed as a real threat to Indian purity.
But that purity isn't protected by law when it comes to porn. Although it's illegal to publish, transmit or display porn, it's perfectly legal to access, download and watch it — despite the government's best attempts to the contrary. In 2015, for instance, the Modi administration ordered internet providers to block more than 850 porn sites from Indian computers. It failed miserably, however. In fact, public outrage was so intense — over what was perceived as a breach of personal freedoms — that the porn ban was revoked in less than a week. In the aftermath, The Economist reported, "On social media it was widely recalled that in 2012 lawmakers from Mr. Modi's own Bharatiya Janata Party had been caught on camera watching pornography on their mobile phones as they attended a session of the state assembly."
As the legislative slip-up shows, Indians really love their porn. Just months after the attempted smut ban, Google revealed that out of the top 10 cities in the world that searched for the word "porn," six were in India. Overall, India watches more porn than all but three other countries, according to PornHub's 2016 Year-in-Review stats. And while most porn consumers prefer watching their own countryfolk in their porn, India "takes it to a whole other level," writes PornHub. The word "Indian" appears in eight out of the country's top 10 PornHub search terms, and one of the two remaining terms is "desi" — a slang term for the same thing.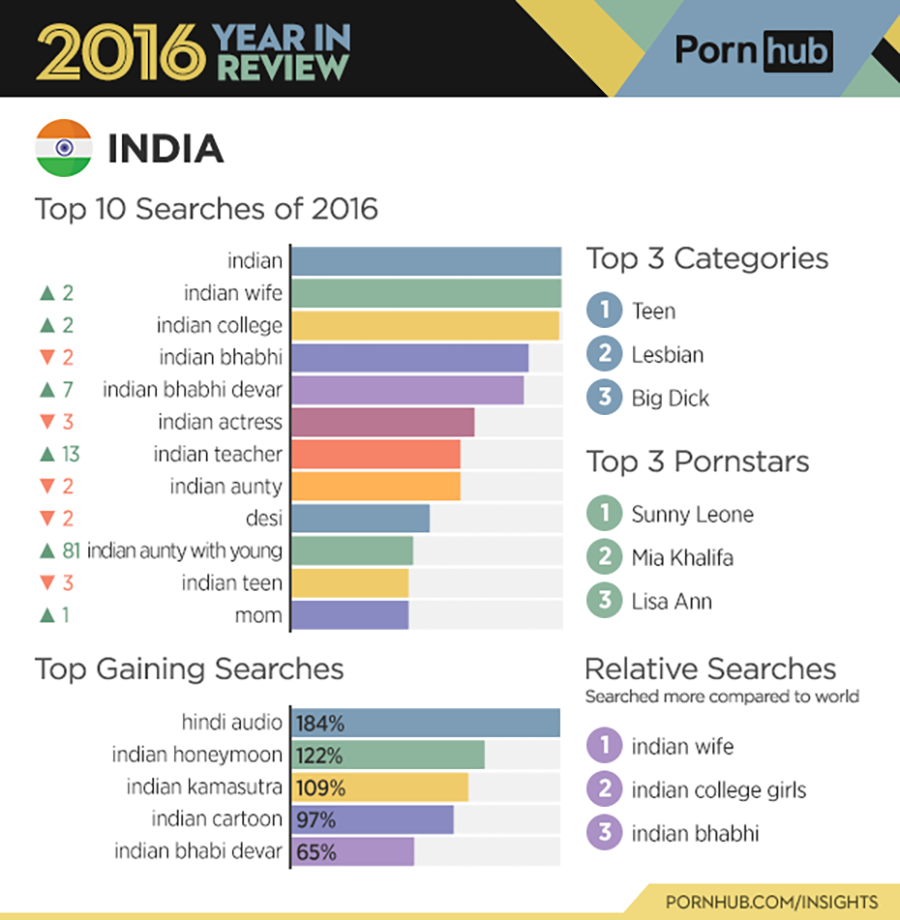 It would seem, then, that Indians seeking Indians in their jerk-off material are a massive market just waiting to be tapped by a legitimate Indian porn industry.
Case in point: The Filmy Fantasy scene mentioned above, called "Jal Jal Ke Dhuan XXX," is a faithful reenactment of a standout scene from the 2005 Bollywood thriller Ek Khiladi Ek Haseena, which is itself a remake of the Hollywood film Confidence starring Ed Burns, Rachel Weisz and Dustin Hoffman. While the original Bollywood film's sex scene showed some sensual over-the-clothes touching, it stopped short of outright nudity. Still, it's popular on YouTube, with 1.6 million views. But it's nowhere near as popular as Filmy Fantasy's explicit remake, which is closing in on 11 million views on Xvideos alone. "The response," Kumar says, "has been overwhelming."
And seemingly limitless: "We're targeting half the world's population," Kumar continues, "since there are Indians living in India who consume our [content], expatriate Indians around the world and citizens of other countries with Indian origin."
The problem, of course, is that he can't actually make his films in India.
That's also why Sunny Leone, the most popular porn performer in India, is from the United States, by way of Sarnia, Ontario, and has never made porn within the country's borders.
Leone, who is of Indian descent, first gained prominence here in the U.S. in the early 2000s when she was named Penthouse Pet of the Year and worked as a contract performer for Vivid Entertainment. After about a decade in the porn business, she retired in 2013 to try her luck in Bollywood, on the heels of an appearance a couple years earlier on the popular reality show Bigg Boss (a sort of Indian Big Brother) that had gone unexpectedly well. During her time on the show, Leone kept the details of her porn career a secret from her housemates, telling them only that she was a model and actress.
Eventually, however, the producers revealed the truth to viewers. They likely expected that the audience would immediately vote her off the show. But instead, she started getting offered parts in Bollywood movies. For instance, in 2012, she appeared in Jism 2 (an ironic title, given that she was still performing in porn at the time; the word means "body" in Hindi), and has since appeared in more than two dozen Indian films. "Sunny Leone has been, for many years, the most Googled person in India," Dalmia tells me. "More than the prime minister and any of the cricket superstars in India, all of whom are huge figures."
That's not to say a former porn star's presence in mainstream Indian movies didn't cause controversy. One woman in Mumbai even filed charges against Leone for "destroying Indian culture." And Dalmia says, "There was a time when the major stars refused to appear with her in movies." Nor has she had many lead roles since Jism 2. "[She's mainly relegated to small roles] as the villain, the 'other woman,' the vamp or the seductress," explains Dalmia. She's probably best known for "little cameo appearances and sexy song and dance routines," as well as a series of steamy Manforce condom commercials.
These appearances allow Indian audiences to lust over her in public before searching out her more explicit fare online from home, because not only is she the most Googled person in the country, she's also the most highly searched one on PornHub — by a long shot, too.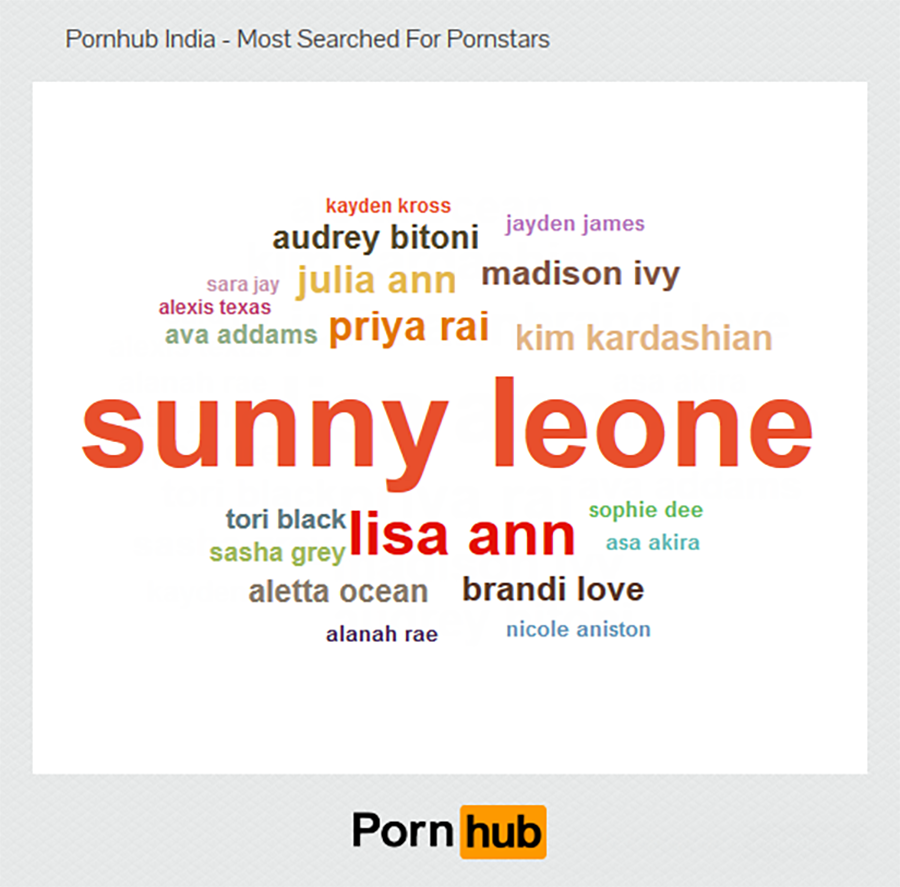 What her Indian fans are watching on PornHub, however, is at least several years old. And her mega-popularity in India notwithstanding, Leone has no plans to make new porn any time soon, at least per her 2013 retirement announcement.
All of which brings us back to foreign-made Filmy Fantasy scenes and the low-rent amateur porn that's produced inside the country (despite the threat of arrest and fine) and distributed (rumor has it) in rural areas at markets and phone-charging stations. There's also a growing number of Indian-focused tube sites cashing in on homemade videos that are either stolen or uploaded by the filmmakers themselves. Sites like PrimeIndianPorn.com, RoughIndianSex.com, FuckMyIndianGF.com and Teen99.com all feature wall-to-wall Indian amateur action — or at least action that looks amateur. Of course, none of these sites are owned or operated by Indian entities: FuckMyIndianGF is run out of Cyprus, and Teen99 is operated from Seychelles, off the eastern coast of Africa.
Also unsurprising — this amateur porn is every bit as popular as Sunny Leone and/or the stuff Kumar produces for Filmy Fantasy. One video in particular, which features a mature Indian "Auntie," has nearly 10 million views on Xvideos.
"Sexuality is a raging debate [in India]," says Kumar. "Sunny Leone is a perfect example of tolerance. [But] it'll take time before the Indian system allows adult production studios to start operating from India. It will take perhaps a generation. One Indian-origin U.S. porn star who has managed to cross over into mainstream cannot instigate such a major shift alone. But it's perhaps a sign of times ahead."