"I'm too handsome," an 18-year-old Tinder user named Ace tells me when I ask him why his only photo on Tinder is a picture of a sneaker resting on a leather backpack instead of his face. "Those are my accessories in the photo. Everything I post is mine." Ace says he provides pictures to the women he matches with if he gets the feeling "the relationship is going somewhere," but the main thing he's looking for on Tinder is "sex, tbh." A few messages later, he asks me if I'm a virgin, and the conversation reaches a swift conclusion.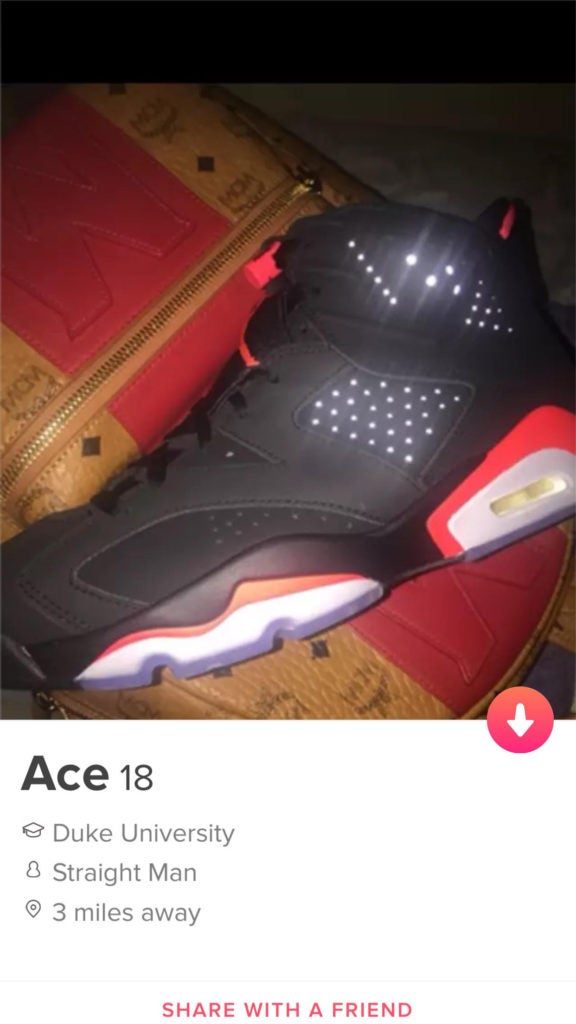 If you spend enough time on Tinder, certain archetypes will begin to emerge. As a woman swiping for men in New York City, I'm routinely greeted by a veritable buffet of ethical non-monogamists, dog-owning chefs, Dudes Who've Been To Europe, stoners exhaling smoke in an endless Boomerang loop and financial advisors (Q: What the fuck is "consulting"? A: Bitch, I'll kill you!) 
But nestled among these would-be paramours are shadowy figures like Ace: Men who don't include any pictures of themselves. Some conceal their identities with a solid-colored screen, a black, red or blue tabula rasa coupled with the standard name/age combination. Others take the time to paste in relevant memes or other images: dogs, cars, suit-wearing torsos or extremely sexual cartoons. A few even leave their picture slots blank entirely and pop up as the same gray default avatar your 75-year-old uncle uses on Facebook. 
In a non-professional context, I've always avoided these anonymous profiles — I don't like wasting my time, and I'm pretty afraid of getting murdered. Most of all, though, I'm just not interested in going on a date with someone I'm not attracted to. Nor am I particularly unique in that regard. Case in point: A 2018 study determined that while a lack of biographical information isn't necessarily a deterrent, the majority of dating app users swipe right (or whatever you do on Match.com) due to the perceived physical attractiveness of the potential matchee. 
Yet, the faceless — such as the 38-year-old "Draculaman," whose profile pic is a heavily-filtered selfie featuring cartoon flames, glowing red eyes and devil horns — are still out there, not quite in droves, but not exactly unicorns either. In his case, Draculaman says he's been scammed on dating apps before, which gives him pause when it comes to revealing his face now. "I've been bullied," he explains. "I've been called the 'eww factor.' I've been told that I'm ugly." He adds that besides myself, the two other women he's matched with on this incarnation of his Tinder profile also appear to be scammers. "Oh well," he says. "I'll keep trying, and if nothing happens, I guess it is not meant to be."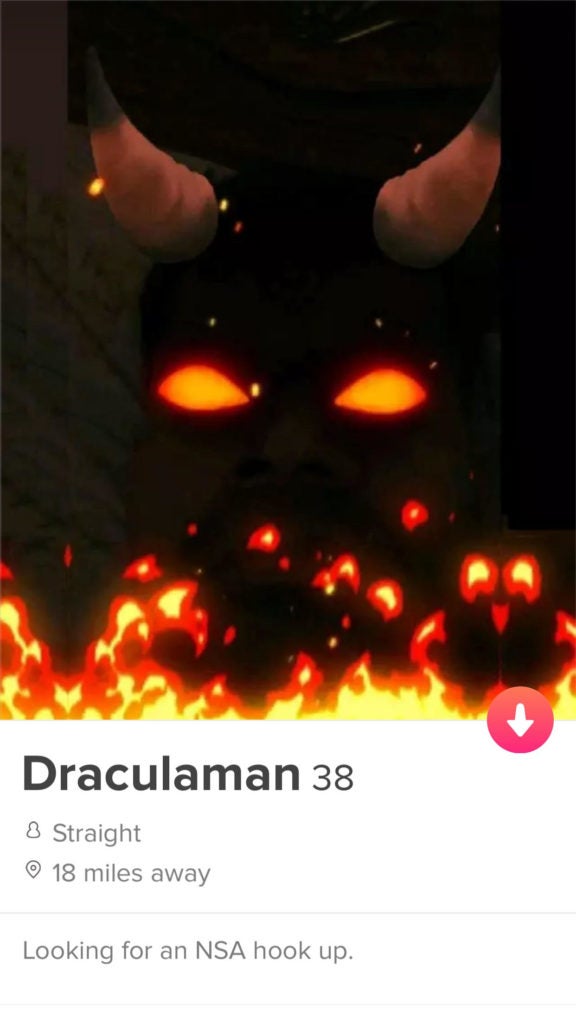 Such physical obscurity is more normal in queer spaces, especially those where men look to hook up with other men. A survey of Grindr users found that "headless torso" photos didn't deter many users, but rather served to clarify intentions. "Face pictures connote a more genuine and honest person whereas torso pictures connote secrecy and physical priority," answered one participant. "I think [blank pictures] are cop-outs and [those users] are either not out or not confident." Another user termed them "disruptive": "The fact of the matter is that the majority of people on there are there to fuck. It's almost like they're fucking the system in a way by uploading a landscape picture or no picture or some goofy or jokey kind of a picture."
Dating services looking to pair straight couples share this focus on visibility. Scott Valdez, founder of the dating service VIDA Select, says his company works with clients of all genders to tailor their photo selection in pursuit of more (and "better") matches. "Photos are such an important part of dating in 2019 that about half of our clients will meet up with a professional photographer," he says. (As part of its service, VIDA Select connects clients to third-party photographers and orchestrates shoots, meaning they might take hundreds of photos in different outfits and locations.)
Not everyone, however, is willing to strike a pose and put themselves out there like that. In fact, unlike Ace, the confident teen who says he's "too handsome" for Tinder, most of the men I speak with point to insecurity about their looks as the main driver for not posting photos. "I don't like taking pictures," says 29-year-old Rashawn. (A few days later, he tells me that he "[liked] this pic" of himself and added it to his profile, resulting in a few non-journalistic messages from eligible women.) Dane, a 22-year-old with ESPN personality Stephen A. Smith as his profile photo, shares a similar sentiment. "I hardly get any matches," he says. "I don't use one because I don't feel the need to — I'm saving my ugly face!"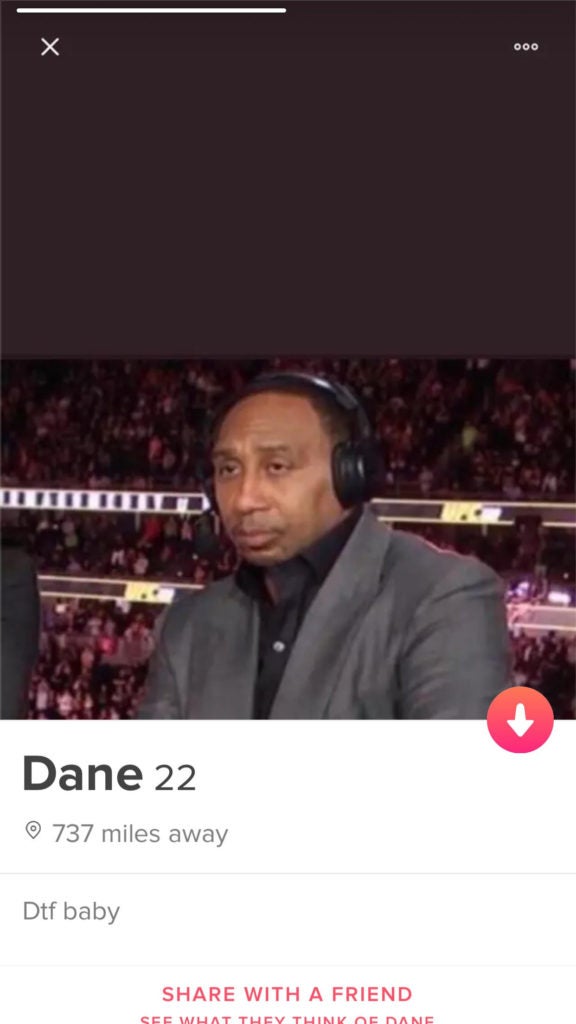 Valdez isn't surprised to hear that these men haven't met with much success in the way of Tinder conversations, let alone IRL encounters. "It's a terrible strategy to try to get matches and hope to meet someone without showing your picture first," he says. "I don't see a scenario where someone who doesn't put up photos of themselves is meeting quality people. Quality people have lots of options. Why would they want to meet someone who doesn't want to put up a picture of themselves?"
But Connell Barrett, a dating coach who only works with men, says that although he's never advised a client not to include pictures of himself on his Tinder profile, he understands the appeal. "[On Tinder], every guy looks the same: shirtless selfie, backwards hat, grainy, dark photo," he explains. "The most important thing is to get quality photos that show you looking dateable and break the pattern of a woman just swiping swiping, swiping." In that case then, Barrett says a blank profile could be preferable to a generic one with "Zoolander poses" or groups of indistinguishable dudes in sunglasses because it sticks out from the crowd. "It's a pattern interrupter. It's not going to get you a lot of matches, but it could connect with women who like the mystery aspect — like, 'Ooh, who is this guy?'" he says. "We're all enticed by the unknown, the secret admirer."
The most successful Tinder user I talk to runs a novelty profile that definitely disrupts my feed with a horrifying default "photo" of a humanoid monster. Swiping under the name "Real Human," the 24-year-old behind the account tells me he's gotten more than 50 matches in the past month, including a close female friend who didn't know it was him. "I'm actually chasing a chick IRL," he says. "I'm just a lonely college dude and don't have much time for fun, so this is what I do before I go to bed."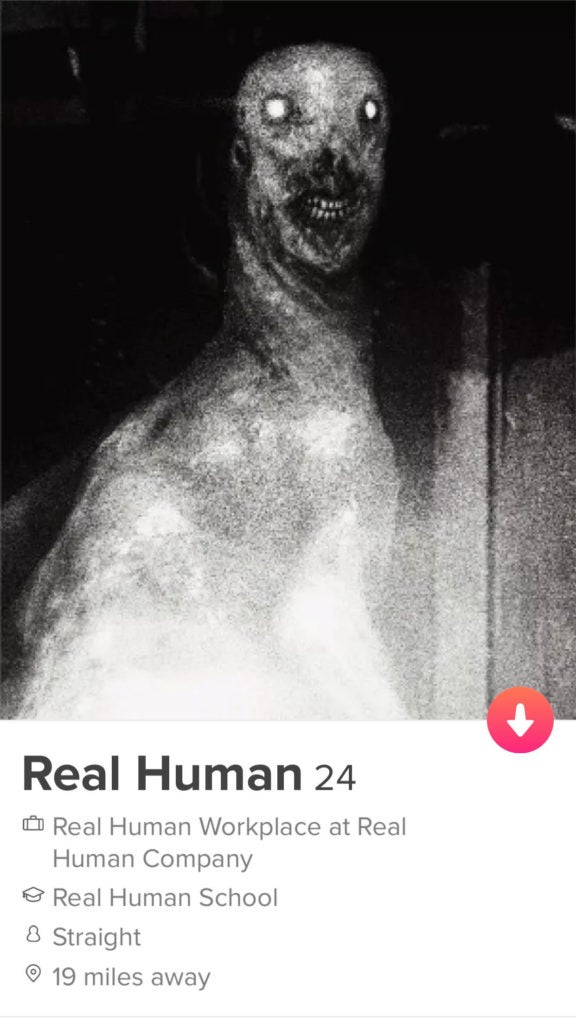 It seems unlikely that a woman would take the same laissez-faire approach to her own Tinder account. Between the way her looks are tied to her identity from a cultural perspective and the constant refrain that men are "visual creatures," a woman trying to date men from behind a blank profile wouldn't probably be using her time wisely.
Admittedly, I'm painting with a broad brush here, but Barrett agrees, saying there's only one way he could see a woman successfully employing a photo-free Tinder profile. "Shots that didn't show her face, but showed her nice physique — enough to get that knuckle-dragging, caveman mindset going," he explains. "I can see that working. You're showing men some of the visual but also giving them some of the mystery."
That, though, presents a much larger question: Is mystery really the best policy in the game of love? Definitely not, according to Valdez. He advises anyone not comfortable with posting their face on Tinder to ditch the app and nurture their more positive traits elsewhere. Or as he puts it, "Hopefully what you lack in looks, you make up for in personality, ambition and other qualities considered to be attractive." Qualities, he adds, that aren't necessarily a good look on Tinder: "When it comes to those things, there are other platforms that give you a lot more to work with."