I haven't gone back home to Hawaii since the pandemic began, and lately, I've been thinking a lot about how the crisis is permanently reshaping the way people on the islands feel about tourism.
Last week, I spoke to Native Hawaiian scholars and activists who hold deep concerns about the lessons learned during the pandemic, and the disproportionate impacts felt by the communities who have ancestral history on the islands. But one of the gleaming silver linings I heard, again and again, was the simple joy of seeing island spaces freed of tourists and the ever-present aura of reckless entitlement that follows them. 
The last time I was on Oahu in 2019, I didn't even take my girlfriend to legendary Waikiki Beach, fearing that the crowds and general douchebaggery would be a waste of a Friday night. So it's an odd miracle to hear that this same stretch of sand and resorts is now a mellow enclave trafficked more by residents than visitors, even as the latter try to finagle their way to Hawaii in 2021. 
And boy, I wish I could sit at my favorite hotel bar on Waikiki Beach right now, sipping a Mai Tai while swaying to Hawaiian slack guitar music. The Mai Tai was invented on the mainland, not Hawaii, but the association has historic roots. The drink was formulated in 1944 by Vic Bergeron — better known as Trader Vic — and legend says that the name comes from the exclamation his Tahitian friends uttered after tasting the cocktail: "Maita'i roa a'e'," which translates to a saying akin to "out of this world." 
Ironically enough, it was Bergeron who bastardized the drink when he got the job as head barman at the now-legendary Royal Hawaiian hotel, located on Waikiki Beach. Adding orange and pineapple juice to mellow the rum flavor proved a hit with the hotel crowd, but it was a harbinger of some unsavory trends as the tiki craze swept across America in the following decades. By the 1970s, bars had already begun shifting away from fresh, distinctive and spirit-forward cocktails, instead choosing to lean on packaged juices, artificial syrups and a loose interpretation of "tropical" flavors. This was, quite literally, a watering down of the cocktails that defined OG tiki bar culture, but nobody really seemed to mind. 
Thank goodness the tiki renaissance came surging into the zeitgeist in the last decade, reminding everyone that this weird, culturally appropriative slice of pop culture did actually produce some incredible alcoholic experiments that have withstood the test of time. Whether it was Don the Beachcomber, Bergeron or even Hawaii locals like Harry Yee, mid-century tiki barmen made waves by flaunting a no-limits attitude toward rum drinks. I'd argue that the Mai Tai remains the best of the bunch — as long as it's built in its original configuration. 
That means starting with a delicious rum, and while it's damn near impossible to get your hands on the original Wray and Nephew 17-year-old rum that Bergeron built the Mai Tai around, there are still a number of quality options that taste much better than Bacardi Gold. I went with a classic aged rum choice, Appleton Estate Signature, but those who want a little more funk from their booze certainly have options (maybe something from Hampden Estate, or even a custom blend of multiple rums, if you're into that.)
Fresh lime juice is a must, and you really want good orgeat syrup; you can either make it with almonds at home, or buy a high-quality bottled version that excludes corn syrup and artificial flavors (I went with the excellent version from California-based Small Hand Foods). I also recommend that you take the five minutes required to make a rich demerara syrup, combining some water and twice the amount of demerara sugar in a small pan and heating it until the sugar is melted. 
As for assembly, I follow the rules laid out by Martin Cate of San Francisco rum haven Smuggler's Cove: Shake the drink hard with crushed ice, pour the whole thing into an empty double rocks glass, and garnish with the shell of one of those limes you used for fresh juice (you did squeeze fresh lime juice, right?). The trick to make this real pretty is to carefully pinch the cut lime halves as you juice it, rotating the fruit until you see a frilly edge form. Use your fingers to make a neat lime "island," then poke a branch of mint into the center as a palm tree. It's cute and authentic, unlike a pineapple wedge or a paper umbrella.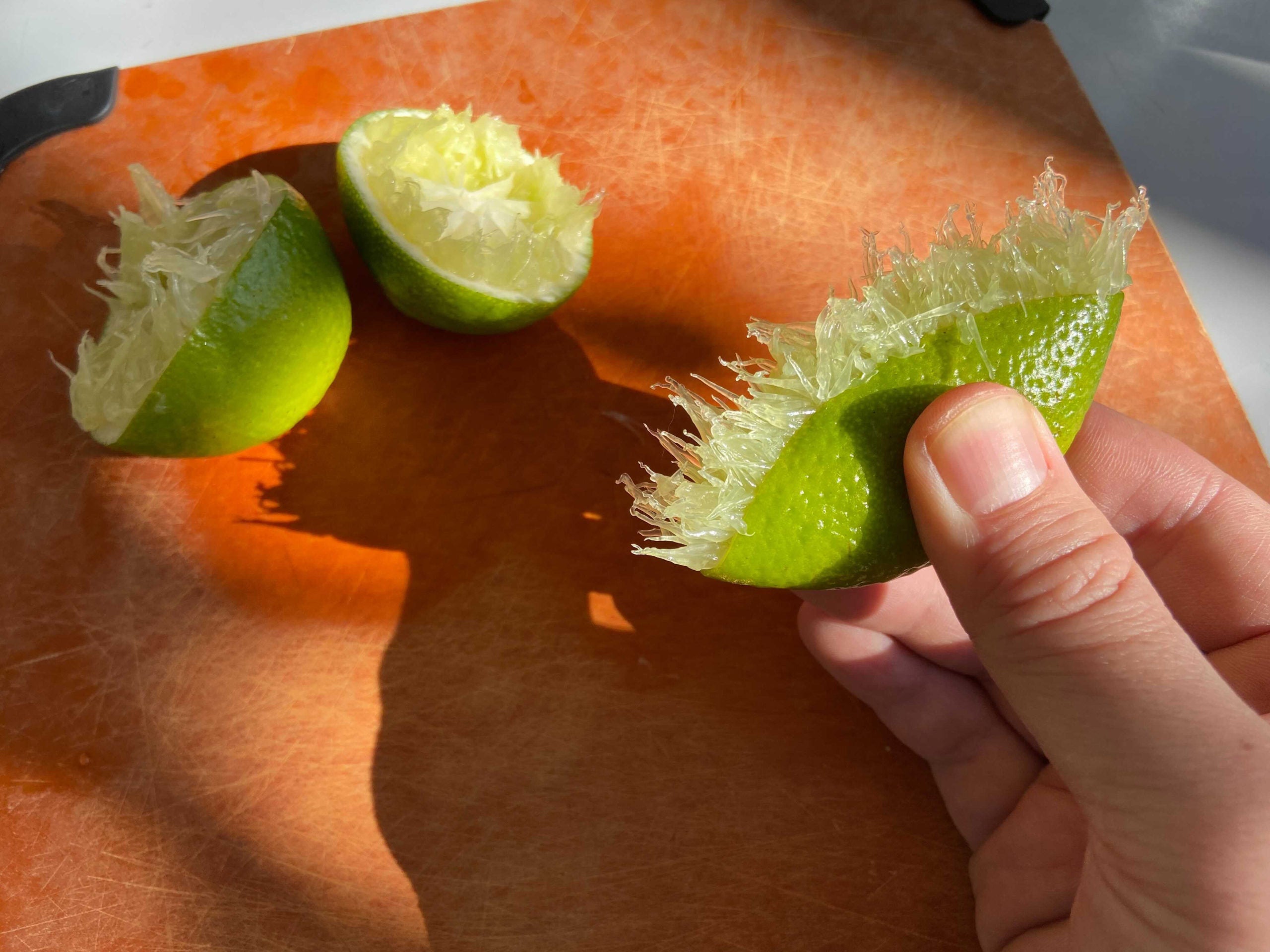 Admittedly, I do break one of Cate's rules and add a tiny float of dark rum at the end for a hit of aroma and intensity. 
The Recipe 
1 ounce fresh lime juice 

1/2 ounce orange curacao (I used Cointreau)

1/4 orgeat syrup

1/4 rich demerara syrup (made with 2:1 ratio of sugar to water)  

2 ounces of aged rum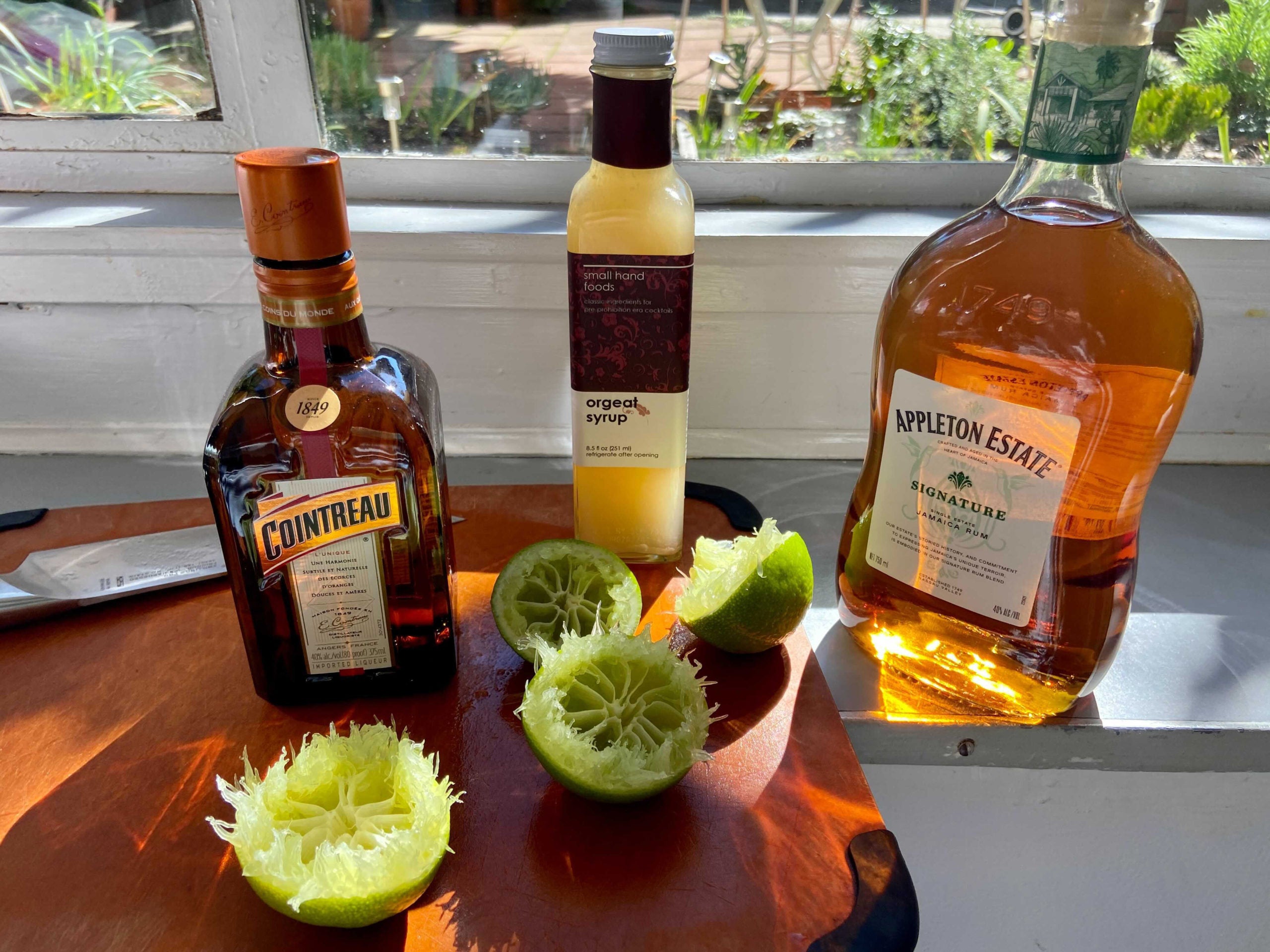 Add everything into a cocktail shaker along with a handful of roughly crushed ice (I make it using regular ice cubes, a clean towel and a hammer). Shake hard for 15 seconds, then pour the mix into a double rocks glass. Garnish with a lime-and-mint "island," then add a tipple of darker rum on top, if you prefer. In my opinion, the drink is best when sipped at pa'u hana time, watching the sun fall toward the horizon while Hawaiian music plays in the background.