Movie stars rarely start off that way. Aspiring actors have to fight, claw and beg for parts, and often the roles they're getting aren't particularly glamorous — whatever, they're just grateful for the work.
Which is how you get a clip like this: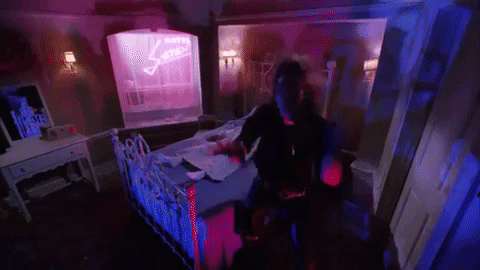 That's Jim Carrey in the 1988 thriller The Dead Pool. He isn't the star of the movie. In fact, his character will die soon thereafter.
But, first, let's back up.
This weekend, Carrey plays Dr. Robotnik, the villain in Sonic the Hedgehog. In a lot of ways, the performance is a throwback to his early stardom when he was in Ace Ventura: Pet Detective and Batman Forever, having a ball being utterly ridiculous, or even further back to his days on In Living Color. But that's not how Carrey started. At the very beginning, he was hustling for gigs. In 1985, he starred in Once Bitten, a forgotten vampire comedy in which he portrayed a virgin who meets a seductive woman known as the Countess (Lauren Hutton). Michael J. Fox had been eyed for the role, but Carrey landed the part and was on his way to bigger things.
Next, he got cast as Johnny Squares, a rock star with drug problems. This was for The Dead Pool, the last of five Dirty Harry movies starring Clint Eastwood. The film's premise was that Harry Callahan (Eastwood) is investigating a string of strange murders, the only link being that each corpse is part of a list of names on a "dead pool" — and, apparently, a serial killer may be influencing the outcome. Early in The Dead Pool, Johnny is filming with director Peter Swan (Liam Neeson), and he's singing along to his hit song. But the song is an actual hit: Guns N' Roses' "Welcome to the Jungle." The scene is a small moment in a Dirty Harry movie, but it became iconic simply because Carrey (and Neeson) became movie stars afterward:
Years later, Carrey remained indebted to Eastwood for the break. At the 1996 AFI Life Achievement Award for the Oscar-winning filmmaker, Carrey (who co-hosted the event) recalled their first meeting. "For my audition I was put on tape singing an Alice Cooper song," the comedian said. "I went completely nuts, tearing up the office, doing contortions, spitting into the camera." Carrey paused for dramatic effect, then added with a straight face, "Afterwards, I wondered if I had gone too far…"
The crowd burst into laughter, before Carrey added, "In those days, I still worried about that sort of thing. But when I finally met Clint, he said to me, 'I love that tape. And I show it to all my friends.' Naturally, I was elated. I wanted to do the best possible job that I could do for this man. The first day of shooting, I showed up with all these wild ideas. I said, 'I have a ton of ideas that I want to try out, Mr. Eastwood, if you don't mind.' I was expecting a little bit of resistance. But Clint just looked at me and said, 'Well, maybe we'll just turn the camera on and let him go.'"
Of course, in Carrey's speech, he did an exaggerated Eastwood impression whenever he quoted the filmmaker, much to Eastwood's amusement. In fact, it appears that a friendship developed between the two. According to film critic Richard Schickel's book Clint Eastwood: A Biography, Eastwood was one of the special guests at Carrey's 1995 ceremony at the Chinese Theater, where he had his feet and handprints immortalized.
As for Carrey's relationship to Guns N' Roses, that's less clear. Was he a fan of Appetite for Destruction, which had come out the year before The Dead Pool? (For that matter, did Eastwood know the band? Absolutely: According to the biography Watch You Bleed: The Saga of Guns N' Roses, it was Eastwood's son Kyle who loved GNR, convincing his dad that they should be featured in The Dead Pool. As GNR guitarist Slash later recalled, "[Clint] came up to us on the set, and the guy's like nine feet tall. … He walked up to us and said, 'Great album,' shook our hands and walked off. I didn't really know what to think of it, so I don't know what his trip is.") Best as I can tell, Carrey has never spoken about his love for Guns N' Roses, although he's supposedly gone to several of the band's shows over the years. And in The Dead Pool, GNR members, including frontman Axl Rose, play Johnny Squares' backup band, paying their respects at his funeral. 
A lip-syncing Jim Carrey. A pony-tailed Liam Neeson. Guns N' Roses members sulking at a funeral. The Dead Pool is just filled with wonders. The only thing that could make it better is if, say, there's a scene in which Slash shoots a harpoon.
Okay, now it's perfect.