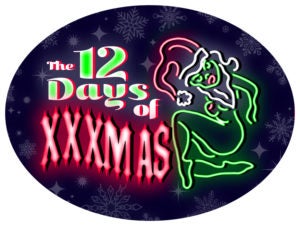 This year, we're swapping out the typical 12 days of Christmas for something even better: 12 days of sex workers who should absolutely be on your radar. Whether they're breaking new ground on OnlyFans, using their platform to call attention to issues like racism and immigration or shattering our ideas of who's "allowed" to make porn, sex workers are both reimagining what sex work can be and changing the world — one swingin', phalloplastic dick at a time.
As soon as John Lovely's face flickers into focus on our blurry Zoom call, it's easy to see why he's one of the internet's most popular cam boys. With his sharp, sculpted cheekbones and short, tousled, sandy blond hair, the 26-year-old is the dictionary definition of handsome.
Lovely's good looks aren't his only selling point, though. Despite being straight, he regularly puts on sexed-up cam shows with a handful of other hetero, ripped bros. And if you're lucky, you might catch him jerking off with Kriss, his equally hot, equally buff twin brother. Keeping it in the family comes with risks, however; for privacy and safety reasons, both Lovely and his twin use pseudonyms, never disclose their home country and use geo-block technology (this is standard on most cam sites) to ensure their parents never stumble upon their shows. Unsurprisingly, both are nervous about being doxxed or "outed," although that hasn't stopped them so far. 
Usually, Lovely performs with a group of friends who will do whatever you like. Their "tip menu" (fans buy tokens to tip with) has a range of options, from a quick $5 dick flash to a session with the "Fuck Machine" (basically the final boss of giant, mechanical dildos) for over $100. Thirty minutes into our interview, I get to see some of the action for myself. As a gold-rush sound effect interrupts our conversation to signal a new tip, Lovely — clearly a seasoned multi-tasker — chuckles and shifts his webcam slightly to the left. Next to him is a jacked, brown-haired jock in a cat-eyed mask named Robin. "Some guy just tipped for Robin to lick my nipples," Lovely tells me, laughing shyly. "Well, he said, 'Suck the shit out of them!' It's just 10 seconds, do you have time?"
His charm and total lack of self-consciousness — there is, of course, still a stigma around "gay-for-pay" content — have earned him 500 paid followers who pay $12.99 a month to see him in action on OnlyFans. Some found him through his newly-launched YouTube account, where he unveiled Kriss as his secret weapon. Despite being a camera-shy stoner ("he smokes a lot of weed, so it's hard to schedule videos"), Kriss occasionally gets in on the action, convinced to bare it all after hearing Lovely could earn between three to four figures on a good night. He was introduced to the world in a risqué jockstrap-unboxing video, but for obvious, incestuous reasons, they have strict personal boundaries and have to be extremely careful not to get banned by cam sites, which tend to have rules against siblings even being in the same frame.   
For porn aficionados with alpha-male fetishes and kinks for beefy, biological bros, Lovely — nay, his whole situation — is a living, breathing wet dream. Straight guys on OnlyFans often have rules against showing hole, anal play and, of course, making out with each other, preferring instead to upload fully-clothed teasers and charge exorbitant rates for cock flash and drab jack-off videos. With Lovely, though, you get the illicit thrill of jerking off to a straight guy who would never fuck you IRL, but none of the post-nut disappointment that comes with paying for nothing more than a dick print. 
As a result, there are entire forum threads dedicated to speculation about his sexuality, and that of his co-stars. "I will never understand 'straight' guys rimming each others' asses," writes one user. "Because they clearly aren't that straight," answers another. 
"We have people in there defending us and saying that we're honest about being straight, but it doesn't make any difference for me," Lovely explains. "Some people care — I don't know, maybe they just don't like it when people lie? Sometimes I want to register and leave a comment, but then I see how much time it takes to make an account," he jokes.
Despite this — or perhaps because of it — business is booming: Lovely has spent the last few months essentially syncing his sleep schedule to match that of the horniest, richest guys around the world. He doesn't give exact figures, but estimates a 30 percent increase in his pay since quarantine hit in March. "There are more rich guys with nothing to do," he muses. "The pandemic doesn't make anything worse for them, but now they can't spend money on travel, so they're here instead."
Life as a cam model hasn't always been this lucrative. Five years ago, Lovely was an overworked, frustrated waiter determined to escape his mundane day job by making cash online. "I had seen [paid online] surveys and that kind of thing, but they all seemed like a scam," he recalls. A brief stint as a poker player was successful — at one point, he says he was top-ranked — but the risk and lack of financial stability didn't exactly make for a sustainable career. "I had a kid on the way and I was broke, so I logged on to Cam4 with my [then-]girlfriend and we did a fuck show." Despite the thousand viewers they drew in, they made just $20 between them. "People need to know you before they tip," he says of the lessons he's learned since that fateful first show. "I didn't know anything; I had no idea how much to charge, and I had no information at all."
Nestled amongst the scammers ("people see that you're new and start Photoshopping Western Union receipts!") were a handful of guys who tried to help during his first year, recommending that he switch to rival site Chaturbate, which in November alone was viewed more than 2.8 million times. 
Initially, Lovely was skeptical. "I thought the site would eat me up, you know? I was afraid that I was nothing, that I wouldn't get on top." But from day one, he used his room as a hangout spot for viewers looking for more than just a grainy cock shot. He featured music, conversation and drinking games all designed to create an entertaining atmosphere and maintain contact with regular tippers. Soon, his existing fanbase started making the switch just to catch up with him.
The perks were amazing, too. "My one-room apartment was full of boxes," he tells me, the disbelief still lingering in his voice. "I didn't buy any shoes, shirts, socks, underwear for almost two years — nothing! A guy even bought me a PlayStation 4. I put 20 things on my Amazon wishlist, and the next week, they were all gone. A guy bought me a big black dildo that's the size of a fist too, maybe even bigger. I can't use it because of the size, but I like it; I have it out, like an ornament!"
After two years of being a solo cam model, however, he grew tired and lonely. "I thought I was going crazy," he says. "Just sitting alone in your room can get very, very depressing over time." 
Listening to his gay fans and followers, Lovely decided to start looking for other guys to work with. Admittedly, this was tricky. As a straight guy who can't be out as a sex worker for fear of judgment, doxxing or being outed to his family, he couldn't rely on partners or other cam models. Luckily, a few gigs as a bartender at special events led to him working with a guy who he describes as responsible, hard-working and, incidentally, flat broke. Through conversations about their sex lives at work, John knew that the other guy was straight, too.
After accidentally joining the same gym and chatting more regularly, Lovely worked up the courage to come clean about his work, and to ask his new friend to get in on the action. "I was stuttering so much," Lovely laughs, cringing at the awkwardness. "I took him to one of those chain coffee shops, opened my laptop to Chaturbate and was like, 'Okay, here's what I do!' He was open to trying it, and that's when the tips and viewers really started — it was crazy." Initially, they were shy together, but he says the audience found it endearing and hot that these straight guys were pushing their boundaries just for them. Lovely and his friend even played up to this, wearing blindfolds if one of them was tipped to show their cock or jerk off. "From there, we got closer and closer," Lovely tells me. "Now, we cum on each other's asses and don't give a fuck!"
This is a continuous struggle for Lovely, who makes comfortable cash in his niche of "friendly, funny muscle guy who's down for anything," but finds it difficult to expand his audience as he isn't "out" as a cam boy. Sure, his Twitter account is filled with videos of him cracking eggs with his cock and his straight friends using their dicks to swipe on Tinder, but apps like TikTok — which is creating its own pipeline of legal teen porn stars — are so location-based that he can't block certain regions or hide his profile like he can on Chaturbate.
As for Kriss, "People are offering thousands of dollars for us to finger each other, or to fuck each other," Lovely tells me, his tone incredulous as he recalls one offer of $5,400 — from a guy who had already paid $2,400 for a private video of them licking each other's nipples and using a dildo on each other. No matter the price, though, the twins have decided that kissing is their ultimate boundary.
Somewhere along the way, you'd think he would have had a major epiphany about his sexuality and what it means to be a straight bro licking other dude's nipples for cash, but no dice. As ever, Lovely is merely going where the work takes him, without allowing any of it to necessarily define him. Or as he puts it, "It's all just interesting and funny."