After first growing her presence online as a comedian on Twitter, Kasey Koop, a stripper, writer and comedian in L.A., parlayed her following into a popular Instagram account she uses to promote which nights she's working in strip clubs and to market herself as a dancer by posting sexy photos and video clips. Recently, though: "I posted a video of me shaking my butt and the likes were so low, like 30 likes," she tells me. "That doesn't happen when you have almost 7,000 followers. Then I checked how many people had watched the video, and it also was crazy low. That's when I realized Instagram was shadowbanning me."
"Shadowbanning" is when Instagram prohibits a certain account or certain content without notification, meaning you'll be able to keep posting, but your audience won't see it. The most common way Instagram does so is by cracking down on hashtags it believes are used on posts that violate its "community guidelines." Koop says she doesn't use many hashtags, but believes she was shadowbanned for tagging a number of her posts "#yesastripper," after pole dancers on Instagram attempted to distance themselves from stripping with the message "#notastripper." (#poledance is still an active hashtag on Instagram while #yesastripper and #stripper are not.)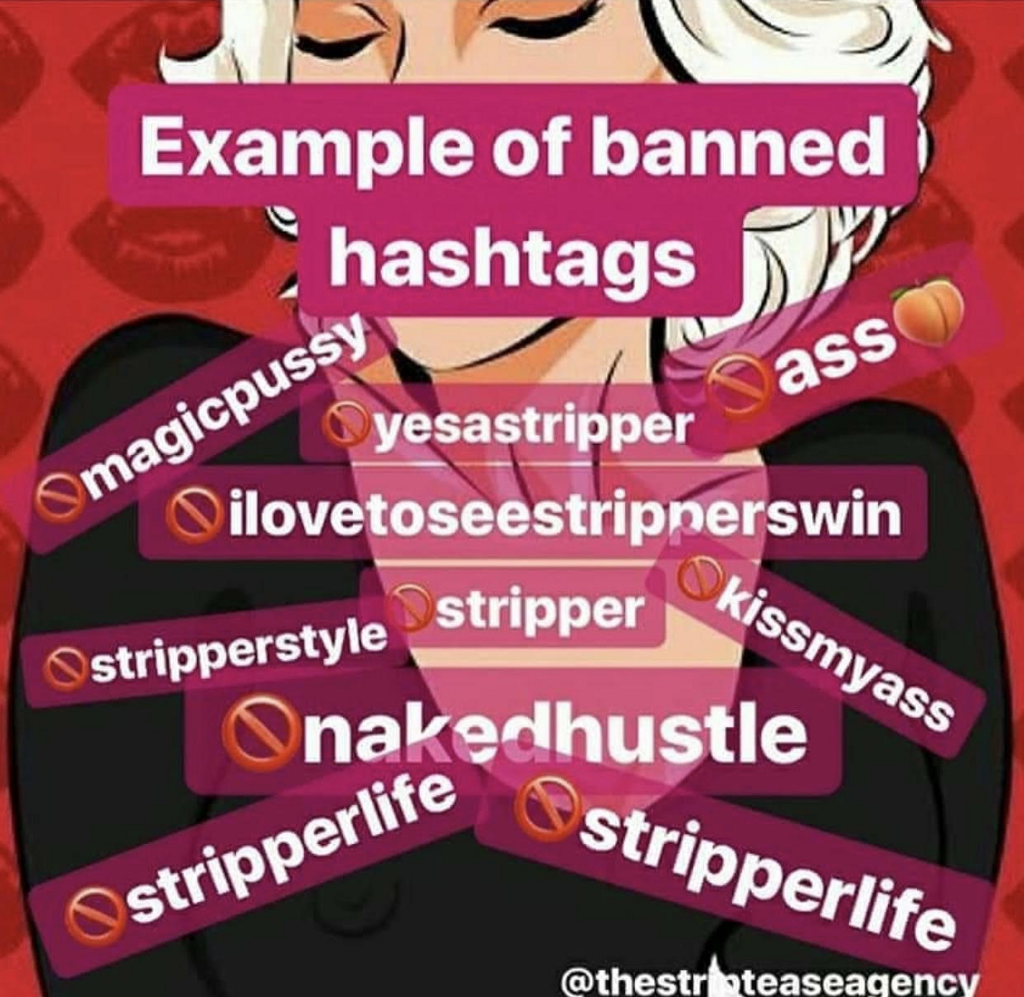 So while the bread-and-butter of Instagram is to generate desire (to fuck, maybe, but also to travel, to shop and/or to aspire to whatever the aspirational accounts you follow are pushing), strippers have been left out of the picture.
For Koop, it's disappointing to realize that a platform that helped build her career is now intentionally thwarting its growth by limiting her ability to connect with her followers. And the consequences are real. Less eyes on Koop's video means less eyes on her account, which means less followers, which means less fans likely to visit her in the club, which, of course, means less money in her pocket. It also means less eyes on her comedy work and invitations to those appearances as well. (Instagram has since released a statement on the #stripper shadowban: "The hashtag #stripper can again be used and seen by the community in the spirit in which they are intended," it reads, but what that means is both unclear and subjective — per usual.)
Koop's biggest problem with the shadowban — beyond its implications for her personal finances obviously — is its hypocrisy. That is, it indicates Instagram doesn't want to support strippers, despite the fact that strippers have formed a vibrant community on the app — a community that provides free content for millions of people (and the app) on a second-by-second basis. This extends to the everyday Instagram user, too, she says: "Everyone wants to look and dance like a stripper these days, but when it comes to something like this shadowban, most people remain totally ignorant."
I follow up by asking her about another form of Instagram hypocrisy — the presence of all the "suitable-for-work" hotties, i.e., the lifestyle bloggers who dance provocatively, the models who pose seductively, the coquettes who hawk FitTea, protein powder, daily vitamins, skincare products and cleanses while wearing the sheerest Fashion Nova outfits possible (#cameltoe is doing just fine). "That's how it always goes," Koop responds. "Female sexuality is kept clothed, maintained as a suggestion, so that men can feel like they have some power in being the ones to actually remove the clothes. Women are expected to use our body to sell just about anything, but when we're using our body to make our own money, people become afraid.
"Very afraid."