Is Instagram a tech daddy? I think it might be. If so, my tech daddy sets rules that don't always make sense. My tech daddy removes content without telling people. And my tech daddy, like all other daddies, has no idea what to do with breasts. So, like the curious girl I am, I'm testing his limits.
I realized this when scrolling through Instagram and watching that Garden State scene where Method Man asks Zach Braff, Peter Sarsgaard and Natalie Portman, "Who here just saw some titties?" They all raise their hands. As I looked down at my phone, scrolling past all of the thirst traps, branded content and pictures of food on my Instagram feed, I had a realization: No, I have not seen any titties. And why not?
In the event that Instagram detects pictures of breasts, it has two steps. First, its algorithm attempts to track and delete nudity. If that doesn't work, it's up to an Instagram user to see and report it. That's when a "global team" at Instagram decides if it should stay or go.
I've worked in tech for years. I get it. This process puts friction between the user's problem and Instagram's employees, who need to step in only if the algorithm fails — preserving time and resources.
But what are these decisions based on, exactly? It's never been consistent.
Instagram's official community guidelines state, "We remove some photos of female nipples." Some. It's about as clear as mud. Instagram will take down a photo of Chrissy Teigen's nipples but leave an artsy shot. The entire male nipple is fine, but not a drag queen's nipple.
And for trans women like me, there's even more confusion.
In 2013, when I had just started estrogen, there was a strong possibility that Instagram would have let me upload a picture of my breasts. Even though I identified as a woman at the time, Instagram's algorithm, much like the majority of my co-workers, would be too afraid to ask questions about my budding breasts.
But what about in 2015? Would estrogen have changed my body enough for Instagram to censor me? Maybe. What I do know is this: It's 2018, and my C-cup breasts are too scandalous for Mark Zuckerberg and Kevin Systrom's photo-sharing platform.
How do I know this? I created a finsta—a private, "fake Instagram" that's just for shitposting—and uploaded a bunch of topless selfies.
This experiment churned up a series of mixed feelings. I was excited that an algorithm hadn't misgendered me, which is a bigger problem than you'd think. At the same time, I wish my breasts could have thrived.
I reached out to Harron Walker, a freelance journalist and trans woman herself, to get her take. "It's such a weirdly affirming act of censorship," she says of running afoul of Instagram's guidelines. "On the one hand, I was mad because it's censorship — and a specifically gendered form of censorship, at that. And, like, I posted that thirst trap for a reason, you know? But at the same time, I felt weirdly good about it being taken down."
The frustration around censorship is a problem for cis women, too. I know this because, well, I uploaded a bunch of topless photos of cis women to see what would happen. The results were varied. The first photo I uploaded was of a topless white woman with large breasts. I uploaded it in the evening, and it was taken down immediately. When I re-uploaded it the next morning, it lasted three minutes before being taken down.
An image of a topless black woman, which was uploaded in the evening, made it five minutes before being removed. That same image lasted five minutes again when I re-uploaded it in the morning. I tried a topless Asian woman, and her breasts, too, were removed within five minutes.
As far as images of breastfeeding goes, it's the distance between a woman's breast and a baby's mouth that makes all the difference, according to my experiment. The breast, including the nipple, will be allowed as long as the baby's mouth is close to the nipple. However, the farther away the nipple is from the baby's mouth, the more likely the image is to be removed.
I know, it's a lot of information to take in. Well, don't worry. I created a whole flowchart for you.
Can You Post Your Boobs on Instagram? A Handy Guide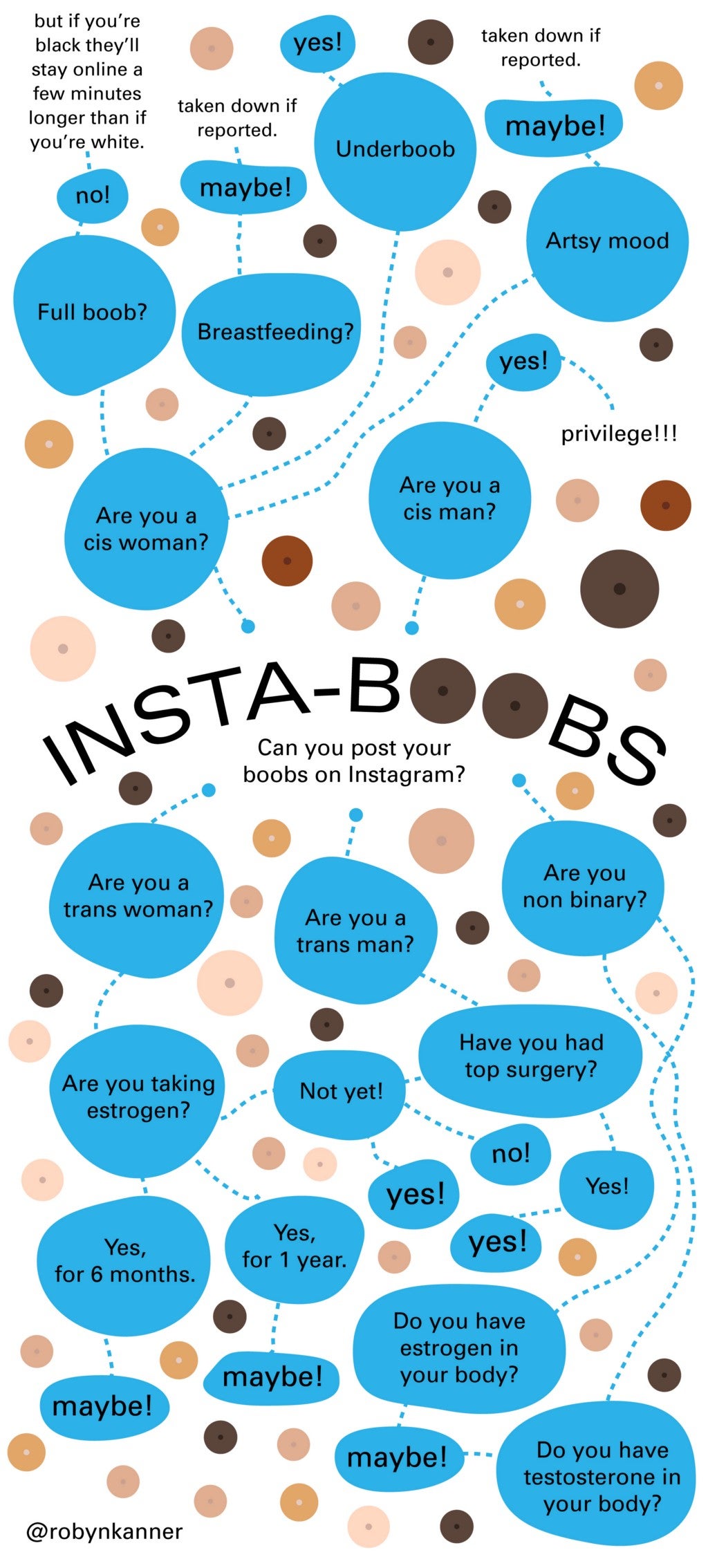 Instagram has successfully shamed women into believing our nipples and breasts are cursed images. It should reconsider its policy. Pretending nipples aren't family-friendly in 2018 is a massively silly endeavor. If you, I or Method Man want to see some titties on Instagram, we should be free to do so, as long as the person's whose titties are exposed has consented. (For the love of internet, do not #PlaneBae anyone's titties.)
I've got another solution if that one is too risky. Instagram has both a private and public setting for accounts. Let the breasts and nipples thrive on private accounts, and for the sake of caution, continue to inconsistently remove "some" breasts and nipples on public accounts.
Everyone wins.
One thing is for certain: What Instagram is doing right now is failing its community. My breasts, your breasts and the breasts of the topless models I uploaded on my finsta deserve better.