Swen Goebbels was once a 25-year-old with new camera equipment and an open-minded girlfriend named Michelle, shooting videos of her getting her Audi stuck in the mud, sand or snow outside their hometown of Aachen, Germany. While Goebbels was turned on by the possibilities of that "damsel-in-distress" fantasy, he didn't think many other people would consider the videos erotic. After all, nobody gets naked or has sex.
But since the launch of his website Car Stuck Girls in 2002, enough people have paid to download Goebbels's clips to move him and Michelle (now his wife) from Ardennes to Las Vegas, where easy access to both the mountains and the desert, along with lots of willing models, make it an ideal setting for shooting this unique form of fetish content. In the last 13 years, Swen has shot hundreds of videos, established partnerships with a variety of major TV stations in Europe, and won a couple of Webby awards.
His career is summed up pretty simply by this sentence on his Model Mayhem profile: "Great looking models and cars are always a good combination." Here's his story.
— As told to Tierney Finster
We started Car Stuck Girls in Germany in 2002. I had been on an online car forum with about 30 people, and some of the guys were talking about how they like it when girls get stuck while driving their cars. A couple mentioned how nice it would be to watch videos with these kind of scenes, and the forum lamented that nobody had access to any. At the time, I had just got a video camera for my 25th birthday. I didn't have much knowledge about filming, but I thought, "My girlfriend has a nice car. Let's try this." I asked her to drive her Audi in the mud while I filmed it for 10 minutes. I had no intention to sell the video, but I was really amused by the idea of sharing it.
I edited together a 20-second preview clip from that shoot and put it on the internet. This was before YouTube. Half an hour after posting it, someone from the United States sent me money on PayPal. He gave me a hundred bucks in hopes of seeing the full video. I didn't have a website and I hadn't even offered it for sale, but the guy knew my email address and just sent me the money. About 30 minutes later, another American guy sent me $50.
I thought, Okay, this is interesting. Two people have sent me money for something I never offered to sell.
By 2003, I began making DVDs on the computer. I also put a few thousand dollars into getting more video equipment. The problem was getting new models. Some of the models I reached out to were open to nude photography, but when I asked them if they would drive into the forest and get stuck in the mud with me, they thought it was too weird. It was a real problem, and at that point, I was just aiming to make back the money I had spent on the equipment.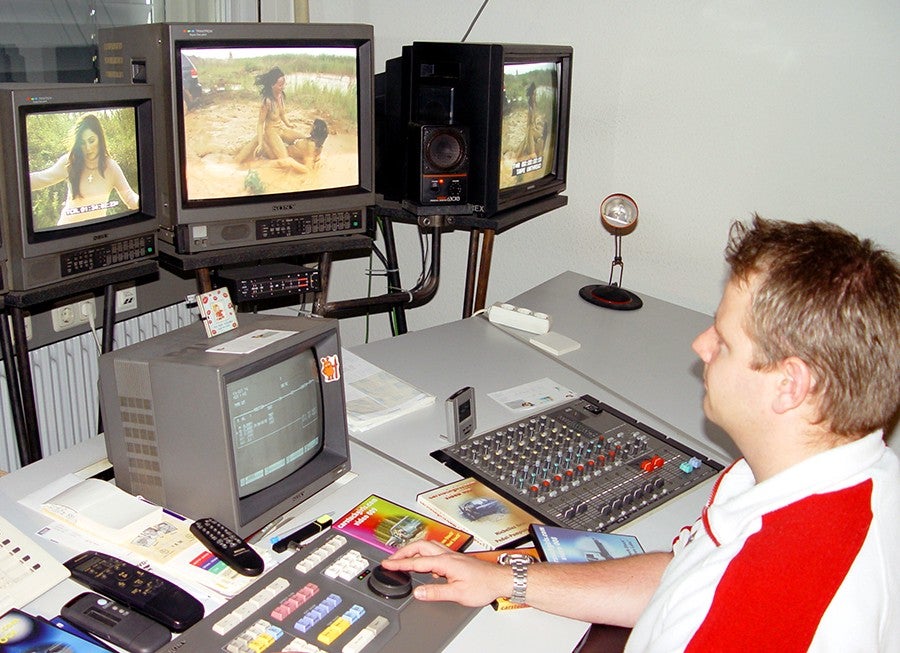 Our videos weren't cheap, but we were the only people making this kind of content at the time. There were a few websites dedicated to pedal pumping and cars that wouldn't start, but none existed that were specifically about women whose cars had been stuck. We only had a handful of customers, but they were very loyal.
One morning in 2004, I got a phone call from one of the biggest newspapers in Germany congratulating me on my Webby Award. I had no idea what a Webby Award even was. When I Googled it, I realized it was like the Oscars of the Internet. We were the People's Voice winners in the "Weird" category. Boom! That really set us off.
Every TV station started calling me. Mostly German people reached out, but so did journalists from the U.K. My site was still small, but it was at this moment that things got interesting. I began allowing a few television crews to visit our sets. But before they began visiting, I spent a lot of money on a new, bigger camera. I was embarrassed for the movie and television crews to see the tiny thing I had been shooting on.
It all became crazy. There was a trickle down effect, and the interviews didn't stop for at least three years. The top German television channels all called me with appearance deals, which acted as great advertising for the site. I appeared on television in Europe 40 or 50 times, and on top of all that, everything we did went viral on the car forums like the one I got this idea from. At one point, our site apparently had more traffic than the website for the biggest car company in Germany.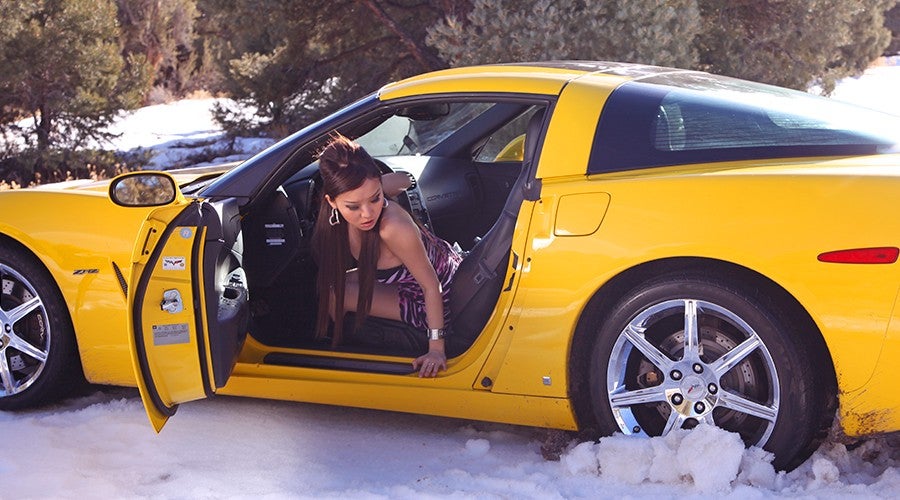 With all of this attention and the new opportunities that arose, I started making higher quality videos and eventually began licensing them on the biggest sports channel in Germany. In Europe, the Car Stuck Girls scenes are labeled PG-12, the same rating as the Harry Potter movies.
After that, I got TV deals across different German channels and a few in the Netherlands. Then Playboy TV U.K. bought some videos, while companies like Telecom in Germany were posting the Car Stuck videos on their site just to drive traffic. That's how viral they were. These companies didn't necessarily like the videos or even think they were funny, but they wanted to be part of the crazy attention. And when I realized how strong the media's interest was in my work, I was able to have the companies play by my rules and pay me how I saw fit. It was all a happy surprise.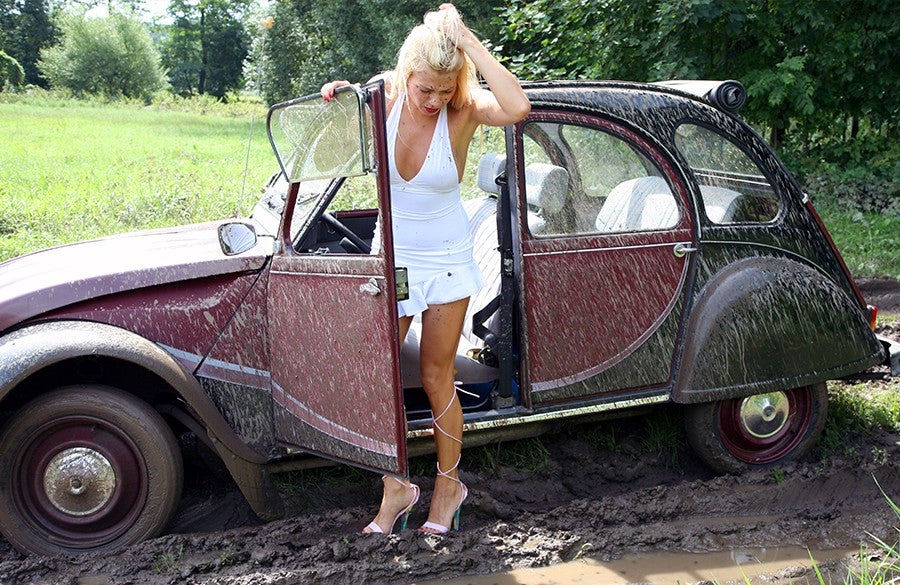 Before that success, I expected to live my whole life in my small German hometown. I was never really into travel. I was born and raised in Ardennes, a small city that borders the Netherlands and is close to Cologne. I never even learned English because I thought I would stay in Ardennes forever. But when I began getting paid to produce new videos, I needed to find a climate that would allow me to do so at a regular pace. The weather in Germany was too much of a problem. It was too snowy for too much of the year. So in 2004, I made my first set of videos in the U.S.
That's when I realized I loved Vegas. The good thing about Vegas is that it feels like a small city. It would be impossible to produce these videos in a place like L.A., where there's always traffic. Nobody wants to see a Car Stuck Girl in traffic. My videos have to have a tone of isolation that enriches their damsel-in-distress quality. If 20 people in traffic could be helping the Car Stuck Girl at any given moment, then there's not much of a story. Over the years, I've shot Car Stuck videos everywhere from the Rocky Mountains to the beaches of the Caribbean.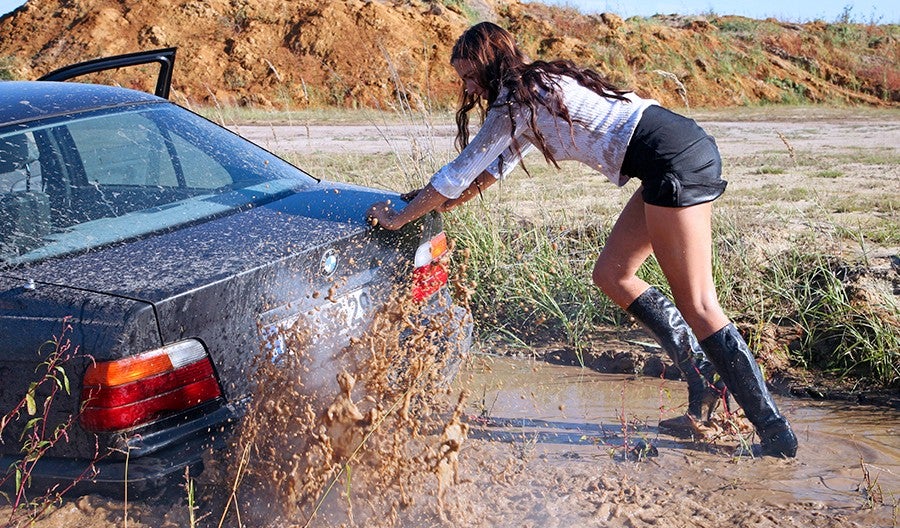 After 10 years, the hype around us has died down a little bit, but our customers are still loyal. The first guy who sent me the money on PayPal is still buying every video we make, and I have a lot of customers who have bought every video we've ever released. Most of them have been supporting Car Stuck Girls since the beginning, or have at least been watching it grow for years. They're protective of us. When they notice someone posting my videos for free or offering to share the videos they've purchased from me on forums, they intervene. They will often delete those posts or ban the users. That's very unique in a day where almost everything gets stolen online.
The thing most of my clients have in common is that they're car lovers. There's a lot of car mechanics, truck drivers, and vintage collectors. They represent all sorts of people, but they all love cars. I swear, some guys only buy the videos because of the cars. For example, a Mustang fan that hates Camaros will buy a video where a Camaro gets stuck in the mud. Some guys don't even care about the girls. For them, it's all about what happens to the car.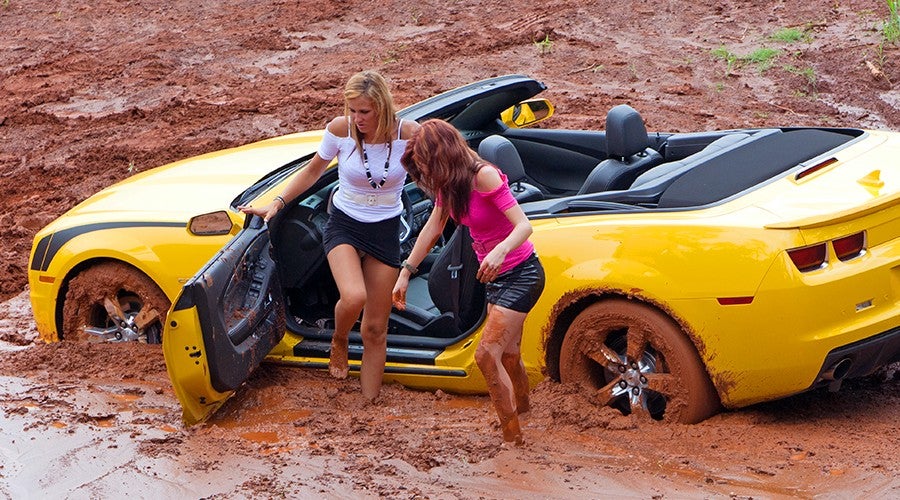 Something weird that I've noticed is that about 20 percent of my customers will refuse to buy one of my videos if the featured car has a V6 engine. They don't consider a V6 powerful enough, and they only want to see videos with V8 engines. Other guys prefer manual transmissions because they want to see the way a woman handles the clutch.
Sometimes, their fanaticism surprises me. I once made one video with an old Volkswagen Beetle. A customer emailed me complaining that he could tell from the sound alone that the car's starter wasn't the original. I checked in with my buddy who owns the car and he told me that he had, in fact, replaced the original starter with a later model. That was a little bit crazy.
Of course, I enjoy seeing all the women stuck in their cars. I don't think I could produce these kinds of videos if I didn't. I have no way of determining how many of my customers use the videos as porn. Everything I make is suggestive, but nothing is lewd, and being stuck isn't exactly bondage, although it's close. From what they've told me, I know some of the customers are like me. They watch a woman getting stuck and think, Maybe if I show up in my Jeep, I can tow her out and rescue her. Maybe she will be very thankful then.
Other customers have a foot fetish. They like to watch the close-ups of women's feet pressing the pedals as they try to get un-stuck. I try to capture a beautiful location, a beautiful model, and a beautiful car in every video. Their quality is all about the combination of excellent production, solid entertainment value, and strong fetish components.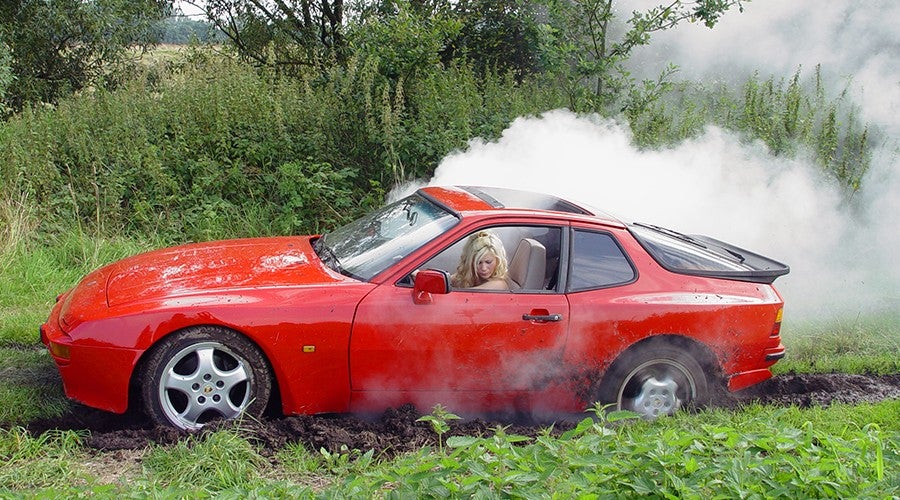 I'm lucky my business revolves around cars because I've always loved cars. I started working at a BMW dealer when I was 16-years-old, around the same time I tried to become a professional race car driver. After that, I worked for a company that produced high quality, collectible toy cars, which was a dream job for me. I would visit all the major car factories and take detailed photos of their newest models. I would get the complete, top-secret construction details so that the company I worked for could create thousands of small die-cast cars to give to customers who had purchased the actual car.
More than 10 years have passed since I began this business, and I'm still releasing about one Car Stuck Girls video a month. When I'm not filming, I love to jet ski in Lake Mead and ride my motorcycle through the desert dunes. I've still never hired another camera guy or called a tow truck to help us un-stick a car, and sometimes it still takes me hours to dig a car out from under. My buddy just flew out here on vacation and helped me out on an all-day shoot. We made all the mud and did the digging ourselves.
He thinks my work is one big, strenuous vacation.
Swen Goebbels owns and operates the Webby Award-winning site, CarStuckGirls.com.