It's the weekday lunch rush at a Taco Bell near my office, and I'm standing in line to, no joke, order something healthy. It's safe to say I'm the only one with such aspirations. But Missy Nelson, Taco Bell's registered dietitian, assures me it's possible. The key, she explains, is selecting the "fresco" option, which magically morphs the Bell's fattiest, más caloric items into guilt-free fare by subbing out mayo-based sauces, cheeses and sour cream for freshly made pico de gallo.
At first, I struggle to find the Fresco Menu on the big electronic board over the cash registers, but eventually, I spot it in a smaller font, like a stodgy footnote to the Doritos Locos Tacos Supreme, which everyone else in line seems to be craving. Of course, it could be worse — and soon will be. A flock of teenagers in Santa Monica High School hoodies gleefully order four Naked Chicken Chalupas, only to be devastated to learn they'll have to wait until the end of the month to experience the thrill of eating taco filling from a fried chicken shell.
And while I, too, am intrigued by the newfangled chalupa — The shell is the chicken! The chicken is the shell! — I'm here, like I said before, for nutrition. So in addition to the fresco options, I'm eyeing the high-protein, Atkins-compliant Cantina Bowls (minus the guac, sour cream and avocado ranch sauce to shave off an additional 90 calories and 9 grams of fat). I'd read about them in a number of articles published recently that proclaimed Taco Bell to be "healthy fast food." Three of them in particular: "SHOCKING: Taco Bell Is … Healthy?," "Taco Bell Has Subtly Become One of the Healthiest Fast-Food Chains" and "Taco Bell's Low-Key Healthy Revolution."
Nutritional improvements south of the border go beyond mere fat and calorie reduction. For example, in the last year, the Bell has done away with extra-large soda cups and antibiotics in chicken as well as committing to using cage-free eggs across the menu by 2018.
Still, I was suspicious, given this is the same brand that does (or soon will) offer taco shells made from Cool Ranch Doritos and fried chicken. Could Taco Bell actually market itself as drive-through health food while simultaneously catering to stoners craving a late-night, sodium-drenched dopamine dump? "Not only can they do it, they have to," explains Nevin Barich, a food and beverage analyst. "Because while they have to appeal to health-conscious millennials, their core audience remains the Gen X-ers who grew up with their unhealthy staples."
All of this may seem like an abrupt pivot, but Nelson explains Taco Bell has been on a "food journey" for more than a decade, undertaken to stay relevant for an increasingly health-conscious consumer. Case in point: Unlike McDonald's, Taco Bell doesn't dust their salads with propylene glycol to keep the leaves of lettuce crisp. Rather, as soon as produce is harvested from the field, it's cut and shipped to restaurants—shortened shelf life be damned. "We know people are evolving," says Nelson, the Taco Bell dietician. "Food is changing, and our customers want to know what they're eating."
Well, kind of. A lot of what Taco Bell has been doing — sodium reduction in particular — has been done furtively. "Our customers really look to us to have craveable, indulgent options," Nelson explains. "Historically, we know from other consumer packaged goods like Campbell's Soup that calling out that you're reducing sodium causes people to think, Oh, it's not going to taste good. So we've been reducing it since 2008, and people haven't even noticed. Our food still tastes amazing, but now it's just a little better for you."
As proof, she points to a 15-percent sodium reduction — resulting in the elimination of millions of pounds of salt per year — and adding a vegetarian menu certified by the American Vegetarian Association. The result? It's now relatively easy for customers to find a craveable meal around 500 calories and 15 grams of fat, considered to be within a healthy range for lunch.
But again, you'd never know from Taco Bell's current ad campaigns , where Dorito-based innovations still dominate the airtime. Barich says Taco Bell will promote the healthful stuff eventually, though only time will tell what the reasoning for doing so will be: "They'll market more to the 'healthy millennial crowd' when they a) start getting more of those customers; or b) when they don't, and out of desperation, they attempt to do so."
Says Nelson, "We're learning what the right way is to talk to our consumers about this and have only gotten comfortable telling that story in the last year. Yes, our advertising is still very product-driven, but in the near future, you'll start to see Taco Bell trying to better explain its nutritional efforts."
The bigger question, however, is whether truly healthful fast food is even possible. "While it's true that most fast food is high in calories and fat, fast food with reduced calories and fat shouldn't automatically receive a health halo," says David Wiss, a registered dietitian nutritionist with Nutrition in Recovery in L.A. He cautions that the many questionable ingredients that go into these foods — flavor compounds, emulsifiers, stabilizers, binders and preservatives — are often overlooked. To wit: The ground beef in Taco Bell's Crunchy Beef Taco should theoretically be one ingredient. But an investigation by LiveStrong and Dr. Gayl Canfield, a nutritionist in Miami, revealed the brown mixture to contain no fewer than 35 ingredients:
Beef, water, salt, sodium phosphate, beef broth, potassium phosphate and potassium lactate, cellulose, chili pepper, onion powder, salt, oats, maltodextrin, soy lecithin, tomato powder, sugar, soybean oil, sea salt, yeast extract, spices, garlic powder, citric acid, caramel color, disodium inosinate, disodium guanylate, potassium chloride, cocoa powder processed with alkali, natural and artificial flavors, trehalose, modified corn starch, inactivated yeast, lactic acid, torula yeast and natural smoke flavor.
Which brings us back to the fact that nutrition isn't exclusively a matter of calories and fat; it's also about getting adequate micronutrients (vitamins, minerals, phytonutrients) and fiber. What Taco Bell is doing is more a matter of optics; it'll never really be good for us because they're not approaching it that way — they're cutting back on fat and sodium and filling the voids with pico de gallo, not introducing new ingredients with more nutritional substance.
When I return to the office clutching two giant Taco Bell handle bags, the response is Pavlovian. Giddiness combines with an unmistakable (albeit less-mas) South of the Border aroma as I prepare individual plates of the following: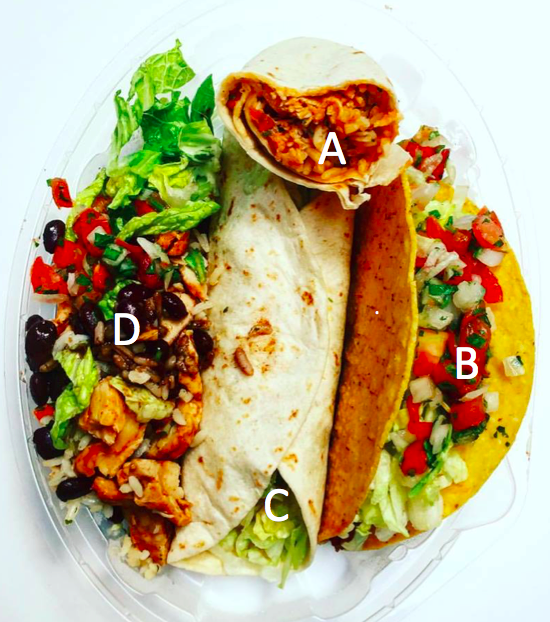 A) 1/2 Fresco Chicken Burrito Supreme (170 calories, 4 grams of fat and 530 milligrams sodium)
B) Fresco Crunchy Taco (140 calories, 8 grams of fat and 290 milligrams sodium)
C) Fresco Shredded Chicken Soft Taco (150 calories, 4 grams of fat and 460 milligrams sodium)
D) 1/4 Cantina Chicken Power Bowl (100 calories, 3 grams of fat and 250 milligrams sodium)
TOTAL: 560 calories, 19 grams of fat and 2,280 milligrams sodium
Everyone agrees it's plenty of food for lunch and tastes way healthier than a regular Taco Bell meal. The diced chicken in the power bowl resembles Chipotle's and is noticeably less greasy, as is the shredded chicken in the soft taco. The pico de gallo serves as a passable, if boring, substitute to the more NSFW regulars.
In fact, boring is the consensus for the entire meal: Everything strikes us as a sadder, beige-y version of the real thing. We've eaten crap but didn't enjoy it, and what's the point of that? Overall, the reaction is what you might expect from people who were served O'Doul's at happy hour.
Taco Bell? More like Taco Blah.
For some kind of silver lining, I ask Wiss to offer his nutritional opinion of the plate.
"People are unlikely to eat a half-order of something, and definitely unlikely to eat a fourth of something, so it's unrealistic," he responds. "It looks to be a high-protein lunch that falls near a calorie range that's appropriate for most people. There appears to be some variety but only in textural experience (not in ingredients). It's lacking fruits and vegetables. The only fiber would come from beans — if there are any in the bowl or burrito. Finally, it contains the amount of sodium one should consume in an entire day."
That would explain my swollen fingers. Same for why one of my colleagues said his tongue felt like a murdered slug. Mostly, the meal left us jonesing for the real thing. "Regular Taco Bell customers who switch over to this are likely to return to more craveable items later on, given what we know about food addiction. It reminds me of cigarette companies offering light cigarettes or soda companies offering diet sodas. The intention is the same: to create the illusion of a healthful alternative in order to keep people addicted to their products," Wiss says.
I don't know as much about food addiction as he does, but I do know that sensible Taco Bell has had me counting down the release of the Naked Chicken Chalupa ever since.

C. Brian Smith is a staff writer at MEL. He last wrote about a single dad who teaches a class for other dads on how to braid their daughters' hair.
More Health Food: