Colby Keller is something of an exception in the gay porn world. Exuding the ruggedness of a corn-fed Midwesterner, he's also someone who gives interviews to the socialist magazine Jacobin about the socioeconomics of the porn industry. The persona Keller has carved out for himself — both the intellectual and the sex god — is one that fits well on Twitter (link NSFW), a platform where sharing links to political articles from The Nation does not seem incongruous with voyeuristic bedroom selfies.
But while Keller's devoted fanbase sees him as an iconoclast, the performer caused a minor uproar in the wider gay community last year when he announced to Office Magazine that he would be voting for Trump because he thought the candidate would be a "destabilizing force."
Some commenters viewed Keller's endorsement as a shameless bid for publicity while others saw it as another worrying example of a conservative shift among white gay men — it was published less than a month after an Out Magazine profile of Milo Yiannopoulos had provoked wide condemnation in the gay media and amid reports of a sizable contingent of gay Trump supporters.
But Keller isn't a Republican; he's a communist who loathes the Democratic party.
A week into Trump's reign, I call Keller to see how he's feeling. "I'm a little surprised he's as aggressive on 'the wall' as he said he would be," he says in a bicoastal accent that sounds like a surfer who reads n+1.
"But I'm not surprised people like Trump and corporate America are going to the lengths they are in a system that's no longer defensible. They'll stop at nothing."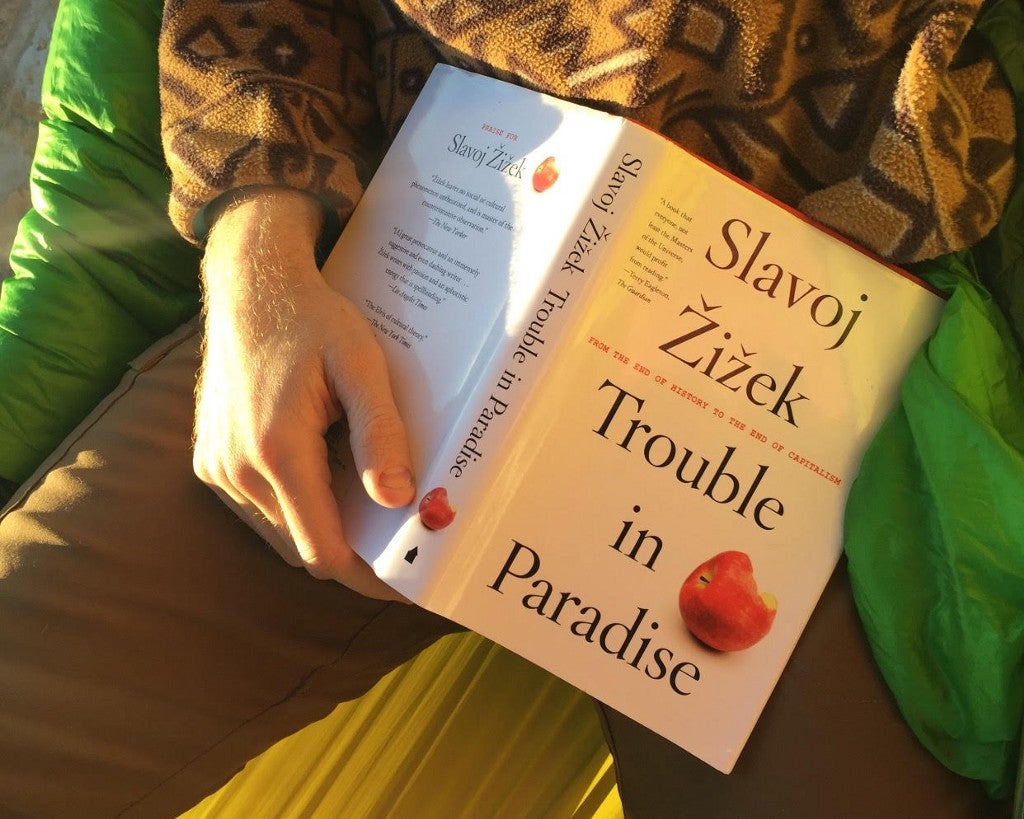 Keller believes people around the country are now waking up to the economic inequalities that have been exacerbated by the Obama presidency. "At least Trump is inspiring people to resist a really corrupt economic system that is fucking us all over," he says.
Whatever reservations Keller may have about Trump are outweighed by his hatred of the status quo. "Hillary Clinton would have been four more years of Barack Obama, continuing all of the horrible neoliberal policies of the Bush administration and of her husband — policies that have bankrupted the American people and people around the world," he says. (He then accuses Hillary Clinton of treason against the United States for a supposed bribe she received from the Swedish technology firm Ericsson. The evidence for such a claim was dismissed by The Washington Post as "nonexistent.")
At times, it sounds like Keller wants to egg on the apocalypse in the hopes that society will build something really nice from the rubble. Somewhat like Steve Bannon, who sees himself as the leader of a populist insurrectionagainst the Republican establishment, Keller wants to see elite institutions come crashing down."Things will get a lot worse and that will get us to a point where we need to be," he says, seeming to relish the idea of an America that's fallen apart.

Born near Detroit in Ypsilanti, Michigan, Keller was raised in a strictly religious family in Texas. According to an interview Keller gave to New Now Next, his mother, a devout Christian, did not react with measured grace to his budding homosexuality: After discovering a box of gay porn magazines in a box underneath the sink in his bathroom, she tried to read him a few Bible verses. When Keller refused, she responded, "I wish I had a gun so I could kill you and then blow my own brains out all over this sofa." (Keller said in the same interview that he hasn't called her "mother" since, though he still loves her and thinks of her as "a beautiful human being.")
After graduating from the University of Houston with a bachelor's degree in anthropology, Keller went on to pursue an MFA in visual and performing arts from the Maryland Institute College of Arts. In 2014, he put his art school background to work, embarking on an ambitious video project by filming himself having sex in each of the 50 states. The finished product, "Colby Does America," is a multifaceted look at how sex plays out in different zip codes, with Keller as the enthusiastic guinea pig: in Tennessee, he let a woman tie him to her dining room table while she performed aBDSM healing ritual on his body and in Alabama he collaborated on a poetry project with one of his sex partners.
His collectivist approach to his own filmmaking echoes his communist ethos. (At one point, he asks whether I'd be interested in editing one of his videos.) "Being a communist in 2017 means delivering better lives for people by collaborating," he says. "Competition and letting people who've controlled the earth for many years, who are evil and nasty, is not the way to get things done."
His art-school-meets-lumberjack persona recently caught the attention of producers at HBO's High Maintenance. In the first episode of the newest season, Keller plays an earnest crystal meth addict who inspires his one-night stand to leave a toxic fag hag relationship. In filming the episode's graphic sex scene, Keller joined a rarified group of male actors who've shown their dicks on HBO. (Keller's Twitter bio now appropriately reads, "My dick's been on HBO.")
Mostly, though, his income still comes from porn, including an XXX parody of Star Wars he recently filmed for men.com. At present he's in Tucson, where he lives in a house with his boyfriend and three straight men who've just gotten out of the Air Force. "I feel like it's primed for a sitcom," he says. He tells me he really likes Tucson — "it's so cheap!" — though he flies back to visit his husband in New York when he can.
Toward the end of our interview, he seems embarrassed about having become so heated over politics. "I'm sorry I was so aggressive!" he says. But after briefly moving on to the topic of communism, he again lays into the Democrats, for whom he seems to save a special place in hell.
"The Democratic Party's diabolical politics don't serve the interests of the American people and that's why [Trump voters] acted out," he says, adding, "It's going to take someone like Donald Trump to get people to overthrow the system."