For the last eight months, I've tracked down smut from every corner of the globe for MEL's Porn Around the World series. My virtual passport — and search history — has featured trips to Nigeria, the U.K., Brazil, India, Israel, Australia, Turkey and Colombia. In each, I've spoken to pornographers, webcam models, academics, politicians and activists about topics as diverse as labor issues, empowerment, media literacy and squirting. (There's been a lot of squirting talk, actually.)
My main finding is probably the simplest: Interest in porn knows no arbitrary national boundaries. Across every culture, every social and economic class and every governmental attempt to squash it, avid interest in porn exists everywhere. Along the way, though, there have been a ton of other revelations (big and small) as well — some that made it into my dispatches, others that did not. Now, though, as the series (and year) draws to a close, I thought it was as good a time as any to offer up everything I learned from traversing the world in search of porn as well as trying to figure out what that porn said about the people and country who made it.

1) There's a perpetual fear of malware contracted through porn sites fucking up your computer. But after having spent hours watching porn on pay sites, free sites, webcamming platforms, clip stores and everything in between, I'm here to tell you that if you've installed decent protective software, most porn websites are actually pretty safe. (I've got AVG installed, mostly because it's free and comes highly recommended from tech-savvy friends.) Just don't click on the ads on the tube sites. Clicking that one link is not going to grow your dick by 10 inches, no matter what the badly photoshopped image tries to tell you. It will, however, probably leave you with a nasty case of malware, the herpes of the internet.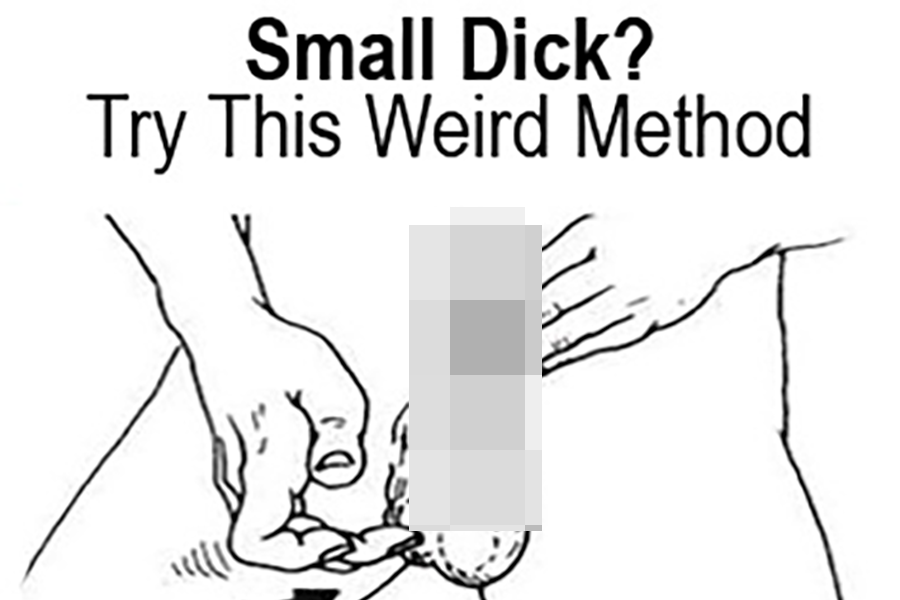 2) Turns out that each tube site specializes in something different. PornHub provides professional porn that you can track back to its source and pay for (like I know you do, since you're a fine, upstanding porn consumer). xHamster is where the best amateur porn lives. xVideos is great for international fare from the 1990s and earlier. xnxx.com is the place for Arab aunties, but x-nxx.co.il is where all the Israeli porn lives. My personal favorite is YouPorn, which has a wealth of more sensual action (although there's plenty of hardcore, too), some of it aimed specifically at women.
3) That said, if you want to watch professionally made, "mainstream" porn, please don't go to YouPorn for it. Or PornHub, or really any of the other tube sites. (I know, I'm a hypocrite — but I was doing it for RESEARCH.) A lot of the videos there are uploaded illegally. In other words, they were basically stolen. And porn industries all over the world are suffering from loss of profits to piracy. "The porn industry is pretty much dead over here," Paul Taylor, a pornographer from the U.K. told me. "The work is few and far between." Shakked Auerbach, a reporter for Haaretz in Israel, agreed, "The amount of free porn available online has made producing porn non-profitable."
"The tube sites are the pirates of our industry," Australian porn star Madison Missina added. "I'd like to see all tube sites blocked, and all porn behind age verification and paywalls."
4) Rampant piracy is one factor behind the rise of adult webcamming, which came up again and again in the series. Live webcam shows are much more difficult to pirate, and the interaction they offer with the models is a big draw for consumers. They also offer a much wider array of options. In Brazil, the porn status quo is being disrupted by "alternative" cam models with tattoos, piercings and fluid sexualities. "It's amazing that we can all fit under [the] Brazil scene," one of those alt-porn cammers, Gween Black, told me. "It's really democratic nowadays, but it wasn't like that in the past. It's really good seeing girls with real bodies taking over [the] Brazil [adult] industry."
In Israel, trans models are taking to camming to pay the bills. And in Colombia, where webcamming is now one of the country's biggest employers, tens of thousands of cam models (of all shapes, sizes and sexualities) are paying their way through college and boosting the country's economy by drawing payments from all over the world.
5) There are other ways to #payforporn and support adult entertainers, too. You can buy monthly memberships to ethical porn pay sites like LightSouthern in Australia, for instance. Or you can buy clips directly from the models who make them — like Gween Black in Brazil. Some performers even make custom videos for clients who request them.
6) Meanwhile, amateur porn is being made literally everywhere, especially in places where it's illegal to produce it. Case in point: While Turkey, Lebanon and Israel are the only three Muslim-majority and/or Middle Eastern countries that allow porn production, there are still nearly 22,000 videos in xHamster's Arab category. Most definitely qualify as amateur — shot on phones in bedrooms and hotels, with bad lighting and normal human beings (i.e., not porn stars).
7) Even though porn is illegal in many parts of the world, it hasn't doused the desire to perform in it — whether it's amateur or professional. A man who calls himself Freeman, who's one of a few professional pornographers in Nigeria, told me, "I've gotten over 4,000 calls and emails from Nigerians [at] home and abroad, also from other African countries, wanting to participate in the movies. Most guys even want to act for free! They're surprised that such [a] thing is starting in their generation, so they want to be part of the fun. Most people want to watch themselves having sex on camera."
8) Nothing is going to stop people from watching it either. To wit, porn sites are blocked by most Middle Eastern governments, but "six of the top eight porn-searching countries are Muslim states," according to a data released by Google in 2015. Pakistan and Egypt are the top two, followed by Iran and Morocco at four and five and Saudi Arabia and Turkey at seven and eight.
9) In nearly every country I profiled, PornHub's stats and insider information I got from xHamster told the same story — people want to watch their fellow countryman and woman fuck above all else. In Colombia, the top searches are for "Colombian." In Israel, they're for "Israeli." In India, they're for "Indian" or the slang term "desi." And in Nigeria, they're for "Naija," an empowering slang term for Nigerian power.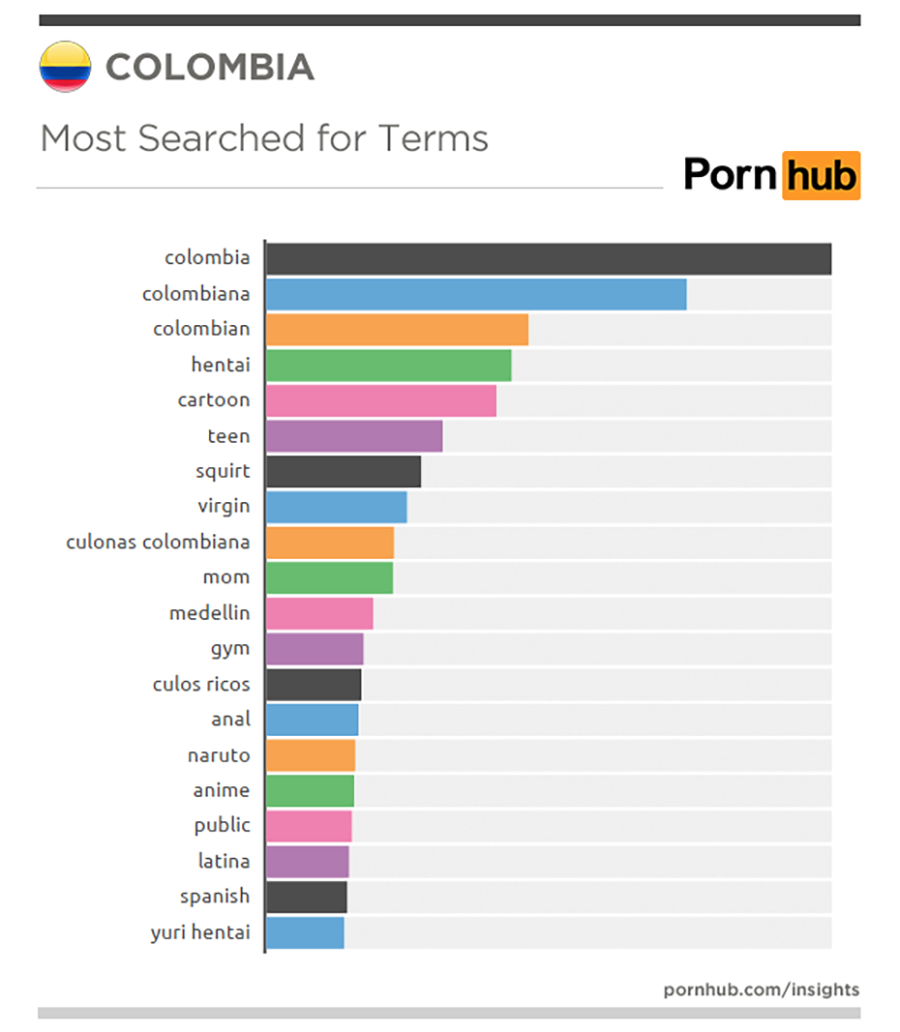 10) Except for Australia, where PornHub notes, "What's really notable about Australia's list of top searched terms on PornHub is that it is completely devoid of any searches having to do with nationality. It's clear that for the most part Aussies aren't terribly interested in watching their own kind get it on."
11) The most famous porn star in Nigeria is a middle-aged mom who now resides in New Jersey and hasn't lived in Nigeria since 2005.
12) In the U.K., porn is legal, but smut in the real world can only be sold at registered sex shops. And, in order to get your DVD on those shelves, you have to pay the British Board of Film Classification to determine whether it's suitable for sale. If it shows BDSM-related acts, role-play of nonconsensual activity, sexual humiliation, face-sitting or female ejaculation, it will get sent back to its makers with recommendations for cuts.
13) In pre-internet days, European kids used to believe in what Oliver Carter, a senior lecturer in media and cultural theory at Birmingham City University, calls "the porn fairy." "It was this mythical creature that would leave porn by train tracks and in parks," he explained. "Do you know why we used to have this trail of porn? Because kids couldn't keep it in their homes for fear of mum and dad finding it. So you'd use it and leave it for someone else."
14) It's not illegal to have sex in public in the U.K. It's only a crime if someone sees it, gets offended and makes a complaint. Considering how popular dogging is in the British Isles — that is, having sex in parks and parking lots, often involving gangbangs — those complaints would seem to happen infrequently. But when they do, says Laura Helen Marks, an English-born postdoctoral fellow at Tulane University who focuses on sexuality and media, "The charge is called 'outraging public decency.'" It's punishable with "unlimited imprisonment and/or an unlimited fine," depending on the seriousness of the offense.
15) Speaking of dogging, nobody really knows where it got its name. Some say it's because voyeurs used to "doggedly" pursue people who had public sex. Others say it's because participants used to say they were going to "walk the dog" in the park when they were really going out to have sex in the park. Whatever the case, the trend got its start in England in the 1970s and has remained a popular pastime there ever since.
16) According to a 2016 data dive by RedTube, Brazilians are 89 percent more likely than the rest of the world to visit the "shemale" category.
17) People in India have a real thing for their eldest brothers' wives — or "bhabhis." On PornHub, the term is the fourth most searched for in the country, alongside "mom" (sixth) and "aunty" (seventh).
18) Sunny Leone is a retired porn star originally from Canada who moved to India to give Bollywood a try. She subsequently landed parts in many Bollywood films and a series of suggestive commercials for Manforce condoms. Today, she's Googled more often in India than the current prime minister, Narendra Modi.
19) In an ironic twist, it's entirely possible that Modi is a virgin, or possibly asexual. The social conservative, who's vocally against sex in the classroom, is now celibate and reportedly left his wife without consummating his marriage.
20) One of the most interesting tidbits about Israeli porn came from Mike Stabile, an xHamster spokesperson. "Traffic in Israel dips fairly dramatically on the Sabbath — around 8 percent every week, much more than any other country," he told me. "However, overall Google traffic to Israel drops 15 percent every week on the Sabbath, meaning that while we see a dramatic drop, porn still has a pull that mainstream web doesn't. In other words, not everyone's keeping the Sabbath holy."
21) There's been a political party in Australia called the Sex Party for the past eight years. Its policy platform is libertarian in nature, opposing censorship and supporting individual rights like abortion, voluntary euthanasia and the legalization of all drugs for recreational use. The party's founder, Fiona Patten, has been a member of the Victorian Parliament for two years. Sadly, they're planning to change their name to the Reason Party soon, in an effort to maintain a moderate stance in the midst of a fractured political climate.
22) Now that the possession of porn featuring "unnatural acts" (like oral and anal sex) is a criminal offense in Turkey, the political process might need to change, too. For years, a staple of Turkish political races has been blackmailing candidates over sex tapes. In the lead-up to countrywide elections in 2011, for example, a group calling itself "Different Idealism" released video of senior Nationalist Movement Party leaders having sex with prostitutes, resulting in 10 resignations and another landslide victory for the ruling Justice and Development Party. But as writer Claire Berlinski says, "This new ruling puts blackmailers in a legal conundrum: If you aren't allowed to keep these tapes on your computer, how can you threaten your enemies with them?"
23) Turkey has never produced a lot of its own porn, but during the few years when domestic porn production was active there, one porn star rose to prominence: Şahin K (née Şahin Yilmaz). A short, portly, hirsute, swarthy fellow with a thick black mustache, Şahin earned his renown from decades of reliable performances in Turkish and European porn. But it was his resemblance to Ron Jeremy that made him a porn legend.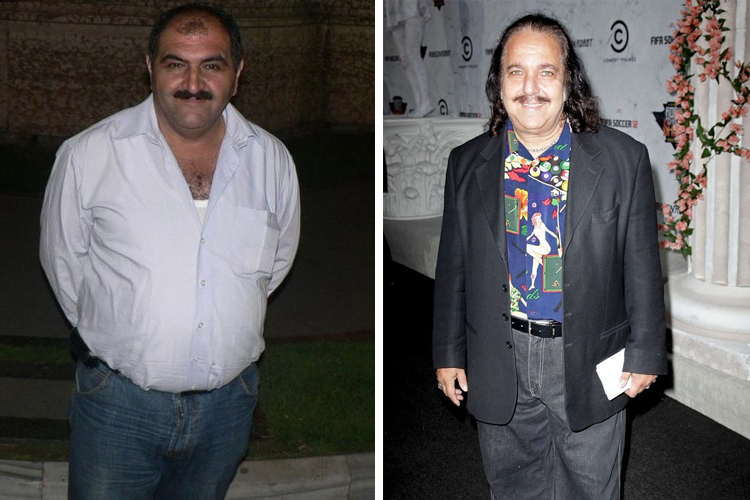 24) Speaking of Turkey, did you know that homosexual activity has been legal there since the Ottoman Empire okayed it in 1858?
25) Or that, until recently, belly dancers vied with the Victoria's Secret Fashion Show for traditional New Year's Eve viewing?
26) There's been a spate of hackers playing porn over extremely public address systems on two different continents this year. In April, "hardcore pornography … flashed onto a giant screen at one of Delhi's busiest metro stations," and in May, a 1 a.m. prayer call from a mosque in Turkey was replaced with "a soundtrack from a pornographic film." In both cases, the perpetrators are still at-large.
27) The Colombian porn industry is spearheaded by Andrea Garcia and Cristian Cipriani, a married power couple. They've been behind a handful of sexually oriented television shows, at least three porn companies, one book, and according to Cipriani, at least 3,000 hardcore sex scenes, which they direct and produce.
28) As webcamming sneaks up on traditional, pre-recorded porn for prominence in the adult entertainment industry, two countries are battling it out for the title of the undisputed webcamming champion of the world: Colombia and Romania. Suffice it to say, if you're watching a webcam show from Latin America, the model is probably in Colombia.
29) To that point: Since most webcam customers speak English, but many Colombian cam models don't, there's a good chance the English-language conversation you're having with a Latin American cam model is being typed by someone else. Likely a man. "As moderator, I end up in the role of pretending to be the model; I write words that come out of my head to get the guys even more excited," a man named Jerry told Splinter reporter Tim Rogers about his job at a major webcam studio.
30) The final word is really just the first word again: NOTHING IS KEEPING PEOPLE FROM THEIR PORN. Or as "Ali," a Pakistani expat in Turkey — two countries where porn sites are blocked by the government — told me, "It's the same! Everybody accesses the same thing that you access everywhere! Every porn site is banned, but nothing is inaccessible."