Welcome to Misleading Men, a regular feature where we look back at the actors who ruled Hollywood for one brief shining moment.
It's probably not a good idea for actors to Google themselves. Sure, you might find some flattering things about yourself, but more likely, you probably won't. In 2006, Emilio Estevez talked about how bruising it can be to find out what people are saying about you online. "It's a cruel world out there," he said. "I've been at the unpleasant end of that poisoned pen. When journalists think that actors don't read what is written about them, they are mistaken. I would put my name in a Google site and see what came up and often it was very hurtful."
One wonders if he stayed off the internet this week when Entertainment Weekly unveiled new information about Disney+'s forthcoming series The Mighty Ducks: Game Changers, which will bring Estevez back to the franchise for the first time since 1996's D3: The Mighty Ducks. For those who grew up on these kids' movies, it must have been bittersweet to see Coach Bombay now eligible for AARP membership — and to see that the kids from the original movies are full-fledged adults.
We all know it, but nonetheless it's shocking to discover that the people we watched in our youth don't stay that age forever — they keep getting older, like everyone does. But for fans of Estevez, that realization may be even more poignant. For years, he seemed permanently young, part of the Brat Pack, a very Gen X thing that, in retrospect, was truly a stupid thing — and, besides, none of them liked being lumped in that group, anyway. But despite the family he was born in and the younger brother he came of age with, Estevez always seemed hard to define or pin down. And because of that, he never could fully shed the Brat Pack straightjacket. In the process, he has aged before our eyes without us really taking it in.
"He's the most mature of the lads. He always has been," his father Martin Sheen said back in 1996, talking about Estevez and his siblings, who were also actors, including Charlie Sheen. "He's the only one who has a memory of when I wasn't doing very well economically. He was made to grow up quicker, and as a result, he had to forgo a lot." Born in May 1962, Emilio was Martin Sheen's first child, and you know how fathers always have a special relationship with the kid who makes them a dad. "I don't know myself without him," Sheen said about 10 years ago. "Our relationship — it's sacramental. … I was 21 when he was born, and so something very, very kind of mysterious happened with his birth. … I'm looking at him, and it was like, 'Oh, you're the guy. I knew this was going to happen. I kinda knew you'd get here. And I see you're the one. Okay, good. Welcome … Our relationship will develop.' And it did. It wasn't always pleasant. It wasn't always easy. But we were teachers for each other."
In interviews, Estevez has always seemed like the dutiful son. (However, it sounds like he definitely had a blast on the set of his dad's movie Apocalypse Now, reportedly losing his virginity at 14.) Martin Sheen insisted on having his family with him on location, and the experience stayed with the boy. "Growing up we just assumed that everyone lived like this," Estevez said. "We were sort of like gypsies; we'd pick up and move and settle in and pick up and move. I was very fortunate to go to Rome for three months, Mexico for six months and India for seven weeks." All the while, his father battled alcoholism, and that experience stayed with Estevez, too. "The household wasn't always stable," Estevez recalled about a year ago. "My father is a different man now, and when he got sober, he came back to the [Catholic] church and took up activism. So then I'd watch him get arrested on television and he'd be carted off shouting the Lord's Prayer. He looked like a lunatic, and I found it embarrassing then. But I get it now."
Like his dad, whom he closely resembles, he was drawn to acting. Estevez kept his last name instead of changing it like Martin had — "I didn't want to ride into the business as Martin Sheen's son," Estevez said in 1983 — and the roles he snagged in the 1980s could serve as a primer on the decade's depiction of a rebellious young generation fighting to figure out where it stood. All coming out in the span of two years, The Outsiders, Repo Man, The Breakfast Club and St. Elmo's Fire were films of alienation, and Estevez (alongside Charlie Sheen) was part of a promising crop of young actors who melded pin-up looks with a simmering intensity. Estevez was perhaps the most serious of the bunch, or at least came across that way in interviews. "I have a kind of nihilistic point-of-view," he said in 1985. "I'm into making films that are realistic and not fluff. When you deal in reality, you're dealing with a lot of serious problems. We could be sitting here now and be vaporized by a nuclear weapon by accident. That's reality. A man could walk here and blow us all away with a machine gun. That's reality. …  Life does not end happily ever after."
One of the worst things that can happen to any young artist is to be bunched in with other young artists by the media, which is always hungry to spot trends and categorize individuals so that they fit into some tidy monolithic whole. Such a thing happened to Estevez when New York journalist David Blum decided to do a profile of the actor and then chose to expand his focus in order to mention some of his cohorts. The name of the infamous June 10, 1985 cover story was "Hollywood's Brat Pack," which also included Rob Lowe, Sean Penn, Judd Nelson and others. In the piece, Blum positioned Estevez as the leader of the Pack, the one with the most promise. (Worth noting: Tom Cruise was also mentioned in the profile.) The article described Estevez as "perhaps the smartest of all," noting that he had his sights set on more than acting. In fact, he'd written a few scripts and shown one of them, Clear Intent, to filmmaker John Hughes, who had cast him in The Breakfast Club. "When I was reading it, I thought it was so good, so close to my bone, that I had written it," Hughes told New York. "Emilio wants to direct it, and I'm sure he will be able to. He can do anything. He can act, he can write, he can direct. He's surpassed me in that respect. I can't act — I wish I could."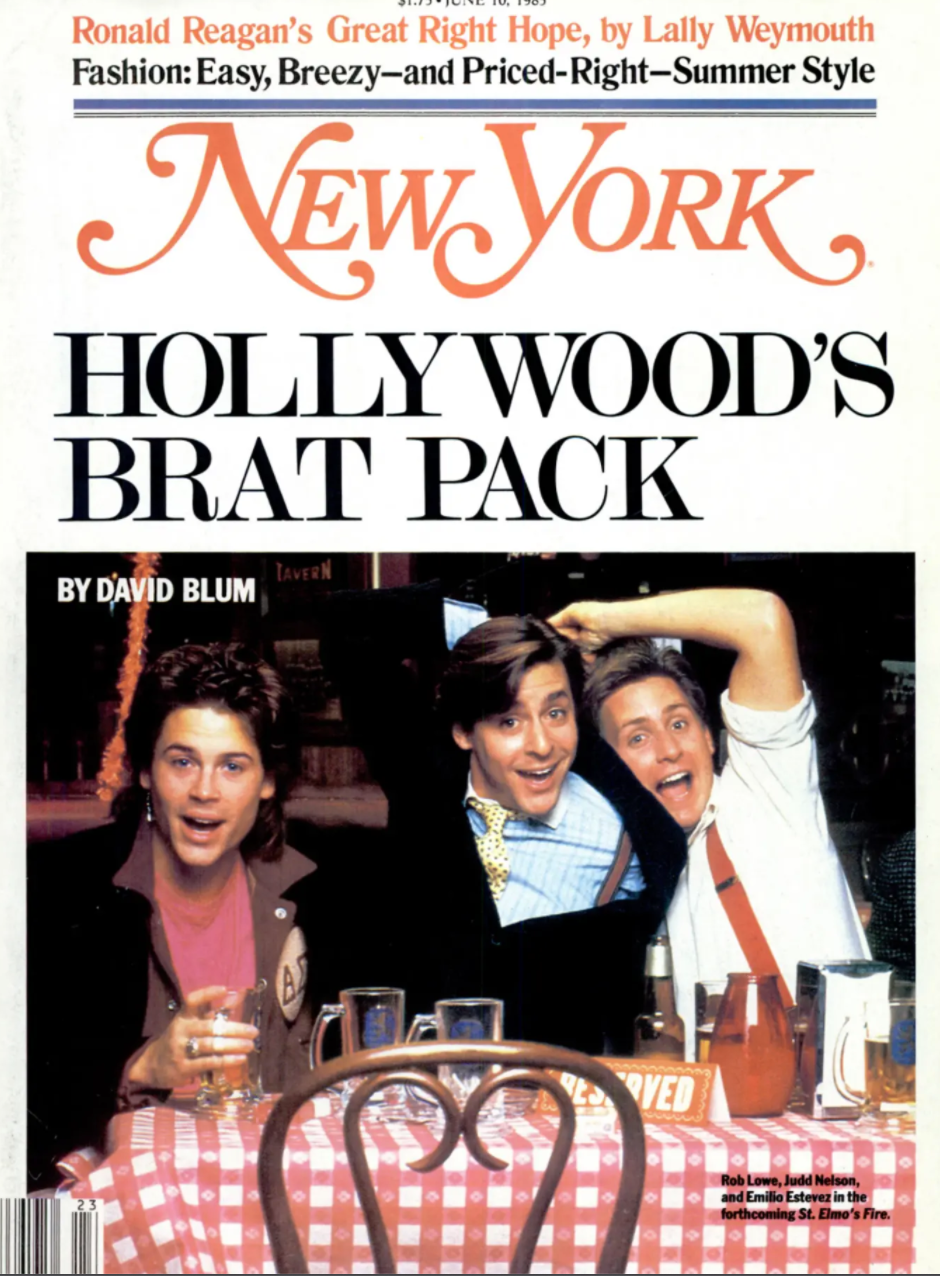 If Estevez was the supposed leader of the Brat Pack, he was also, according to Blum's piece, an arrogant, womanizing jerk who mocked a Playmate to her face because she, apparently, wasn't very bright. The reaction to the cover story was immediate — and angry. "Emilio called me the day the piece came out," Blum recalled, "and he told me, 'How could you do this to me? My friends hate me now, and won't speak to me. You completely betrayed me. I thought we were friends.'" 
Like the Pussy Posse a decade later, the Brat Pack quickly became a shorthand for a seemingly annoying, self-absorbed cadre of entitled young Hollywood hot shots who were instantly hateable. Anybody associated with being part of the Brat Pack wanted nothing to do with a label they'd have to work hard to live down over the rest of their career. "That [term] will be on my tombstone," Estevez lamented to The Guardian in 2020. "It's annoying because Brad Pitt, George Clooney and Matt Damon have worked together more than any of us have. We just made two movies and somehow it morphed into something else."
He continued to have hits thanks to Stakeout and Young Guns — and he directed his first features, Wisdom and Men at Work (which had originally been titled Clear Intent) — but the failure of 1992's Freejack suggested that his shelf life as a young turk ready to take over Hollywood was fast expiring. You could sense that critics were gunning for him and his fellow Brat Packers. "Instead of casting a Schwarzenegger type … this film stars Emilio Estevez," the Los Angeles Times' Peter Rainer wrote of Freejack, later adding, "Estevez has a scaled-down humanity that makes you fear for him. What he doesn't have is the kind of star presence that might make you root for him. … A residue of Brat Pack still clings to Estevez's outerware in this film." Ironically, Estevez's own brother Charlie seemed to have overtaken him considering he'd done back-to-back acclaimed Oliver Stone dramas (Platoon and Wall Street) and then successfully switched gears for the beloved comedies Major League and Hot Shots!. 
In hindsight, it wouldn't have seemed like the ideal moment to make a milquetoast family comedy, but that's when Estevez signed up to play Gordon Bombay, a stuck-up attorney who, after a drunk-driving incident, is forced to do community service in the form of coaching a hapless youth hockey team. "I loved sports movies and I was really looking to make a movie that could talk about my old sports experiences," Mighty Ducks writer Steven Brill later said. "I had idolized The Bad News Bears my whole life. I thought that was a great movie, and I thought it would be really great to make a movie that could stand up and be another Bad News Bears." Estevez would be the new movie's Walter Matthau, except not as vulgar or racist. 
There was no mistaking that The Mighty Ducks was a middle-of-the-road, feel-good Disney product, with Estevez playing the soulless Yuppie who becomes a better person. (Like many movies of the early 1990s, the film felt like an apology for the greed-is-good 1980s.) Formulaic but not without its charms, The Mighty Ducks was a sizable hit. But in some ways, Estevez was overshadowed by his movie's unknown young stars (including future Dawson's Creek heartthrob Joshua Jackson) — just as he was overshadowed by the woman he was involved with in his real life, choreographer-turned-pop-superstar Paula Abdul, whom he married just a few months prior to The Mighty Ducks' fall 1992 release. Theirs was a high-profile coupling, but it wasn't destined to last: They split up two years later, their divorce triggered, according to Abdul, by the fact that they couldn't agree on having children. (He'd previously had a son and a daughter with model Carey Salley.) "It was very hard for him to admit that he couldn't handle having kids again," Abdul said. "It was heartbreaking for us both." 
To the outside world, the end of his marriage too neatly coincided with his plummeting film career. He kept making Mighty Ducks movies, although by 1996's D3: The Mighty Ducks, he was little more than a supporting player, focusing his energies on directing The War at Home, in which he'd play a Vietnam War vet grappling with PTSD. (Martin Sheen, star of one of the greatest of all Vietnam films in Apocalypse Now, portrayed his dad.) The ambitious young actor of the Brat Pack days was still hungry. "I was at a point in my career where I was in an artistic free fall," Estevez told Entertainment Weekly about why he spent years trying to make the low-budget War at Home happen. "I was doing movies for money, or sequels because I had commitments." 
So passionate was Estevez about The War at Home that he agreed to do D3 for virtually nothing so that his domestic drama would be financed by Disney. "I look back on it and I'm amazed that he was patient enough to be able to deal with us as a bunch of totally unprofessional 15-year-olds," Joshua Jackson said in a Time oral history of the Mighty Ducks franchise. "And then by the third one we were a bunch of 17-year-olds and we probably would have been much more trouble than it was worth to him to be around." 
But Estevez's begrudging decision to return for that third Mighty Ducks ended up backfiring: He later claimed the studio barely even promoted The War at Home, "releas[ing] the film in four theatres. The heartbreak of that almost forced me out of the business."
Ultimately, he didn't leave the business, per se, but maybe it would be accurate to say that it was a mutual parting of ways. In 2007, Estevez admitted, "I found myself 10 years ago looking around thinking, 'Now what?' The business is somewhat cannibalistic. It eats its young — and I wasn't young any more. I was not exploitable, I suppose. So I had to keep reinventing myself. But that gets a little exhausting after a while."
The reinvention has largely involved pursuing directing vehicles — what he'd been after since the mid-1980s. In 2005, he made the star-studded Bobby, about Robert Kennedy's assassination, and then followed it up with The Way (starring his father) and The Public, about a standoff between homeless Cincinnati residents and law enforcement. Earnest and well-meaning, these often socially-conscious films received respectful reviews but failed to make much of a dent commercially. Estevez didn't seem too concerned: When The Public opened a couple years ago, he professed, "The work that I'm doing now, and the films I've been doing, really for the last 20 years, have been a little more grounded."
As he has gotten older, he only looks more and more like his dad. And Martin Sheen's investment in activism has also rubbed off on his son, even if they go about it in different ways. "I have this political badinage about whether what we do makes a difference," Estevez once said. "My argument is that if I make a movie about something I am passionate about, I might reach more people than my father getting arrested at the Nevada Test Site. If that is the best use of my time, I tell him that I don't share his passion for getting arrested."
His family has been complicated. He and Charlie had a public falling out after the younger brother's substance-abuse issues — Charlie openly mocked Emilio on stage during his 2011 My Violent Torpedo of Truth tour — and Estevez has mostly stayed out of the limelight while developing projects. (He's also shot episodes of TV dramas like Numb3rs and Cold Case, as well as the documentary Culture Clash in AmeriCCa.) But an Estevez resurgence may be upon us: Earlier this year, the possibility of a third Young Guns was teased — with Estevez directing — and soon you'll be able to see The Mighty Ducks: Game Changers.
Talking about going back in front of the camera after so long away, he said something that might be revealing. "[Game Changers] is not without the Disney magic that has to exist, so I think ultimately it will be satisfying," Estevez said recently. "But it leans into reality a little bit more than one would expect, which excited me. That's really like life; something that looks like a curveball that you couldn't hit ends up being something that's a gift later on." 
Estevez doesn't like looking back at the Brat Pack years, and who can blame him: It was a glib label, and it turned out to be a curse for many of the actors who were slapped with it. Last year, Ally Sheedy, who starred in The Breakfast Club with Estevez, reflected on his reluctance to discuss that era. "It's been a long time," she told The Independent, "and I guess some of the cast feel like they're at different points in their lives and maybe don't feel like revisiting it all over again. Thirty-five years can change you."
In "Hollywood's Brat Pack," Blum portrayed Estevez as the platonic ideal of a Brat Packer: "Barely 23 years old, he is already accustomed to privilege and appears to revel in the attention heaped upon him almost everywhere he goes," the journalist wrote. "He has a reputation in Hollywood as a superstud: Dozens of girlfriends, many of them groupies, latch on for brief affairs. … He is living the life that any American male might dream of — to be young, single and famous."
Now Estevez is reunited with The Mighty Ducks, whose pint-sized stars are coming back for an episode of the new series — and are older now than he was when he first started making these movies. "It was fascinating to reconnect with these adults who the last time I saw them were 12, 13, 14 years old," he told Entertainment Weekly. "When we did the first film, they all looked at me as somebody who was so much older and more seasoned, but I just turned 31 on the first one and these kids are now in their early 40s. When we did the first film especially, I felt like I was a kid too."
Turning 59 in May, Emilio Estevez is no longer that kid. No longer that Brat Packer. His final chapter may not have been written yet. Maybe his life can end happily ever after still.