The coronavirus' diseased tentacles are spreading rapidly throughout the world, infecting many, rousing fear among the masses and thrusting financial markets into collapse. Panicked shoppers worldwide are ransacking stores for cleaning supplies, toilet paper, surgical masks and nonperishable foods so they can hunker down in their homes if necessary. Doomsday preppers are finally able to bask in their moment of glory, and… hey, look, flights to hot travel destinations are really, really cheap!
As a matter of fact, angst inspired by the coronavirus has prompted travel costs to drop by so much that many are considering taking their dream vacations now, despite the potential for infection. Flights across China are currently as cheap as $13, many airlines are waiving flight change fees and people are taking advantage: Air New Zealand just recently offered 1,000 flights across 32 routes for under $6.50 one-way, and those tickets sold out in less than an hour.
"We now have some empty seats due to travelers mainly from Asian destinations not connecting between New Zealand and Australia," Air New Zealand chief revenue officer Cam Wallace told the New Zealand Herald. "Kiwis and Aussies are going to be able to head away for holidays or to see family and friends or do business for cheaper than a night's accommodation at most hotels."
Needless to say, if you could care less about being infected by the coronavirus, now is a damn good time to travel. But while many flights and cruises are seeing lower rates, things are a little more complicated than just that. For starters, some places, like a few small towns in Italy, have been placed under quarantine, preventing travelers from entering. So, just know that there are some limits to where you can go right now. (Although, besides traveling to South Korea and Italy, both hot spots for the coronavirus, the American government is more or less okay with us continuing our travels elsewhere unhindered.)
Furthermore, some flights are becoming more expensive, because they need to make up for money lost on other cancelled flights and empty seats. "The airlines are cutting some capacity, especially flights to Asia," says John DiScala, of the Johnny Jet travel website. "People think they'd be really cheap, but there's such little capacity right now, especially with business class seats."
Still, generally speaking, now is a really, really good time to find cheap flights, hotels and cruises. DiScala referred me to some super cheap flights to Hawaii and forwarded me this recent email from Scott's Cheap Flights, which shows that roundtrip flights from New York to Europe are currently down by around $600 or more: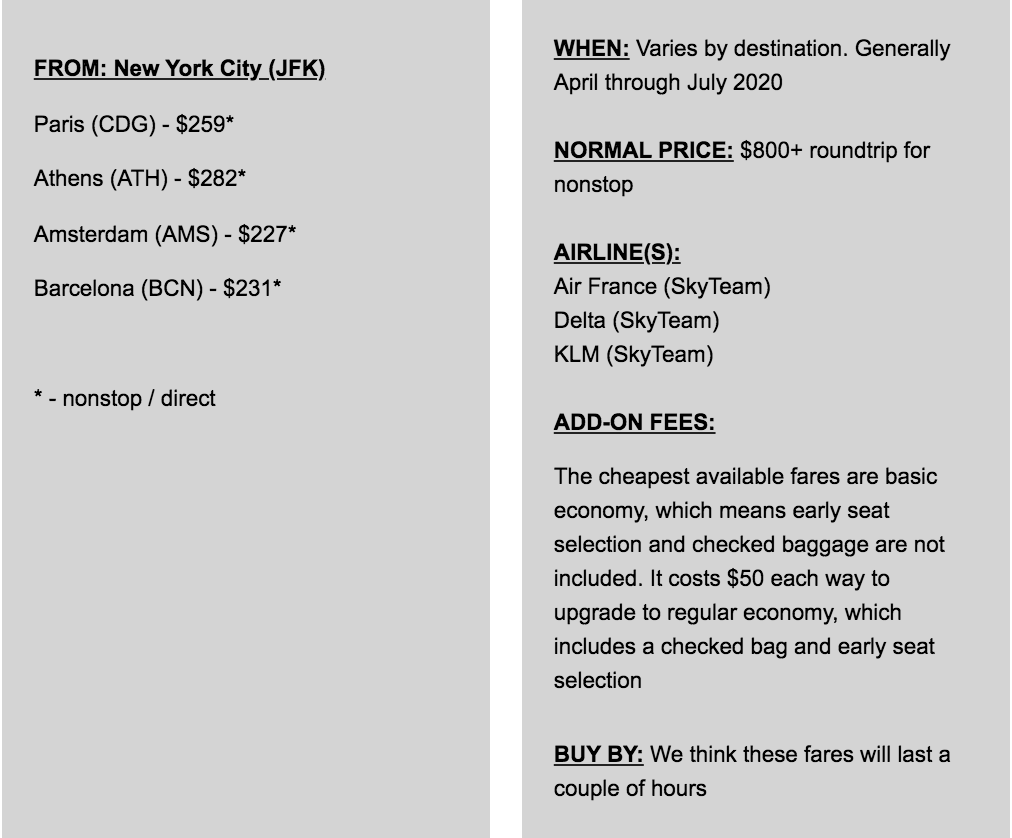 But whether the coronavirus is really to blame, at least when it comes to flight costs, is uncertain. "Current airline prices are holding relatively steady, given the fact that the number of planes in the sky has been dramatically curtailed to coincide with decreased demand from passengers," says Scott's Cheap Flights flight searcher Daniel Burnham. "United Airlines, for example, just announced cuts equivalent to about 20 percent of their international capacity and 10 percent of their domestic seats through April, while February saw close to an 80 percent capacity reduction in China's aviation markets. As a result of these cuts, we've not seen a significant reduction in most economy class ticket prices."
"However," Burnham continues, "it's worth pointing out that ticket prices are still at historically cheap levels when adjusted for inflation. For example, passengers with a flexible schedule can still reasonably expect fares from major cities like New York to Europe in the $200s or $300s roundtrip, which is consistent with prices we were seeing in late 2019."
So, again, flight ticket prices are low right now, but perhaps not as low as you might think, considering the coronavirus. 
If you really want to take advantage of the current low prices, DiScala also recommends looking into "hotels where huge conferences have pulled out, like the largest travel conference in the world: ITB Berlin. Almost all of the hotels were sold out this week, but because they canceled just last week, they're wide open and offering crazy deals. One quick look at the Hotel Tonight app, and prices are under $100 for a luxe hotel." You can check out some more upcoming events that have already been cancelled here. "If a conference is cancelled, that's the time to go," DiScala emphasizes. "That's where you're going to get a steal, and there are so many huge conferences cancelling all the time."
Burnham agrees: "While you may not necessarily save a ton of money on your airline ticket, the hotel industry is struggling with a lot of excess inventory, which can mean low prices and fewer crowds in popular tourist cities, so there are definitely savings opportunities for the savvy traveler."
Now, obviously, taking advantage of coronavirus-impacted travel costs comes with some level of risk. As Crystal Watson, an assistant professor at the Johns Hopkins Center for Health Security, recently told the Washington Post, "I think if you're going to travel — and I'm not saying that's a bad idea, I would really like to take a vacation myself — people should be aware that there's a possibility you could get stuck somewhere for an extended period of time." Of course, if you find yourself in a coronavirus hot zone, or end up on a plane with someone carrying the coronavirus, you could also get infected (and then you might have to live with the fact that you infected other people, too, all because you wanted a cheap vacation).
And while being quarantined on, say, a cruise ship might seem like good fun and nothing more than an extended vacation, the reality is, well, grim, as explained by this sad, sad dude on Reddit, who was stuck on a quarantined Princess Diamond cruise ship:
"Entire place is shut down — we have been confined to our cabins for 2 days now. There are people in the hall guarding us from leaving our rooms. In one case today, a woman left her room shouting that they can't keep her in the room, but was escorted back to her room. They are concerned that more people are positive, and want to ensure that no one else gets infected. 20 out of ~100 tests that have been done are positive. A total of 273 tests were completed, my wife and I included. No one is being told if their result was negative. Little to no news from the captain until today. Luckily, the embassy is involved now. Food situation is a little rough, have a water restriction and we're being told to boil water to drink. No laundry/fresh linens/janitorial services/towels. No toothpaste, but $3 for travel mouthwash."
Yeah… no.
In the end, taking advantage of the low travel costs right now is a gamble. While you might be able to take that amazing dream vacation that you never could otherwise, you might also end up stuck in a depressing quarantine zone for a few weeks, or sick with the coronavirus, or worst of all, be responsible for helping to spread the disease. Once again, though, as of now, only a select few places are of real concern, according to the American government, so the likelihood of having an amazing, cheap vacation is higher than becoming a coronavirus victim.
"In terms of whether it's advisable to make travel plans, I'd personally have no qualms traveling to most countries where the virus has few, if any, cases," Burnham says. "However, it's important to stay up-to-date with current information from health authorities and only make plans that you're individually comfortable with. Likewise, the unpredictable nature of the disease makes it more important than ever to carry adequate travel insurance, in case you choose to cancel a trip after booking, or in the event that your trip is impacted by additional flight cancellations."
What he said.