In Tennessee, an enraged crowd harangued and assaulted attendees leaving a school board hearing, calling masked parents "child abusers" and screaming "we will find you." Belligerent protesters stormed a school board meeting in North Carolina, physically attempting to overthrow and replace the existing elected officials. Members of the far-right extremist group Proud Boys have shown up at schools in New Hampshire, Washington and Florida, apparently organized as muscle for angry parents. In California, a parent was so angry about a mask requirement that he hospitalized a teacher while picking up his daughter from sixth grade.
Erin, a mother in Fairfax County, Virginia, started noticing these coordinated right-wing attacks over the course of the last year. It seemed bizarre that the same rhetoric and violence appeared to replicate itself across the country. Then she realized the escalation on her own doorstep — a cadre of conservative activists were working to generate opposition toward the Fairfax County Public School Board and any parent who supported it.
"Seeing parents get berated online and silenced for speaking up, having people try to doxx me, and seeing things like the KKK flyers aimed at a school board member, all of these things make me fear for the future," says Erin, whose name has been changed for privacy. "It can only get worse as the movement grows."
As an alumnus of Thomas Jefferson High School, Erin was inspired over the course of 2020 to advocate for "TJ," as it's often called, to uphold racial and economic diversity in an education system rife with inequities. As a magnet school that requires standardized testing for admissions, Thomas Jefferson is disproportionately Asian and white compared to the community it's in. Erin didn't shy away from talking about this fact in a Facebook group for TJ alumni — but she soon noticed that one woman, Asra Nomani, was also monitoring the posts.
"Someone made a joke about 'occupying TJ,' and Asra ran with it and created this narrative about how we were going to endanger children," Erin says. "We didn't know she was an ex-Wall Street Journal reporter with 50,000 followers on Twitter. She wanted to create this news. And she did."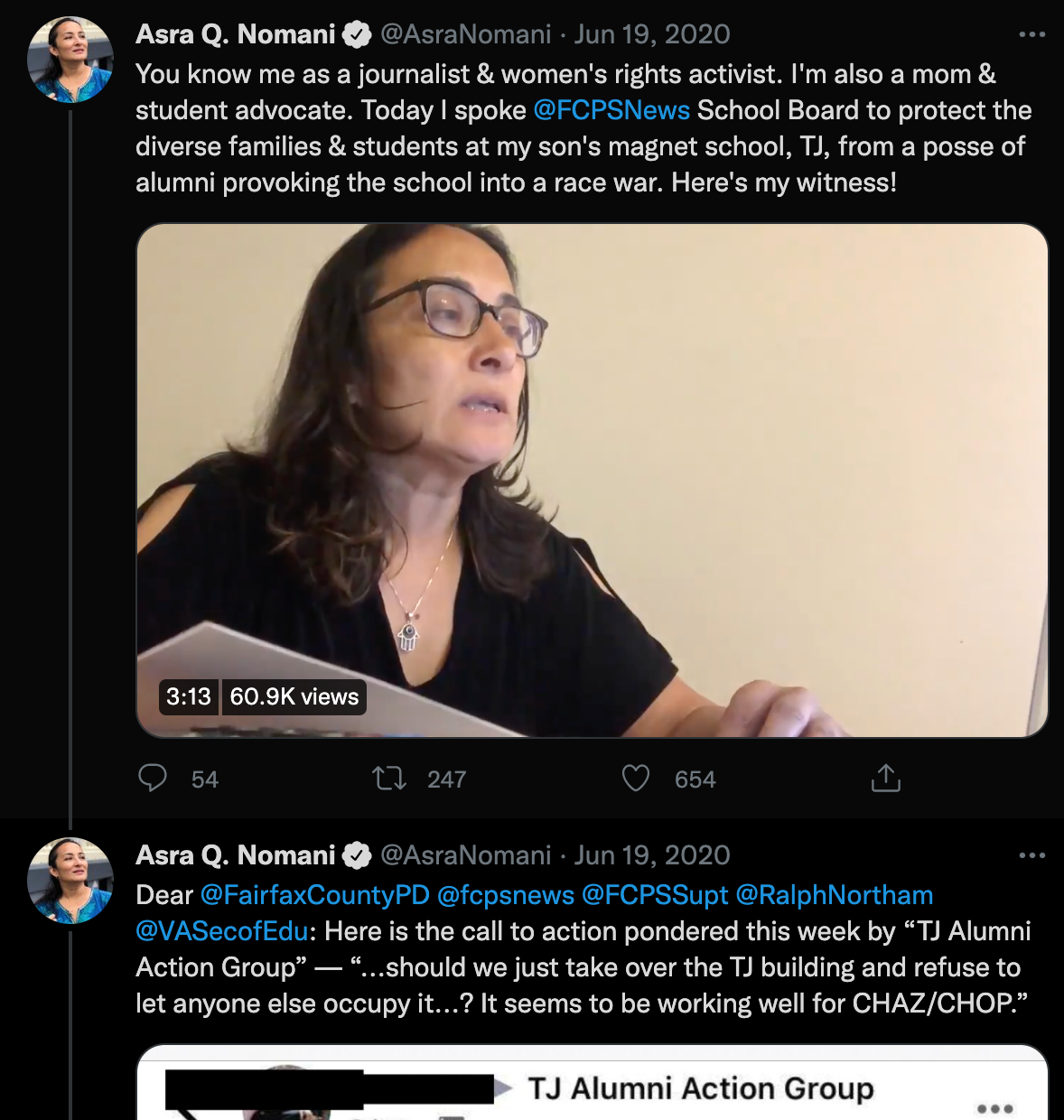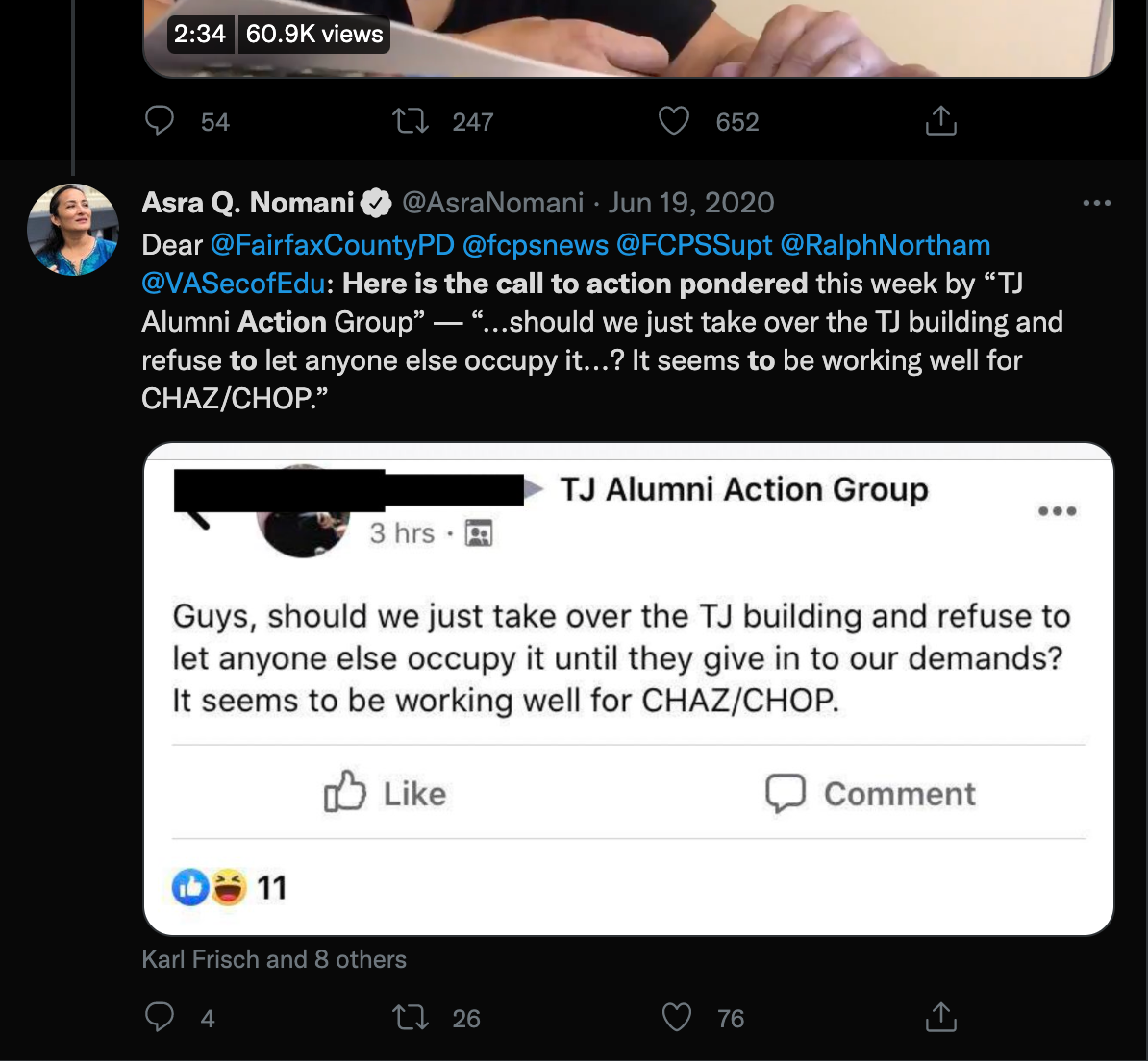 The burgeoning fight over admissions soon became the political flashpoint for an ideological battle over other key school decisions, including: the reopening of the entire public school system, the use of masks, the risk of COVID infection and Critical Race Theory. Nomani, herself a TJ parent (and a vocal opponent of teaching about systemic racism in schools), helped lead the charge. But what concerned Erin the most was how the tenor shifted from a discussion between parents into a public battle of threats and insults — and she was stunned to read accusations that the school district was being torn apart by Democrats, who were supposedly "woke-washing" and enabling a "race war."
"It was obvious early on that the same voices would attack any parent who said anything about schools needing to be closed for our safety. They would use the same talking points all the time, and eventually, I saw evidence that they were coordinating these points in another separate Facebook group," she says. "That's when I started to realize this was more of an astroturf situation than grassroots opposition."
"Astroturf" refers to the tactic of designing a political campaign to look like a grassroots affair, even though it's quietly backed by powerful institutions, people and dollars. As efforts grew at TJ, it dawned on Erin that this was just the tip of the iceberg of a new conservative movement that's attempting to warp school policies across the country.
In the last year, a number of so-called "grassroots" advocacy groups have cropped up in Fairfax County, ostensibly backed by local parents passionate about issues like school reopenings, oversight of budgets and admissions standards at magnet schools. Three entities in particular, "Do Better FCPS," "Coalition for TJ" and "Open FCPS Coalition," have generated momentum through a mixture of social media, appearances in the press and a coordinated attempt to recall three school board members. Scrolling through their sites and mission statements, these advocacy groups seem to have reasonable criticisms of what's gone wrong in Fairfax schools — namely, that some board members have wasted time and money politicizing certain issues and neglecting student needs.
But that's not how Erin saw it. She, along with a number of other Fairfax parents, became increasingly nervous as they watched a pool of misinformation and threats grow online. She started paying attention to the founders of the new advocacy groups and the loudest, most persistent posters on social media.
Much like how a "Save the Children" conspiracy became a QAnon grift, the activity around school boards has become a "pyramid scheme" of national influencers and activists stirring the pot of community politics, says Nicole Chenelle, a longtime community organizer and activist in Southern California who has been tracking right-wing astroturf campaigns.
"Your first reaction is that these parents are upset and it's an organic response to the pandemic, but when you start drawing lines between the loudest voices, a strategy becomes clear," she says. "In my mind, there's only so many coincidences you can accept. Trump activist Scott Pressler has literally been touring the U.S. for the last eight months teaching people how to recall their school boards. And the fact that all these right-wing figures are boosting and leading the movement says it all."
The momentum in Fairfax picked up last summer in a few different forms. Aside from Nomani, one of the most vocal Fairfax parents has been Sue Zoldak, a public relations expert who runs multiple projects, including a business consulting firm for Republican political campaigns called Zoldak Victory. At the onset of the pandemic, Zoldak began to criticize the Fairfax County Public Schools leadership, and then launched the "Do Better FCPS" website in May, seeking more visibility (and donations) for her tactics. Nomani and Zoldak have been doggedly involved in Fairfax politics since the summer of 2020, persistently building their narratives in community Facebook groups and PTSA meetings, and ultimately gaining mainstream attention for it.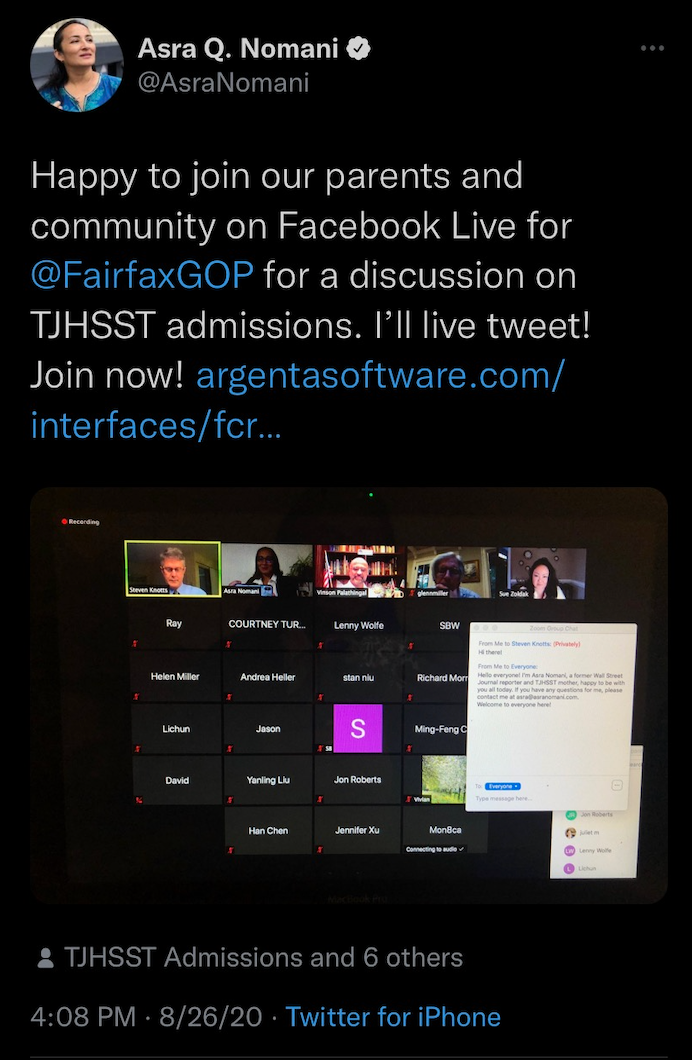 The two women appeared together in an August 26, 2020 livestream hosted by the Fairfax County Republican Committee, which discussed advocacy within the county's public schools. Also in attendance was Fairfax GOP Chairman Steve Knotts, Fairfax GOP Vice Chairman for Outreach Vinson Xavier Palathingal (who lost in the 2019 school board election) and a number of others plugged into local Republican politics.
After that meeting, additional projects related to TJ began to take shape. Nomani and meeting attendee Glenn Miller launched the aforementioned "Coalition for TJ," an effort to stop the admissions changes at Thomas Jefferson High School. The website for the campaign, a 501(c)3 charity, debuted on September 13th. Meanwhile, Zoldak received a $23,000 payment from the Fairfax County Republican Committee on October 20th for work via her Republican campaign firm, Zoldak Victory. (She claims Zoldak Victory was engaged by the Fairfax GOP to help reach voters with a sample ballot during the 2020 election that they normally distribute at in-person events.) A day later, longtime members of the Open FCPS Facebook group launched the "Open FCPS Coalition," which they say is a "bipartisan, grassroots" organization focused on safely reopening Fairfax schools and providing transparency around school policy changes.
In reality, the organization has received money from Republican funders, including $63,000 from N2 America, a conservative nonprofit started in Mississippi to advocate for school reopenings and politics, and $15,000 from Republican gubernatorial candidate Pete Snyder. Open FCPS Coalition's co-founder, Zia Tompkins, is a Republican insider who lost in Fairfax County's 2019 school board election. The other half-dozen officers have strong ties to Republican politics, too: Jo-Anne Sears is a political strategist who once hosted a Fairfax GOP campaign party for the aforementioned Palathingal. [Editor's Note: Sears reached out to us after publication and says that while she is listed as an Open FCPS officer on Virginia's Corporate Commission Clerk Information System, she had asked the organization's lawyers to remove her. She also maintains that she is not a member of the Fairfax GOP and that she has met with school board candidates from both political parties.] Catherine Lorenze is an experienced Republican operative who has been active in Fairfax school politics for a decade. And Hemang Nagar is a plaintiff in the Coalition for TJ-backed lawsuit against Thomas Jefferson High School's admissions changes.
A national-facing "grassroots" organization called Parents Defending Education, which launched in March, has also been actively boosting and legitimizing the work of Zoldak, Nomani and the Open FCPS Coalition. Leading the group is Nicole Neily, who has spent much of her career in the Libertarian right and is currently the head of campus "free speech" organization Speech First, which has deep ties to Koch funding. Nomani is also their vice president of strategy. There's also Fairfax resident Elizabeth Schultz, a Republican with anti-LGBT beliefs who was ousted from the school board in 2019 and was one of the earliest members of the "Open FCPS" Facebook group. She is now the "senior fellow" for Parents Defending Education.
Given the prevalence of people who have been, in one form or another, trying to make careers out of conservative politics, Chenelle argues that this Fairfax network appears as one giant grift, funded by a series of Republican committees, individuals and institutions. "When you look at social issues that are being dominated by the right, you'll see how frequently it's a dark money operation, with the same names continuing to pop up over time. They communicate through their own private network with its own little economy, then pretend like they're getting mass grassroots support from the broader public," Chenelle says. "But it's really just a cycle for the people they're directly influencing."
On its donations page, Do Better FCPS claims it's part of "Do Better Virginia," a 501(c)(4) "social welfare organization." But a search of IRS records finds no such organization registered. Although Parents Defending Education is listed as a 501(c)3 public charity, its disproportionate support for conservative causes may disqualify it based on IRS regulations.
In a multi-part response to my questions, which she posted on the Do Better FCPS blog, Zoldak claims that any inquiry into her organization's missing 501 registration is a "great question for the IRS, which is about 5 to 6 months behind in reviewing paperwork."
She also states that her talking points, including claims that there are "no correlations" between mask mandates and COVID protection, aren't partisan. "The only people who do obviously act along partisans [sic] lines is the Fairfax County School Board, who has prioritized carbon neutrality, school name changes and other highly partisan topics over education," she writes. Zoldak also appeared to have insight into questions sent to other organizations, including the Fairfax GOP, Parents Defending Education, OpenFCPS Coalition and Fairfax County Parents' Association (FCPA), speaking in first-person plural to state "we can confirm… no one from any of these groups has spoken to you."
The FCPA said in a statement that it "has no relationship with any other organization or political party and receives zero funding or in-kind support from any other organization or political party." Nomani, Parents Defending Education, Open FCPS Coalition and the Fairfax GOP didn't reply by press time.
Beyond the financial technicalities of these "grassroots" operations, the fracas in Fairfax has led to significant press exposure for people like Zoldak and Nomani, who have made appearances in articles, podcasts and mainstream media, including the Washington Post and Fox News. It's become a circuit for them to talk about the horrors of leftism, wokeism and why our children are under attack from forces who want to use them as pawns in a culture war.
In Erin's eyes, the intrusion of so many experienced conservative media members, political operatives and budding activists has turned a local debate into a circus that incites harassment and chills the voices of other parents. Erin has already seen the real-world impact firsthand. In addition to the KKK flyers, noisy activism from right-wing sources has led to the resignation of a Fairfax parent-teacher association official and suspicious ousting of Thomas Jefferson's PTSA president (both are women of color). And this summer, Fairfax Schools Superintendent Scott Brabrand — the target of Zoldak's first efforts — announced he, too, is stepping down after this school year.
This is part of a national trend that shows no sign of slowing down. There are more than 165 local and national groups aiming to disrupt race, gender and other progressive policy issues in schools, according to an NBC News analysis. The phenomenon is fueled by conservative advocacy groups and media, which has created the perfect storm for right-wing organizations to manufacture outrage and legitimacy through multiple layers of astroturfing. While the faces and names change, the tactics do not: Operatives use social media, lawsuits and recalls to incite angry conservatives, some who aren't even parents of students.
"And it works because people burn out," Erin tells me. "Parents and school board members don't want to deal with it anymore. People don't want to speak up because of it. They feel like they can't post anything online, worrying about how it'll impact their families. That's legitimate, but it's also how opposition crumbles."
The ferocity of the right-wing opposition is similar to the efforts of the Tea Party in the early 2010s and, more recently, of the QAnon network that allowed extremist voices to get famous by regurgitating faulty conspiracy theories, according to Jacob Gursky, a researcher at the Center for Media Engagement. The key is that there's now a "purveyance of professionalism" around these movements, with a hierarchy of leaders who have their hands in local fights, says Gursky.
"The people at the top are able to use double-speak on these right-wing issues to draw in a really wide crowd. These are people who are power brokers within their community, who have their thumbs on local politics and are adept at knowing who can shift narratives," Gursky says. "They're reaffirming radical views, and using those views to push people to get involved in any way they can — including flooding school boards. This isn't breaking news, but legitimization of radical ideas of the right by the GOP is more explicit than most people even know."
That's the big reason why Erin remains active in Fairfax school politics, despite everything she says she's been subjected to. "It makes me a hundred percent committed because the teachers are going silent. Local PTA leaders are silent. Principals are silent. The school board is silent," she says. "Meanwhile, the angriest, loudest, most resourced group can do whatever the hell they want? That's not right."
Editor's Note: A previous version of this story included reference to the FCPA without full context of their IRS filing status. A previous version of this story also incorrectly linked to an article that referenced a school board in Fairfax, California. We regret the errors.