My first sip of champagne came on New Year's Eve almost two decades ago — just a little gulp from a slender flute, passed to me by my mom after some mild badgering by me. 
Even at the young age of 11, I craved the experience of tasting new things. I already knew the flavor of beer and wine (just a sip each!), but I was unprepared for expensive champagne. The texture of the bubbles, the mineral funk, the different fruits that seemingly faded in and out with each sip… I glanced over at the orange label on the bottle and committed it to memory. It would be awhile before I could drink a full glass of the stuff legally. I very much looked forward to that day, though — as well as more sips stolen from my parents in coming years. 
I've only grown fonder of sparkling wine since. It hardly matters whether it's a $13 bottle of La Marca Prosecco, a $25 bottle of Roederer Estate or a $60 Veuve Clicquot; I think sparkling wine is great for pretty much any occasion, be it a weekend picnic or a night in with Netflix. 
Still, I caught myself feeling weird about splurging on champagne this New Year's Eve, given the state of the world and the fact that I'm moored at home with a girlfriend and two cats. But then I snapped out of it, and remembered a simple edict: sparkling wine, all the time. It hardly matters what budget you have. If you're looking for a festive treat to toast the arrival of a (hopefully less chaotic) 2021, my suggestion is to indulge in a champagne float with ice cream — a silly but delicious drink that never fails to brighten my mood. 
It would be fundamentally hilarious to make this with a $200 bottle of Dom Perignon, but something around $10 works just fine. Producer, region and price point aren't as important as simply finding a dry bottle of sparkling wine. Look for a "brut" or "extra brut" and you're golden.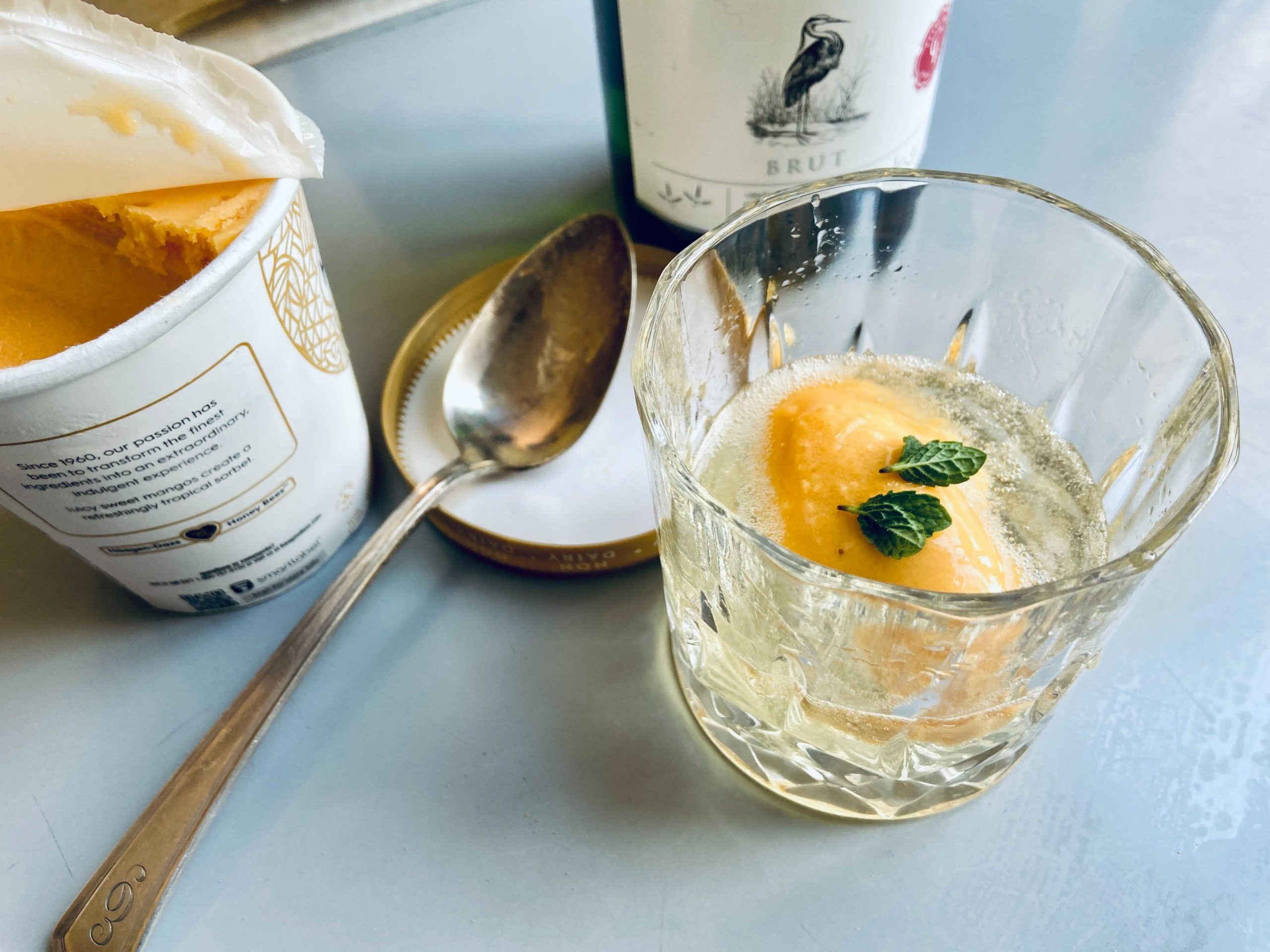 As for the "float" portion of this cocktail, the most sensible choice would be a fruit sorbet like raspberry or mango; odds are you've seen this twist on a mimosa at a bougie brunch menu somewhere. For my money, however, it's all about vanilla ice cream, in the style of a traditional root beer float. There's some special alchemy in how the acidity and earthy fruit of the wine melds with the delicate vanilla sweetness of ice cream. I know the photo for this story depicts a coupe glass, but I prefer making the drink in a lowball glass, which makes it easier to manage the fizzy reaction when ice cream meets booze. Garnish with a sprig of mint, if you have it, too. 
I might still go out and splurge on Veuve this week just for the nostalgia of it all. It's hard to shake Proustian memories of that orange label, and it would be good for the economy, I suppose. But I have a second $8 bottle of sparkling wine in the fridge, and I know I'll make another float before the year is done. When it comes to elevated booze on a budget, the champagne float is far more than the sum of its parts.