The shrill sound of shrieking engines echoes through the canyons separating the Pacific Ocean from the the San Fernando Valley on a wintry Southern California morning. Like a snake — if this snake were made up of several quarter-million-dollar supercars, engineered to sound like a demonic symphony — we wind through the shadowy cliffside roads. Sitting to my left in the driver's seat of his white Porsche 911 Carrera S is Arya, a 51-year-old life insurance salesman. Ironically then, to my right seems to be near-certain death. Not even 10 feet in front of us is a black Ferrari 488 and on our tail is a silver Porsche GT4S.
We're being led through the serpentine Stunt Road by a silver Porsche GT3RS, piloted by Ramin, aka "Rockstar," so called that because, as leader of the pack, he's the guy whose car is most likely to hit fallen rocks on the trail. Ramin is co-founder of the Canyon Carvers, a driving club made up of mostly middle-aged men who are still obsessed with their toys. "It's just guys who are into the finer things like cars, watches, cigars," says Arya. "It's like a boys' club — a little immature, but for the most part, it's a clean-cut, healthy hobby."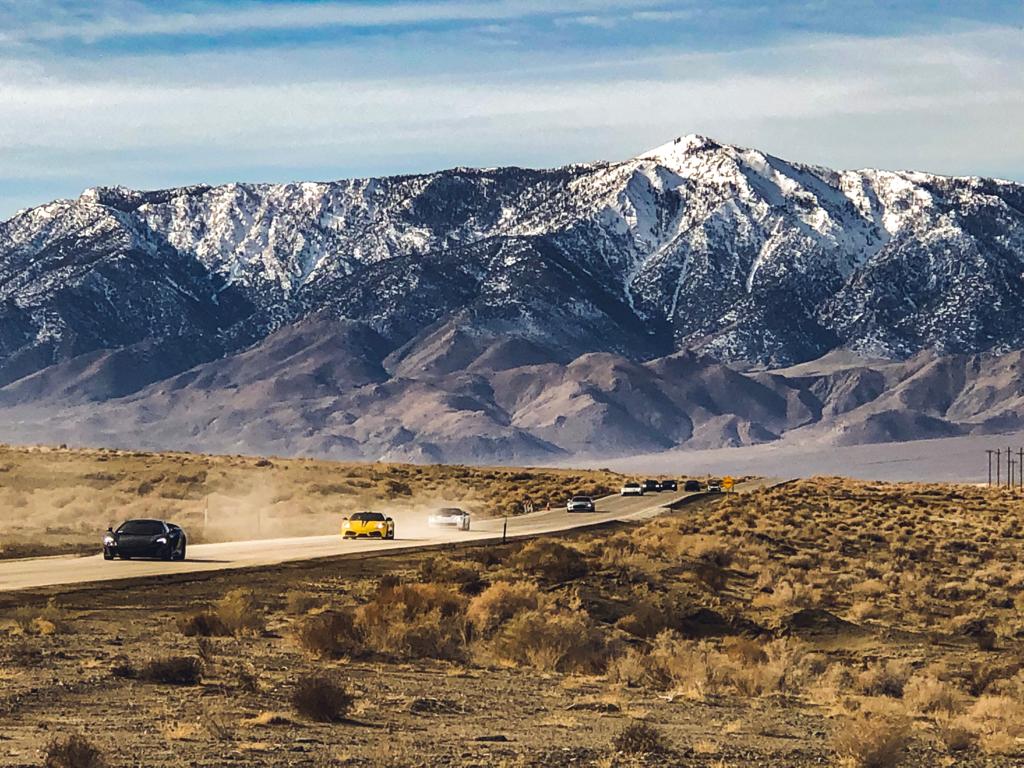 At least, it normally is. Today, however, the club's "hobbies" err more toward the knowingly immature. "Bwak bwak bwak!" one member's voice crackles through the walkie talkie sitting in the center console of Arya's car. He's imitating the sound of a chicken as we veer into open road, set against the newly plush green hills near Malibu Canyon that, just a few short months ago, were burnt black by the Woolsey fire ("Ramin helped save a few homes," Arya tells me. "That's how he got his other nickname: Kappitan.")
The chicken sound isn't, as you might expect, a playful taunting designed to challenge other drivers to put their foot down. "That's not what this club is about," says Arya. Instead, on this particular morning, the guys are preoccupied with a NSFW video that one of them blasted out to the group WhatsApp channel at 9 p.m. the night before. The apocryphal video — whose description I will cleanly sum up as footage featuring a man having marital relations with a chicken — will be fodder for nearly every joke made during the morning ride.
It all began a bit more innocently, of course. "The way it started, years ago, Allen [the other co-founder of the Canyon Carvers, whose nickname is "Dokkttor" due to his ability to doctor cars, modifying everyone's exhaust to make them sound louder] and Ramin used to go on drives with three or four guys," explains Arya, as we slow down to a stop at their usual rendezvous point overlooking Malibu, the smell of burnt rubber lingering in the air. "On one of their first drives they got pulled over by a sheriff. We've gone on over 100 drives since."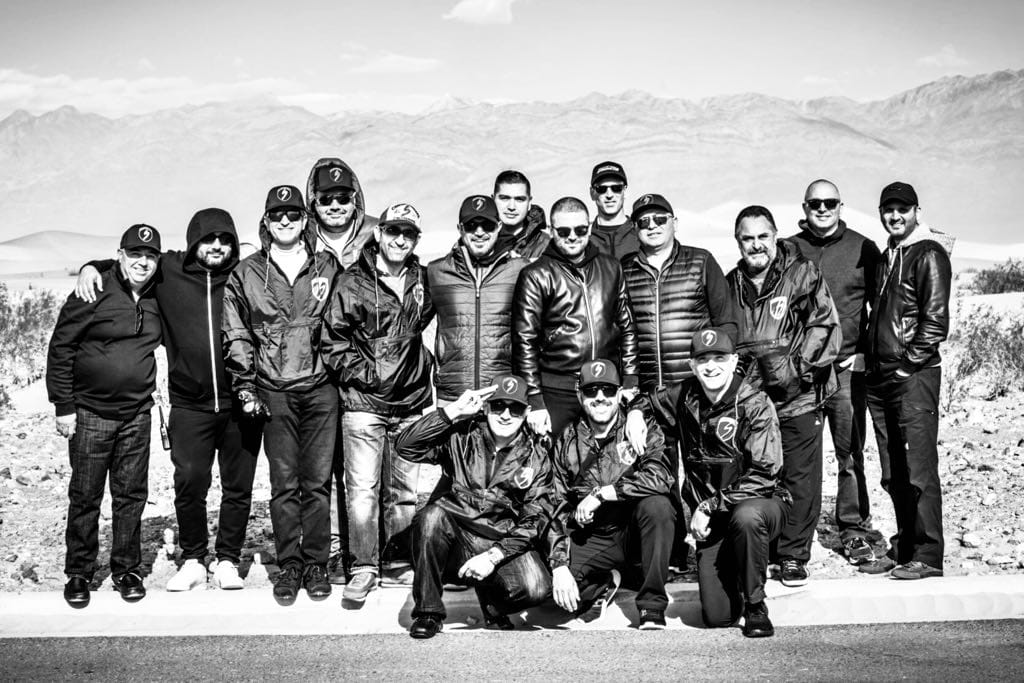 The Canyon Carvers are made up of mostly first- and second-generation immigrants: Armenians, Russians, Lebanese, Persians, Mexicans, Indians, Sri Lankans — and Mitch ("He's our token white guy," says one of the members). They have a private Facebook page and an Instagram (@CanyonCarversCA), which of course today, according to one member, stands for "Canyon Carver's Chicken Ass."
Most of the guys are either married or have girlfriends, but the drives, for the most part, remain boys-only. "We've tried to get our wives together for dinner, but a lot of them don't get along," says Arya. Some of the guys have also brought their wives along for early morning drives to Santa Barbara but that, too, hasn't quite worked out. "If we do a drive with them they're going to be like, 'What are you guys thinking? You're gonna kill yourselves,'" says Allen. "We don't need that." Which is why he adds that if he wants to spend quality time with his wife, there are more suitable options. "I spend quality time with my wife in an Uber," he says. "Somebody else drives, and I talk to her."
On other occasions, though, several of the members have brought their kids along with them. "When my son goes with me on the drive, he gets sick and he feels so bad I have to pull over — he actually throws up," says Arya. "And that's not just him. When you're a passenger and we're speeding through a windy road, it's not as fun." Because of this, Arya tells me, his son — who's also into cars — has begun to come along with his own car. "It makes me very nervous," he admits.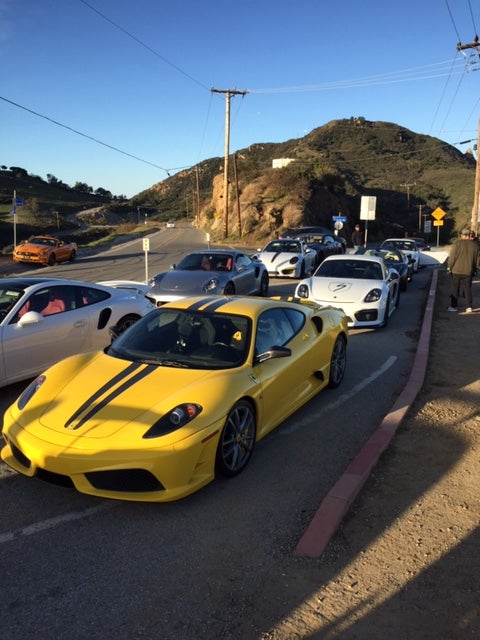 According to Arya, though the club existed before he joined, things really took off when, a few years ago, he created a WhatsApp group exclusively for club members. "That's when everyone took a more active role," he says. "We're always in touch 24/7. If someone is having a bad day, the rest of us cheer him up. It's like therapy: If someone is down, everyone immediately jumps in to take care of them. Really good camaraderie."
Some may argue even too good: "Since WhatsApp Live [the name of their WhatsApp channel], almost everyone gets in trouble with their wives for being on their phones," says Arya. "Instead of going on Instagram or Facebook, we'll be sitting next to our wives and just bust out laughing because of something one of the guys posted in the chat."
To gain entry to the group, you have to know someone inside. As the admin, Arya is in charge of adding people to the WhatsApp group. The club's accountant, Armado — who's in charge of collecting club dues, which they plan to donate to the families of fallen police officers at the end of the year — says that people post in the chat at all hours of the day. "Four a.m., five a.m. Either someone is going to sleep at that time or someone is waking up at that time," he says.
The other catalyst to help strengthen the club's bond was the introduction of their annual 12-hour drive to Las Vegas through Death Valley (accompanied by walkie talkies, naturally). "Before last year, we were close, but the radios and the Vegas drive really brought everyone together," says Allen.
Obviously, though, the main stitch weaving together men of so many different backgrounds and professions is a borderline perverse addiction to exotic cars. "Everyone does well, but not well enough to be driving $400,000 cars," says Arya. "They live in ordinary single family homes in Glendale and Northridge — not a big Beverly Hills mansion. They lease cars for like $5,000 a month, or they have a $400,000 Lamborghini in the driveway. Obviously they make good money — they're successful business owners — but they're not necessarily making a seven-figure income to justify half-million dollar cars left and right."
Allen, for example, owns and operates two insurance agencies, but his cars include a Porsche GT3 ($200,000); Ferrari 458 Italia ($180,000); and Mercedes SLS convertible ($160,000). Ramin, who's a general manager of a car dealership, owns a Ferrari 488 ($300,000); Porsche GT3RS ($260,000); and 1965 Shelby Cobra Replica ($90,000). Another member of the Canyon Carvers owns a plumbing company and drives a Ferrari 488 ($300,000); Porsche Turbo S ($220,000); and a 1965 Cobra Shelby Replica as well. "Most of these guys, their cars combined are valued as much, if not higher, than their primary residents," says Arya whose Porsche is worth 75 grand and who also owns a Ford GT ($350,000), along with a Shelby Cobra replica. "We all live beyond our means when it comes to our cars."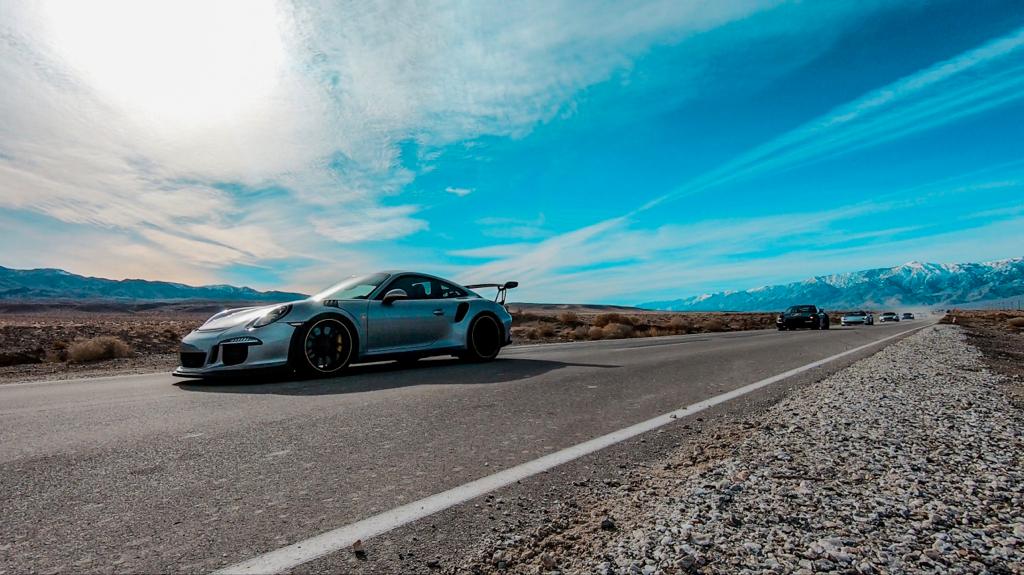 To that end, one of the members recently purchased a $200,000 car, but registered the vehicle in Montana, complete with a Montana license plate. Why? "Montana has no sales tax," explains Arya, adding that this is something many supercar owners do. "It's a gray area," he says. "But authorities don't like it."
He's right: To the uninitiated, Montana may seem like the supercar capital of the world. "Except there's one problem: None of these exotic cars have ever seen Montana. They're all registered there for tax purposes," reports Auto Trader. "Walk into a DMV in California to register your new $1.5 million McLaren P1, and you'll pay something like $120,000… for a license plate. That's like $17,000 per letter or number. It's $10,000 per inch of license plate. This is a lot of money, even if you have a McLaren P1. Most McLaren P1 owners probably did not earn enough money to buy a McLaren P1 by paying $10,000 per inch of anything."
Everyone in the club is at least self-aware enough to realize that in some cases, this level of living beyond your means can be too much for some people. "Some of the guys can't hang," he tells me. "We've had guys join the group, and they can feel uncomfortable because everyone is constantly trying to upgrade to newer and better cars."
Another pressure point for most of the members is navigating the space between their itch for a new toy and the pushback they're all but certain to receive from their significant other. "We joke around like, 'If I'm going to get the new upcoming Porsche, I've got to look for a divorce attorney,'" says Arya. "'Or shit, I better buy her a big diamond or a new watch, or maybe remodel the kitchen for her.'"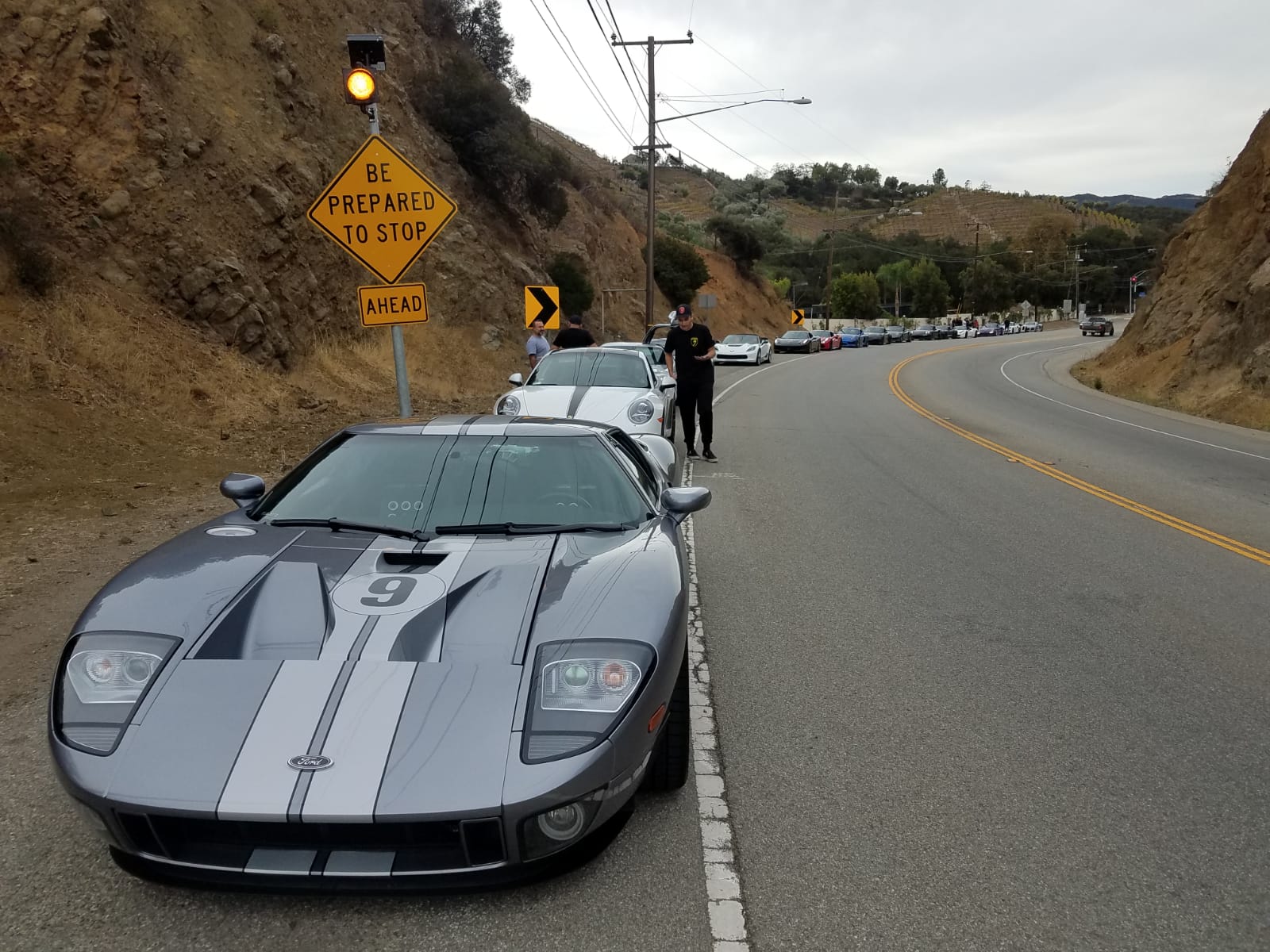 It's just past 7 a.m. by the time we begin our drive through the main section of today's route to the soundtrack of Kraftwerk's "Computer World." At this hour, the sun's warmth has yet to penetrate the still frosty concrete roads, where patches of half-frozen water could be waiting around every turn — a cute way of saying that the smallest miscalculation by one driver could result in a 16-car pile up and an accident report with collective damages costing up to $3 million.
"There's a one-way road off of Stunt that we've driven through that's crazy," Arya explains over the furious hum of his car's engine. "That's the one when Ramin got his black Ferrari [the one Allen now owns]. He said, 'Come ride with me,' and I was stupid enough to ride with him. It was an early morning, the tires were cold. We did a full 180 in the canyon and almost went over the edge. It was the first time he was driving his new Ferrari."
Still, everyone agrees that near-death accidents are rare. "There's no passing," says Arya. "It's not a race. It's just aggressive, skilled driving and good fun." He tells me that they've occasionally had guys come in who drive recklessly, but they quickly get reprimanded by the entire group.
Near the end of our drive, just before stopping for breakfast, we drive through the Malibu Autobahn, a car event set in the parking lot of Westward Beach. "It's a show; we're just going to drive through," says Arya. But it's also a much-needed pit stop for some of the guys whose middle-aged bladders aren't as accommodating as they once were. "I always have to pee," Arya admits.
Two other car events they periodically drive through: Supercar Sunday and Sunset GT. "There are other car clubs at these events," Arya says. "There's a crew called Cup Gang, there's a BMW group, Alfa guys, Ferrari guys. Everyone gets along." In that sense, the Canyon Carvers are just one amongst many other car clubs that help people (mainly men) forge friendships based on their common interest in automotive exotica.
We eventually arrive at a cafe in Malibu for breakfast where, despite the fact that we're a group of 16 people, we're seated immediately. "They know us here," says Allen. At breakfast it's more chicken jokes, more ballbusting, and of course, more car talk. "Everyone here has multiple cars," says Arya. "Classic Porsches, Mercedes, Mustangs. We drive those during our classic-car drives. Then we have exotic drives, which is almost exclusively for the supercars: Ferraris, Lambos and the super Porsches."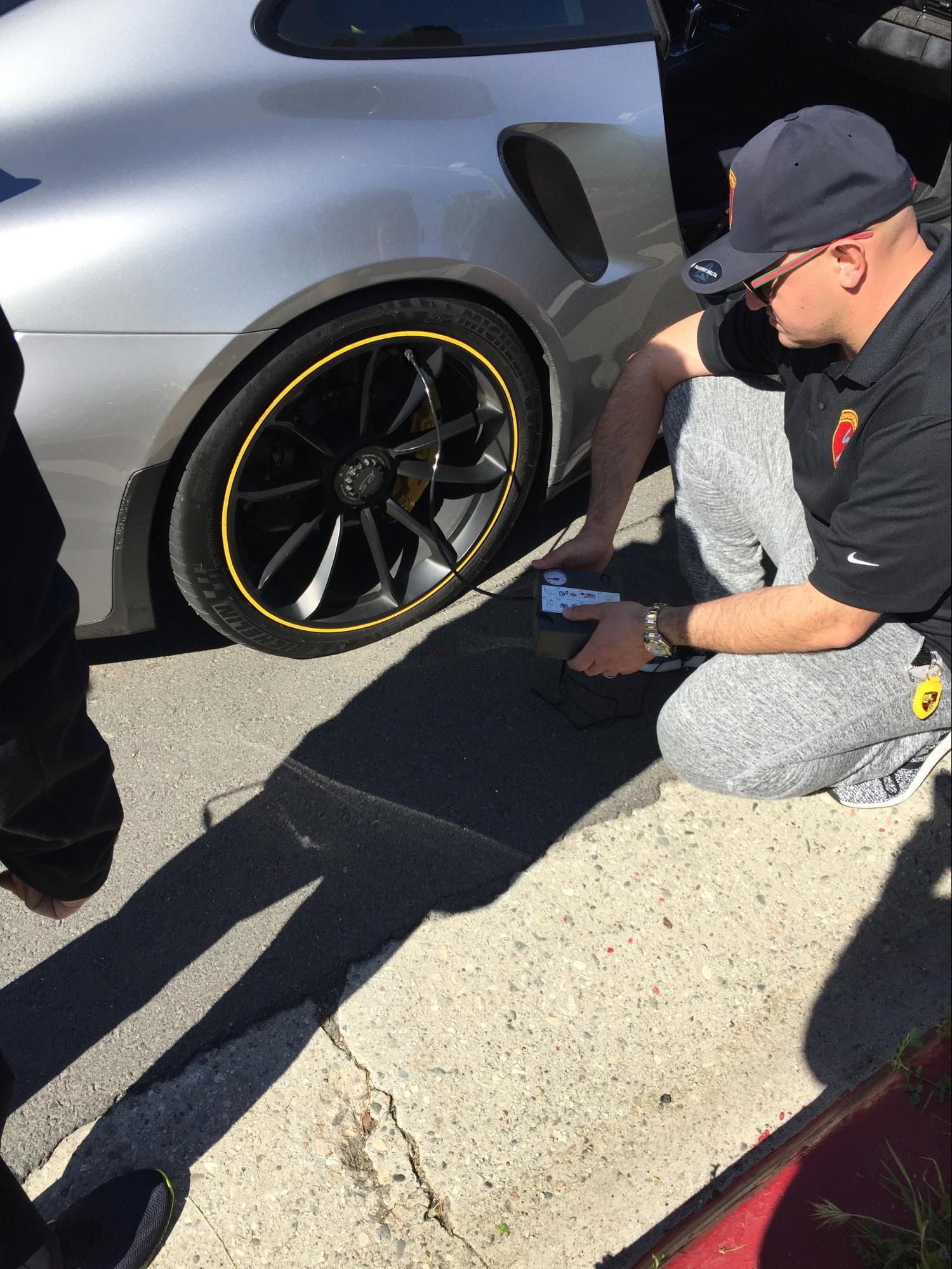 Breakfast ends at approximately 11:30 a.m., although most of the guys admit that they will likely be having another breakfast with their wives and kids when they get home. Everyone hugs each other goodbye, and within a few minutes, Arya and I are on the Pacific Coast Highway on our way back to his house. But once we turn right onto Malibu Canyon, he sees Ramin's Porsche pulled over to the side. "I got a flat," Ramin tells him.
Within minutes, the rest of the guys are notified via walkie talkie, and five other members of the club arrive at the scene. Like a pit crew, Allen helps Ramin fill the tire with FIX-A-FLAT Tire Sealant from Arya's car. Meanwhile two other members jump in their Porsches to go get a tire plug from the nearest gas station. As the still-deflating tire continues to spray a white frothy substance from the hole, where a nail is lodged inside, Ramin tells the guys to go home and not worry about him. "I'll get a tow truck," he says. "I'll be fine."
It's only then, as Ramin's recommendation falls on deaf ears, that I come to understand the sort of camaraderie and friendship here, one that most middle-aged men are so often deprived of. It's easy to judge these guys for their cliched obsession with exotic vehicles they can't really afford, not to mention their juvenile glee for poultry-themed video forwards. But in the midst of a silent loneliness epidemic — one of the biggest threats to the health of middle-aged men — there's something reassuring at seeing such a tight-knit group.
I may not really care about exotic cars, and the motion sickness from the drive continues to threaten to bring up my breakfast. Still, I can confidently implore: Leave the boys alone to play with their toys.