On Grindr, there's a new daddy on the grid. He's a silver fox with a white beard and peppered hair, chiseled in all the right places. And like any caring queer elder, he's offering twinks and lanks some advice on sex and attractiveness. In this column, which is called "Dear Dad" and lives on Grindr's new lifestyle site Bloop, the social app had a chance to prove it could adapt to a new era of intersectional queer identity and reject some of the discrimination it's known for.
Unfortunately, Dad is about as old-fashioned and outdated as it gets. He encourages followers to femme-shame when friend-zoning a hookup ("One clear way to let a gay male know that you're not attracted to him is to call him 'girl' or 'sis'") and closes the column by telling readers to re-download Grindr. Coupled with a newsletter prompt featuring the tagline "You've got male" and a photoshoot centering fit, muscular, cis-presenting men, Bloop debuted as something like the Barstool Sports of queer media, promoting a traditional brand of gay masculinity.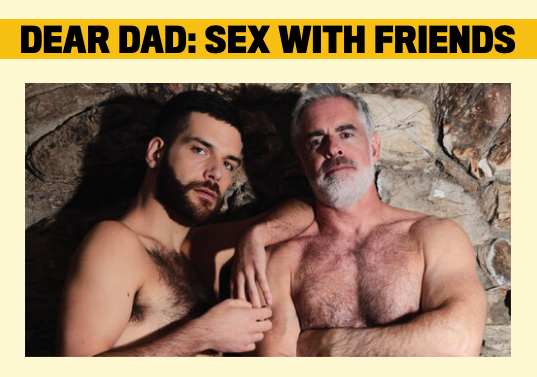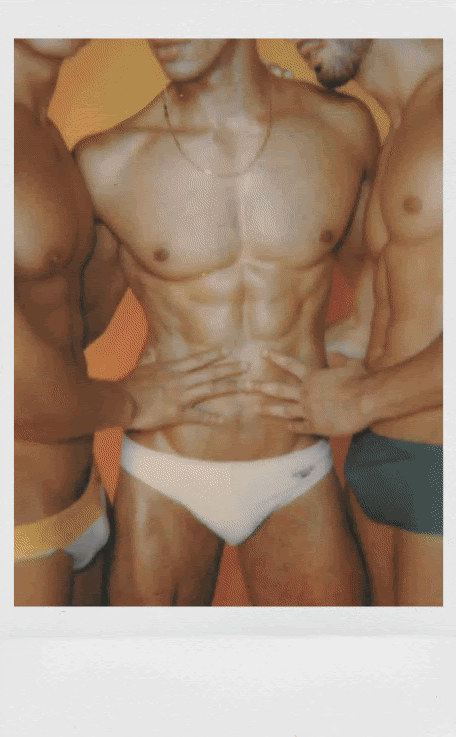 Phillip Picardi, who recently stepped down as editor-in-chief of Out, tells me he's not surprised by Bloop's voice: "If I refresh my grid and look at all the people on Grindr, I'm overwhelmingly going to see cisgender gay men." To him, Bloop is "another case of corporate people doing what they're going to do best, which is perpetuating evil in society."
On Twitter, Picardi joined several queer writers and journalists (some of whom previously worked for Grindr) in criticizing Bloop's debut. They noted that "Dear Dad" sounds suspiciously like a whitewashed version of Grindr's earlier self-help column: writer John Paul Brammer's "¡Hola Papi!"
Bloop's controversial debut is the latest entry in what's been a tumultuous few years for queer media. In December, Pride Media laid off the head editors at Out Magazine and the Advocate; Condé Nast's first LGBTQ publication, them, has downscaled since its 2017 debut; gay men's magazine Hello Mr. closed in 2018; Grindr shut down Into, its first attempt at a queer publication, in 2019; Mic, once packed with queer journalists of color, laid off its unionized editorial staff in 2018 and sold to Bustle Digital Group; and Instinct folded its print publication in 2015. Other high-profile queer creators — notably, former Vox video producer Carlos Maza and former them executive editor Meredith Talusan — have gone solo with independent YouTube channels, newsletters or book deals.
In 2020, queer media is hard to define. It's been forced to adapt to smaller corporate budgets and changing corporate interests — or tough it out independently. There are fewer dedicated journalism platforms and job opportunities for young reporters. Instead, there's content marketing aimed at LGBTQ audiences: Grindr's Bloop and Netflix's new queer vertical The Most.
After AfterEllen
Media as a whole is in transition. In 2019, roughly 7,800 people lost their media jobs and over 18 outlets shuttered their print magazines or disappeared entirely. "Glamour magazine can't even stay in print," Zach Stafford, former editor-in-chief of the Advocate, tells me. He was laid off in December amid parent company Pride Media's budget cuts.
Writers and editors I spoke with describe a double bind for queer media: It's viewed as trendy, so expectations are high, but also niche, so it's ultimately expendable when media corporations tighten their belts. "We're seeing how structural homophobia can be in the media," Stafford says. "The queers, we are the beginning of culture a lot of times, but we're also kind of the canary in the cave. [The Advocate] is a magazine that most people in our community aren't even subscribing to. How do you expect it to also stay alive?"
While independent queer blogs like AfterEllen, Towleroad, Joe.My.God. and Queerty have existed as long as queer people have been online, Grindr's launch of Into in 2017 was seen as an attempt at a digital-first, intersectional, national queer publication that wasn't churning out clickbait. Launched on the app itself, Into was set up for success with a built-in audience for real journalism. Reported features (such as LGBTQ caravan migrants seeking asylum in Tijuana, and writer Chase Strangio's column on transgender people surviving Trump's first year in office) were honored by GLAAD, the National Lesbian and Gay Journalists Association and the Transgender Legal Defense and Education Fund.
The trouble started when Into's lens turned toward its own corporate leadership. In 2018, Grindr president Scott Chen shared an Into article on his personal Facebook page and later commented on the post that he believes marriage is "holy matrimony between a man and a woman." Into reported on his comments, and the resulting article is said to be one of several reasons that, less than two months later, Grindr laid off its entire editorial staff, folded the publication and — this is a familiar refrain — pivoted to video.
Prior to this, Chen also sparred with Stafford, who previously ran Into as Grindr's chief content officer. "His big dream that he wanted me to do — that I said hell no to — was Bloop," Stafford explains. He says Chen wanted more pro-Grindr content, while he wanted unbiased journalism. (Grindr didn't respond to our questions about Into by press time.)
Remnants of Into still exist at Bloop, which publishes videos on Into's YouTube channel. Former Into writers fear their site is remembered more for its tumultuous final months than its award-winning work. Former Into contributor Ryan Khosravi, now social media editor at Glitch, tells me, "It's pretty dark to go from a pretty solid and diverse editorial staff to what can only be described as lowest-common-denominator gay™ content." Adds former Into writer Mathew Rodriguez, now an editor at TheBody, "Into was failed. I don't think Into failed."
Into reporters scattered to other publications, including Mic, Vice and rival queer outlet the Advocate, where Stafford took over as editor-in-chief. Stafford was part of a vital rebranding for Pride Media, which owns the Advocate, Out and a slew of other LGBTQ-focused publications. He was recruited by Picardi, who had moved to Out from Condé Nast, where he was chief content officer at Teen Vogue and helped launch queer publication them.
Picardi left them in December 2018 amid Condé Nast's downsizing and budget cuts across its nearly 20 publications. "Them was going to be part of that [downsizing] shortly after its launch," Picardi tells MEL. Reduced publishing and content budgets went against the vision he had for a flourishing queer publication at a leading media juggernaut — with the access, audience and money that traditional queer media blogs rarely receive. "We were able to pay our writers a lot of money and were publishing at a very regular cadence," Picardi says. "For me, [the downscaling] wasn't [due to] them's shortcoming or failures. It was a story about a corporation."
Pride and Prejudice
When Picardi got to Out at the end of 2018, he assembled a dream team of queer writers, most of whom have large social followings. He brought on Fran Tirado, fresh off the closing of gay zine Hello Mr.; Raquel Willis, a national organizer for the Transgender Law Center; Tre'vell Anderson, entertainment reporter for the Los Angeles Times; and Yashua Simmons, style editor for Hearst. At one point, Out's website was up 125 percent in unique visitors year over year, and its Instagram saw double-digit growth in number of followers, Picardi says.
Then, in January 2019, numerous freelancers banded together online via the hashtag #OutOwes, saying Pride Media had withheld compensation for articles, photoshoots and other work completed over the past few years. Picardi threatened to leave in May 2019 if pay disputes weren't settled.
In December, Out's reporters were forced to move on to new projects. Several senior-level employees at Pride Media — including the CEO, CFO, head of HR and CRO, as well as Stafford and Picardi — were laid off in December after it was revealed no further funding would be granted to the company, according to WWD.
Multiple former Out employees tell me that then-Pride Media CEO Nathan Coyle threatened to lay off the lowest-level Out staff to save money, and in response, the Out team took pay cuts two months after starting to prevent colleagues from losing their jobs. Most staff took 8 percent pay cuts; Picardi reportedly took triple that. (Pride Media didn't respond by press time to a request for comment on the pay cuts.) In half a year, Out went from 12 editors and writers to six. Following executive editor Willis' departure in February, the Out editorial team is down to just three full-time staffers.
Layoffs didn't hit the Advocate as aggressively. Only Stafford and a video editor who worked across all Pride Media publications were let go. Under his and Picardi's leadership, Stafford says, the Advocate and Out saw a lift of 40 percent combined across both sites in readership year over year. "We did everything [at Out] we were expected to do," Pircardi explains. "We didn't fail. The people who own Pride Media failed us."
Making the Most of It
Out's former deputy editor Fran Tirado left in September to launch Netflix's new LGBTQ+ content arm, The Most. "Most is a home for queer and trans talent and stories that come from the Netflix universe," Tirado writes via email.
Tirado's team is a who's-who of queer writers, including Out writers J.P. Brammer and Rose Dommu and former Mic style editor and video host Evan Ross Katz. At The Most, their job is content production and copywriting, not journalism. Like Netflix's other vertical, Strong Black Lead, The Most's work is a mix of public-facing interviews, podcasts and jokes on Twitter, as well as "a little less public-facing" consulting for Netflix, Tirado says. Also: "We want to get queer creatives paid."
It's a structure that allows writers to keep their side gigs as columnists: Katz and Dommu at Paper and Brammer independently running "¡Hola Papi!" as a Substack newsletter. They're representative of a new era in queer media in which former journalists must diversify their income streams in order to make a living in the era of rampant layoffs. "I've always maintained a lot of irons in the fire," Brammer says. "Media, in general, has never been stable enough for me to invest in any one company."
Many queer writers and journalists have gone independent in pursuit of maintaining authority over their work, including Maza. He departed Vox in 2019 shortly after an intense right-wing homophobic harassment campaign against him. Maza's bosses at Vox (head of video Joe Posner and editor-in-chief Lauren Williams) published an open letter in solidarity, which led YouTube CEO Susan Wojcicki to apologize and update policies across the platform. Still, a month and a half later, Vox canceled Maza's video series, Strikethrough.
Maza says Vox told him they didn't feel they had the editorial and logistical resources to continue giving him and the show the support it needed. "I'm very thankful I was able to use the company to build up an identity and that they didn't kick me out on the street after this happened," Maza says. "But I'm also obviously heartbroken. I lost my series."
Maza left Vox in January of this year to go independent. "I wanted to protect myself from going powerless again, and that meant going independent," he says. His YouTube channel has collected nearly 25,000 subscribers after his first two published videos. "I don't think I could have done this without YouTube, but I was forced to do this because YouTube fucking sucks," Maza explains.
He says he was able to go independent only because he had earlier success on YouTube, a sizable social media following and a family to financially back him should everything go south. Being able to skirt the stability of a corporate job is a privilege, he cautions. "I wouldn't want anyone to think of me as a model of activism," he says, "beyond the idea that you should do what you think is right."
Dancing on My Own
Independently owned queer publications like the women's magazine Autostraddle face a similar challenge. They're not beholden to as much corporate or advertiser influence over the content they cover, but they also lack the stability, reach and high-profile attention corporate media can offer. As a result, they're often omitted from the "future of queer media" discourse. "We're cut out of feminist and women's media conversations because we're gay. But we're cut out of gay conversations because we're women," says Autostraddle co-founder and CEO Riese Bernard.
Autostraddle launched in 2009 through crowdfunding. It debuted a membership subscription service in 2014 that's become common at many national publications. Though they haven't received the same attention as glossy queer publications like Into and Out, Autostraddle has survived, and they're not the only ones. Several smaller publications like Gayletter, Windy City Times in Chicago and NewNowNext are still producing reported queer news stories. "We haven't really had the money to make massive mistakes," Bernard says.
It's another catch-22. A smaller, leaner newsroom may decrease the likelihood of budget cuts and layoffs, but the funding isn't there to let editors offer competitive freelance rates to high-profile writers or raise funds through big, brand-sponsored events (like Out's Pride celebration in June). Bernard wouldn't recommend Autostraddle's model for anyone else. "If I could go back and do it again, I would have tried harder to get funding, or I don't know what I would have done," she says. "But the model of a bunch of people working for not a lot of money really, really hard for years and years is also flawed."
The history of queer media has only recently come to include actual corporations. (While editorially independent, MEL is owned by Dollar Shave Club, which is part of Unilever.) "My frustration with modern publications comes out of a fondness for what I remember queer media being — at a time when it really didn't yet have the ability to appeal to corporate advertisers at all," Maza says.
By contrast, them now runs sponsored content for Polo Ralph Lauren and AT&T. Its new executive editor, Whembley Sewell, has embraced social media as them's main platform, and the site has grown its following by 155 percent over the past year. "What others may consider downscaling, I consider to be the centering of intention," Sewell tells me. But it wasn't easy stepping in: "Things were in a really precarious position and people told me I'd only last a few months," she says.
As Stafford reminds me, the audience hasn't gone away. People remain hungry to read queer stories in any form, and there are countless journalists, writers and creators eager to produce them. Stafford says of the Advocate, "It's closed before. It came back. It stopped printing and came back. We as a community have fallen and gotten back up."
Daddy Issues
There is one big question I couldn't answer: Who is "Dear Dad"? And where did Bloop's femme-shaming come from? I reached out to Rich Burns, the older model in the photo attached to Grindr's article. "I have nothing to do with Bloop," he responded.
My best guess is that the column is written by Grindr's marketing team. A spokesperson for the app sent me this in a statement: "Following input from the Grindr community, we developed Bloop to give users a space to connect around sex, dating and everything else happening on — and off — the apps. So far we have received great feedback from our audience on the content we have put forward, and will continue to provide content that our readers enjoy."
But Brammer, who originally launched "¡Hola Papi!," still has Dad issues. "I wouldn't even have cared, really, if Bloop (God, humiliating having to type that word out) had done their own advice thing. Advice columns are everywhere these days," he says. What does irk him is that it's such a blatant ripoff — a "Google translation" of "¡Hola Papi!," which actually translates to "Hello Daddy."
Brammer recently turned his column into a book deal at Simon & Schuster, a sign that a career as a digital queer writer can be more stable and profitable. Still, Brammer has some advice for Dad on Grindr, who seems to think effeminate men are a punch line: "Stop deploying femininity in that way. A lot of gay men and queer people are very into femininity. Drop the Masc4Masc nonsense," he says. "Other than that, I wish Bloop, and Dad, an ounce of luck."