Five years ago, Ariana Grande achieved another mark on her way to pop music stardom: She committed her first big celebrity scandal.
It was 2015, and Grande, then 21, was in the midst of the Honeymoon Tour supporting her album My Everything. She took a break for the July 4th holiday and found herself in Lake Elsinore, California, with an unidentified beau. (It was a brief period in her dating life post-Big Sean and pre-Mac Miller.) They stopped by bakery Wolfee Donuts, and inside the store, Grande, clad in her signature oversized sweatshirt, spotted a tray of white frosted donuts on the counter. While employees looked away, Grande leaned in carefully. Like a lizard catching a gnat, she stuck out her tongue for a split second and — yes — licked a donut.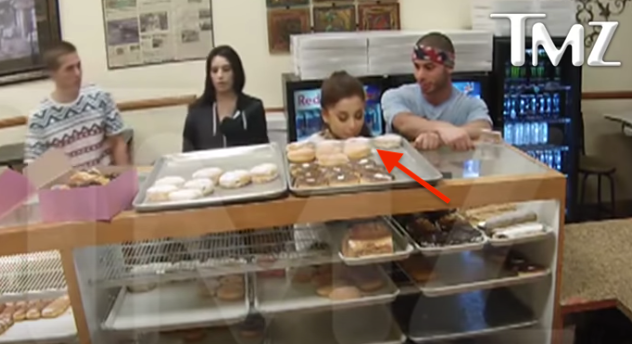 Then her dude did the same.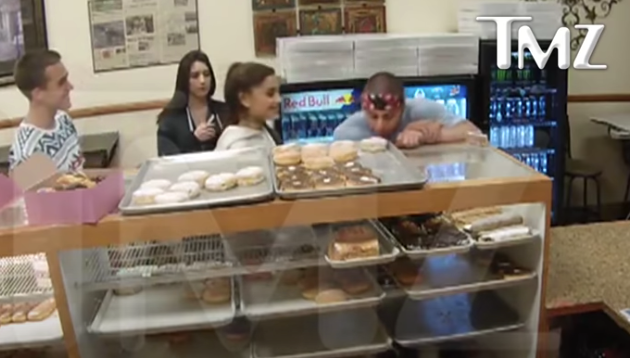 That wasn't the end of it. Grande spotted a tray of huge pastries and said, "What the fuck is that? I hate Americans. I hate America. … Disgusting." Then they walked out without buying the tongued pastry.
TMZ (it's always TMZ) somehow ended up with the released security footage of Grande and blasted it wide. The video caused an uproar. The owner of Wolfee Donuts pressed charges — it's still unclear on what grounds — against the singer. He told a Toronto radio station at the time, "I think she should be [charged]. If it was one of us or a regular customer, they would do something." (Would the store have charged a regular customer for licking a donut? Hmm.)
Grande issued a statement apologizing for the controversy and claiming the recording was taken out of context. She was "extremely" proud to be an American, she said, and her comment was a jokey response to the country's obesity rates: "The fact that the United States has the highest child obesity rate in the world frustrates me. We need to do more to educate ourselves and our children about the dangers of overeating and the poison that we put into our bodies. We need to demand more from our food industry," she said. (Grande doubled down a bit too aggressively here, but I respect the crisis management pivot to social injustice.)
What did "getting canceled" look like in 2015? Ask Ariana. She lost a gig because of the incident, was accused of fat-shaming and became the subject of intense judgment from TV show hosts. The donut lick was cited as one of the year's biggest celebrity scandals. The Democrats privately lambasted one of their most outspoken celebrity supporters, blocking her from a White House gala over the donut incident, Gawker reported (and, true to form, butchering her name as "Ariana Grand," "Arianna" and "Ariana Butera"). Fun fact: She was ultimately vetoed by a guy named Bobby Schmuck.
This was pre-President Trump, pre-#MeToo: The Donald hadn't yet numbed the populace to salacious public behavior, and the requirements for a celebrity exposé were still nothing more than a donut lick and a joke — and a female musician speaking candidly in the privacy of her friend group.
The Ariana donut scandal is a testament to how much has changed in the past five years for both celeb controversy and political speech. In 2015, it was a shock that a young woman would dare to joke about America being a country full of sugary crap to gorge on. Anything actually "political" could have been much worse for Grande. After the (then-Dixie) Chicks momentarily lost their entire career for expressing harmless thoughts about George W. Bush in 2003, female musicians further muzzled their opinions. Taylor Swift admitted last year she was "terrified" of speaking politically after watching what happened to the Chicks.
It makes sense why pop stars stay quiet publicly when every off-the-clock moment is scrutinized. In 2015, Tamron Hall used every octave of her serious-TV-journalist voice on Today to cover Grande's donut licking as if this were an assault allegation: "She's 21, and I think the apology is what stings as well. You're in a donut shop, [and] you're complaining about obesity. Sometimes when you say I'm sorry, it should just be I'm sorry."
Only Raven-Symoné defended Grande, speaking on The View: "I mean, it's all come out our mouths once or twice, when you're at a fast-food restaurant or something with a big ole cake and chocolate, and you're like, 'Oh, America, why'd you do this to me?'" She's 100 percent right — as I can tell you after walking a full mile for the Travis Scott McDonald's meal — but her co-hosts loudly disagreed. Candace Cameron Bure — yes, it was those years of The View — also questioned why Grande was in a donut shop in the first place if she cared so much about obesity. …Gotcha?
The vilification of Grande was stupid then, and it feels even dumber now. Since Grande licked the donut, our culture has been set on fire — literally and figuratively. A white nationalist reality TV host became president; congressional inefficiency in tackling climate change led to fires ravaging the West Coast each year; men at the top of the world were brought down by revelations of sexual abuse; a global pandemic halted life as we know it.
Grande herself has been through hell and back: She survived the Manchester Arena bombing that killed 22 people at her concert, grieved her ex-boyfriend Mac Miller's death, was groped on national TV by a pastor at Aretha Franklin's funeral and broke off an engagement with Pete Davidson. Always resilient, she gave us "Big Dick Energy," released three albums, won a Grammy and normalized depression sweatshirts as full outfits. She befriended Bernie Sanders and became an outspoken political and social justice advocate, speaking out against misogyny in the press and praising her "long bloodline of female activists" for giving her something to say.
Of course, Grande survived the dumb donut scandal. She did what all savvy singers do after finding themselves in hot water: distract us with new bops until we completely forget about the incident. But I still can't wrap my head around the fact that only five years ago, the biggest celebrity scandal was a 21-year-old channeling Homer Simpson while making fun of a country that's disappointing to us all. And it's time we forgive her. In 2020, licking a donut and hating America isn't villain behavior. It's instantly iconic.