When I started drinking cocktails in college, I only had one cardinal rule: avoid blue. 
A blue drink meant artifice. It represented a choice made with the mindset of a toddler who can't resist pretty colors. Blue meant something sickly sweet. Blue meant there was a hangover on the horizon. 
Blue meant AMFs. Shudder.
Well, a decade after I swore off drinking another blue cocktail, it appears the joke's on me. Blue drinks are back, baby, buoyed by a bevy of beautiful posts across Instagram and TikTok. I tried closing my eyes and forgetting every incandescent cocktail that caught my attention while I swiped, but alas. Maybe there is something magical about all those shades of sapphire, indigo, azure, cobalt, cerulean and aquamarine, after all. 
The blue-drink fascination isn't new — by some accounts, it dates back to the late 1800s, when the monied class of Victorian England became infatuated with the dazzling look of artificial blue dyes and started to experiment with its use beyond textiles. As such, people began using dyes in spirits, most notably curaçao, the citrus liqueur distilled from bitter oranges grown on the island of the same name and colonized by the Dutch. 
Jacob Briars, now the global advocacy director for Bacardi, dug into the history of blue drinks and observes that they were "all the rage" through Europe in the early 20th century, at the same time America staggered headlong into Prohibition. But that didn't mean the blue drink wouldn't have its time in the spotlight stateside; the mid-century tiki craze led to all kinds of innovations via blue curaçao, including the Blue Hawaii, concocted by the legendary Hawaii bartender Harry Yee in 1957. Although tiki culture faded away by the 1980s, blue drinks stuck around as a niche element of beach parties and college bars. 
Maybe it would've just died out over time, too, but the blue drink surged back into the cocktail zeitgeist in 2007. Briars decided to make a cheeky riff on a legendary tiki drink, the Corpse Reviver No. 2, using blue curaçao. He was inspired after seeing a bartending Facebook group with a very serious name: "A Jihad on All Blue Drinks." He named his bright-blue version the Corpse Reviver Number Blue, knowing that even cocktail snobs would be unable to deny it. And just like that, even high-falutin' bartenders obsessed with the craft and origin of cocktails began getting caught up in the fun of blue, fueled by Briars' success and all those clicks on social media. 
I still don't like blue curaçao, which tends to taste super-sweet and artificial; I definitely can't justify buying a bottle of sugar when I already have Cointreau waiting for me in the home bar. So instead, I think the clever solution is to leverage another trendy ingredient: butterfly pea flower tea, which stains any liquid a brilliant blue hue.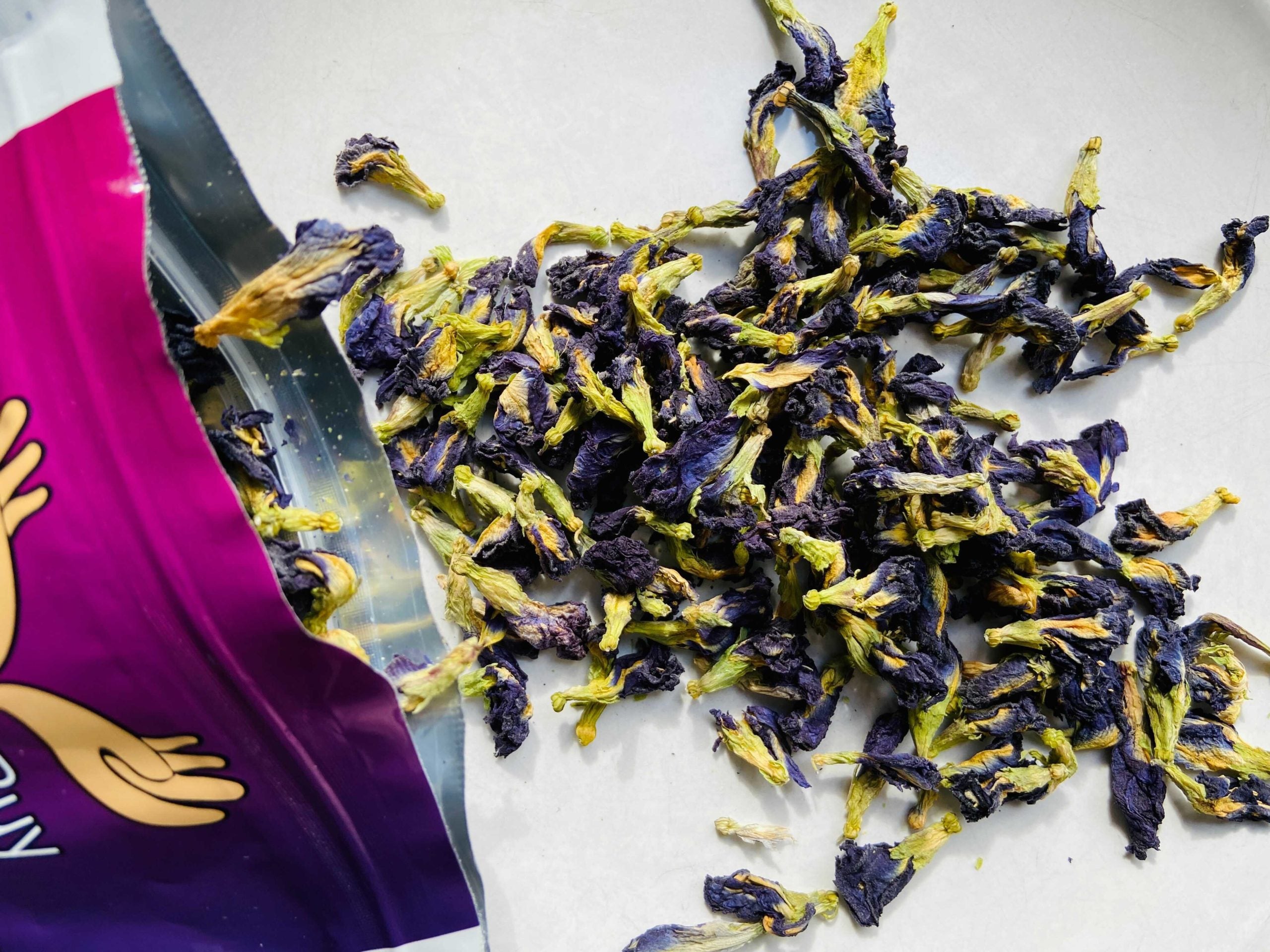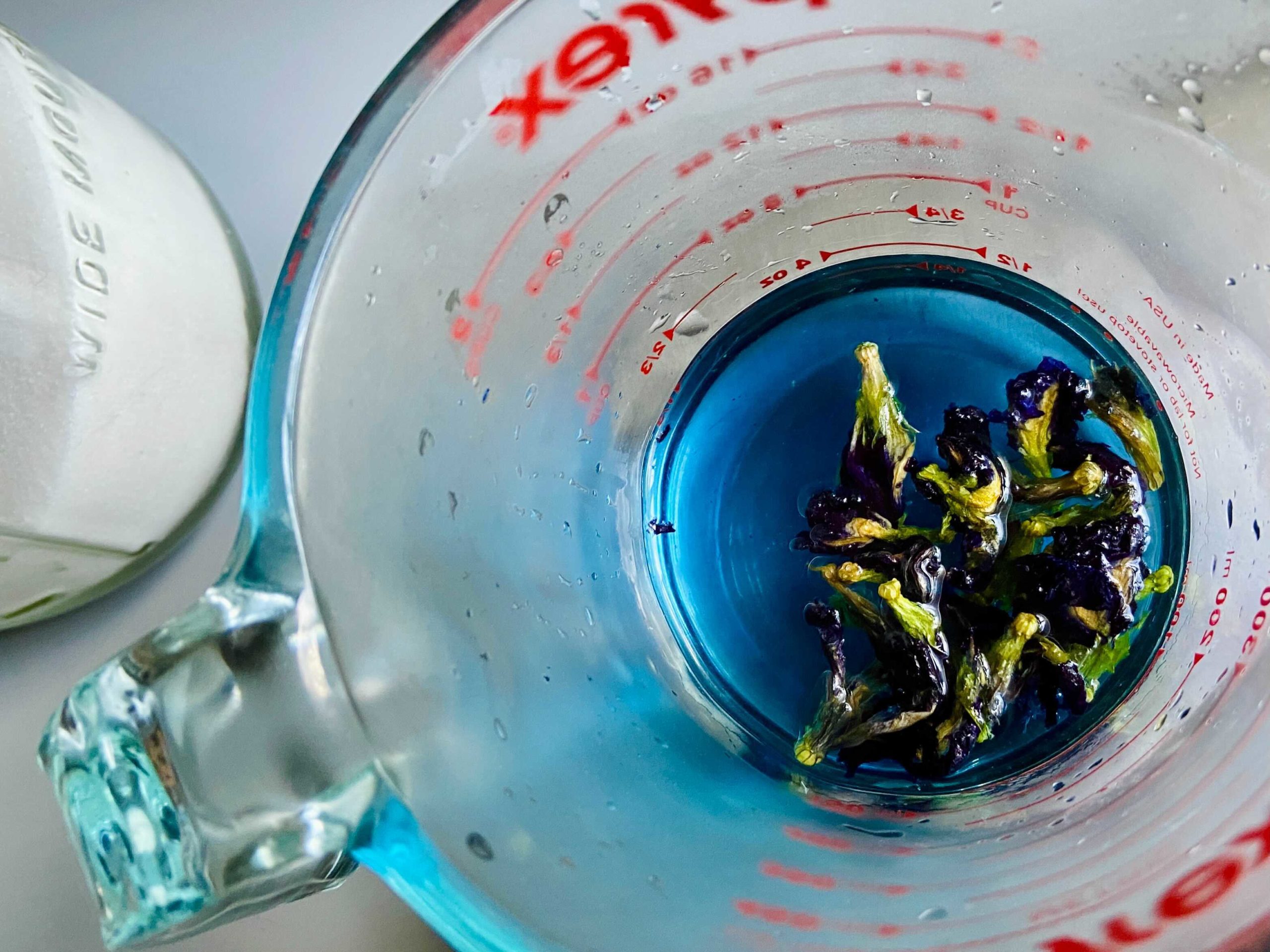 The dried flower is used across Southeast Asia, including in Thai restaurants where the blue color is used in desserts, puddings and tea. Butterfly pea doesn't have much of a flavor on its own — I'd describe it as a very subtle earthiness reminiscent of chamomile — but it can be boosted in a brew with intense ingredients like mint, lemongrass and ginger. Or you can use it to lend intense blue color to any clear syrup or alcohol, just by letting the liquid mingle with the flower. You can find the dried flowers at natural food stores or online; I bought a two-ounce bag for $15 off Amazon. 
You could use butterfly pea flower to stain any ol' clear orange liqueur into a bright shade of indigo, thereby making your own blue curaçao, but I decided to make three other super-easy infusions for my take on TikTok-viral blue drinks. All it took was putting a pinch of flowers into cups of simple syrup, gin and clear ginger-mint tea — no heat necessary, just a watchful eye. The flowers have such a powerful color that it only takes a few minutes to stain a jar of liquid, and you can reuse them; the first infusion tends to be darker and more inky than the second, which creates an aquamarine blue. 
The craziest thing of all? The blue color of butterfly pea flower is acid-sensitive, making it turn pink and even crimson in the presence of citrus juice.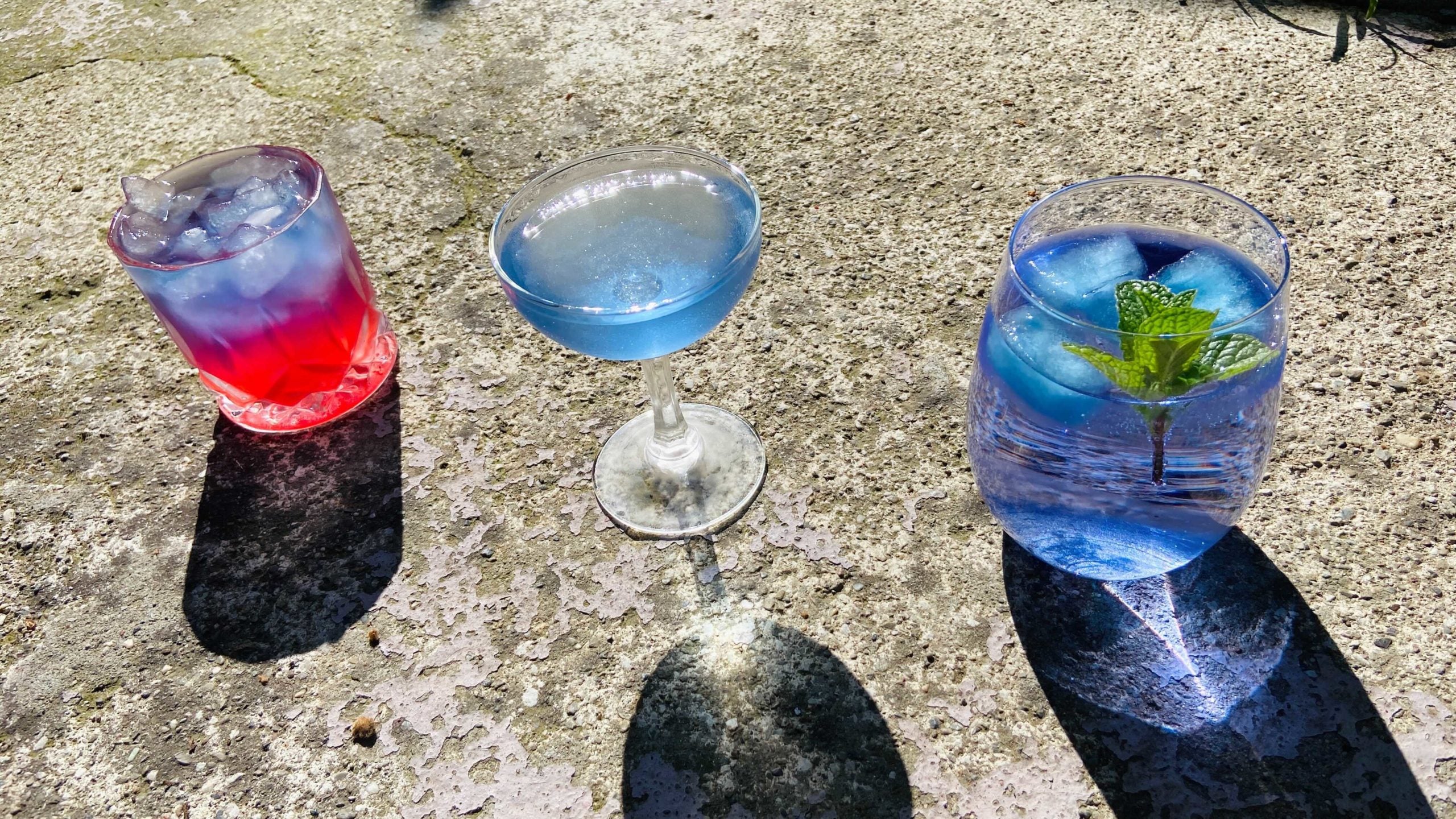 This makes for quite the party trick, even if the cocktail recipes are dead-simple. Case in point: The crazy blue-and-red drink above is just a glass of store-bought cherry limeade layered with a careful pour of mint and ginger tea, dyed blue with flowers — refreshing, nonalcoholic and psychedelic. 
Even without the acid-induced color change, there's something so dramatic about just a simple vodka soda, mixed with a little pour of blue simple syrup for sweetness. My favorite experiment of all, however, has to be the butterfly pea riff on a pre-Prohibition favorite known as the Aviation. Originally, the drink's distinctive pale blue color comes from creme de violette, a liqueur that tastes a bit like violet candy. To be honest, I really can't justify buying an expensive ingredient that I don't want to use in any other cocktail. 
Instead, I pivoted to using high-quality (clear) curaçao and gin infused with butterfly pea flower, alongside the traditional maraschino liqueur and lemon juice the cocktail demands. The key is to leave out the lemon juice when you shake the drink. Instead, you serve the juice in a shot glass; the crystal-blue drink turns pale pink when you pour the lemon in, which is why I call it "Aviation at Dawn." 
The Recipe
2 ounces of butterfly pea flower-infused gin

1/2 ounce maraschino liqueur

1/4 ounce orange curaçao

3/4 ounce lemon juice

Maraschino cherry to garnish
Shake everything but the lemon juice in a cocktail shaker with a generous amount of ice. Strain the drink into a coupe or martini glass. Drop a cherry into the glass and serve the drink with a sidecar of lemon juice. Pour the lemon juice in, watching the color shift from blue to pink. Sip slowly — this is deceptively strong stuff.