If you wanted to know which of my friends likes sourdough bread, I'd be able to tell you. Or let's say you wanted to know what has surprised my friend Bobby in life so far, or who my friend Josh's first crush was. I've got that intel, too. These aren't questions I'm asking them in real life; they're questions being fed to me by my Mii—an avatar, in a new app that I have recently fallen in love with called Miitomo.
Nintendo released Miitomo for iOS and Android this month as a way of dipping its toes into the App Store. Miitomo is essentially a personality quiz combined with another very popular non-app Nintendo game called Animal Crossing. You start by building an avatar, also known as a Mii, which you name, dress and release into the "world." Your Mii's life plays out almost entirely in one sparsely furnished room, where it lives alone; it only leaves when you send it to visit your friends' avatars' equally bleak rooms and chat them up. (Your friends can drop by your place, too, which they will … often.) The reason for this is Miitomo's No. 1 feature: talking to your friends. Once you've started chatting, your success is broken down into three metrics, which appear at the bottom of your screen: social level, fashion level and number of coins.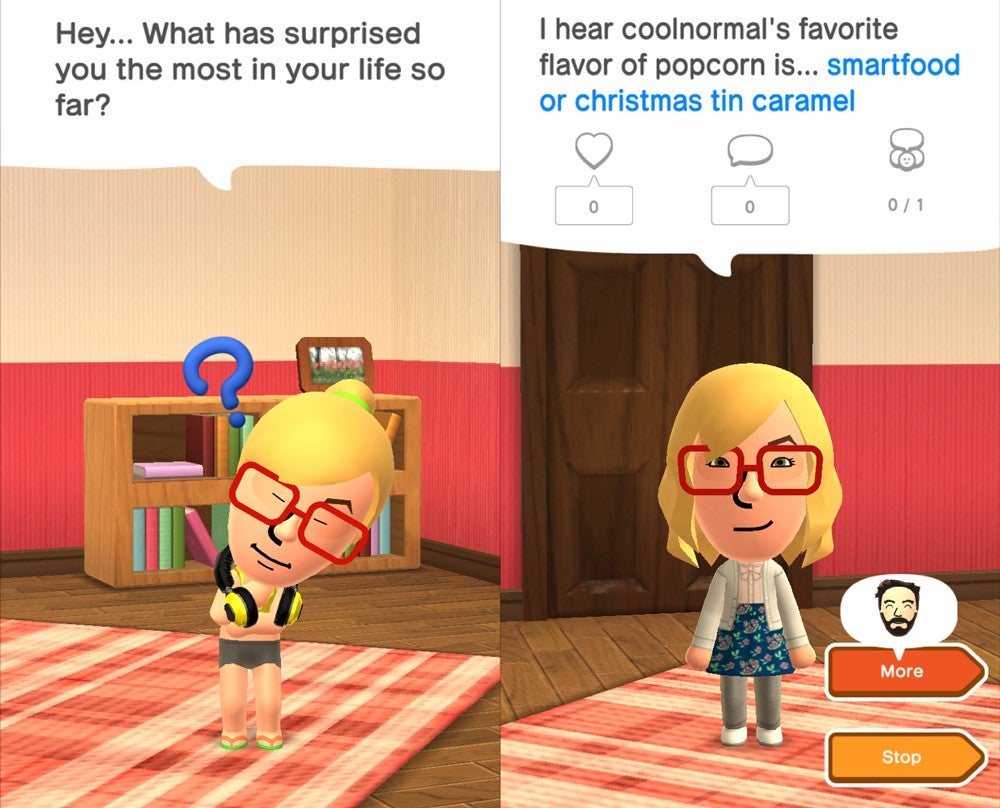 Miitomo traffics in personal information: Tapping on your Mii prompts it to ask you a LiveJournal-style preference question like, "Who's your favorite female singer?"; a hypothetical one like, "Imagine flowers blooming in your mind's eye … How many flowers do you see?"; or an aggressively personal one like, "Have you ever gotten a gift from your parents that you were really disappointed with? If so, what?" The game encourages interaction; for every question you answer, like or comment on, you are rewarded in coins. With enough coins, you're able to buy new clothes in the Miitomo store, which will help you level up as a fashionista. The levels have no perceptible meaning or distinction, but it doesn't really matter. Your primary objective in the Miitomo universe is much the same as in our own: to be hot and popular.
The especially fun thing about Miitomo at present is how unpopulated it is. You'll definitely have friends who are already on there; they're just not necessarily ones you're talking to on a regular basis. Sometimes it's nice not to be beholden to all of your personal and professional contacts on the 'net. Sometimes it's relaxing to fart into the vacuum of space and time with a factoid about your favorite movie and be rewarded with praise (and virtual coins). People on Miitomo are goofy right now; they're making jokes. A few of the questions — like, "What's your favorite commercial?" — could suggest that our answers are being used for marketing or data mining, but at this point, what app isn't selling your data to third-party companies? (As the saying goes: "If you're not paying for the product, you are the product.")
Some of the things you end up learning about your friends are oddly practical ("What's your biggest fear?"); some are less so (yesterday I learned that my buddy Andrew's first clothing purchase was a pair of American Eagle drawstring pajama pants). But at the end of the day, I feel closer to people. The only real "play" aspect to Miitomo is being attentive. Your intimacy is rewarded.
If Miitomo succeeds at one thing, it's proving that social media is a game, and as much as you'd like to think we're all out there commenting and faving with pure hearts, sometimes it's good to admit you're expecting a little reciprocity.
Please like and share this article.
Christine Friar is a writer in Brooklyn. She recently wrote on MEL about how to unfollow people on social media the right way.