The bright purple light cuts through the Orange County night as if it were a Bat Signal for Prince. It, too, is a symbol, but its intended audience is neither a mythical crimefighter nor fans of a recently deceased music legend. It's mostly for the drunk and hungry — those who have partied too long and late and who now require carbs and grease to stave off the ever-looming comedown filled with nausea and regret.
More importantly, it's also the beacon for Taco Mode, a co-branded experiment between Taco Bell and Lyft, wherein Lyft drivers will stop at a Taco Bell drive-up on the way to their passengers' final destination (presumably their home, where they'll likely pass out in a makeshift quilt of chalupa and gordita wrappers). For the moment, though, this experiment is limited to two weekends (this last one and the one before it) and a single Taco Bell in Newport Beach, another of L.A.'s sprawling suburbs that's about 45 miles from downtown.
https://www.youtube.com/watch?v=betdnMsNiic
That's where our Thursday night begins — at a bar just a few miles from the designated Taco Bell. Despite our proximity, though, the car icons in the Lyft app aren't turning into tacos, a sign that we remain outside of the Taco Mode zone. Not to be denied, we move closer, driving along the Pacific Coast Highway until Taco Mode has been triggered (approximately a mile from the Taco Bell in question).
Ironically, we park at a McDonald's located a quarter of a mile down the road. Within five minutes, Nizar, our Lyft driver, pulls up in a red Chevy Cruze. He's most certainly in Taco Mode. Like the sky above him, his interior radiates purple light. An iPad loaded with Pandora stations is pre-set to house music. And he even has a miniature printer that immediately prints small Polaroids of anything you post on social media with the hashtags #TacoMode and #Ridethru14 (the latter presumably changing depending on which Lyft you're in).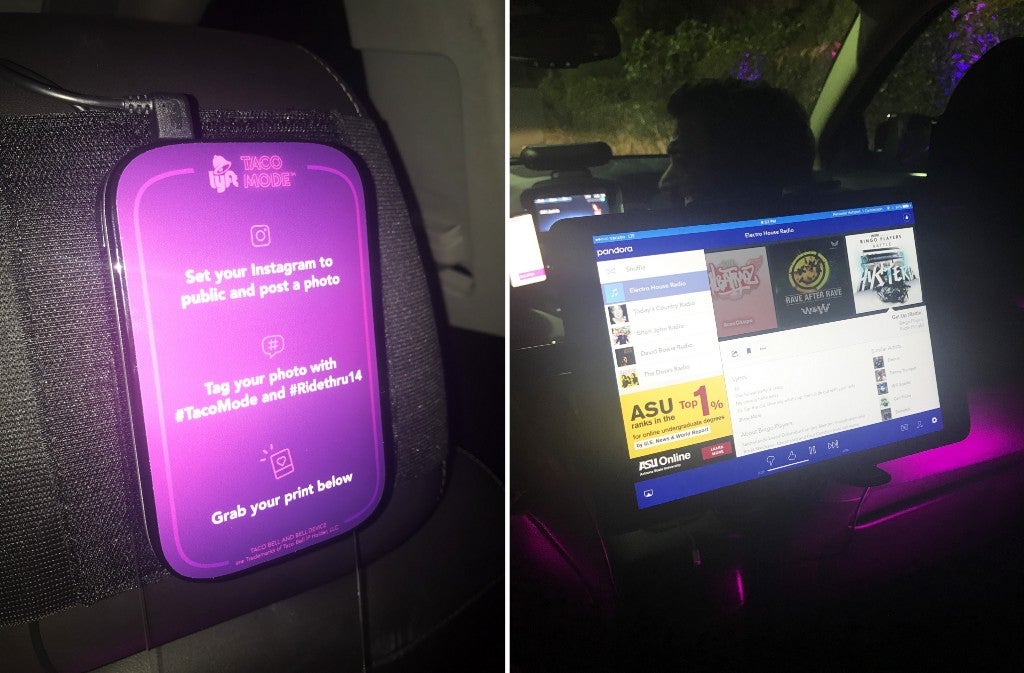 "You guys craving some tacos?" he asks while handing us two pairs of pink shutter shades.
He adds that he's cool with us eating in his car, but he admits that Lyft will compensate him for any damages. He also mentions that Lyft had hosted a Taco Mode briefing at a local hotel for the 15 or so drivers chosen for the promotion. "They selected all the drivers — people with lots of rides and a good star ratings," he says. (Not all Lyft drivers share his Taco Mode enthusiasm.)
We place our order (two cheesy gorditas and two grilled stuffed burritos) via an iPad in the car, and we're gifted two free Doritos Locos tacos as part of the Taco Mode promotion. According to Nizar, our detour will be factored into the final price of our ride, and the cost simply depends on the total mileage.
It's not hard to figure out where we're going. All we need to do is follow the purple and pink lights, which illuminate both the darkness and the Taco Bell structure itself. When we arrive, employees in Taco Mode T-shirts and a massive purple sign over the drive-thru that reads TACO MODE greet us. The background noise is mainly a much louder version of the house music playing in Nizar's car.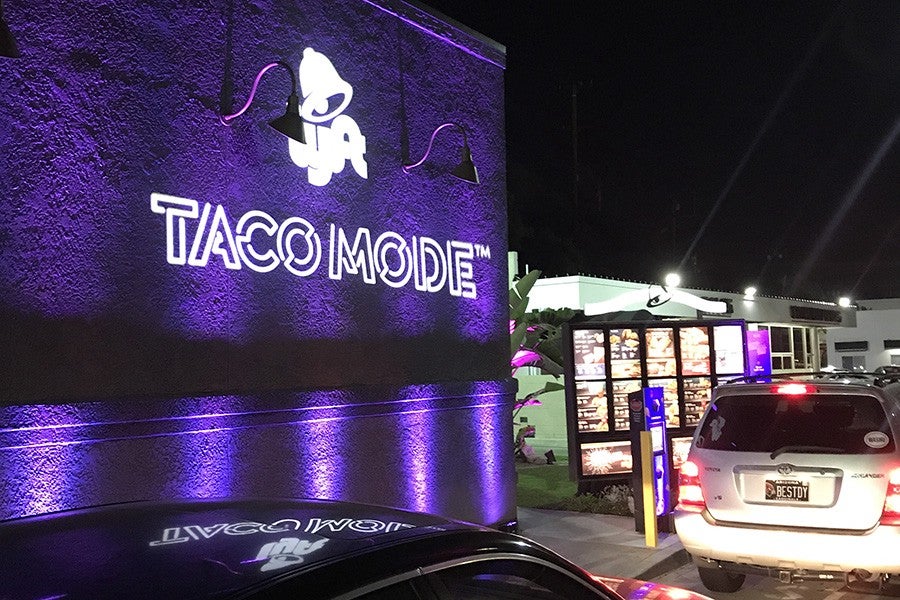 Nizar tells the woman working the drive-thru that we're Taco Mode users, and she responds with a loud "Wooooooo!" The other employees quickly follow with even louder "Wooooooos!" Throughout the drive-thru experience, "Wooooooos!" abound — from the speaker where we order to the window where we pay to the window where we pick up our order.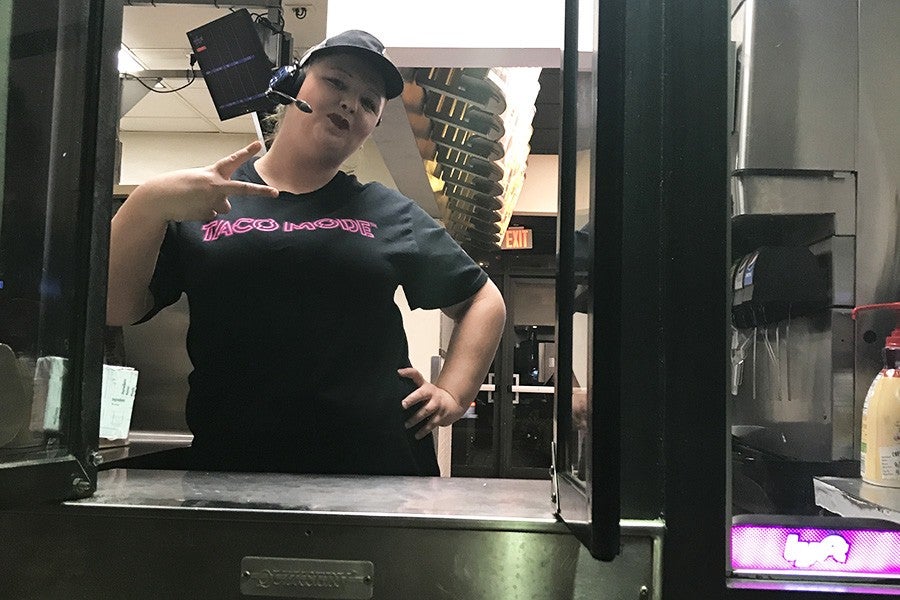 The food itself was fresh-tasting — no bullshit. (Especially compared to our previous experience with Taco Bell and its "healthy" options.) In fact, the burritos are more like double-stuffed Chipotle burritos than Taco Bell's standard toilet-paper-roll-size burritos. There wasn't enough time, however, to eat them in Nizar's Chevy Cruze, despite his insistence that we do so. (We're not animals — or drunk enough — to devour them without spending at least a couple of minutes properly unwrapping them and dousing them with the requisite amount of hot sauce, which again, Nizar was totally cool with us doing in his back seat.)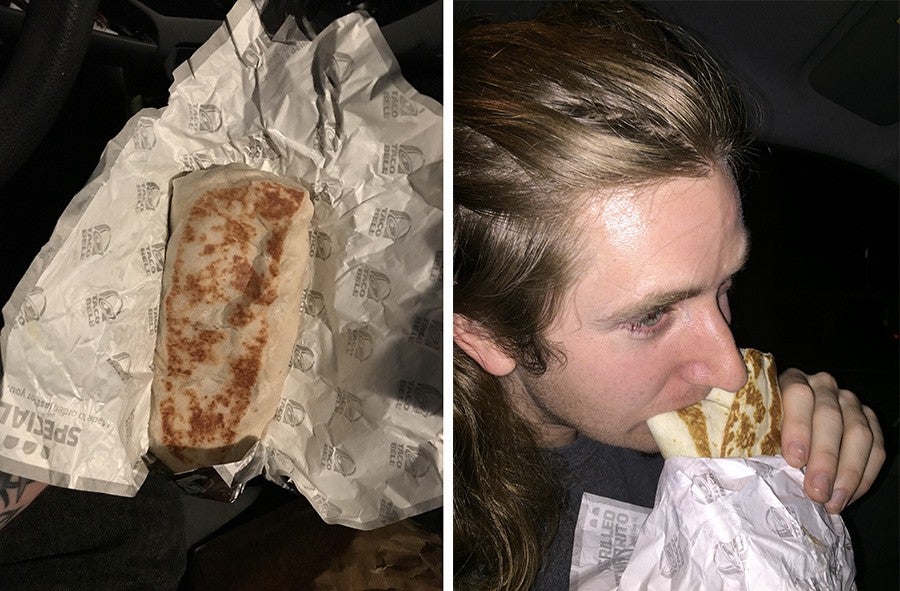 All told, our Taco Mode run only takes 13 minutes round-trip, after which Nizar drops us off back at the nearby McDonald's parking lot. When saying goodbye, he reminds us that he's been driving Lyft for more than three years and has provided more than 3,000 rides during those years. It's the one time he promotes himself.
We do the only thing that feels right in return — stink up our own car with our late-night fast food.