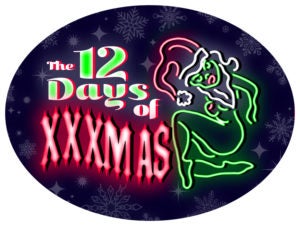 This year, we're swapping out the typical 12 days of Christmas for something even better: 12 days of sex workers who should absolutely be on your radar. Whether they're breaking new ground on OnlyFans, using their platform to call attention to issues like racism and immigration or shattering our ideas of who's "allowed" to make porn, sex workers are both reimagining what sex work can be and changing the world — one swingin', phalloplastic dick at a time.
Were it not for a merger at a button factory, bisexual porn icon Wolf Hudson may not be the adult film actor his viewers know and love today. Hudson, 36, has about 70 videos on Pornhub, which together have been viewed nearly 130 million times. But before he ever stepped foot in front of the camera in 2006, he was a bookkeeper for a button distributor — yes, like the buttons on your clothes — and he hated it. When the distributor was bought out, he was happy to be out of the dead-end job. The thing is, he needed a new one, stat. 
Hudson turned to Craigslist, where he discovered the site's now-defunct adult section and stumbled across a gig acting in straight porn. He'd never considered doing anything like that before — despite his full mouth, sculpted shoulders and smoldering, hazel eyes, it hadn't occurred to him that his body could pay the bills. But he liked the thought of it. "I saw [the ad] and something basically started tickling my senses," he tells me, the velvet tones of his voice giving way to his signature gap-toothed smile. "It was like a light just turned on. I've always been a creature of trying things, and if I don't like it, I won't do it again." 
Deciding to go for it was perilous for Hudson, who grew up in a strict Dominican household in New York City's Washington Heights neighborhood, a Dominican haven north of Harlem. His family was devout Catholic, and his parents banned him from going to parties or hanging out with friends. For much of his adolescence, his marching orders were to go to school and return back home, where he'd watch TV, play with his four siblings or sneak out when his parents weren't looking, only to be reprimanded later.  
In school, he earned mostly Ds and Fs, except in art class, where he excelled so much that teachers sometimes invited him to help instruct. Though he had plans in school to become an actor or animator, he ended up falling in love with dancing. Post-graduation, on a work-study scholarship, he attended a dance academy where he studied modern, jazz, hip hop and salsa. After that, he started auditioning across New York City for anything that needed a dancer; work, however, was tough to come by, which is how he ended up in the button factory, and then porn. 
Though he identified as straight and liked making girl-boy porn, a coworker tipped him off that he could make way more money doing gay scenes. In 2006, he was getting $300 to $600 for hetero work, but on the gay side, he could easily earn between $1,000 and $2,000.  
At the time, Hudson didn't consider himself bisexual, but that quickly changed after his first scene with gay performer Ben Andrews for Lucas Entertainment (which was also the first time he had sex with a man). Before his scene, Michael Lucas, the owner of Lucas Entertainment, asked him if he had sex with lots of men. "I lied," Hudson says. "I was like, 'Oh yeah, I've had sex with hundreds.' That wasn't true." Hudson says he felt like he had to lie to "create the persona of being promiscuous." 
Growing up, Hudson was never exposed to porn geared toward gay or bisexual men. He only really watched — or even had access to — straight porn. There was no computer to surf the web, either. Hudson came into his queerness by performing in porn. He now identifies as bisexual and heteroromantic, having only had romantic relationships with women.
After starring in a few gay scenes in the mid-2000s, he landed his first bi role with legendary gay porn director Chi Chi LaRue in the 2008 feature film, Shifting Gears: A Bisexual Transmission. "He liked my acting and performance style," Hudson says of LaRue. "He thought I was a really good actor. So he wanted to put me in a very special movie he was coming up with."
In Shifting Gears, Hudson plays the domineering, authoritative boss of a car shop and his scene is the first in the film. While he has sex with a woman, one of his coworkers imagines having sex with him. Finally, Hudson participates in the full-garage orgy that comprises the final act. The film was considered controversial at the time for featuring gay porn actors like Blake Riley having sex with women, and in the press release for the movie, LaRue coined the term "straight-for-pay." Hudson ended up being singled out among the cast for a GayVN Award nomination for Best Supporting Actor, making history as the first actor to earn a GayVN nomination for appearing in a bisexual film. 
This was a turning point or Hudson, whose only real exposure to the idea of queer sex had been in the form of queerphobia growing up. I speak to him Boricua writer to Dominican actor — while many people believe that Latinx communities are inherently more homophobic than the general population, which data has dispelled, there are real problems of machismo in our communities. These can be hard to unlearn for men whose sexual or romantic interests deviate from hetero norms. "There is a lot of misogyny in the culture," Hudson says. "And a lot of it has to do with 'Men are men, women are women.' You can't deviate from that."
Despite the cultural messaging he received, he says that at home, he often got an opposite impression: Women were strong, made decisions and took leadership roles. However, he was often told by family members growing up that LGBTQ+ people had a "mental illness."
Hudson says he never really "came out" as bisexual after beginning to do bi porn. "I've never been fearful to be myself," he tells me. "I was never repressed or felt I had to conform to an identity around me. I was always an individual and I got that from my mom. My mom was fiercely independent and very strong spoken, and I'm very much my mother's son." Hudson is now out to his immediate family as a sex worker, and he feels "lucky" that they're accepting of his film career.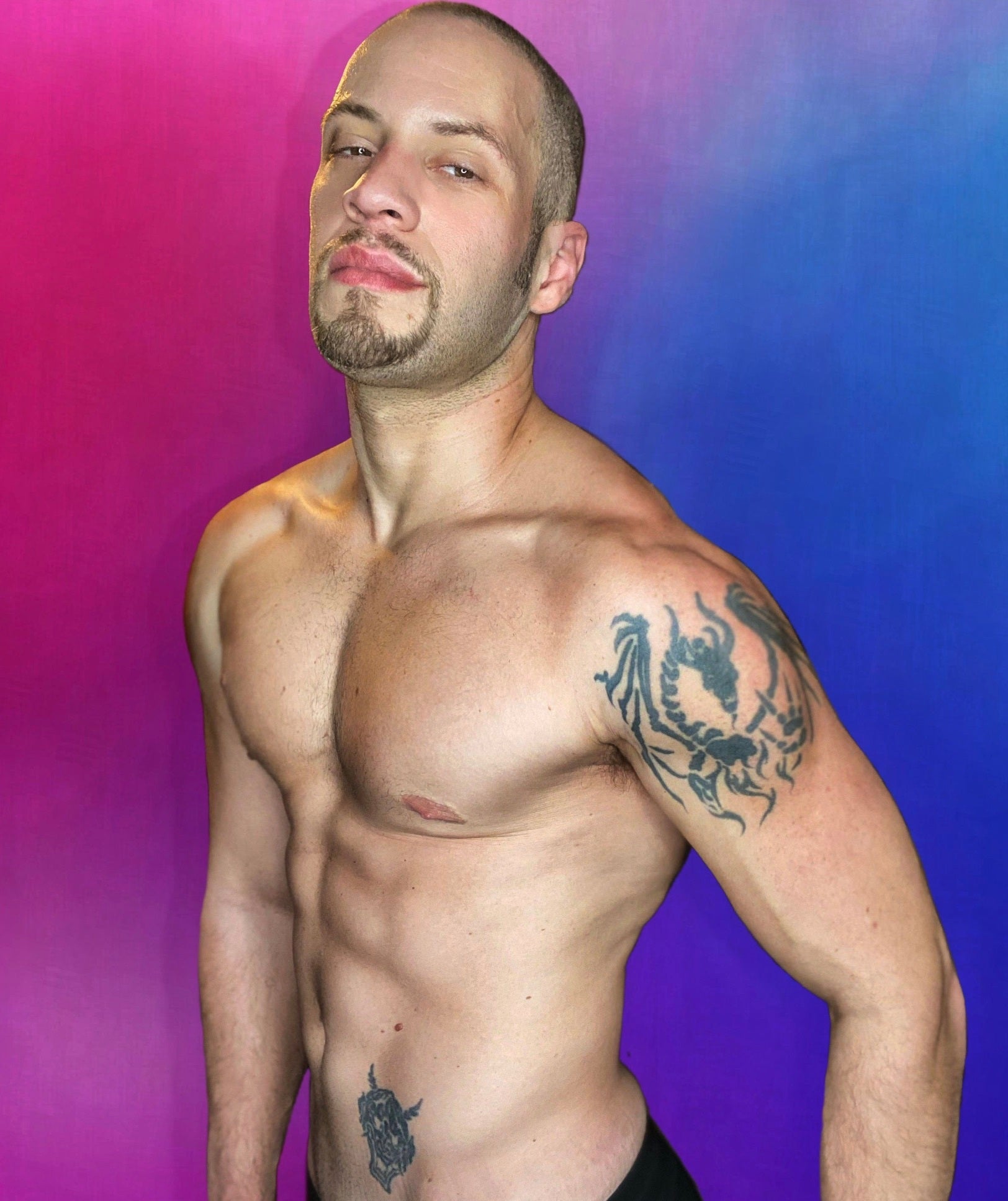 Hudson continued to appear in porn — gay, straight and bisexual — up until his retirement in 2016. He hung up his jockstrap due to politics. Both gay and straight porn were particularly harsh enviroments for a bisexual performer who worked on both sides. "If you do gay porn, you're blacklisted," Hudson says of working in heterosexual films. "Nobody wants to shoot with you for fear of HIV." Some producers and directors would also refer to gay porn actors as "high-risk" rather than utter the three stigmatized letters. 
Conversely, there was a different stigma for gay porn actors who did straight porn. Often, actors who were considered "gay for pay" were chastised for their performances. According to Hudson, these actors, who were straight in real life but acted in gay porn, were considered mechanical and inauthentic. "It was really prevalent, so I had to make sure my performances were top notch," Hudson said. 
But while other actors changed their names between gay and straight films, he was billed as Wolf Hudson in both. "I was doing it very openly to try and change the culture," he tells me. "And there were points where it seemed like it was working. Then there were times when it failed miserably. Somebody would pop up positive for HIV who was doing straight porn and immediately all eyes would be on me."
In retirement, Hudson began to pursue other interests, including voiceover work and improv comedy, taking classes at L.A.'s Upright Citizens Brigade. His retirement also coincided with the death of his mother, which spurred a depression that caused him to lose his sex drive. Once he recovered, he knew he was ready to have sex again, and in 2018, he decided to return to porn — but only to act in bisexual films, produced by studios like Devil's Film, Biphoria and Metro Moves. By that time, filmmakers had started to produce more bisexual content after years of worrying it wouldn't sell, a change Hudson hoped would lead to him having a better experience.
Soon after his return, Hudson started a Pornhub account and posted two videos with a couple who'd invited him into a threesome. One was a straight POV blow job; the second was a 30-second clip of Hudson getting fucked from the male partner's point-of-view as he made out with the woman. "[The blow job] didn't do anything. It was crickets," Hudson says. "But when I posted the bi one, it skyrocketed almost overnight." 
Building upon that success, he posted another clip with the same couple where he fucked the female partner, followed by them both sucking the male partner's dick. Hudson says that one blew up even more. Next, he filmed a bi video with two scene partners he was shooting with on a studio set. "It was the same reaction," Hudson says. "People were just loving it, and they were requesting more. That's when I felt, 'Okay, let me shoot bi stuff, and let me see if I can sell it.' And once I did, people were completely blown away and buying it like crazy. Clearly there's a hunger for it." 
So, what makes a porn film bisexual and not just, like many straight porn scenes, a scene featuring people of two genders? Hudson says it all boils down to chemistry, and that he has a "spidey sense" for pairing actors together. "I can tell when a performer is more dominant and may be able to bring something out of another performer," he tells me. "I make a big emphasis in casting and making sure that it's the right people that will not only mesh together, but will mesh with me." 
Moreover, he continues, "A lot of the time you find bisexual porn is slanted, it's mechanical," explaining that many directors shoot bi scenes like they would straight or gay porn rather than truly understanding the ebbs and flows of a bisexual encounter. "It should come down to two men and a woman being into each other and expressing that attraction physically. You don't see that authenticity from a lot of other productions. You tend to see it more in amateur productions because it comes from a very real place of enjoyment. For me, it came from a very real place of putting on a camera, having fun and making sure no one is left out." 
In terms of the rise in popularity of such scenes, part of it, no doubt, is the willingness of younger generations to identify as queer and openly identify as bisexual. But there's also a string of other performers like Hudson — Lance Hart, Pierce Paris, Dante Colle, John Johnson and Dillon Diaz chief among them — who have been willing to portray an authentic version of bisexuality on screen. "Bisexuality has always been there, it's not a new thing," Hudson says. "It's just always been hidden because of bi erasure. But now that you see performers fully enjoying [bi] sex in a studio production or an indie production, you're going to see a different dynamic."
As for his own career, Hudson doesn't imagine himself starring in porn films into his 40s. He'd rather produce and build a studio that caters to bisexual and pansexual people, giving them "the ability to strut their stuff." He already gets messages daily from bisexual people around the world thanking him for being a voice for their sexuality and spicing up their relationships. "I don't take those messages for granted," he says. "We tend to look at porn as not being something that's good in this world, as something you can easily brush aside. But on a sociological level, it does have major significance. What it does for people can be monumental."