Your Facebook feed is littered with engagement photos, "Save The Date" magnets cover your fridge, and your Google Calendar is a minefield of unavailable weekends. Yep: wedding season is coming, and as you wade into the post-college stage of life, it often feels like everyone you know decides to get hitched at exactly the same time.
Even if you're bitterly single, you're thrilled for your friends to find happiness. You're not, however, thrilled your wallet has to bear the burden of multiple trips, gifts and parties that surround these (supposedly!) once-in-a-lifetime events. If you're finding that all your hard-earned cash is going into celebrating someone else's love affair, here are a few tricks to mastering the wedding onslaught without breaking the bank (and your spirit).
Upgrade your credit card, ASAP
It might sound counter-productive to tell you to take out more credit in an effort to save money, but it's not. If your friends are all busy getting married, you should be grown up enough to stop using a credit card that came with a free t-shirt and find one that really benefits you.
The two biggest perks you want are airline points and hotel points. There are tons of cards that will help you earn specific points for specific travel brands, but when dealing with the unpredictability of your friends' wedding wishes, a card that gives you more flexibility is the easiest. Look for one that's offering both flexible points you can redeem on travel perks (from free flights to free hotel rooms) and that's offering a plush sign-up bonus (free points tied to an initial spending threshold on a credit card). Forty thousand to 50,000 points is usually indicative of a good reward, generally the amount that gets you at least one round-trip domestic flight for free from the get-go.
To help maximize your points accumulation, offer to pay for group events on your card when you're out to dinner with friends or planning a trip. Then have them pay you back in cash (or, even easier, through app such as Venmo, PayPal or Square Cash). The money paid back pays off the credit card bill immediately, but the points rewards are all yours for the taking. Another bonus: As you spend all the money you need upfront on wedding costs, you earn more points to use later. Even if you don't use all your points to fund wedding travel, you can treat yourself to your own dream vacation after the madness has subsided, free of charge.
Buy (somewhat boring) fashion staples
It's tempting to buy a new outfit for every life event, especially ones where you're going to see a similar group of people. While you can't attend multiple weddings in the exact same ensemble (unless they are truly different friend groups), with some creative tweaks you can get distinct enough outfits out of some staples.
For men, the key is owning a nice pair of shoes, a coordinating suit, and potentially one alternative dinner jacket. Even if you sink a good bit of money into that, it should hold you through weddings and other dressy events for years. The fit of your suit is way more important than the brand: Even if the suit is a cheaper one you get on sale, make sure you have it tailored to fit you and it will look great. After that, you just need a variety of dress shirts and subtle accessories like bowties, pocket squares, and the like, which can often be found affordably at resale shops.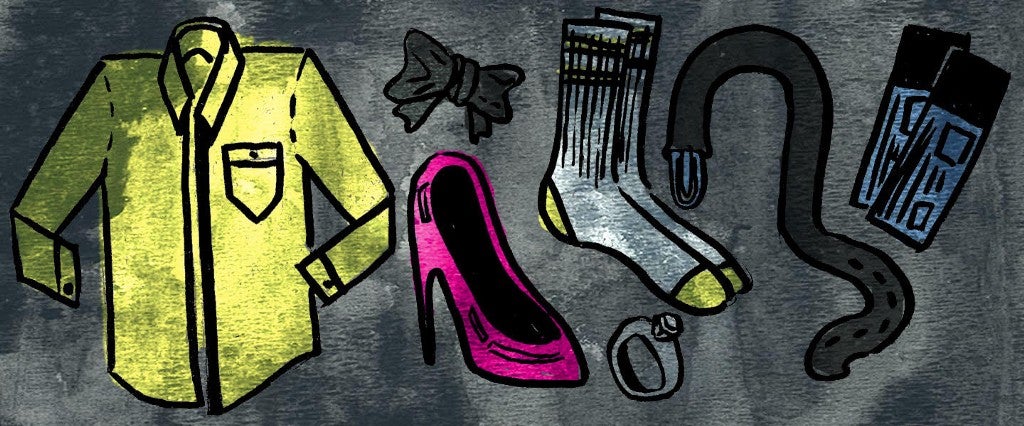 Note: A clothing strategy for groomsmen can be trickier, since you'll be required to wear whatever the happy couple demands. The best you can do is encourage them to leave some flexibility in the dress code to save you cash, like requiring a singular color or fabric type, but not dictating a specific outfit. If you are stuck with rental tuxes, make sure you use that credit card and at least earn some points. If you have to buy an expensive item, you can also unload your slightly used clothing online or at a consignment shop.
Be generous and gift smart
Everyone has a registry, and if you have the dollars lying around you can pick anything your heart desires to give. But the best strategy to finding the affordable gifts is getting them purchased early. If you wait until a few days before the wedding all the hand towels and wine glasses will have gone to your other cheap friends, leaving you with the option of a way-too-expensive blender, or, bleh, a gift card.
How much is enough to spend on a friend? It depends on your financial situation, but a $50 price tag is always solid, and you can hit that with one large item, or several small ones. That's also a nice amount if they're doing a Honeyfund (when you help pay for a honeymoon, basically). However, there are ways to make that money stretch.
If you're attending the wedding with a squad, you can also suggest going in on a more high-ticket item together. Everyone sets a price they're comfortable with, and then picks the best present they can get with their combined spending power. This ensures your soon-to-be-married buds get more than just a million small-ticket items and makes your group look thoughtful and resourceful in the process. You can also use cash back sites like Ebates to help put a little extra cash back into your pocket, and by shopping through portals you can earn a percentage back. Even if it's just an extra $5 a go, over time you'll stock up on disposable income.
Another way to both stand out as a wedding guest and avoid some of the higher prices is to shop off the registry and buy in bulk. This takes some pre-planning, but if you hit up department stores during annual sales, sometimes nice home goods can drop in price, and you can snag several of the same or similar thing to stockpile for future weddings. You don't want to go wild with flair and style here. No hen-shaped egg caddies or aggressively modern salt and pepper shakers, as you don't want to run the risk of being completely out of touch with a couple's decor. There are some things you can't go wrong with, like a simple vase, which everyone needs more of, eventually.
Additionally, buying a set of wedding themed cards in a box instead of individual wedding cards for each event will save some money on your gift situation. Again, no brides will be comparing notes on the non-descript cards they got; they'll just be happy for the sentiment. (Get blank ones and use them for birthdays, too.)
And, hey, if all else fails, there's one more thing you can do to make wedding season sane — just say no. You don't have to attend every wedding you're offered, especially if it's not your nearest and dearest friend (or even your second or third cousin). Bowing out on acquaintances saves them money on the food and booze, so don't be afraid to skip a wedding when you can.