Update: He is now dead.
Born with a monocle and top hat, Mr. Peanut was a capitalist before he knew he was gay. Introduced in 1916 as a mascot for snack brand Planters, Mr. Peanut has lived for a century as a slave-trading peanut aristocrat, selling his fellow legumes to a gruesome death by mastication.
Seriously. Vintage Planters advertisements show a grinning Mr. Peanut surrounded by children, laughing as he eats common peanuts from a bag. The monocled monster is a nut-swallowing cannibal.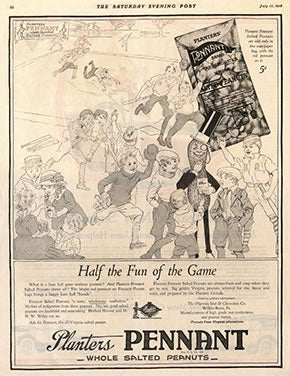 For decades, Mr. Peanut continued to crush the backs (and shells) of prole peanuts. He even straddled a pair of them — the shell-shaped NUTmobile — as early as 1935, flaunting his power over the peanut masses in the midst of the Depression.
During World War II, he made a fortune as the face of one of the leading mass-market salted nut brands, when he appeared on war brochures and promoted savings stamps. Hungry for public adoration, he dazzled visitors at the 1964 and 1965 New York World's Fair. Of course, the accolades were already rolling in. Mr. Peanut received the first of his many signature Times Square billboards in 1932. He even snagged a spot on the Madison Avenue Advertising Walk of Fame in 2004. 
Then, in 2013, writer and game designer Cohen Edenfield exposed the snack daddy on Twitter. "Is there anything more capitalist than a peanut with a top hat, cane and monocle selling you other peanuts to eat?" they wrote.
The masses were catching on. Mr. Peanut needed a PR win, something to soften his image and give him mass appeal in a post-Occupy Wall Street world.
Fortunately, he already had one. He was gay.
*****
Like most gays, Mr. Peanut has gone through his fair share of makeovers. Born black-and-white, he first dyed his shell brown in 1930 and went blonde in 2004, as is gay tradition.
Mr. Peanut's late-life crisis occurred six years later, in 2010, when he was 94 years old. He found his voice for the first time, courtesy of Robert Downey Jr. He re-dyed his shell brown for an important TV commercial and began sporting a gray flannel suit.
He also snagged his first-ever sidekick: Benson, a short, cute, one-nut peanut. 
"Benson is quite enamored of Mr. Peanut," Jason Levine, senior director for marketing at Planters at the time, told the New York Times. You can tell. He can't take his eyes off his nut daddy. He's clearly even raided his closet.
In the ad, Mr. Peanut recounts what could have been a sex-related injury with a nutcracker. "Hey, sorry about last week. I don't know what got into me," the nutcracker says. Mr. Peanut replies, "Yeah, well, forgive and forget, kind of," he says, showing a cracked shell. He then stuffs a ball gag in the nutcracker's mouth, and a mole says, "Do you like nuts?"
Uh-oh. Time for damage control. Planters representatives denied to the Times that Benson and Mr. Peanut were canoodling or even living together.
The legend of Mr. Peanut's sexuality is only further solidified by the Kraft Heinz Company's repeated mandate that their mascot is not gay. "While Mr. Peanut possesses many human-like qualities, he is still a legume with no romantic attachments," Lynne Galia, a communications representative at Kraft Heinz, tells MEL.
However, playwright Paul Rudnick is convinced otherwise. In a satirical short story for the New Yorker, Rudnick assumes Mr. Peanut's identity and tells his coming-out story. Mr. Peanut is even featured in the article's accompanying sketch decked out in gay drag with a thick mustache, a single gold-hoop earring, a tight white tank and a pair of black briefs.
Mr. Peanut, per Rudnick's fictional short story, is processed food's best fuck. He's eaten the Pillsbury Doughboy's buns, sailed the rough seas with the Cracker Jack sailor and done the dirty with Mr. Clean. Tony the Tiger — himself a gay furry icon — reportedly once roared to Mr. Peanut, "You were grrrrreat!" 
Rudnick muses it was Benson who finally convinced Mr. Peanut there was only one man who could get his nut and heart. "What can I say? I'm nuts about him," Mr. Peanut says in the New Yorker story.
Like fellow One Percenter Tim Cook, Mr. Peanut won praise and goodwill after presenting himself to the world as a wealthy gay man. But amid the 2020 election, as we question the merits of obscene wealth and the supposed glories of unchecked capitalism, it's time to ask: Whither Mr. Peanut's reputation? After all, no queer identity could make Peter Thiel look like anything but a democracy-killing supervillain.
I mean, come on, can we really trust him? After all, no mascot hawks their brethren for food as unabashedly as Mr. Peanut. "He is absolutely a war criminal. The peanut rights violations are atrocious," says Edenfield.
"He's probably still selling his brothers and sisters for consumption," Amelia Capaz, social media manager for Showtime's late-night show Desus & Mero, tells MEL.
In 2017, Capaz posted a satirical Mr. Peanut history thread on Twitter, drawing from Google searches and taking creative license. 
Today, Capaz wagers, Mr. Peanut is likely stumping for another privileged gay man: the flavorless democratic presidential candidate backed by billionaires, Pete Buttigieg — aka "Mayo Pete." "Mr. Peanut is too cunning to publicly support Trump, even though he probably donates millions to Republican-backed campaigns. He's also too money-hungry to vote Warren or Sanders," says Capaz. "I'd like to think of him as a highly non-radical centrist." 
It appears Benson and Mr. Peanut may have broken up, as the single-nut sidekick is largely missing in post-2010 Planters promotions. Maybe Benson is in a low-profile open relationship with Twitter's gay-baiting daddy dandy. Or maybe Kraft Heinz simply pushed the poor nut out of the limelight.
Regardless of what Mr. Peanut is up to today, he's still one of the planet's wealthiest mascots. When Planters parent company Kraft merged with Heinz in 2015, they became the fifth-largest food and beverage company in the world. Perhaps figures like Mr. Peanut ought to call into question our loyalties to the elite. After all, a man of his status, queer or not, can never truly be canceled.
So, regardless of his sexuality, what should be made of Mr. Peanut's legacy? Capaz has a simple answer: "Don't believe everything you read online, and definitely don't trust the Planters peanut man."