It's been almost six years since Fifty Shades of Grey burst onto the pop culture scene, launching the "mommy porn" phenomenon that saw suburban parents suddenly devouring erotica in public and discussing kinky sex practices like bondage, butt plugs, and Ben Wa balls over the dinner table. And the kink industry in America has been riding a wave of financial success ever since.
According to Fifty Shades' publisher, Vintage Books, 150 million copies of the first book alone have been sold worldwide since its initial release in July of 2011. The first movie grossed over $571 million at the box office around the globe, and just over a month after its release, its sequel, Fifty Shades Darker, has already brought in almost $370 million worldwide. As a result of the media franchise's unprecedented success, kink-friendly businesses like product manufacturers and retailers, workshop instructors, and professional kinksters of many stripes benefited from an uptick in interest for over half a decade.
But just as Fifty Shades Darker was about to hit theaters in early 2017, two giants of the online kink community scaled back in big ways. In early January, FetLife — the largest kinky social networking site in the world — deleted thousands of photos, groups, and entire categories of user-uploaded content without warning. About a week later, Kink.com, the biggest kinky porn company in the known universe, announced that it was moving porn production out of the San Francisco Armory, where it had filmed for a decade. Company founder Peter Acworth told the San Francisco Chronicle, "It's the end of an era."
These abrupt, drastic changes from some of the world's largest kink-based businesses raised a question: Were these sudden moves by big kinky businesses indicative of a larger trend? Had the post–Fifty Shades kink bubble of the early 2010s finally burst?
Although many kinksters don't like to give Fifty Shades too much credit for its cultural impact — its depictions of the lifestyle, they say, are not only incorrect but potentially dangerous — others maintain that regardless of the misconceptions it conveyed, the franchise spawned a huge wave of interest in kink. But now it's over. As one kinkster, who requested anonymity, told MEL, "Capitalism guarantees that any popular thing be allowed to rise to its level of 'not popular enough to sustain this level of public engagement.' I think on some level a lot of people's curiosities have been satisfied, insofar as they were curious about kink in the first place."
Mike Stabile,a longtime spokesperson for Kink.com, said, "A lot of people came in [to the kink community] and experimented and then moved on. But the core community grew during that period — even if in the interim, the swelling went down."
Kink.com recently compiled data for its 2017 "State of the Union" report. "We looked at resources for kink and fetish communities — playspaces and dungeons, doctors who are conversant in BDSM who won't be judgmental that we pulled from the National Coalition for Sexual Freedom site — and FetLife membership."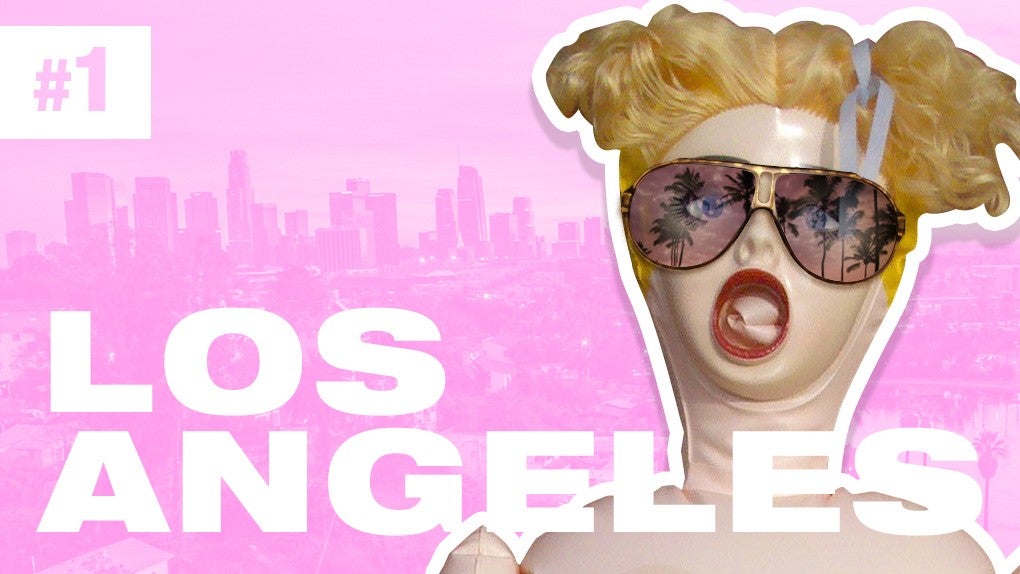 The results were dramatic: "The numbers grew in every city," Stabile said.
But if the kinky community at FetLife has only grown, and lots of those kinksters want to watch the entertainment that Kink.com provides, why the upheaval at both companies?

As it turns out, numbers — no matter how large — can be tricky for kinky businesses, especially when it comes to getting paid. The online payment industry has made no secret of its distaste for adult-oriented businesses of all kinds, charging them higher fees or outright refusing to do business with them (with Department of Justice backing), and it appears that FetLife's massive content gutting was a result of this ongoing tension. FetLife's John Baku wrote in a blog post to the FetLife community that early January's deletions were due to concerns about payment processing. "We got a notice that one of our merchant accounts was shutting us down," he said. "One of the [credit] card companies contacted them directly and told the bank to stop processing [payments] for us."
According to Baku, the credit card company told the merchant account that their reasoning "had to do with 'blood, needles, and vampirism'" in user-uploaded content. A few days later, another merchant account announced that it would also drop FetLife because a credit card company had reported "immoral and illegal" content on the site.
It's not clear exactly what spurred the credit card companies to bring the hammer down on FetLife, but Colin Rowntree, the founder of (NSFW!) Wasteland.com, one of the oldest kinky porn sites on the internet, is familiar with the difficulties faced by kinky businesses online and offered some context. "Being a user-generated-content community site which accepts credit cards as a method of payment… FetLife is bound to the rules and regulations issued by MasterCard and Visa (BRAM) on what is permissible content for its members to post to their profiles," he said. "What appears to have happened is that FetLife simply did not keep up the level of vigilance in monitoring member uploads."
"We were not technically forced to remove anything," Baku told MEL. "But the combination of losing our current merchant accounts and the fear of not being able to accept credit cards again is pretty much the equivalent of forcing an organization's hand in our de facto cashless society," so FetLife took a hatchet to its user-uploaded content.
Since the slashing of the site's content in January, Baku says, "Some of the largest and most reputable [payment] processing companies have offered us the ability to start processing credit cards again, but due to the number of restrictions that come with accepting credit cards, we've decided against taking them."
Instead, the site is accepting direct bank transfers, gift cards, Interac e-Transfers and bitcoin. It's updated its content guidelines, which now forbid depictions of alcohol or drug use, anything that might be interpreted as hate speech (like race play), content that could be considered obscene (like incest), activity that could cause lasting bodily harm, and depictions of consensual non-consent. Some members are understandably upset, given that there are myriad kinks and fetishes involving these activities in which FetLife members participate. "When we removed content that was against the BRAM guidelines, understandably, we lost a lot of the community's trust," says Baku. "But now that we've decided to no longer rely on being able to accept credit cards, we're working hard to regain it."
The question now is: Is the kink community strong enough to bounce back? FetLife's membership is higher than ever, according to the 2017 State of the Union research from Kink.com, but things are changing at the biggest kinky porn company in the world, too.

Finances appear to have been behind Kink.com's decision to move adult production out of its historic San Francisco stronghold, as well. The money being made on porn production, sadly, just wasn't enough to keep the San Francisco Armory — a century-old edifice built to resemble a medieval castle — up and running as a kinky porn palace anymore.
The loss of profits was actually tied up in the increased popularity of kinky entertainment in the past half decade. "Porn production costs have gone down, so people can film with fairly professional… equipment. They can film with an iPhone," Stabile said. "A lot of people are making really interesting content." And though it's great for kinksters to see so many people getting involved in the wake of the Fifty Shades phenomenon, the glut of kinky porn has diluted the marketplace for big producers like Kink.com.
With less profit coming into the Armory even as the building continued to age, a decision had to be made. Isabel Dresler, a cameraperson who works for Kink.com, said of the Armory, "All of these renovations need to be made to the building. Parts of the roofing needed to be fixed, the foundation needed to be fixed. Basic safety things. Because it's an old-ass building."
Kink.com founder Peter Acworth had been experimenting with renting the space out for events like concerts and parties, and that income looked a lot more promising than tying people up and flogging them on camera. So, although the Armory is still owned by Kink.com, the porn company decided to move its productions to warmer climes — literally. Isabel Dresler has moved to Las Vegas, where several of Kink.com's directors have relocated. Other crew and directors have moved to Portland, Los Angeles, and around the Bay Area. And while Dresler admits it's sad to see the Armory go, she thinks that it's also nice to see Kink.com spreading its wealth rather than hoarding it.
Many in the community welcome what they see as the opening of the kinky floodgates into a world that's ready to join in the fun. "We wanted to free our directors up. We're shooting just as much as we were when we were at the Armory, but we've moved it into different studios… What we want to do is leave this sort of closed-off brick building and change to something that's a bit more open and free," Stabile said.
Nikki Darling, a performer who's worked with Kink.com for years, sees potential in the move. "Not just directors, but everyone from post-production to videographers," she said. "Kink.com housed a lot of very creative people. I think it's going to be exciting and cool to see what comes out from those people."
Kink.com's move is being packaged as a step toward harnessing a greater share of the increasingly kinky populace's interest, and it is in effect democratizing kinky porn. The new content being offered on the site, shot on location in homes and other locations, is giving fans exactly what they want. "The comments we've gotten back on the scenes that we've shot [in Las Vegas] is that people really like the fact that we're shooting in domestic settings, because it gives you a better idea of how to incorporate kink in your home, or into your personal life," Dresler said. "We're still doing very fetish- and BDSM-oriented porn, but in houses and auto garages, and places that are a little bit more relatable" than the complicated dungeons setups at the Armory.
The very fact that viewers are taking notes from their kinky porn supports Stabile's claim that the kinky community has grown across the board in the wake of Fifty Shades — and it's also grown more savvy. "Kink and the interest in it is still alive with new BDSM organizations, play spaces, camp-outs, cafes, resources, and community spaces, not just in San Francisco but throughout the country," said Madison Young, a kink practitioner, performer, filmmaker and author.
For better or worse, the mainstreaming of kink is not at an end. The changes to both FetLife and Kink.com seem not to indicate a bursting of the early-2010s kink bubble so much as a change in that bubble's shape and aim — and a bit more savviness around getting paid.