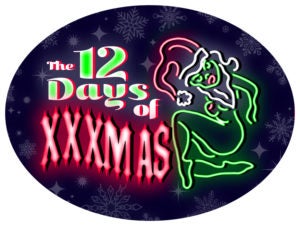 This year, we're swapping out the typical 12 days of Christmas for something even better: 12 days of sex workers who should absolutely be on your radar. Whether they're breaking new ground on OnlyFans, using their platform to call attention to issues like racism and immigration or shattering our ideas of who's "allowed" to make porn, sex workers are both reimagining what sex work can be and changing the world — one swingin', phalloplastic dick at a time.
"You can't go out in that," a deep voice calls out in mock outrage from off-screen as pigtailed brunette Kitty Catherine, dressed in a miniskirt and tank top, tries to sneak out of the sparsely decorated house. Jack Moore, approximately 40 years Catherine's senior and playing her uncle, storms into frame wearing only a pair of loose-fitting red flannel boxer shorts. "Do you know what happens to girls when they go out dressed like that?" 
This is all the exposition we're granted in the aptly titled 2018 porn scene "You Can't Go Out Like That," but it's Moore's appearance itself that fills in the missing plot holes for viewers. One look at his long, grey hair, wispy combover and the deep lines and wrinkles on his slightly reddened face, and it's clear as day: Moore is the pervy old man, Catherine is the innocent young girl and this is some kinky grandpa shit.
They say the best actors can bring authentic parts of themselves to every role, and Moore — who looks to be in his late 60s — is certainly bringing something authentic to the horny grandpa he plays on screen. It's not just the gently receding hairline or the thin, wire-rimmed glasses that give it away — these things are simply aesthetic. To be a horny granddad is a lifestyle, and it's one he lives through his storied career as one of the most prominent and prolific over-50 porn actors working today. 
The type of porn he makes — often called "old/young," "xgen" or simply "grandpa porn" — isn't exactly Pornhub's leading category, but it has a robust and dedicated following, and you can find it in spades on any tube site. Studios like Oldje and BluePillMen regularly rack up view counts in the millions hawking titles like "Parental Advisory" and "Young Libertine Wants to Get Her Pussy Licked By Old Man," and there's a dynamic matrix of gender-age combinations for the tasteful connoisseur to choose from. 
No matter the producer, plotlines in these videos are at once remarkably similar and wildly unpredictable, as only porn plotlines can be. Generally — though not always — there's family roleplay involved, with uncles or grandfathers needing to teach their younger female counterparts some sort of inexplicable lesson. (That, or she needs help paying for college, or was doing yoga and got horny… you get the picture.) Regardless, all types of rods enter all types of holes, and aside from the older men using blatantly generational sex words like "terrific," "sweetheart" and "wowww" to convey their enthusiasm, it's surprisingly similar to every other type of porn, if not a bit less acrobatic. 
When Moore answers the phone, I'm greeted by the same deep voice I remember from his videos. He grumbles a bit, making sure the headset he's using isn't cutting in and out. I quickly learn that I've caught him just as he's begun setting up his OnlyFans account (a friend is showing him how). It's a busy day for America's horniest grandpa, but he's happy to carve out some time. "I'm always up to my ass in alligators, but there's nothing that can't be moved around," he tells me, hitting me with his best old Florida Man regionalism. 
Moore might be new to OnlyFans, but he's no newbie to porn. His first IMDb credit was 1997's Screw My Wife Please 2: Again, which, aside from having a scientifically perfect title, marked the beginning of a decades-long career that shows no signs of slowing down. Since then, he's performed in more than 100 adult films, treating the audience to everything from old-guy threesomes to fauxcest-filled romps with porn's freshest faces. Many of these have been for his own production company, Uncle Jack's Nieces, an outfit which often garners as many views as his big studio gigs. 
"Uncle Jack loves his nieces," he reiterates. 
In nearly all of his films, Moore leans into the horny old man trope eagerly. He innately understands the fundamental eroticism of the old/young taboo, and the conventions of his work often dictate that he turn the senior schtick up to 11. In promos for one scene produced by BluePillMen, Moore is dressed in a geriatric-looking red sweater vest and slacks. A pipe hangs lazily out of one side of his mouth as he gives two thumbs up to the camera while a blonde, decked out in viscous red lingerie, stands next to him, hands on her hips. With his leering stares and wide, knowing smile, it's all too clear Moore isn't just playing a pervy old guy here — he is a pervy old guy. "The reality is that I show up [to set] as me," he says. "I love women, I love sex and it's just a perfect combination."
Although adult filmmaking wasn't always the path he imagined for himself, the impetus has always been present. "I was a dirty old man when I was 15," he admits with a chuckle. "I guess that never really changed." Beyond that, he's tightlipped about his youth — understandable for a man who makes his living by stepping into people's fantasies; viewers want the porn version of Moore, and the more he reveals about his non-porn past, the harder it is to sell his geriatric perversity. 
Porn wouldn't become his trade until after a bit of acting training in his early 20s, which broke him out of his shell. He'd always wanted to try it, so when a friend offered to connect him to famed agent Jim South of World Modeling, he jumped at the chance. It wasn't long before he was booked on Screw My Wife, and the rest, as they say, was history. 
When he entered the field, his hair had already turned white. He was afraid they'd cast him as the aged gentleman right away, but since he was a bit more muscled and toned than he is now — and he sported a few less wrinkles around the eyes — he was thrown in with the rest of the male performers, cast as yet another one of the average-aged guys pumping away on screen. His subsequent transition into granddaddy-hood was subtle, and Moore can't quite put his finger on the moment it happened. "I didn't notice. I don't really know," he tells me, shrugging off the question. One day you can star in wife-swap films, the next you're roleplaying as someone's pervy great-uncle Mort, I guess. 
As you explore the genre of granddad porn, which is largely predicated on age gaps, you may find yourself, as I did, unable to keep from circling back to one major question: How old is Moore, exactly? Based on a cursory survey of the "old men" category on Pornhub, it seems the sweet spot for old men in older/younger scenes is between 50 and 70, give or take a few years on either end. But Moore? That one's trickier. 
"I'm not going to give away any personal information," he tells me with the casual, yet firm air of a man who knows he has the conversational upper hand. "I like to keep certain things to myself. I like to keep my personal life, and my work life very separate." I'd expected to be rebuffed when asking about childhood traumas, personal tragedies and the like, but Moore's age, I had assumed, would be front and center in our conversation. 
Luckily, after further pressing, he finally obliges… sort of. "Well, I'm 32," he says dryly. "Did I mention that I lie a lot?" A dad joke, and slight pause for laughs before he continues. "Not a day goes by that I don't get at least five or six people messaging me asking me how old I am. So I lie to them, and I tell them that I'm lying to them, and then I watch their reaction. It's kind of entertaining, but I do get a lot of mileage out of it."
I was confounded by this secrecy around his age. In the older/younger genre, wouldn't advanced age be an asset? Wouldn't a wider age gap make the taboo even more titillating? Not so, apparently. For Moore, an air of mystery is to his professional benefit — if his age isn't known, it can't become a reason not to hire him on a shoot. "I'm not particularly ashamed of it or anything," he tells me. "But if it's not known, then it doesn't become an issue in discussions."
Moore isn't wholly unique in his reticence to reveal his age. "I don't lie about my age," says Jake Shores, 72, of Hot Older Male, a gay porn website specializing in daddy/daddy scenes, but "there are some that do." Why? Shores suggests it's all an effort to eschew "some stigma to getting older." And, in an industry where unrealistic standards of male virility are so highly valued, who can blame them?
That said, Moore's advanced age couldn't be more apparent than when our conversation turns to the subject of social media. "All these things are brand new to me," he says, reminding me that he just joined OnlyFans today. Despite his relative fame, Moore's Twitter following is a modest 6,000 and change, and while other adult performers garner followings in the hundreds of thousands across various social channels, which can result in lucrative sponsorships, higher rates and new revenue streams, he's sticking to Twitter, for now. "It's only because I'm familiar with it," he says. "The other ones I'm trying to learn, and it's certainly a learning curve." 
Despite his age (whatever it may be), Moore claims he doesn't have performance issues. Occasionally, on a long shoot, when he knows he'll be performing in many scenes back-to-back, he says he'll pop half a Viagra or Cialis beforehand as a "preemptive strike," but otherwise, as he jokes: "Put me in coach, I'm ready to go." 
This, according to Shores, is very unique. Use of Cialis, Viagra and their contemporaries, as well as Trimix, an injectable treatment for ED, is "very common" on set. Moore, however, swears that they're unnecessary for him because of the shape he keeps himself in. "I get my lazy ass into the gym, that's what I do," he tells me. "I'm not gonna try to compete with the young guys lifting heavy weights — that would be silly. But I can do lots of reps, watch my diet and keep myself in as good a shape as I can." 
Moreover, performing still doesn't feel like work for him. In fact, he continues to get excited each time a new shoot rolls around. "Can't wait for the next one," he tells me steadily. "Can't wait."
After all, it's only by being the oldest guy on set that he can remain so young at heart.