Brett is washing dildos in his sink. The blond 25-year-old pours rubbing alcohol on a bright pink five-inch silicone sex toy and rubs it up and down with handjob-like motions. In Brett's line of business, sanitation is important. He keeps three bottles of rubbing alcohol on hand in his suburban New Jersey one-bedroom apartment to protect his tools from E.coli and other bacteria.
It's 7 p.m. on a Saturday night, and to prepare for his performance, Brett already has worked out, showered, gelled his hair and applied concealer to the dark circles under his bright blue eyes. Brett is a gym rat and former high-school wrestler with a muscular 5-foot-9-inch frame. His crew cut and dimpled smile would fit perfectly in an Abercrombie and Fitch catalog — if it weren't for his sleeves of tattoos.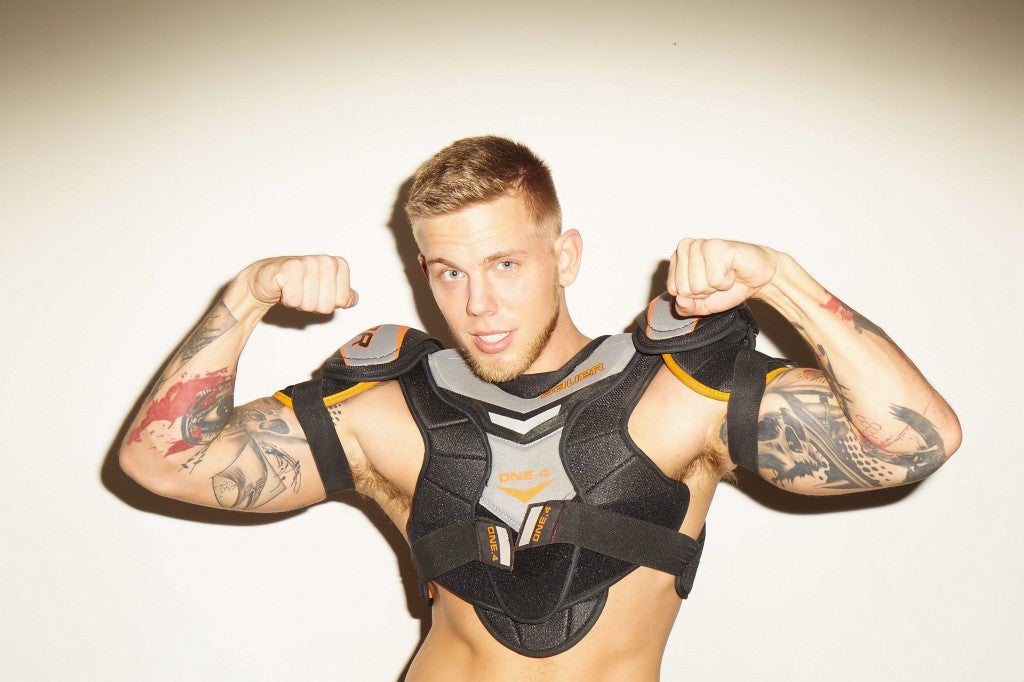 Before showtime, there's just one final step: He undresses, lies naked on a narrow lane of carpeted hallway between his bathroom and his bedroom and lifts his feet over his head. Then Brett inserts a thin tube attached to a water-filled plastic bulb into his ass to give himself an enema. He doesn't want any surprises over the next couple of hours.
After he finishes, Brett turns on two sets of studio lights — black stands with a cluster of three bulbs surrounded by reflective silver material — in opposite corners of his bedroom, which features a tie-dyed Led Zeppelin poster above the bed and a tangle of PlayStation cords and dirty socks on the floor. At 7:40 p.m., Brett switches on the camera clipped to his laptop and gets on all fours atop a turquoise yoga mat in the narrow space between the bed and the wall. He shakes his ass in front of the computer as fans begin to populate his channel — about 25 at first but quickly growing to 400 strong.
Within seconds he transforms himself from a self-conscious straight nerd into a gay man's fantasy.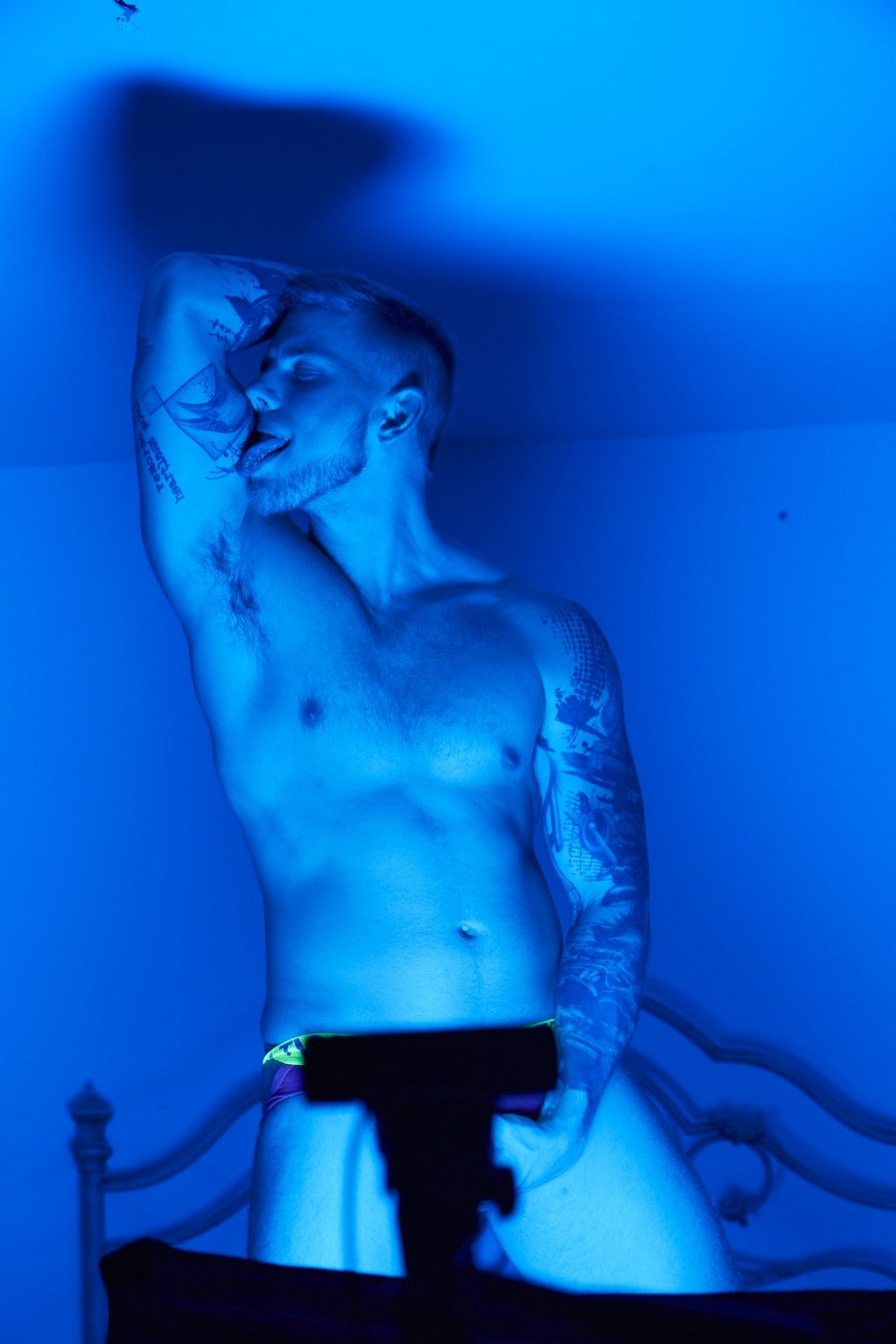 Brett, who didn't want his last name used in this article, is a webcam model. He works through a website called Chaturbate, a seemingly endless selection of live shows in which cammers masturbate or couples and groups have sex. Many of the models are next-door types whose messy bedrooms and poor lighting give the videos amateur appeal. The platform allows Brett to livestream a performance from his home to the hundreds of mostly gay men that log into his virtual room three times per week.
Along with Chaturbate, companies such as Im Live, My Free Cams and Live Jasmin monopolize the $2 billion to $3 billion camming business, according to industry expert Douglas Richter. He says cam girls and hetero couples make up almost 70 percent of that profit, since straight men are by far the biggest audience for porn. But in just over a year Brett, who goes by the name "Hattrickz" or "Steve Rickz" online, has become one of the most popular male cammers on Chaturbate.
He makes money when users tip "tokens" — each worth roughly 5 cents — and averages about 300,000 tokens per week ($1,500) for under 10 hours of work. The most he's made is 180,000 tokens ($900) in an hour and a half. Brett's success is the result of his distinctive style. He didn't want to be a "starer," his name for the many male cammers who silently gaze at the camera while listlessly jerking off. "I was convinced I could do a better job right away," he says. "Girl cammers were my early inspirations."
Sitting in his living room, Brett clicks on a blonde cammer named "Kittennischeeky" who discusses her love of Wes Anderson movies while pulling at her underwear. "I base my show on performers like herself," he says. "She's got personality … and some types of people would want to date her because she's adorable." Even better, the emotional connection she forges means some guys will tip her before she even takes off her clothes.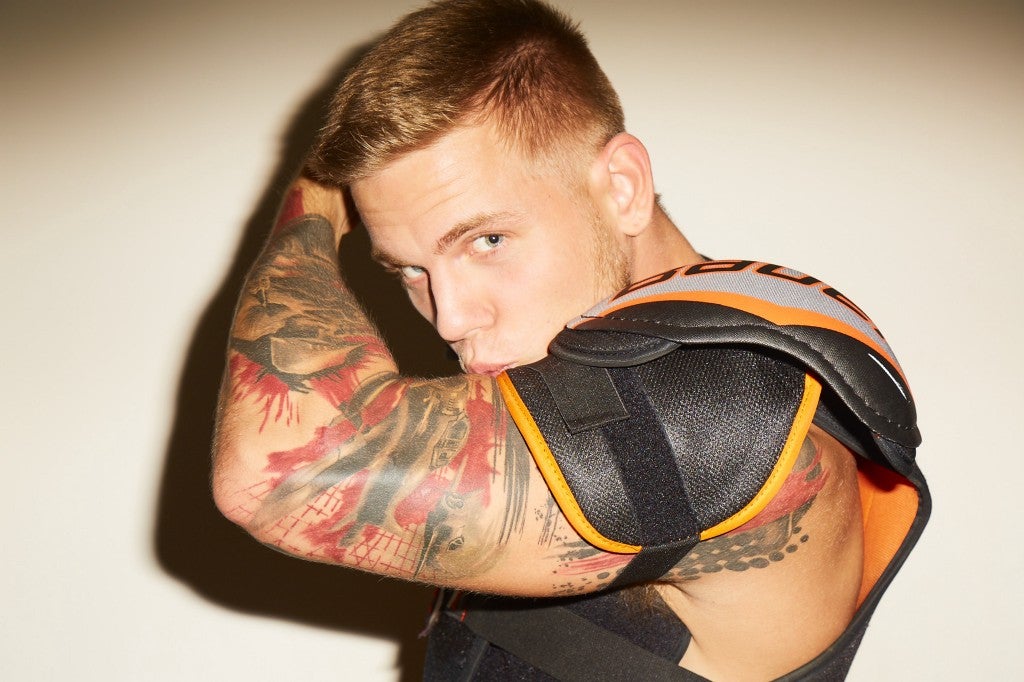 Brett knows all the top Chaturbate models and analyzes their shows with the intensity of a film critic. He's even made a YouTube channel to share tips with potential cammers: Invest in studio lights, keep a consistent schedule and don't text during a performance. Yet for all his professionalism, Brett is fairly new to the job.
Just over a year ago, he was working as a server at T.G.I. Friday's. He'd been waiting tables since he dropped out of nursing college in 2012, but the restaurant was going through a slow period and he needed more money. His mom, whom Brett calls very "open-minded," suggested he try adult entertainment last April. "She was like, 'You have a good body,'" Brett says. "'You should look into being a stripper.'"
When Brett couldn't find any strip clubs in his area of New Jersey, he turned to web camming instead, and gave his first show last May. "I keep my same hospitality from serving," he says. "I treat everyone like I would at my table." Within two weeks he had already built a healthy following. His business savvy helped, but a lot of his success is due to natural assets. During a show fans fill the right side of his screen with nonstop lewd comments about his big ass — "Hatz has the ass of a Greek God," "you have a better ass than girls," "Nicki minaj's ass," — to which Brett always responds with a cheerful, "Thank you!"
"I guess I had a golden ticket," he says. "I have a big butt for a white guy, and that got me popular [fast]. But what kept me popular was having a good personality. I give 100 percent and do a lot in my show."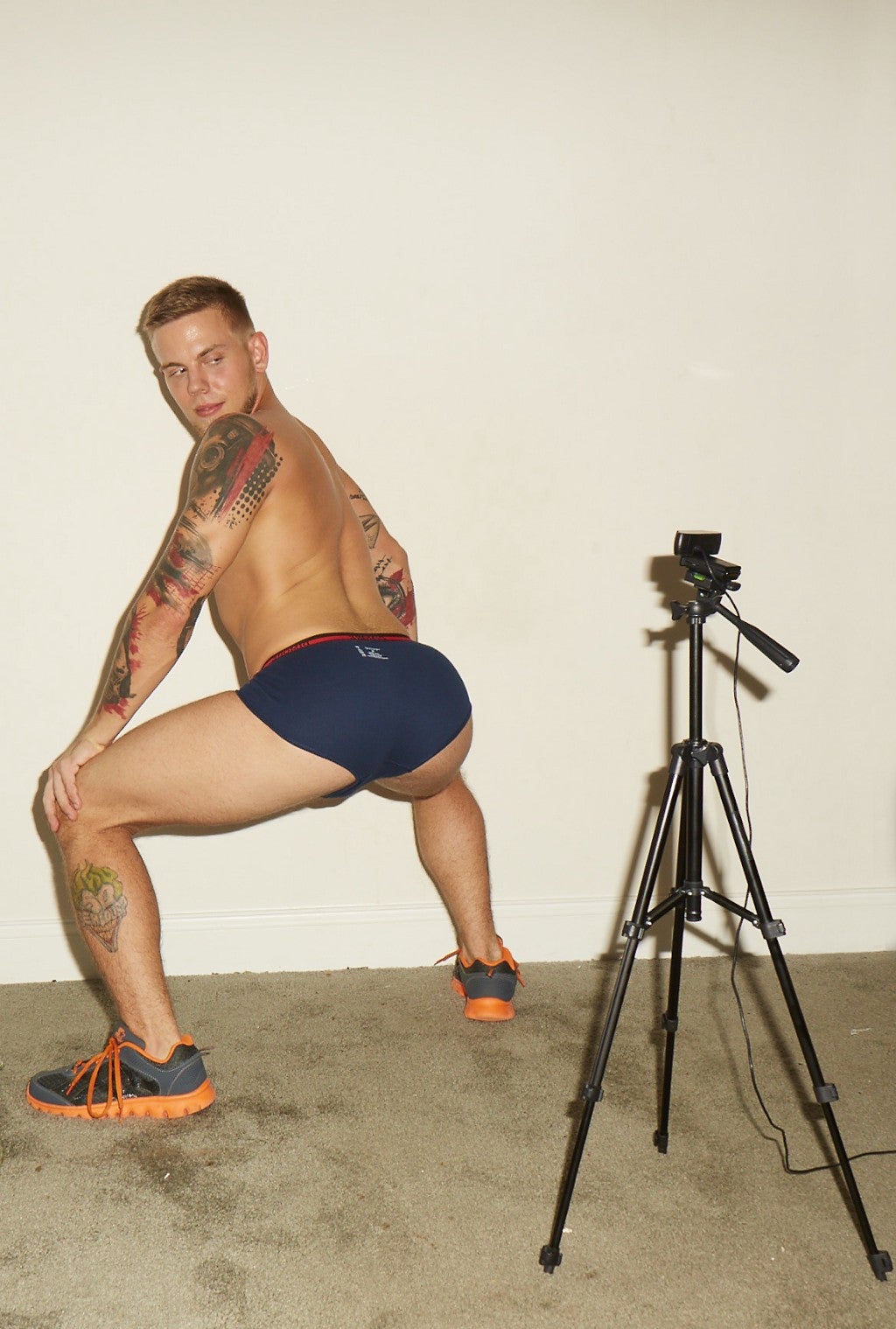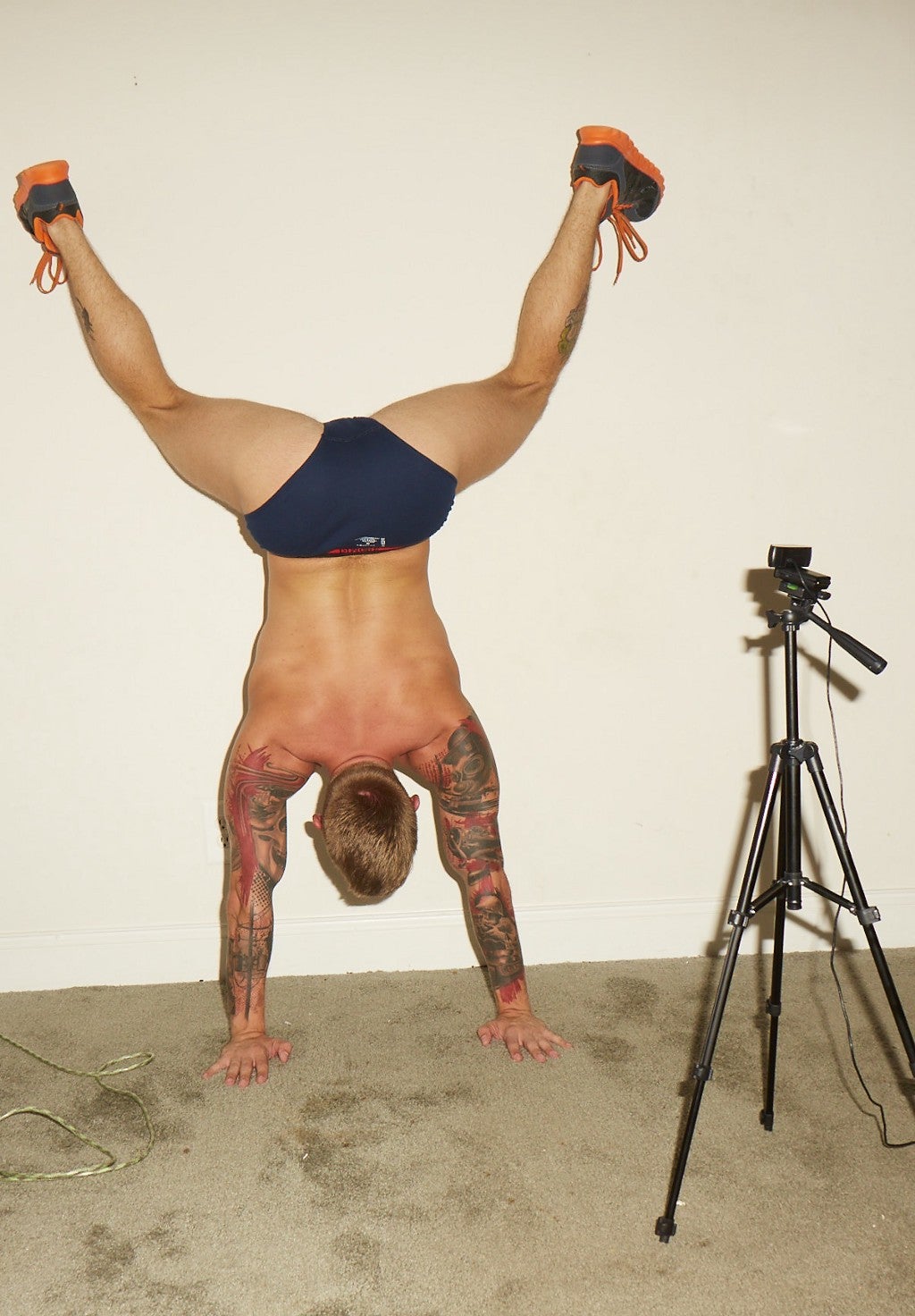 In real life, Bret is more dork than sexpot. He loves Game of Thrones and video games. His living room's centerpiece is a 40-Year-Old Virgin-like display of 45 plastic figurines of movie and TV characters — all in their original packaging. Around new people he often gets crippling social anxiety.
"I didn't have a lot of friends growing up, and I always thought it had to be because of my looks," he says, sitting on his living room futon, his arms folded across his chest. "I'm a nice guy and I'm generous so I thought people probably didn't want to be my friend because I must be ugly."
But when he's on camera, Brett knows fans idolize him. Whenever someone asks about his sexuality, which happens multiple times every show, he calls himself "heteroflexible." Sometimes he even tells fans the story about how when he was 19, a mechanic would fix his car for free and give him blowjobs, teasing viewers with the kind of things they want to hear. In return, their constant compliments and tips transform him into a more confident version of himself — one that doesn't exist offline.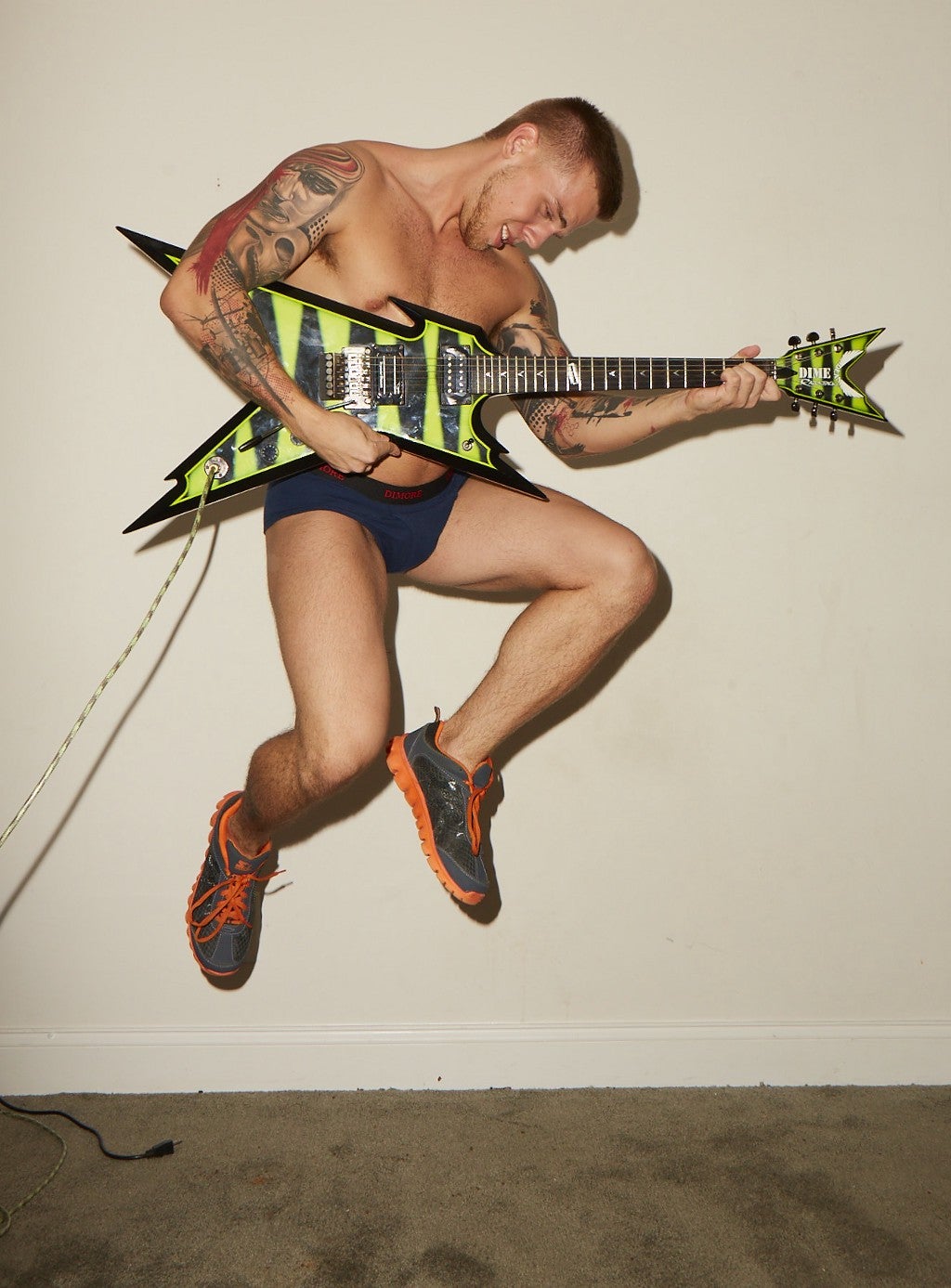 Brett kneels on the yoga mat with his legs spread apart and alternates bouncing his ass cheeks like they're being pulled by invisible marionette strings. His ass is big, like two soccer balls, and it turns the color of overripe peaches when he slaps it — which he does frequently. He gets on all fours and jiggles his butt like an excited puppy. His first commenter appears in the chat box on the right side of the screen.
"Oh damn," types a fan who goes by sqwermasturx.
"Hey sqwert how you been?" says Brett, in the jovial tone of a bartender greeting a regular. "I haven't seen you in a bit. How are you?" Though he's soft-spoken off-camera, when Brett performs his voice is full-bodied and sensual as he flirts with fans and moans, "Who wants to fuck me?" When a commenter named "amc6189" writes "you sir without a doubt have the nicest ass on chaturbate," Brett says, "Thank you so much amc, you have the nicest movie theater" and laughs at his own joke. When a fan asks him to "show doggy please," he smiles coyly and says, "If you start tipping for it, Chris, I'll go into doggy style." When a commenter calls his dick "little" he shoots back, "I'll show you little dick," with a smile. "He won't think it's so little when it's in his butt."
Brett has about 12 regular big tippers, who often spend anywhere from $50-$500 during a single show. He's only met two of them in person, though nothing sexual happened, and he generally doesn't give out his phone number, despite many requests.
Sometimes his fans are creepy. His second-highest tipper is into BDSM and will spend $400 just to see Brett spank himself with a wooden paddle until his cheeks are bright red. "He scares me a little bit," Brett confesses. "He found out I live in New Jersey and … wants to tie me up. He does have this whole fantasy I will meet him."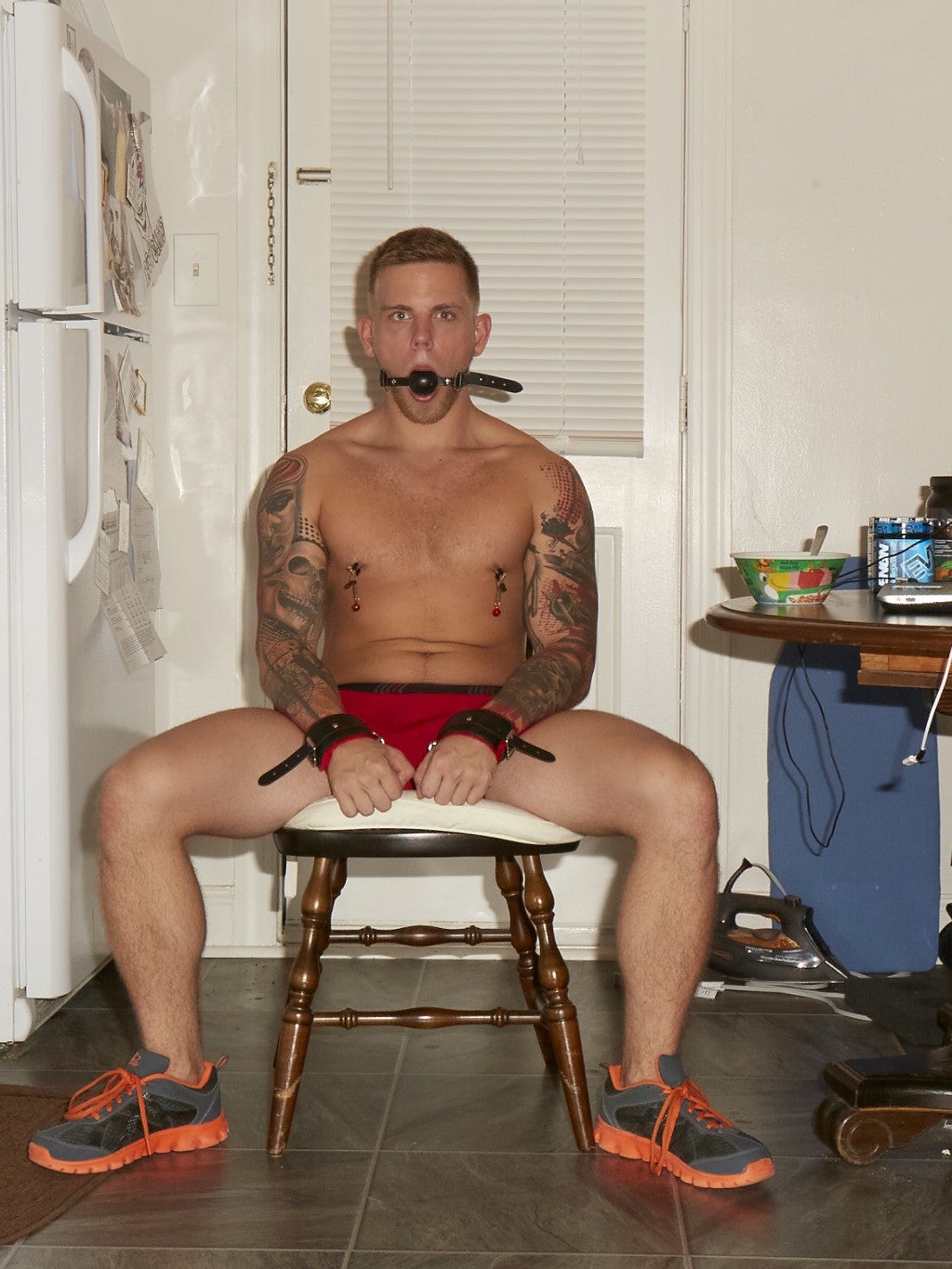 As soon as 50 fans are in his room, Brett gets down to the main event: performing with a hot pink OhMiBod sex toy that connects to the Chaturbate interface through USB and vibrates with every token. The bigger the tip, the bigger the buzz. One hundred tokens and under feels like an intense tickle; 500 tokens and under feels like a strong wave; more than 1,000 tokens feels like an electric shock.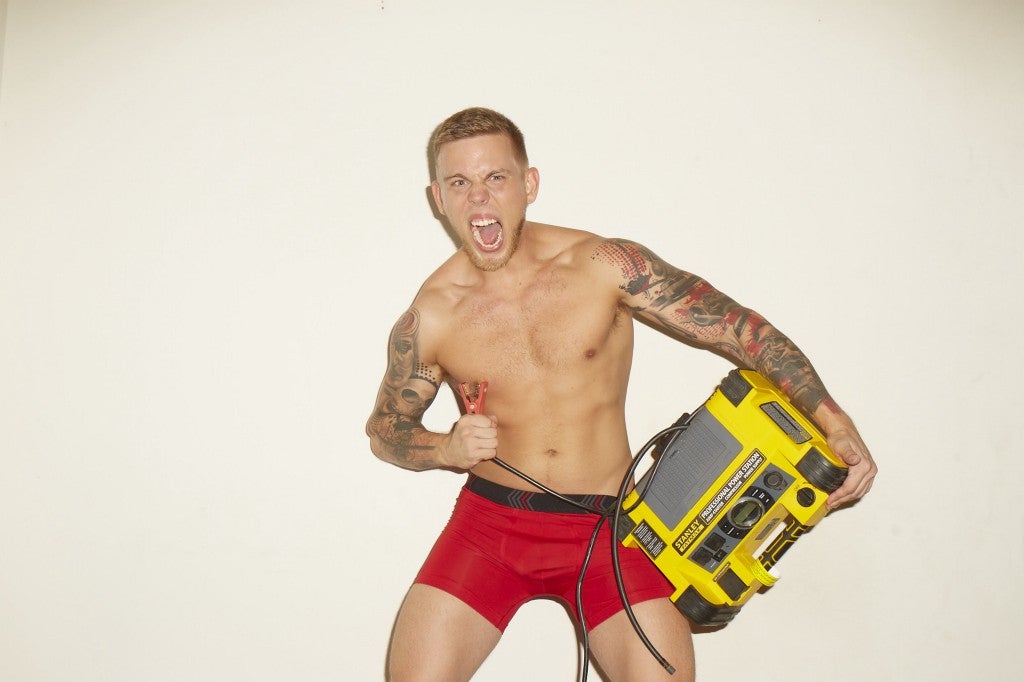 This performance, which he does three times a week for more than two hours, is repetitive and physically exhausting. He's experimented with different types of incentives in his show — including naked handstands or twerking upside-down with his feet against the wall in exchange for tips — but his fans pay the most to see the OhMiBod send ripples through his body. Unlike his female cam idols, Brett can't hang out with clothes on, playing guitar or chatting about his day, and still make money.
"Who wants to play with me first?" asks Brett, on all fours and facing the camera sideways, his butt pressed up against the side of his mattress to help hold the OhMiBod in place. This also frees up a hand to grab a flesh-colored dildo, which he'll deep-throat eight times when tipped 100 tokens.
The chat room begins to sound like a casino once the tips begin. Depending on the amount, tokens set off a bell-like ding (below 15), an alarm clock sound (below 100), a cascade of coins (below 500), a TA-DAH! noise (under 1000) or the most enthusiastic YEE-HAW! you've ever heard (1000 and up).
Someone named "punkfaiynik22" tips 15 tokens, which sets off a series of beeps. Immediately Brett's eyebrows come together in mild pain, his shoulders hunch and his ass spasms like a small hurricane is passing through his body. "Aww fuck," he says in a breathy voice. Every cammer greatly exaggerates the sensations during a performance, and Brett is no exception. "Thank you, Punk!" he says in a sing-song voice once he's recovered.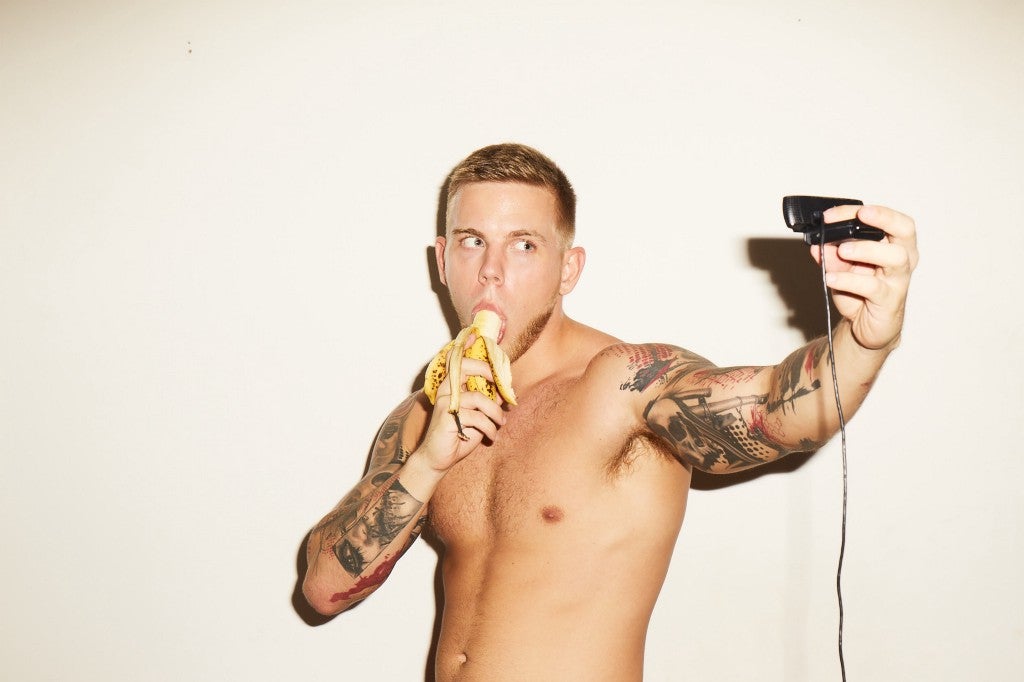 Though there are 400 people in his room, the tipping is slow for a Saturday night. While Brett waits for the big spenders to arrive, he chats with fans about video games (he's currently playing Uncharted 4), his tattoos (done in red and black ink) and his dick length (8 inches).
Suddenly, a commenter named "rayban099" starts to monopolize the tips, doling out an ever-increasing amount of money in rapid succession. When rayban099 drops 100, Brett moans, "Aww fuck, fuck, fuck, fuck" while his upper body cowers toward the floor. Five hundred tokens make Brett scream as if he's been badly hit.
"Oh my fucking god Ray I love you so much," he says between deep breaths, after his body has stopped writhing. Rayban099 gets a crown emoji beside his name for having tipped 1,059 tokens. High on power, he continues to tip aggressively, bringing Brett to his goal and triggering a cum show for the nearly 600 users now in his room.
Now, Brett lies on his back, the OhMiBod still inside him, jerking off while glancing at straight porn on his smartphone.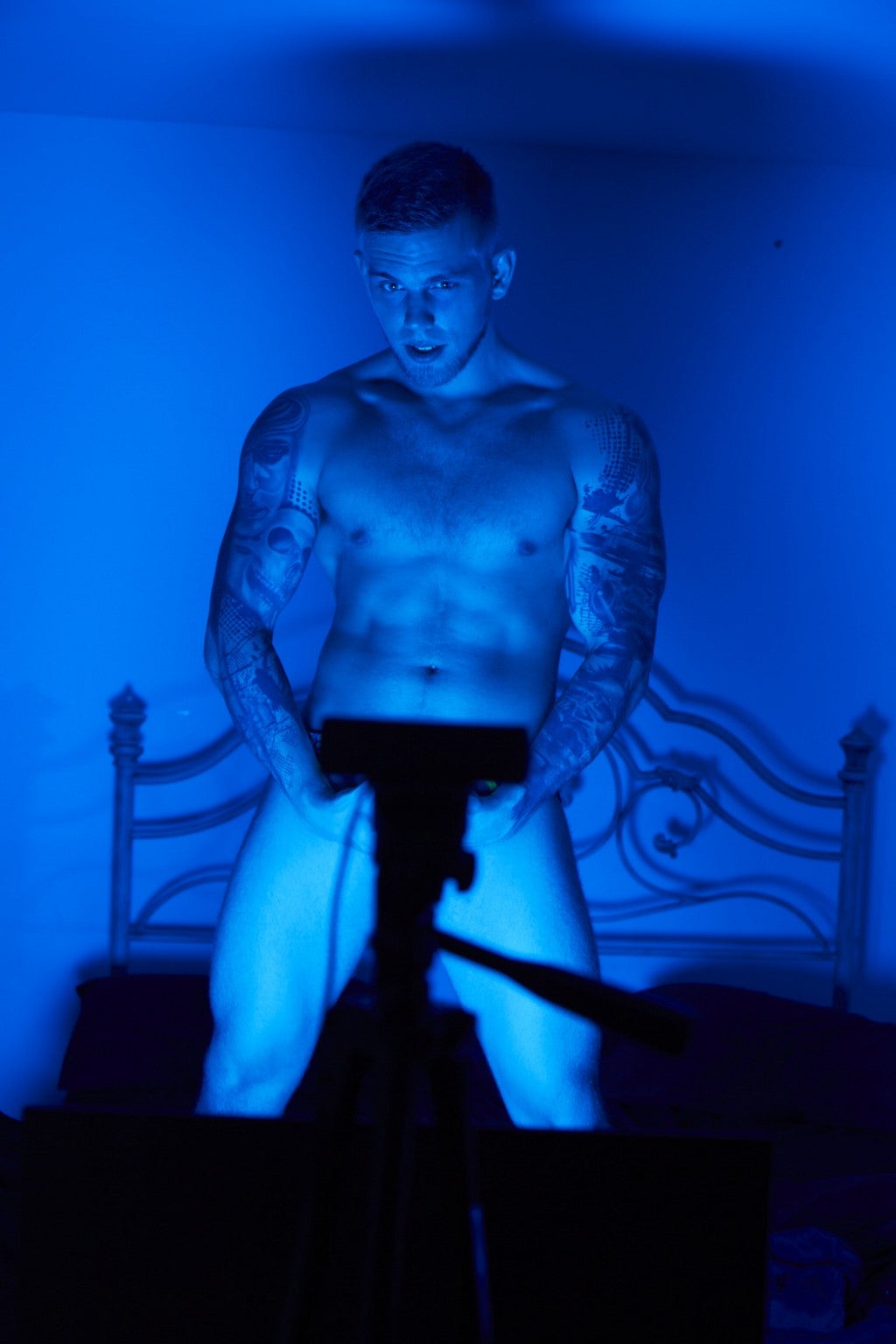 After the show's done around 10 p.m., Brett sits on his living room futon sweaty and shirtless and counts his money on his laptop. He's made $375 for just a few hours' work, but it's less than his average payout. He blames the lackluster haul on an early start time, which kept many regulars from showing up.
On a typical Friday or Saturday, his show ends around 1 a.m. and he's full of adrenaline. Brett usually showers, checks his competition on Chaturbate and talks on the phone with a friend who moderates his room. Then he stays up until 6 or 7 a.m., watching Netflix or playing video games. When it's daylight his apartment is usually dark, with a Steelers towel covering his bedroom window and his living room blinds drawn.
He sees friends every week, but admits his schedule makes him feel like he's in a "different world than most people."
Though Brett doesn't mind spending time alone, Chaturbate makes it hard to date. Part of his difficulty is shyness, but the bigger problem is he doesn't feel comfortable telling most people — including his "very conservative" father and other family members — that he cams.
Most anxiety-inducing is his fear that someone he knows might find some of the gay porn he's recorded. Last August, Brett started selling sex tapes featuring his ex-girlfriend on the pay-per-download site Clips4Sale, but his fans kept making requests for gay porn. He convinced a bisexual male friend to record a spanking video in December, and it made more money than any of his straight videos. The two went on to film blowjobs, rimming, feet worship and most recently a full-on sex tape for $100, which has made Brett between $10,000-$15,000 in just a few months. He makes the videos for business rather than pleasure, but knows any woman he meets would be skeptical of that explanation.
"It's a rare thing for a girl to appreciate what I do," he says. "Even though I say I'm a personal trainer, it's hard to relate to people who have regular jobs and stuff." He worries the deeper he goes into the porn, the more isolated he will become. Brett had a recent fling with a cam girl, but she's part of a polyamorous community and lives in Washington so it didn't last. "I'm more comfortable with the people on Chaturbate than I am with most people in real life," he says. "Not much is going to faze them."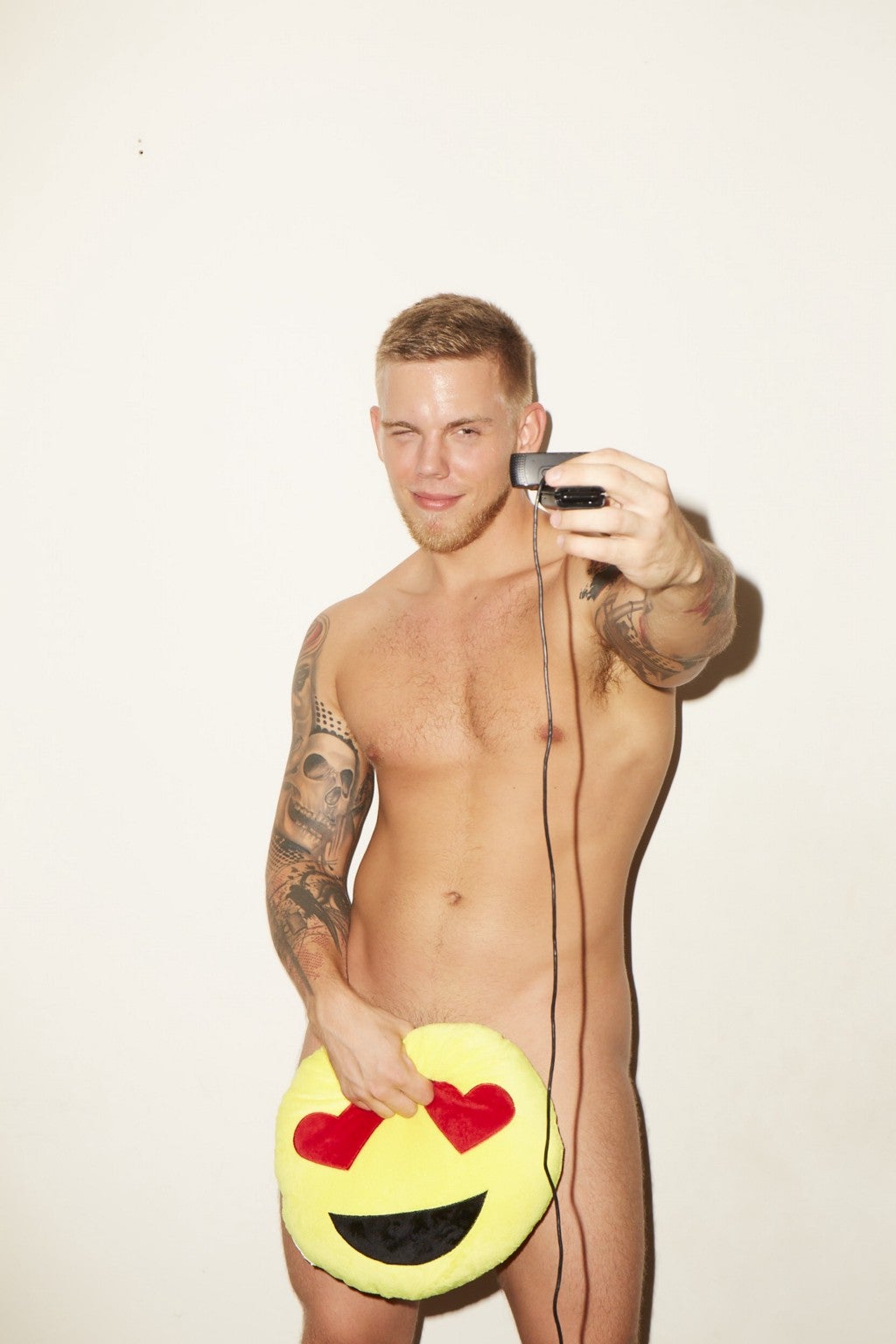 He plans to cam for at least a few more years, record some threesome videos and maybe build out a studio in his apartment and hire a few models. When Brett's saved up $50,000, he wants to open a gym, but he worries about his chances of off-screen success. His "worst nightmare" is to become a server again. "Being at the bottom of the totem pole was very bad for me," he says. "I was always a very nice guy and got walked over a lot. In web camming I'm rewarded for being a nice guy for once."
It's tempting to just retreat back into the Chaturbate world, where his blinds block out reality, his shyness disappears and his ass isn't just a body part, but an object of worship to fans.
"Things don't usually pan out for me so well in the offline world for me," he says, his arms crossed self-consciously over his naked chest. "Things just work out really well online."