Adam had a dark secret that he kept from his wife at all costs because he knew it would irreparably damage their relationship. In fact, she'd once described men who shared this kind of secret as "seeming like serial killers."
What was Adam's secret?
Did he have a collection of animal bones?
Watch BDSM porn?
Maintain an immaculately-reproduced miniature version of the Three's Company apartment building?
The truth, as is typically the case, is so much more mundane: Adam masturbated with a piece of silicone molded in the shape of the human buttocks with an aperture for penetration.
It is, though, an act that obliges a little experiment: Picture a sex toy owner. Who do you see?
If your imaginary masturbator is female, you probably see a sexually confident young woman with a Hitachi Magic Wand, a rabbit vibrator or just a regular ol' dildo. At least since Sex and the City, the Rabbit in particular has become a symbol of sexual self-determination for at least a certain kind of woman. And while vibrators and dildos still show up as gags in pop culture, the joke is rarely about the owner and more often about sexual objects being out of place.
But if you see a man in your mind's eye, the picture is likely different. Is he sexually frustrated? Creepy? Desperate?
The image of a Fleshlight stashed at the bottom of a drawer conjures up all kinds of connotations, none of them flattering. In this context, it's not hard to see why Adam's wife might have been suspect.
Part of the problem is language. While "dildos," "vibrators" and even "butt plugs" are all household terms, "Fleshlight" has become standardized in the same way as "Kleenex" (which, of course, pairs functionally with the former) and cedes too much ground to branding. At the same time, "masturbation aid" sounds like a euphemism for a jerk-off buddy, and "male sex toy" is unwieldy and nondescript — a male sex toy could just as easily be, say, an anal hook. Wikipedia goes with "artificial vagina," but that feels needlessly specific and limited.
For my purposes here, I'm going with the term "sleeve." It's simple, it conveys its purpose and saying it doesn't make me feel like I'm talking about horse breeding. (Though if that's your thing, you're totally covered.)
Language issues aside, sleeves are a booming market. One manufacturer, TENGA, has sold 19 million units worldwide as of 2012.
Still, public sentiment remains cool.
In fairness, there's good reason for some of the difference in perception. A long history of controlling female sexuality means toys like vibrators represent personal reclamations of bodily pleasure, whereas "masturbation enhancers" can feel almost like gloating about how easy it is for men to jerk off. Not to mention, there's a real social and historical difference between a disembodied dick and a disembodied pussy, given that women are still often reduced to sexual receptacles.
But that's only part of the story.
First, it assumes that all sleeves are meant to model vaginas. In fact, much like dildos, which range from detailed anatomical recreations to creative interpretations of dragon phalluses, sleeves have experienced a divergent evolution. At one end of the spectrum, there are hyper-realistic vaginas modeled after famous porn stars. But at the other, there are translucent, spiky alien fucktunnels. (Maybe I'm naive, but I was disappointed to realize that the interiors of the former share a lot with the latter — get past the vulva, and they don't represent a faithful recreation of a specific star's insides. I don't know how I imagined they might pull this off, but I'm let down nonetheless.)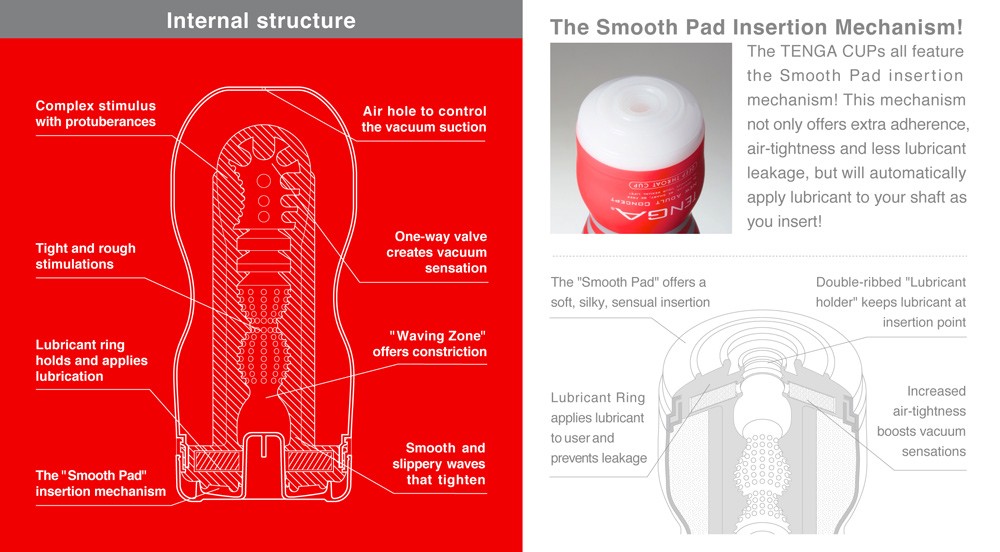 Second, it supposes that all the men who use sleeves are straight.
Third, the societal bias against the men who own these toys is rarely based in a principled feminist objection, but rather on the accusation that they're "failed men" or chronic masturbators who simply can't get laid.
What if, however, we were to shelve these knee-jerk reactions for a moment and actually speak to the men who own sleeves? And so, I reached out on Twitter and ended up talking to more than a dozen men about their experiences with them. I present five of those conversations below.
Jason, Gay, Mid-20s, Pittsburgh, College Student
What kind of sleeve do you own, and how did you decide on it?
I own seven! I initially bought one senior year of high school along with an anal trainer butt-plug kit and found that I generally liked sleeves/topping toys rather than dealing with anal toys/dildos and the prep that's involved with them. I then decided to dive a little deeper and experiment with other brands/textures and acquired more over the course of a few years. Right now, I have a couple Bad Dragon sleeves and a couple Fleshjack/lights. I've tried some TENGA ones as well.
Fleshlights are fairly disappointing as I'm pretty average size-wise, and they seem to be made for pretty large dicks. They also require a ton of lube reapplication. I don't know that I'm super into their whole "omg its sooo lifelike and realistic" angle either. On the other hand, the Bad Dragon sleeves are the best. They're silicone, so they're super easy to clean, disinfect and maintain. Nor do they consume alarming amounts of lube! They're definitely pricey, though. The TENGA ones are fine, but since I have nicer stuff, they don't get much use.
Do you own any other sex toys?
I occasionally dabble with dildos/other anal toys, but so far, I've found sleeves to fulfill a nice space of not requiring too much prep work or resulting in too big of a mess and still making masturbation way more satisfying than standard hand stuff. Not only does the texture make things more exciting, but as a visual person, it's cool to see yourself inside something and the aftermath of a thoroughly fucked thing, lol.
How do you feel society treats men who own sleeves?
It's still largely viewed as a shameful thing, though mostly just by straight men — and maybe women? Straight men often seem reluctant to admit to other men that they like them because they're afraid they'll get made fun of for "not getting any." They also think that if a woman/potential partner knew about it, she'd find it shameful/unappealing.
I can't say that I know how straight women actually feel about them, but I honestly don't think they care very much about male masturbation habits. However, as a gay dude, I feel zero shame about them — nor do other gay men I know. We seem to fall outside of shame-town when it comes to them and largely view owning a sleeve as perfectly normal. We often incorporate it into sex with our partners as well, so it's never really been taboo.
Zack, Bisexual, Mid-30s, Pacific Northwest, Business Analyst
What kind of sleeve do you own, and how did you decide on it?
I have a Doc Johnson Mood Exciter Double-Sided Stroker. (I hope a stroker counts as a sleeve, I'm not sure.) I chose it because I was uninterested in it looking like a vagina or butt. Lovehoney's male masturbator picker convinced me to buy it, because it was a way of realizing that this didn't need to be a weird thing for a guy to buy.
Do you own any other sex toys?
I've owned several other sex toys for years — mostly butt plugs — and more recently, strap-on dildos for pegging. The stroker is the first sex toy I've ever purchased that was specifically for use on a penis, though. I guess strokers can be used for encounters with a partner, but I've only ever used it solo. That said, my partner knows I have it, we just haven't used it together.
How do you feel society treats men who own masturbation sleeves?
Society does kind of judge men for owning a stroker, mainly because it's perceived as a gross indulgence of masturbation, a topic that's already considered only acceptable to be discussed in hushed tones or as a joke.
I personally didn't consider one for a long time because it didn't seem like a sleeve/stroker was going to enable me to experience anything significantly new — so why spend money on it? At best, wouldn't that be wasting money on a frivolity, and at worst, wouldn't it make me seem weird and desperate? But as I've gotten older, it seems like the the fun is the frivolity, and what what's wrong with some fun?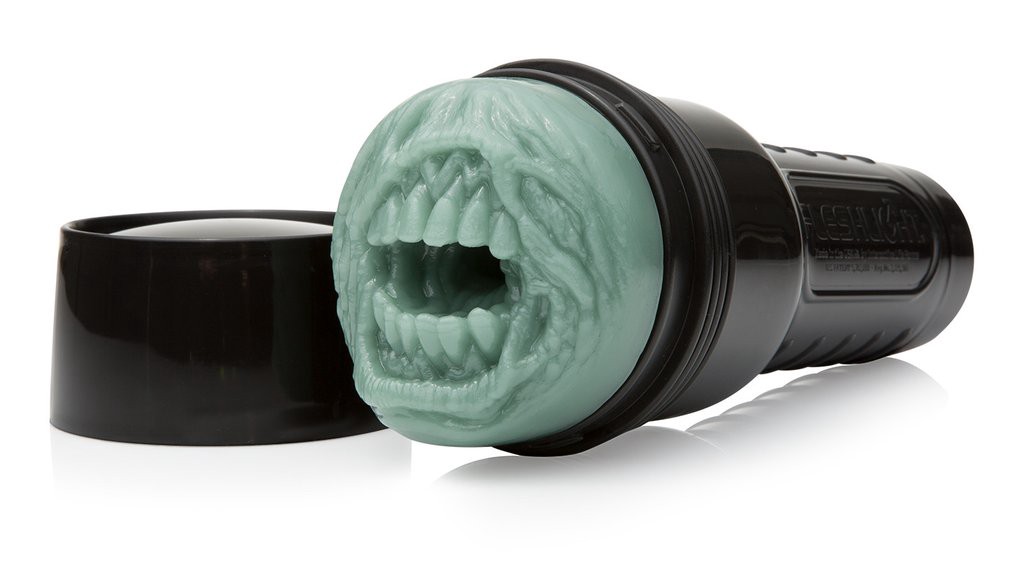 Bill, Straight, Mid-20s, England, Sales Supervisor
What kind of sleeve do you own, and how did you decide on it?
I own a Lovehoney Reversible Double Stroker. I bought it with my wife. We decided on it because it had good reviews and was inexpensive. We use it together occasionally, though often I use it on my own.
Do you own any other sex toys?
My wife and I own a few, but other than this sleeve, the only toy I own specifically for my personal, individual use is a male masturbator egg.
How do you feel society treats men who own masturbation sleeves?
There certainly seems to be an unfortunate stigma attached to male sex toys, perhaps more so than to female sex toys. A lot of it's probably due to the ignorance and taboo around self-pleasure and sex in general.
Adam, Straight-ish, Early 30s, NYC, Filmmaker
What kind of sleeve do you own, and how did you decide on it?
I owned a Fleshlight with the butt opening — the one with the cheeks, not just the anus, not sure if they still have it. It was pink in a black shell. I got it because my (now ex-) wife was going to be out of town for six weeks. I probably chose that particular model because my ex never let me see her asshole, and so, I developed a bit of a fixation.
I got rid of it about a year later because my ex mentioned how creepy she found them and that a normal guy would use his hand rather than a disembodied body part. Also, it was a pain to clean and dry out.
Do you own any other sex toys?
I have a Hitachi Magic Wand that was initially bought as a prop for a music video, but has recently seen other use; a vibrator (highly recommended by Babeland, but unfortunately Fifty Shades of Grey branded until I buffed the logo out; an Aneros prostate massager; and cock rings that a partner bought me as a gift.
How do you feel society treats men who own masturbation sleeves?
I definitely feel like most of society treats sleeves as something very creepy compared to vibrators or dildos — despite the principle being similar. But I've had a couple partners since who have talked about fantasies of using a sleeve on a guy, either restrained or not.
Tom, Bisexual, 30, NYC, Support Desk Manager
What kind of sleeve do you own, and how did you decide on it?
I believe it's a Fleshjack. I bought one to try it out. My husband was curious as well. I got the cheapest model that wasn't "travel-sized."
Do you own any other sex toys?
I own a handful of anal toys and bondage paraphernalia.
How do you feel society treats men who own masturbation sleeves?
I definitely feel that masturbation toys are looked down upon more than other sex toys — seen as a "failure to find a sexual partner" rather than as a sex enhancer. The stereotype is a nerdy out-of-shape dude with a Fleshlight taped to an iPad.
What Do These Profiles Tell Us?
While it would be wrong to extrapolate from the extremely biased sample of Twitter users who responded to my solicitation, my sense is that guys who own sleeves are a more diverse group than we typically give them credit for. Single and partnered, straight, bi and gay, there's a range of sexual configurations here that goes far beyond the image of the lonely hetero man.
Indeed, sleeve-makers have already recognized this, with each taking its own approach to the same basic concept. TENGA's homepage features clean shots of its products, many of which resemble abstract sculpture. In fact, it's devoid of any sexual imagery, and contains testimonials from celebrities ranging from BMX rider Viki Gómez to punk band Zebrahead. The company describes itself as wanting to "revolutionize sexual pleasure" by destigmatizing sex toys.
Meanwhile, Fleshlight's website is full of beautiful women, clearly selling the fantasy. But even then, it isn't the whole picture. Fleshlight now markets products like the "Stamina Trainer," designed to increase (presumably heterosexual) men's sexual prowess, as well as dedicated couples' toys.
So, are sleeves becoming rhetorically or socially identical to vibrators?
Probably not. But to treat them as exclusively repugnant or shameful belies the myriad ways men use and feel about them. And at the end of the day, putting your dick in a sleeve is better than putting it somewhere it doesn't belong.