It's vacation season. Scratch that, it's a summer weekend during vacation season. That likely means three things: There will be day drinking; there will be heat; and there will be water. Oh, and fucking. Or in the case of a jacuzzi, all four at once. Yet, admittedly, I know little else about the jacuzzi. Beyond, of course, that I've grown up asking others if they want jacooze with me.
Though, in fairness, no one seems to know its proper name. Is it jacuzzi? Hot tub? Whirlpool? Spa? Bubbler? The word jacuzzi is certainly a treat for the auditory system — sort of a waterbound version of Ferrari — but where did it come from? (Italy, right? With a name like jacuzzi, it's gotta be Italy.) More importantly, how did the jacuzzi become so synonymous with vacation and fucking — no matter the temperature outside?
Allow me to provide some answers…

1) I'm half right about the jacuzzi's Italian origins, in that it's an Italian-American creation. The tl;dr origin story: At the beginning of the 20th century, seven Italian brothers named Jacuzzi left their northern Italian village of Casarsa della Delizia, along with their six sisters, and moved to Berkeley, California, where in 1915, they founded the company Jacuzzi and Brothers. Originally, they manufactured wooden propellers for the nascent defense industry as well as experimented with building small airplanes. The Jacuzzi "'toothpick," an airplane propeller, was their first product, which the U.S.and its allies used it during World War I.
2) More of the Brothers Jacuzzi backstory: Their names were Francesco, Rachele, Valeriano, Gelindo, Candido, Giocondo and Giuseppe (or basically, the Teenage Mutant Ninja Turtles of hydrotherapy). Legend says "water, family and god" were their family's motto.
3) They abandoned their focus on aerodynamics following the untimely death of Giocondo. (One of their Jacuzzi airplanes crashed with him inside.) After that tragic event, the remaining brothers began to focus on impellers (the rotating part of pumps) and flow dynamics. To that end — and yes, ironically — they struck gold during the Great Depression, when they created a vertical pump to help struggling farmers water their fields more easily.
4) The youngest brother, Candido, is the one responsible for the jacuzzi. When his son, Kenny, was born with rheumatoid arthritis in 1949, Candido wanted to bring him some relief from the pain. And so, Candido fashioned a submersible pump for home tubs. A few years later, he invented the first standalone jacuzzi tub and filed the original patent for it.
5) Science estimates that a body submerged in water weighs 90 percent of its normal weight. This increased buoyancy allows joints to move more freely. Warm temperatures and strong jets also release muscle tightness and massage sore spots, making the jacuzzi a natural way to relieve pain. Before Candido's invention, his baby son would regularly receive hydrotherapy treatments at their local hospital; Candido, however, wanted something that could be used at home, too.
6) Because Candido is credited as the creator of the Whirlpool bath, jacuzzi has become the patented name for a bath with massaging jets — like Kleenex and the facial tissues you wipe your nose with (among other things). That's why non-jacuzzi-brand jacuzzis have to call themselves "hot tubs" or "spas."
7) At first, Candido marketed his bath as a therapeutic device for the home, selling it at beauty supply stores and pharmacies. His business model changed overnight, though, when he decided to place one of his jacuzzis on the popular game show Queen for a Day. Viewed by more than 20 million people, word-of-mouth quickly spread about the pleasures of a jacuzzi — especially when it came to the aching bodies of overworked housewives.
8) To this day, jacuzzis and similar hot tubs remain a classic prize on game shows like The Price is Right. "We have two warehouses full of prizes. That hot tub you see, and the other six you don't, are sitting in a warehouse. Then we bring it over and put the trees around it," executive producer Mike Richards told Rotten Tomatoes about the abundance of hot tubs CBS continues to stock for the show.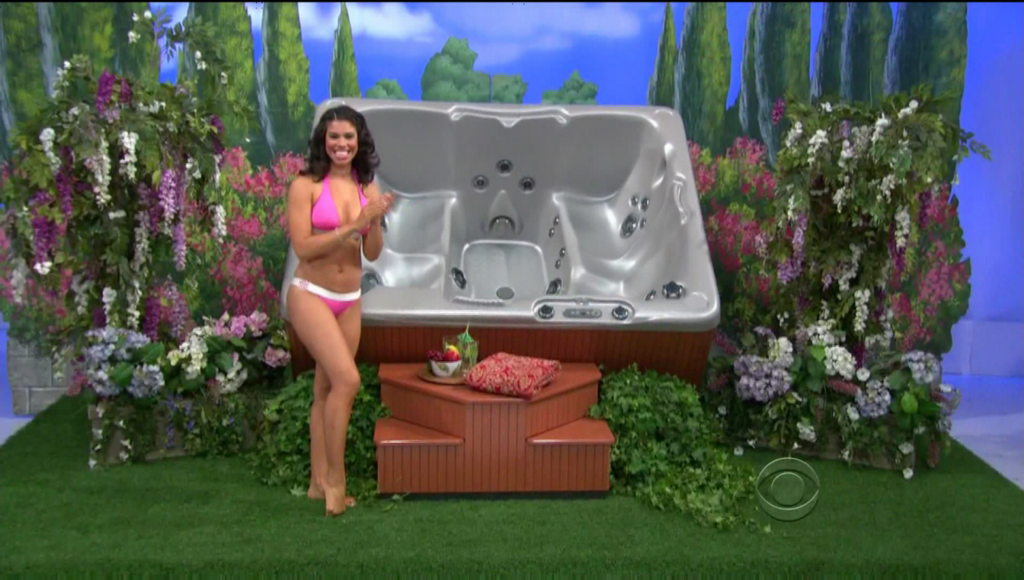 9) By the 1970s, the jacuzzi became the item du jour of the Sexual Revolution — or not long after the family-sized jacuzzi made its debut. The increased amount of space lent itself as much to baby-making as it did family fun. In particular, bath houses full of jacuzzis open in big cities throughout the country — e.g., the infamous Plato's Retreat in Manhattan, where swinging couples and bisexual women could come to have sex in the baths. As such, ads in the 1970s depicted jacuzzis as part of the playboy lifestyle, depicting multiple women relaxing in the tub while male-jacuzzi owners looked proudly into the camera.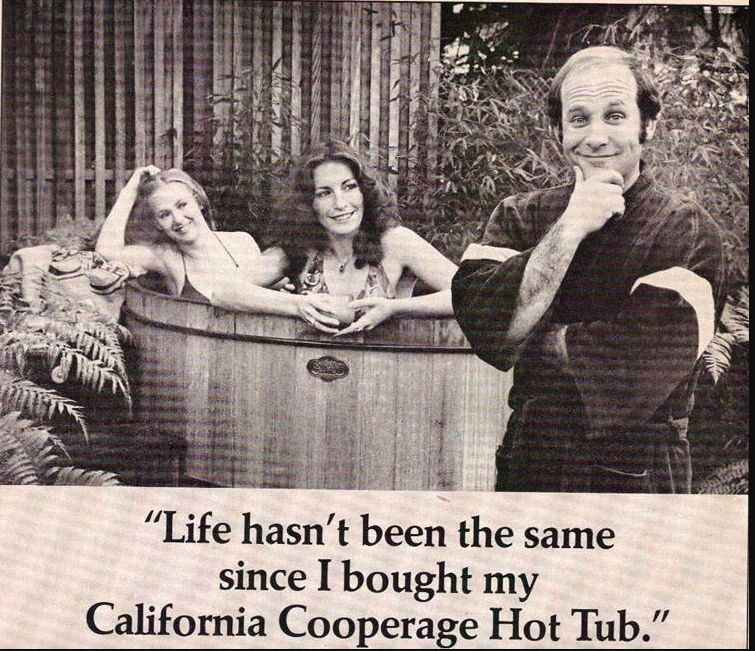 10) According to Aqua Magazine, a publication aimed at people who sell jacuzzis and other recreational water devices, it's extremely rare for couples to fight while sitting in a jacuzzi together. "It gives you quiet time," Aqua quotes a clinical psychologist as saying. "Nobody has an argument in a hot tub. People relax, they laugh and the playfulness comes out. There's no other place that has the physiological [effect] of breaking down the social barriers that exist between people. It literally relaxes you psychologically."
11) People in the jacuzzi business call this sales pitch the "intimacy angle."
12) Also, speaking of the playboy lifestyle, Hugh Hefner famously installed a whirlpooled-to-the-gills grotto in the backyard of his self-proclaimed Shangri-la — the Playboy Mansion West in Holmby Hills. Hef's grotto is one of the most famous backyard accessories in the world (and the site of many legendary erotic encounters featuring many legendary Playmates and celebrities). That said, in the 1970s, you didn't need to be the founder of Playboy to have group sex in a jacuzzi. Jacuzzis were the unofficial symbol of swingers everywhere. To that end, you can still find a lot of bygones from the home jacuzzi era on Craigslist.
13) On the flip side, the jacuzzi's reputation as an excellent place to have sex has earned it unfavorable nicknames, such as an STD cesspool, "sex cauldron" and "bacterial soup." The warm, wet waters of a jacuzzi make it the perfect place for bacterial growth, and according to this disturbing interview, adult-jacuzzi goers often enter the baths with about a pea-size of fecal matter on them, which makes for a lot of shit when all the peas are in their jacuzzi pod. Never forget, too, hundreds of people fell ill after a Playboy Mansion party in 2011. Some of these guests even attempted a lawsuit when the grotto's waters tested positive for Legionnaires' disease, a potentially fatal respiratory illness.
14) Those of us with vaginas are at extra risk for jacuzzi-induced bacterial infections because, well, jacuzzis make our pussies dry no matter how much our partners turn us on. This can lead to microtears, which are irritating on their own, but they're especially receptive to all the stranger bacteria left behind in a jacuzzi. Similarly, jacuzzi sex commonly results in UTIs and yeast infections.
15) There's also the whole myth that you can't get pregnant in jacuzzis because of their water temperature, which is bullshit. The urban legend here is that scalding water not only prevents sperm from successfully fertilizing eggs, but that the high temps of a jacuzzi kill bacteria that leads to STDs. While it does seem like the heat of a jacuzzi would kill any bacteria left over from boning couples, that's not necessarily the case. Besides, most jacuzzis max out at about 104 degrees, which may feel hot as hell to the touch, but isn't hot enough to kill germs — i.e., bacteria can survive very comfortably at this temperature. Not to mention, water makes it hard (pun intended) for condoms to stick to your dick correctly and chlorine makes latex less effective.
16) If the idea of fucking in a jacuzzi still sounds really good to you, though, at least consider using some oils and waterproof sex toys to ease the friction and increase the pleasure.
17) Or you could just stay at home and watch others enjoy all that hot water. For instance, Bo Derek emerges naked from a jacuzzi in A Change of Seasons:
Bo Derek – A Change of Seasons
Ferris eats an Oreo while soaking in a jacuzzi in Ferris Bueller's Day Off:
Mark Wahlberg's character in Boogie Nights pitches Burt Reynolds' his nom de porn while jacuzzi-bound:
https://www.youtube.com/watch?v=fs9ca99P6HQ
And of course, there's Hot Tub Time Machine:
18) It's worth mentioning, too, that the cover of the first pornographic computer game features three naked women sitting in a jacuzzi (while drinking champagne, no less):
19) The long and short of it: Everyone seemingly still loves jacuzzis — especially in the summer and especially when they're on vacation (consequences be damned). Including this bear, who apparently broke into a Northern California backyard, lapped up some margarita and submerged himself in the hot tub for a few minutes earlier this week. No word yet on how much shit he left behind in the water or if he developed a UTI or Legionnaires' disease afterward.